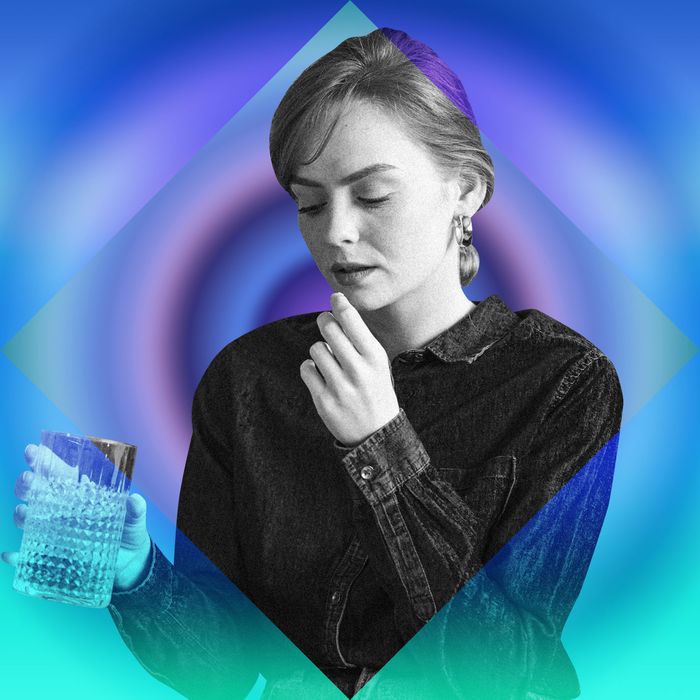 Photo-Illustration: by The Cut; Photo: Getty Images
This column first ran in Valerie Monroe's newsletter, How Not to F*ck Up Your Face, which you can subscribe to on Substack.
Recently, the lovely, curious hosts of the podcast A Thing or Two asked me this question on Instagram …
Q: Everybody seems to be talking about new retinol supplements as a way to stave off visible signs of aging. What gives, Val?
A: What gives? I'll tell you what gives. Marketing gives — generously. And I feel a little sorry for us because marketing is also often deliberately confusing. And when we're deliberately confused about issues involving our mental and physical health, that's not just an innocent shell game; it's an unwelcome invitation to a party that has gift bags brimming with useless stuff that may even be harmful. When I checked out one website that's marketing a retinol supplement, I found myself as bewildered about it as you may be, which is why I emailed HNTFUYF derm diva Heidi Waldorf for clarification.
"I do not recommend ingesting retinol," she said. A "retinol" supplement is simply the fat-soluble vitamin A (as retinyl acetate). (Fat soluble: What your body can't use is stored in fatty tissue and the liver, not excreted in your urine.) Did you catch the trick? Calling the supplement by a name widely and correctly touted as a hardworking skin-care ingredient, we're led to believe our complexion will benefit from oral ingestion.
We get plenty of vitamin A — and other nutritional building blocks that help with a variety of organ and biologic functions — in our diets, said Waldorf. Carotenoids found in bright-orange, -yellow, and -red foods (such as carrots, peppers, and tomatoes) are converted into vitamin A in the body. So vitamin-A deficiency (associated primarily with childhood blindness, infections, anemia, and maternal mortality) is rare in developed countries.
Moreover — here's where the party trick turns mean — ingesting too much of it can be dangerous, potentially resulting in nausea, muscle aches, and vision and coordination problems. Overdosing on vitamin A during pregnancy can cause severe birth defects. Some research suggests that ingesting more than an average of 1.5 milligrams of vitamin A a day over many years may affect your bones, making them more likely to fracture when you're older (an issue especially important to postmenopausal women). Bottom line, said Waldorf: Unless you're malnourished, adding a "retinol" or any vitamin-A supplement to your diet will neither improve your health nor reduce the effects of aging.
You've probably noticed folks encouraging you to also try collagen supplements as a way to improve your complexion. But "oral collagen supplements are simply a source of protein," said Waldorf. Like other proteins, collagen is broken down into amino acids in the gastrointestinal system. And there's little to no evidence that taking collagen internally directs its component amino acids to the skin more than any other protein source does, she added.
If you're like me, the magic of supplements, tarnished as it may be, still holds allure. And there are a few contestants in the beauty arena that may be winners. Waldorf recommended Nutrafol or Viviscal to encourage hair growth and believes they're more helpful than biotin supplements — and without the potential side effects from high doses. And the supplement Heliocare may be a useful occasional addition for people who work outdoors or for patients with a history of skin cancer and melasma. It contains a potent antioxidant and anti-inflammatory extract with a photoprotective effect (though it doesn't replace sunscreen). Speaking of sunscreen, that happens to be the most effective supplement you can add to your skin-care routine.
Valerie Monroe was beauty director at O, The Oprah Magazine, where she wrote the monthly "Ask Val" column for nearly 16 years. Now she writes the weekly newsletter How Not to F*ck Up Your Face. Her goal continues to be to shift our thinking in the beauty arena from self-criticism to self-compassion and to learn how to be loving witnesses to ourselves and one another as we age.