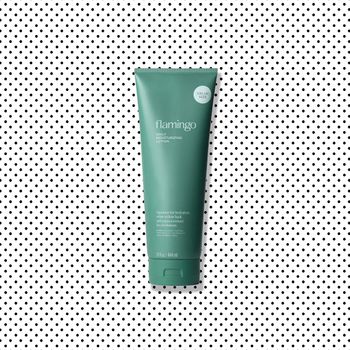 The first time I tried Flamingo's Daily Moisturizing Lotion, it made my skin so silky that I thought it was a fluke. I've tested out fancy lotions that feel like crème fraîche, heavy-duty creams the texture of Greek yogurt, and coconut melts that descale my skin but are so rich they require a little deltoid work to fully rub in. But Flamingo is better than all of them.
I've been squeezing a large, thick swirl in my palm and mushing it into my skin. With two or three passes, it fully absorbs and I can go on with my life. It makes my skin soft and supple, soothed and no longer itchy. It's not clammy or sticky, and it's lightly fragranced without being too heavy. It may not offer the "firming" or "anti-cellulite" benefits of other, more expensive body lotions, but do those really work anyway?
The scent is subtly salty. It reminds me of the vestiges of day-after Santal, but some reviewers say it smells just like Jo Malone Wood Sage and Sea Salt. I appreciate that the tube is roughly a third bigger than other body lotions, because you always need more body lotion than you think you do. (It's 10 fluid ounces; in comparison, Necessaire's is 6.8). Since the bulk of the moisturizing power comes from plant-derived squalane — a superstrong lipid that locks moisture into the skin — I like to use this within minutes of showering. And then I like to spend the right of the night watching Netflix under a Barefoot Dreams blanket, weirdly stroking my very soft ankles.
If you buy something through our links, New York may earn an affiliate commission.