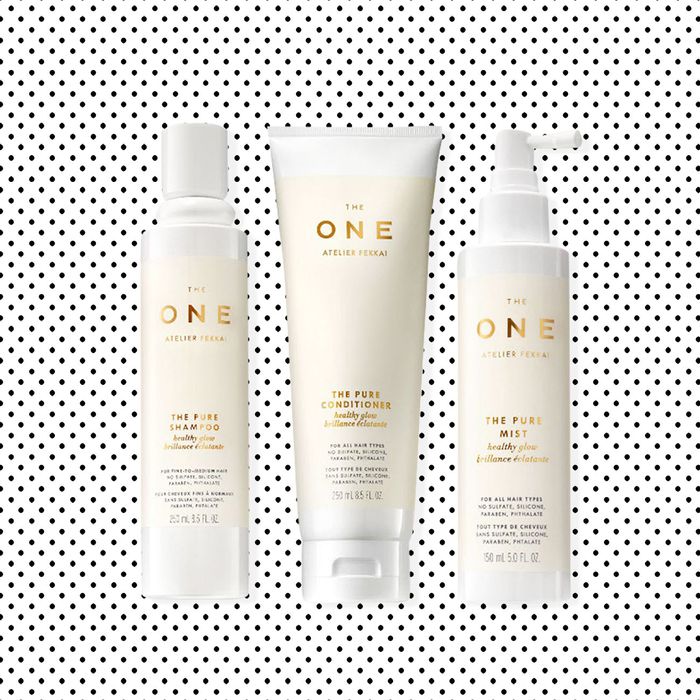 Photo: Courtesy of the Retailer
I'm old enough to have been in the beauty world when Frederic Fekkai became famous. The Aix-en-Provence native had been toiling away at a salon on the Upper East Side when, in the late '80s, then-president of Bergdorf Goodman Dawn Mello met him and was so charmed that she had a posh salon built on the top floor of the department store and labeled with his name.
Everyone who was anyone had their hair cut by Frederic. He soon joined forces with Chanel, who whisked him and his very large staff over to their higher floors at Chanel HQ, No. 5 East 57 (get it??) a block away. The point of this post is his products, so I won't digress on the salon's multiple levels, Aix-inspired terra-cotta floors, or the staff's uniform of starched white shirts, collars up. Chanel also funded Fekkai's first hair-care line, which was arguably the first haute hair-care line. I used Fekkai Baby Blonde products on my highlighted hair, the name totally manipulating me into kind of believing that my blonde streaks were natural.
Fekkai went on to sell his line to Proctor and Gamble, but in 2018 he bought his name back and launched The One by Atelier Fekkai, with formulas and packaging as luxe as his original brand, but with a more modern font. This fall, he added the Pure collection to The One group. And as an original fan, I'm so glad he did.
The clean shampoo, conditioner, and leave-in are free of sulfates, silicones, parabens, and phthlates. Even the white floral fragrance is natural. The products claim to be for all hair types, but I can only speak for how my fairly straight, cowlick-inflicted hair felt, and it felt terrific. It didn't look too shabby, either. Highlights of my experience include: marveling at how incredibly silky it felt after rinsing the conditioner out, and being impressed with how easy blow-drying was after spraying the Pure Mist (which feels like water) into my towel-dried hair once out of the shower.
There are some days when I know I'm not going to get my hair done by a professional, but I can't risk doing it myself and messing it up. That's when I'll use this trio. They makes me feel like the OG hairstylist is kind of there with me, guiding me and my blow dryer.
If you buy something through our links, New York may earn an affiliate commission.