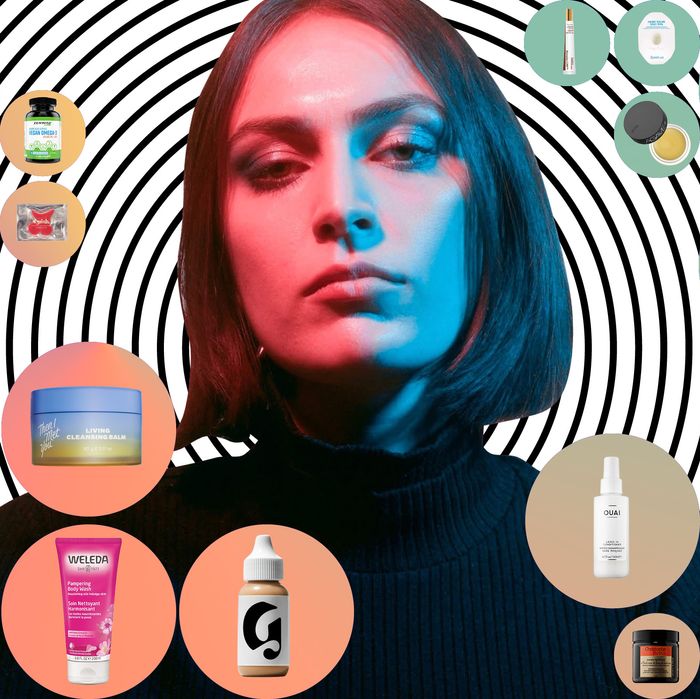 Photo-Illustration: Photo by Olivia Kooyman; Image by the Cut
What beauty products do you buy over and over? On The Beauty Group, a Facebook community co-founded by the Cut and the Strategist, beauty obsessives chat all day long about the products they love — the ones so good, they'll make you hit that little "auto-refill" box at checkout. So we decided to turn the question to some of our favorite beauty pros.
You might know Rio Viera-Newton as the Strategist beauty writer who sparked a skin-care craze among her friends with a highly detailed Google doc. Rio isn't a beauty editor by trade (in fact, her Strategist column is called "Not a Professional. Just Crazy.") but over the past two years, she's become a pro at identifying dupes, experimented with eyelash growth serum, and rolled her face with needles in the name of beauty. She's come away from it all with one big lesson. "As a writer and as a beauty consumer, I think it's important to not just listen to a press release or what's on the packaging, but to look at the ingredient list yourself," she says. "If it's a hyaluronic acid serum but hyaluronic acid is the last thing on the ingredient list, you're not really getting what you think you are." Her favorite products do what they say, and they do it well. See them all below, and make sure to join The Beauty Group for exclusive discount codes to shop her picks.
If you buy something through our links, New York may earn an affiliate commission.