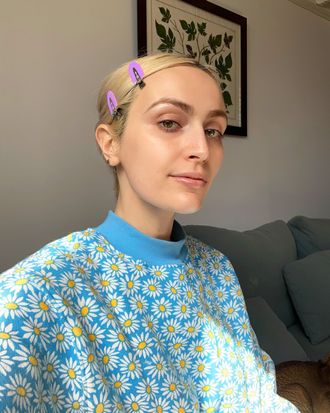 Photo: Courtesy of Rio Viera Newton
In 2017, the Strategist published Rio Viera-Newton's skin-care Google doc detailing the products she used for her irritated, dry, acne-, and eczema-prone skin. It immediately went viral, launching her into a career in beauty. Four years later, Viera-Newton has written about everything from the best dupes and the gentlest retinoids to the ideal purchases for dry skin. She's studying to get her aesthetician's license, and she has written a book, Let's Face It: Secrets of a Skincare Obsessive, which is available for purchase today.
"I wanted to create a book that both a skin-care rookie and a veteran could enjoy," she says. "There are so many products, steps, brands, and ingredients out there. It can be really overwhelming for a lot of people! Of course, there are folks who love the Twitter discourse and the citizen science of it all (I'm one of them), but some people are like, 'Whoa! I just want to buy a cleanser. This is all too much,' and I totally sympathize with that."
Part of Viera-Newton's skin-care journey has involved learning how to be more cautious with her skin. She seldom tests acids or retinols anymore, but she had to learn that lesson the hard way. "I've definitely wrecked my skin barrier from overusing high-percentage AHA's and BHA's and just generally doing the most," she explains. "It's definitely taken me a few bad skin days to realize that just because a brand says you can use something every day doesn't mean you should."
"In the brilliant words of Dr. Ranella Hirsch, the best way to repair your skin barrier is to not damage it in the first place," she says. But if you do go overboard, the best course of action is to dial your routine back to the basics. Viera-Newton's current process is focused on using healing, moisturizing, and all-around-nurturing products, which she has especially relied on over the past year of pandemic life. "A lot of this past year was sad and hard, and some days, I was just lucky if I changed out of pajamas and brushed my teeth," she says. "I've tried to be gentler with myself across the board, and that includes my skin. I always say, if you can bring yourself to do any skin care in the morning, let it be sunscreen."
Below, a look at Viera-Newton's essentials, including the toner she picked up from Charlotte Cho, the $12 moisturizer she loves for the spring, and the best eye cream for makeup prep.
The Cleanser
"This cleanser is really non-stripping and creamy, which is why I love using it on my sensitive, dry skin. The formula uses oat milk, marula oil, and blackberry vinegar, which are all quite conditioning and calming ingredients that help gently wake my face up in the morning without stripping it. In the evenings, I like to use this after an oil cleanser to ensure I'm getting all the dirt, makeup, and SPF off my face before bed."
The Toner
"I love a hydrating toner or essence to calm any inflammation and give my skin a big surge of moisture. My routine revolves around delivering layers of soothing, healing, and nourishing ingredients to my skin, and this is kind of the first step in that process. I bought this on Soko Glam after Charlotte Cho raved about it on an Instagram Live we did. It uses a blend of hyaluronic acid, soothing and antioxidant-rich green tea, and fatty-acid-rich squalane to replenish, protect, and repair the skin. After I use this consistently, my skin feels quenched and bouncy, and any redness from irritation or breakouts has calmed a bit. I use a few pumps of it and press it into my damp face and neck."
The Face Cream
"I love the Lord Jones Acid Mantle Repair Cream, but it's expensive. My other go-to is the e.l.f. Holy Hydration! fragrance-free moisturizer, which I first bought at Target for around $12. The formula includes niacinamide, hyaluronic acid, and peptides, which is a great cocktail for locking in moisture, refining, and adding bounciness to your skin. It's really hydrating but not too greasy or rich, so it's great for the upcoming spring months."
The Eye Cream
"This has been my go-to eye cream for some time. I have pretty dark under-eyes, and while this doesn't do anything to combat any of that pigment, it's incredibly moisturizing and excellent at smoothing out and filling in any fine lines, texture, or dehydration under my eyes. It's particularly excellent for prepping the under-eye area for concealer — my Charlotte Tilbury Retoucher Concealer Pen just glides on after I apply this, without any creasing or caking."
The Sunscreen
"Zinc oxide is a really wonderful calming and anti-inflammatory ingredient, but a lot of purely mineral sunscreens tend to pill on my skin, make me look chalky, and take forever to blend. I love this one from Dr. Loretta because it's a combination of chemical and physical filters, so you get the benefits of zinc oxide in a really cosmetically elegant formula. I want to be clear: If you have a straight-up mineral sunscreen that you love, that's fabulous. But I've found I'm more diligent with daily application if I love the way a sunscreen looks and feels on my skin — and I have that with this SPF. After all, the best sunscreens really are the ones you'll actually want to put on every morning."
The Book