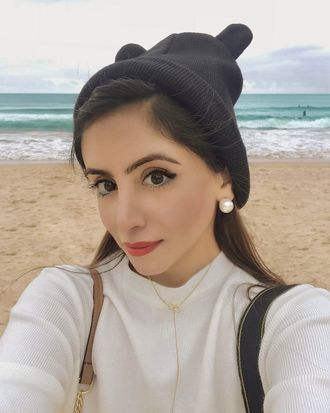 "When I was a young girl, I saw my mom doing DIY beauty techniques at home," says Nikita Upadhyay. "Online stores weren't a thing, and DIY was her most effective weapon. My mother — who still looks like she's 20, by the way — gets asked a lot about her beauty secrets, and now she just says, 'There's a book about it that you can get.'" That book is Roots to Radiance: Wholesome Beauty Solutions for the Millennial Life. It happens to be written by Upadhyay.
In her book, Upadhyay, who worked as Cosmopolitan India's content manager and strategist, focuses on holistic and natural beauty rituals and DIY tricks to nourish skin, hair, health, and soul. She believes the key to good skin is to find balance in all areas of your life, not just in beauty. "When it comes to skin care and relationships, we tend to overcorrect. If we have oily skin, we use harsh face washes to dry it out. If our ex was too much of a goodie-goodie, we date a person who's the complete opposite next. I can tell you with absolute certainty that flushing toxins out of your life, in all forms, makes your skin radiate."
It also helps to pay attention to what's in your products. "When you work in beauty for a living, your eyes become a detector of the right and wrong ingredients," she says. Sulfates, parabens, microplastics, and silicones are always on the "wrong" list. Heavily scented products, which can easily irritate skin, are a no, too. "I have girls DM-ing me all the time asking about products that smell so good, and I'm always like, Who's telling her?"
Like Siraad Kalila Dirshe, who was featured in Why Is Your Skin So Good earlier this month, Upadhyay says her routine changed when she learned the difference between dry and dehydrated skin. "Dehydrated skin is one that lacks moisture and hydration but still gets oily and is prone to acne," she explains. "Hence the elaborate regimen."
Below, a look at her nighttime routine, plus the DIY mask she uses to help fade hyperpigmentation.
The Cleanser
"I'm not one to invest in a product just because it has good packaging, but after I spotted this adorable bottle, I learned that this brand specializes in face washes and gives them the same importance as a well-formulated serum. Also, it was being talked about in the right pages on social media.
This cleanser is step one of my routine, and plays an important role in cleansing my skin without drying it. It has ingredients like omega fatty acids, black tea ferment (which works on skin texture), and flaxseed, camellia, and sea buckthorn oils, which are the kind of oils I would use as facial oils separately since I have acne-prone skin. These ingredients together are capable of hydrating the skin without making it oily, and to have them in a cleanser makes for a very balancing product."
The Mist
"I was in NYC to promote my book when I met Christine Chang, who co-founded Glow Recipe. Since this mist got good reviews, I ended up trying it and loving it a lot. It's that perfect blast of freshness for your bare skin.
Watermelon is an insanely cooling and hydrating ingredient — it is talked about in my book, too. Since inflammation is something I suffer from a lot, watermelon is my ideal ingredient for a bunch of reasons. The cooling properties of watermelon reduces my redness. Hibiscus is also one of the ingredients that are in this mist, and it's a great source of antioxidants. Right before my toner, I need a mist like this to drench my skin and make the products to follow more spreadable — and not just at night; I like using this during the day, too."
The Essence
"It was this product that made me take essences and toners seriously. My BFF dragged me to a Bioeffect event as his plus-one, where we met the founders and talked all things beauty, and that's how I was introduced to the brand.
Days later when I tried the essence, I was surprised by how my skin accepted it. Before this product, I wasn't big on toners, but this one is made out of water from Iceland, which is the world's cleanest ecosystem. This whole range of Bioeffect has EGF — epidermal growth factor — that promotes cell regeneration, and it's so effective that it even helps in wound healing. So with any open zits or irritation, this essence is the ideal for a weightless canvas for the regimen to follow. It feels like you're applying water, but more like miracle water for skin clearing and healing."
The Eye Cream
"Skin care that doubles as an overnight concealer? I'll take it! As the name suggests with 'auto correct' and 'eye contour,' this cream is really like using a beauty app on your picture to reduce puffiness and under-eye circles instantly. I love the shimmery effect it has on my skin and the way it multitasks. Due to the texture and luster of the product, it gives you an instantly lifted look."
The Serum
"This product will fulfill your vitamin A needs like no other. A+ is the dose of vitamin A that doesn't make my skin angry … which otherwise happens pretty easily. I didn't experience the retinol uglies with this serum either, but it has happened with others.
My trick is to incorporate both antioxidants and retinol in my nighttime routine. But my skin craves that more than vitamin C, as per a recent DNA analysis I took called 'Skin Genetics Test.' They look into your DNA through a saliva sample and tell you what you're likely to get from your ancestors, and how to eat and take care of your skin accordingly. The test stated the breakdown of oxidative stress, glycation-induced stress, collagen breakdown, inflammation, photoaging, and vitamin A, C, and E in my skin. It made it clear that my vitamin C department was on point, but my vitamin A is what I needed to work on."
The Face Oil
"I love products that are infused with good energy from their founders. April Gargiulo of Vintner's Daughter instantly connected with me when we had a chat, and I love how she makes only two products … both very efficient.
It's expensive, yes, but there's an emotion to this oil. When I apply it at night it makes me feel like I'm really ready to relax now. It acts as that signal that I can finally stop working and get some deserved rest.
Every bottle takes three weeks to prepare, and the fact that it's made out of 23 of the world's most active ingredients also made me more curious. It has anti-inflammatory agents like calendula, grape seed, and dandelion, plus nourishing ingredients like avocado, evening primrose, and rose hip, to name a few.
Also, the bottle lasts longer than you'd expect. Mine has lasted for the past four and a half months, and it's still not close to finished."
The Moisturizer
"Since my retinoid dosage is fed to my skin in serum form (the Sunday Riley A+ Serum), my moisturizer can be a non-retinol, stand-alone, antioxidant-rich cream. Usually, retinols are used toward the end of the regime in moisturizer form, but since my serum is rich in vitamin A and is applied at the initial stage of my regime, I can actually go with this clean formula cream that soothes, calms, and seals the whole regime, making sure my skin doesn't get angry. This cream also won 'best in show' title at the Indie Beauty Expo last year. Since I'm such an indie-brand supporter, I knew this one had promise. So this is what I use to seal and complete my regime at night."
The Lip Treatment
"A skin-care regimen is not complete if you're ignoring the lips, and that happens a lot. Wearing SPF on your lips during the day and moisturizing them properly at night is a must. Skin cancer on the lips can be highly dangerous, which is why everyone needs lip balm with at least SPF 30 in their lives.
This light and weightless concentrate isn't one of those soothing, goodie-goodie lip fluids. This product is sort of a badass. It will tingle, plump, and make my lips pink, but the results are great. My lips began to depigment after a few weeks. It's a significantly good product to make your lips look healthy and even."
The Hand Creams
"Since hands start showing signs of aging before any other part of the body, I would like to talk about hand creams! I have shared ways to make DIY hand-nourishing masks in my book, but what I throw in my bag before leaving the house is the Supergoop Hand Screen. Since there are not many hand creams that come with SPF, I'm glad this one does. It doesn't leave a white cast and smells spicy. And since I have dry hands, I keep reapplying it after I wash my hands or whenever they feel dry, really."
"I apply this hand cream before bed. It claims to improve the texture of hands in 11 days — which it did for me. It's quite quick on performance and works on firming and plumping the skin of hands. If you have veiny or dry hands, give this a try."
Bonus: A DIY Depigmentation Mask
"Saffron and nutmeg help fade acne scars and dark spots," explains Upadhyay. "Nutmeg powder is also available in the market, but I suggest you grind it on your own as it is much more effective. The trick here is to make the texture of chironji scrub your face, so make sure you don't crush and strain it too finely. Use this mask twice to help reduce pigmentation. Note: If you have super-dry skin, replace the chironji with walnut, and follow the same procedure."
Ingredients:
½ cup strained chironji (buchanania lanzan)
3⁄4 cup full cream milk (raw)
2 teaspoons honey
1⁄4 teaspoon saffron
1 ground nutmeg
1. Soak the saffron in the raw milk overnight.
2. Grind the nutmeg on a coarse platform, and keep adding a few drops of water during grinding.
3. Mix the strained chironji, nutmeg, and honey with the milk and saffron mix to create a paste.
4. Apply to face, and leave on for 30 minutes.
If you buy something through our links, New York may earn an affiliate commission.