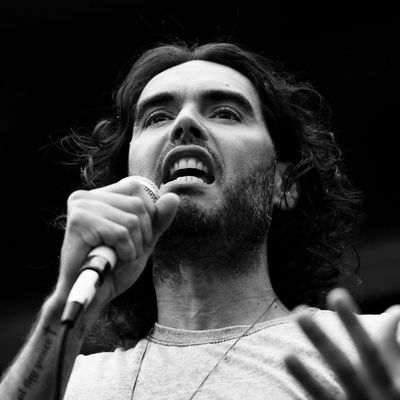 Photo: Mary Turner/Getty Images
On September 15, three U.K. news outlets — the Sunday Times, the Times of London, and Channel 4's Dispatches — published a joint investigation in which multiple women accused Russell Brand of rape, sexual assault, and abuse. Though the women interviewed were speaking publicly about their alleged experiences for the first time, their accounts brought new attention to another assault claim made against the actor and comedian in 2014. In addition to the sexual-misconduct complaints, the report contained accusations by former co-workers who allege Brand engaged in a wide array of inappropriate behavior during his time as a TV and radio presenter.
Before the report came out, Brand posted a video to social media unilaterally denying what he called "very serious criminal allegations" and casting them as a coordinated smear. He said that during the period in question — 2006 to 2013 — he was "very, very promiscuous" and insisted his relationships were "absolutely always consensual." Meanwhile, Brand's management agency and publisher have dropped him, while senior British politicians have called on police to look into the accusations.
Alongside the reports, the news organizations detailed their investigative process, explaining that they had first received information about Brand's "treatment of women" in 2019. Since then, the reporters say they have spoken with "hundreds" of people who know Brand, including former co-workers from his radio and TV jobs; former girlfriends, along with their friends and families; other celebrities; and "senior staff at the BBC, Channel 4, and other media organizations" where Brand has worked. Reporters said they looked at medical records for at least one of the accusers, spent "hundreds of hours" speaking with the women, and submitted Freedom of Information requests to several organizations. They also noted that none of the accusers they interviewed knew one another.
Here's what has been reported about the allegations so far.
Four women have accused Brand of sexually assaulting them between 2006 and 2013.
All of the women who spoke for the investigation opted for anonymity and adopted pseudonyms. One, identified as Alice, claimed Brand first approached her in 2006 when she was a 16-year-old still in school. At the time, Brand would have been a 31-year-old TV and radio presenter working as the host of Big Brother's Big Mouth and at the BBC. Alice alleged he walked up to her in Leicester Square, went through her shopping bags, took out a dress, and told her she was "going to wear this on our date this week." Speaking with the Sunday Times, the woman alleged that Brand pursued her even though she told him her age. She alleges they had a three-month relationship during which he would send a car to pick her up during the school day. Alice alleged Brand also instructed her on how to hide their relationship from her friends and family, reportedly suggesting she save his number in her phone as "Carly" and telling her how to lie to her parents. She claimed Brand had called her "the child," once removed a condom during sex without asking, and overall "engaged in the behaviors of a groomer."
In an interview with Channel 4's documentary component, she recalled one occasion when she alleges Brand "forced his penis down [her] throat," choking her and refusing to back off even as she tried to push him away. Ultimately, she said, she punched him in the stomach to make him stop. She alleged he then spit in her mouth and held it closed until she swallowed, though she was "gagging and crying."
A second woman, going by the name Nadia, alleged Brand had raped her in his home in Los Angeles in 2012. She claimed he tried to rope her into a threesome and when she told him no, he shoved her into a wall and forced himself on her. She reportedly told him to "get off" her several times, but he refused to. Text messages from a number the Times says it has verified as Brand's allegedly show that on the night of the assault, he texted her, saying, "I'm sorry, that was crazy and selfish. I hope you can forgive me." She shared medical records with the journalists, which reportedly show she went to a rape treatment center later that day and continued being treated there for several months. The Times reports that documents indicate she considered seeking legal action against Brand at the time but ultimately decided not to.
A third woman, identified as Phoebe, told the Sunday Times that in 2013, after meeting Brand at an Alcoholics Anonymous meeting, the two began working together. While at his home in L.A., he allegedly cornered her in a bedroom, pinned her down, and tried to take off her clothes as she begged him to stop. "I was screaming: 'What are you doing, stop, please, you're my friend,'" she said. Eventually, she alleged, Brand let her go but said she was fired. The woman said she never reported the incident because she was scared it would ruin her career, and she alleged Brand threatened to take legal action against her if she did say anything.
The allegations aren't the first against Brand. In her 2014 memoir about dating Brand, titled kNot: Entanglement With a Celebrity, Jordan Martin accuses him of sexually assaulting her during their six-month relationship in 2007. She also alleges that he abused her emotionally and physically. Though Martin didn't speak with reporters for the new investigation, her book recounts an instance when Brand became angry with her for talking to an ex. She alleges he snatched her phone, took out the battery, and then began touching her in a sexual way. Per the Daily Mail, she described the experience as an "intrusion" that wasn't "sensual or pleasant." She recalled another alleged instance in which Brand made her brush her teeth until her gums bled, apparently so she would "taste anonymous" to him. Martin wrote that Brand "pushes boundaries, controlling other people to fulfill personal perversions for the sake of dominance, or for the sake of something." She told the reporters behind the new investigation that she stands by her allegations.
According to Sky News, London's Metropolitan Police confirmed on September 18 that after the investigation aired, the agency received another report of a sexual assault by Brand, which allegedly occurred in the city's Soho neighborhood around 2003. The Times has also said that since the story went live, "several women" have gotten in touch with allegations against Brand, which the publication says "will now be rigorously checked."
Brand is also accused of behaving inappropriately at work.
The investigation included other allegations, all relating to what the BBC called Brand's "allegedly controlling, abusive, and predatory behaviour, and inappropriate behaviour in the workplace." Examples of alleged misconduct by Brand include getting undressed in a studio; throwing objects across a studio; urinating in a bottle in front of staff and guests, one of whom was a minor; and making staff "approach young female audience members so he could meet them after filming." (Some of those audience members later said they were upset about how had he treated them.) Brand's assistant claimed she saw him "showing friends intimate photographs of women," per the BBC. When Brand had Jimmy Savile — a fellow presenter who was accused of sexual abuse by hundreds of people after his death — on his BBC show as a guest, he offered, on the air, to make his assistant pay a visit to Savile while she was naked.
Additionally, two former crew members on Big Brother's Efourum show said they felt Brand had treated them as his "pimps." And once, when a runner entered Brand's dressing room, he purportedly "flashed his penis and insinuated she could give him oral sex," per the BBC.
On September 21, another woman came forward with allegations against Brand, telling BBC News that on June 16, 2008, the comedian exposed himself to her at the broadcaster's L.A. office. The woman, identified as Olivia, said Brand was there to record an episode of his radio show and followed her into the bathroom. There, he allegedly informed her, "I'm gonna fuck you." She said that when she told him no, Brand took out his penis and, Olivia said, "pretty much served it to me as you would be serving someone some food." Olivia said she "didn't know what to do" and wasn't sure if he'd locked the door behind him. He allegedly left when he was called back to the studio, and Olivia returned to her desk. She says she then texted someone at the BBC about the intrusion, which is how she found out that Brand was laughing about it on-air. His co-host, Matt Morgan, reportedly joked that it had been "25 minutes" since Brand "showed his willy to a lady," to which Brand replied, "Very easy to judge! Very easy to judge!" Olivia said the exchange left her "stunned" and "disgusted."
Brand has not addressed the accusation, though Morgan claimed he "was not aware until now of the nature of this encounter." The BBC reported that although Olivia never made a formal complaint, BBC management was told about the incident in 2019, "but no formal action was taken." She feels ashamed, she said, "but more so I wonder had something been done, perhaps there would have been fewer women he would have done horrible things to, which we're reading about in the papers now."
Brand has vigorously denied the allegations.
Before the investigation was published, Brand preemptively released a video on his YouTube and Instagram accounts denying allegations that were, at the time, nonspecific.
"Amidst this litany of astonishing, rather baroque attacks are some very serious allegations that I absolutely refute," he said. He added, "As I've written about extensively in my books, I was very, very promiscuous. Now during that time of promiscuity, the relationships I had were absolutely, always consensual. I was always transparent about that then — almost too transparent. And I'm being transparent about it now as well. And to see that transparency metastasized into something criminal that I absolutely deny makes me question: is there another agenda at play?" He seems to have been suggesting the media has a vendetta against him because he frequently shares videos criticizing news publications.
Brand has been on tour, and, according to the BBC, he alluded to the allegations during a show hours after the report but again did not go into detail. Instead, he simply told the audience there were things he wanted to talk to them about but couldn't. He received a minutes-long standing ovation after the show.
Media, production, and other companies Brand has worked with are cutting ties.
Tavistock Wood Management dropped Brand as a client over the weekend. The agency reportedly had known about at least one of the allegations presented in the investigation for at least three years: As reported by Deadline, Alice claims to have reached out to Angharad Wood, the co-founder of Tavistock Wood, in 2020, to tell her about her experience with the comedian. At the time, an attorney for Brand reportedly accused Alice of trying to take money from him. In a statement following the publication of the investigation, however, the agency said Brand "categorically and vehemently denied the allegation made in 2020, but we now believe we were horribly misled by him."
On Sunday, the BBC — for which Brand worked from 2006 to 2008 — said it is "urgently looking into" the allegations, but according to the Guardian, the broadcaster reiterated that it had fired Brand for workplace misconduct. Channel 4 has also launched an investigation. A charity that helps women recovering from drug and alcohol addiction, which has worked with Brand's own similar organization, cut its ties with the actor over the weekend. His publisher, the Macmillan imprint Bluebird, told USA Today it would "pause all future publishing" with Brand, including a title already scheduled for December. And though his tour initially appeared to be moving forward as planned, promoters have reportedly decided they will be "postponing these few remaining addiction-charity fundraiser shows" scheduled in the U.K. over the next few days. YouTube, meanwhile, demonetized his channel, while several of his advertisers have pulled their support. Channel 4 and the BBC have removed all Brand-related content from their platforms.
One week after the news broke, Brand announced on YouTube that he would be taking his show to Rumble, another video platform that bills itself as "immune to cancel culture." Per The Guardian, the move likely allows him to keep making money from his content, though Brand explained his motivations differently, gesturing toward a supposed censorship campaign by the British government and claiming that mainstream media outlets were partnering with "big tech" to "choke" and shutter "independent media organizations like this one." On Rumble, Brand joins far-right figures and conspiracy theorists who've been banned from other apps, including Donald Trump, Rudy Giuliani, Alex Jones, and Andrew Tate. "I thank you very much for your support and for questioning the information that you've been presented with," Brand told his followers, praising what he considers the platform's "clear commitment to free speech."
This article has been updated.