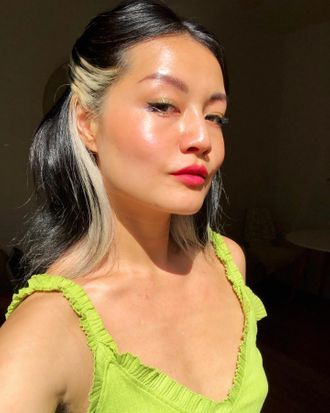 Photo: Courtesy of Sable Yong
Sable Yong fell down the skincare rabbit hole seven years ago. "I tried my first K-beauty product, Missha's Time Revolution First Treatment Essence, with much skepticism, and I was so impressed with the results," says the writer (her work has appeared in Teen Vogue, Allure, Glamour, and GQ), copywriter, and host of the Smell Ya Later podcast. "It brightened the hell out of my skin, evened out the dullness and pigmentation, and people actually started commenting on how good my skin looked for the first time in my life." The experience turned her into "a little bit of a hoarder," she says. "I had a habit of throwing everything on my face out of sheer curiosity, which is not what skin likes. More isn't necessarily better with skincare."
These days, though, Yong tries to stick to a routine. She relies on hydrating products and treatments to help her dehydrated skin, "which is different from dry, because it might look okay on the surface, but the water content is low, contributing to fine lines and dullness." She's also become a pro at exfoliating from the "relentless" congestion around her chin and jawline, which presents itself as tiny bumps.
Yong praises K-beauty for relying on clinical results, but she's not a loyalist. At the end of the day, she only wants an effective ingredient list. "If the first five ingredients are filler, meh. Anything with hyaluronic acid, niacinamide, fermented plant stuff — I'm piqued," she says. "I try to avoid stuff with alcohol or witch hazel because it's astringent, coconut oil because it's like a zit-waterer for me, and I'm wary of silicones, but it depends on the context of their use since they're mostly for barriers or texture slip."
She'll take a product dupe any day — as long as it works. "Tons of prestige and luxury skincare products contain the same ingredients as much cheaper, similar products, and I get that the experience that comes with those products goes into the price tag, but ultimately, I want results," she explains. "You can literally Google 'TK product dupe,' and you'll definitely find a fruitful starting point." She's less compromising on devices because the technology can't be imitated as easily — her ZIIP device has given her the the same results as a micro-current facial with diligent use.
Below, an in-depth look at the products she currently has on rotation, including the face oil that makes her skin feel like velvet, the gel that quickly fades pigmentation spots, and the moisturizer that's like "the standard of what a moisturizer should be."
The First Cleanser
"This is a luxe version of most cleansing balms I've tried. It's like a creamy sorbet that just glides on your skin, snatching all your makeup and dirt away and then rinsing off cleanly. It's got sea buckthorn oil and vitamin E to be extra skin-softening. I love the way my skin feels afterward: residue-free but still velvety and soft. Charlotte Cho, the co-founder of Soko Glam, also founded Then I Met You, and I was lucky enough to be one of the first to try it through her when she launched the brand a year or so ago."
The Second Cleanser
"This is such a great all-around cleanser. I actually write copy for this brand, so that's how I tried it, but it really got me re-thinking my cleansing routine since the brand launched with a suite of cleansers meant to be used for different skin situations, rather than only by skin type. This is probably my favorite of the bunch. It gets the job done — it's somewhere between a milky wash and a foaming gel. It's made with rice extract, tons of botanical oils, and probiotics, which would seem heavy for a cleanser, but it's well-balanced with the surfactants, so it nourishes as well as cleanses. It's nice to feel like I'm washing my face with something that's kind of like a cleansing serum, so it feels more like a treatment than a detergent."
"I'm not a fan of powder cleanser really, but this one is so clever because you can tweak its exfoliating strength to STRONG with just a little bit of water (it has bamboo extract in it, which acts as the manual exfoliant) or subtle, by adding enough water to make it lather up into a regular foaming cleanser. It has papain and bromelain for some enzymatic action, vitamin C for brightening, and coconut milk powder so it feels hydrating and soothing. I like using this in the mornings to create a freshly scrubbed canvas of my face."
The Toners
"This is new to me, but I'm impressed. I've been using it for the past three weeks in the mornings, and it's very hydrating — it feels like an essence. I don't know if CBD is doing much for me, but it is purported to be anti-inflammatory and barrier-strengthening. I'm mostly stoked on how it makes my skin feel plump without feeling heavy at all."
"I've been using this for the past three years, and it's amazing. When I was a beauty editor, we'd go to beauty events hosted by brands and that's where I picked up this baby, but it was love at first swipe. I guess the liquid body of it really gets that salicylic acid in your pores because everyone I know who uses this, myself included, notices its effects overnight. It's not any more concentrated than many other BHA products out there, but it's perhaps the swiftest? It's not irritating at all for me — it has camellia sinensis in it, which is soothing — it's a very light layer, and won't necessarily be thwarted by your other products. I was using it like every night for a while until my esthetician was like 'Dude, your skin is dehydrated as hell, cool it with the chemical exfoliants,' so now I toned it down to three nights a week and never in conjunction with other exfoliating actives."
The Acne Treatments
"I only use this when I have a burgeoning underground cyst attempting to muscle its way to the surface. This magic goo puts a holding pattern on that until it shrinks and eventually gives up. I don't know how or why, but it's magic. You only need a tiny dot, and it'll thwart a cyst in like a day or two. When I met Renée Rouleau, she gave me this and the Post-Breakout Fading Gel as a duo for dealing with breakouts, and I've been hooked since."
"This is something I use for any post-picking marks or when cysts arise and leave pigmentation spots regardless of whether I've picked them or not. Rude. Just a dab of these on any dark spots fades them significantly faster than doing nothing or even by using an all-over chemical exfoliating treatment alone. Normally pigmentation can take weeks to fade for me, and this has expedited that process to like one week."
The Serums
"I love CosRx so much! Everything they make is simple, effective, gentle, and affordable! They're definitely the brand that I impulse-purchase from the most. There's a little Asian skincare shop in Chinatown called oo35mm where I picked this up. The ingredients list sold me: galactomyces ferment filtrate (great for brightening and hydrating and helping the other ingredients penetrate), niacinamide (helps even-out skin tone and texture), sodium hyaluronate (HYDRATION)."
"This is something I'll use some nights when I'm not using Paula's Choice BHA Liquid. It has a host of AHAs, BHAs, peptides, and antioxidants in it, so it's more of a treatment and exfoliator in one. Mandelic and lactic acid are gentler as far as AHAs go, so this isn't too harsh for my skin, which could use the sloughing without further dehydration. I use this probably one to two times a week. I like to switch exfoliating actives every now and again. Keep my pores guessing."
The Eye Cream
"I like this because it has caffeine (good for de-puffing) and licorice in it (good for evening skin tone). I don't have dark under-eye circles so much as under-eye redness, maybe from rubbing my eyes a lot. All I ask of eye creams is that they moisturize the little fine lines away and maybe contribute to the big picture … getting rid of that weird redness. I like that this is really hydrating but lightweight, and it doesn't pill or go all weird under my other products."
The Moisturizers
"This is a lovely anytime moisturizer that's not too heavy but packs a bunch of good ingredients like rice ferment (a.k.a. sake), probiotics, ceramides, and squalane. I am a sucker for fermented skin ingredients because they have been very kind to me. This feels very slick and kind of wet for a cream, but it absorbs nicely and then it doesn't feel so slick anymore. I've been using this for the past couple weeks, and I really like how nutrient-dense it is while also feeling light enough to layer under sunscreen."
"This moisturizer is like the standard of what a moisturizer should be. It's helped my skin through retinol-testing phases, too-much-exfoliating phases, and many winters. It just hugs my skin and feels like a creamy blanket that seals in all my treatments without feeling oily or greasy, while also leaving my skin slightly dewy and plump-feeling."
"This is a cool moisturizer because the texture is almost like an emulsion — it's more watery than a traditional moisturizer. It's also full of peptides, antioxidants, and ceramides, and feels super hydrating without being heavy. I only use a tiny bead of it and it feels like it floods my skin with moisture. This was also given to me by Charlotte Cho."
The Face Oils
"This has a WILD amount of botanical oils in it. You're really getting bang for your buck with this one in terms of how much plant juice you can cram into a vial. I was drawn to the rose hip seed oil, and if I am being honest, all the glowing reviews and Instagram selfies this thing has wrought. As a face oil, it's not too heavy or greasy-feeling, I only need a tiny amount of it, and it makes my skin feel so soft and velvety — and glowy!"
"Again, I am obsessed with rose hip seed oil. This was my first, and you never forget your first! I first tried it many years ago, I think when Trilogy had just come to the States and blogs were singing its praises. So I copped a sample at the time, and man, were they not kidding. I've tried other rosehip oils from generic brands, but this one just seems to work better. It's made quick work of any itchy, dry or irritated skin patches, pigmentation marks, and overall, contributed to softer and glowier skin for me."