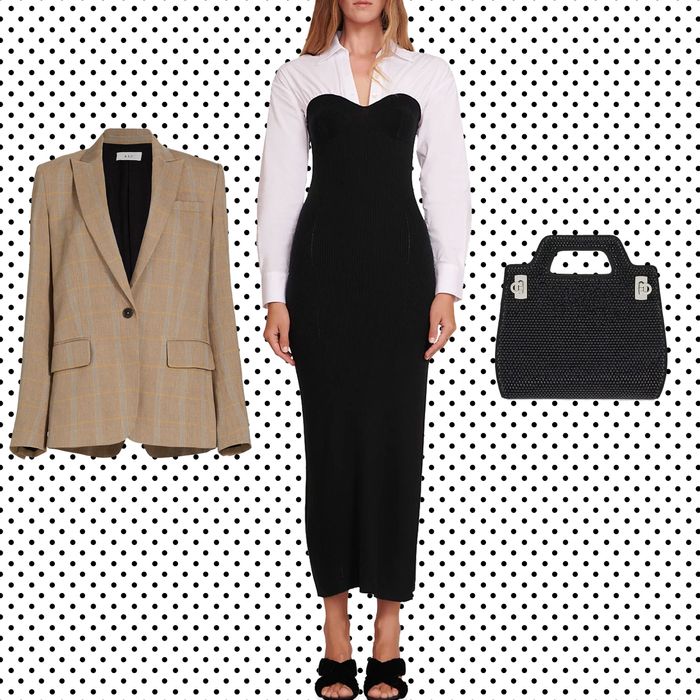 Photo-Illustration: by The Cut; Photos: Retailer
Try not to get jealous when I tell you about this trip I just took: I went on a horse-and-sleigh ride. I danced at an après-ski party on a mountaintop and later at a members-only club where we may or may not have spotted a Real Housewife. I took ski lessons and followed them with an incredible spa treatment at the St. Regis hotel. Even better (or worse, depending on your fomotional state): It was hosted by Saks.
Last month, Saks hosted a group of clients, influencers, and editors (including myself) at a Aspen getaway to celebrate Saks Limitless, an invite-only benefits program that caters to its top customers. Sorry!
Mariel Kriss Sholem, Saks' Vice President of Client Engagement who oversees the retailer's premium program, says she loves cultivating the "ultimate feeling of luxury." Which, same.
A little taste of the perks includes the ability to hop on a private jet to view an exclusive collection, personal-styling services, early preorder access, and more experiences around the world. How do you join? Well, you'd need to spend five figures shopping on the regular. But if you can't swing that — again, same — we chatted with Austin Wood, a Saks Limitless senior stylist, about the tips and tricks he gives his big spenders. "You don't always need to wear head-to-toe runway to serve a fabulous luxury look," Wood says. Thank the fashion gods.
Let's talk spring and summer fashion trends. What are you most into right now?
I'm particularly excited about minimalist tailoring. We have a ton of great suiting options in neutral colors and fresh silhouettes that can carry your wardrobe from season to season. I am loving colorful gemstone earrings to complete a warm-weather outfit. A beautiful pair of gemstone earrings will become an instant classic in your everyday spring wardrobe.
Do you spring clean your wardrobe? 
Wardrobe rotation is always a big part of my spring-cleaning regimen. I move my lighter clothes into my main wardrobe and funnel out my heavier sweaters and store them away for the fall. I always advise my clients to take an evaluation of their spring wardrobe and consider what pieces they are missing and if there are any pieces that they haven't worn for a long time that they're ready to say good-bye to.
What's your philosophy on the high-low method of buying certain expensive items and then more affordable ones?
I love to style my female clients in a great pair of Agolde jeans with an elevated blazer or cashmere sweater from Khaite. Some of my favorite brands that offer incredible fashion at a more approachable price point are Staud, A.L.C., and Totême.
Who are some of your favorite emerging designers?
For ready-to-wear, I am currently loving a New York–based brand we recently launched at Saks named Interior. Another one of my favorite brands at the moment is Ferragamo, which just went through a major rebrand under the creative direction of Maximilian Davis. It's exciting to see a heritage fashion house transform its look and succeed in appealing to a new, younger customer while staying true to the brand's DNA. Ferragamo is a top-selling brand among my clients across the map, and Saks is supporting Davis's debut collection in a big way through digital marketing and pop-ups at select stores. For jewelry, which is my specialty, one of my favorite up-and-coming designers is Walters Faith.
Which designer do you find yourself returning to time and time again?
Loewe. Loewe offers the perfect mix of sophisticated classics and fun, playful looks. All of my clients, both men and women, love Loewe, and the brand performs extremely well across the board at Saks. For jewelry, Bulgari is definitely a brand I find myself coming back to time and time again and working into my clients' wardrobes. Bulgari's designs are truly timeless and can be worn to complete an outfit and give clients an extra boost of confidence.
Shop This Stylist's Top Selects