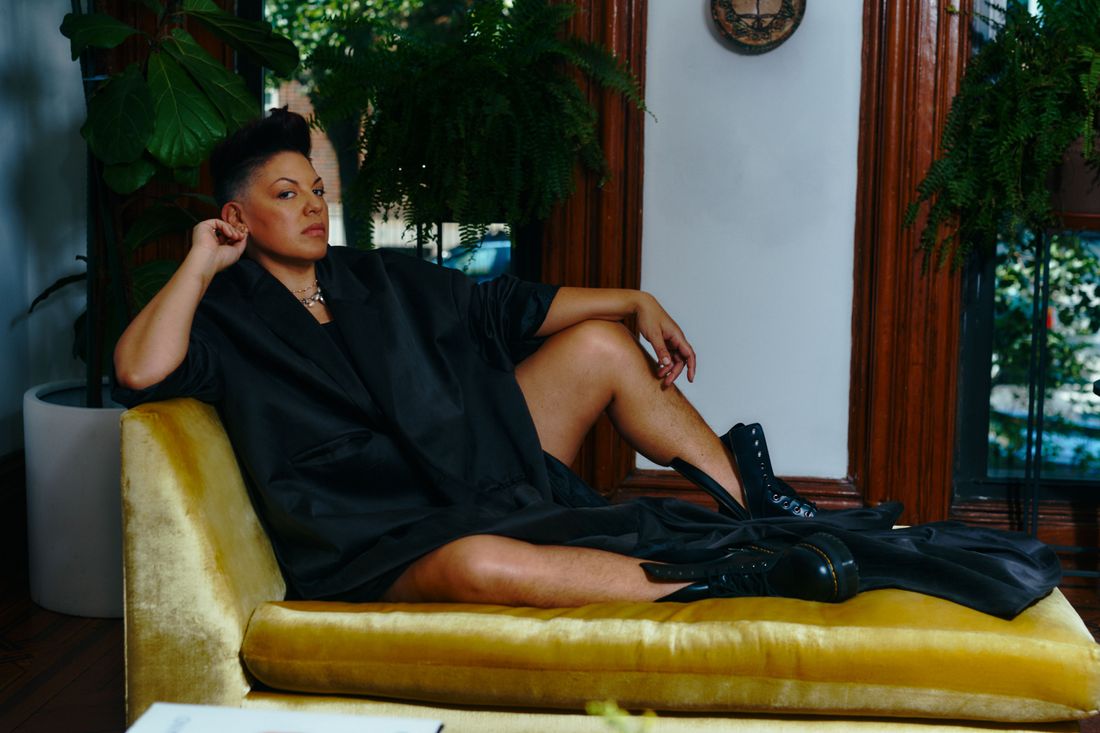 I've fallen in love here. I've broken up with someone here. The memories, they're everywhere," says Sara Ramírez, looking ravishingly butch in Oakley sunglasses, their salt-and-pepper buzz cut peeking out from under a Yankees cap, as they gesture toward a scene of well-groomed pooches, their well-bred owners, and one not-so-terrible band jamming under a tree. "This is why I love Central Park. You just never know!"
In Sex and the City's Manhattan-centric version of New York, Central Park is usually a place the ladies go to bitch about ex-boyfriends or take engagement photos after they've gotten back together with them. It's a bit of a field trip for me, since, like many people of my generation, I mostly hang out and complain about men to my friends in ratty parks in Brooklyn. In any case, it seems somehow fitting that Ramírez, who plays the extensively memed nonbinary stand-up comedian Che Diaz on And Just Like That …, the Sex and the City reboot, suggested we meet up here to talk about the show's new season.
Before we get too lost in the reverie of a pretty spot on a pretty day, Ramírez points out that the patch of grass we're dawdling on was once Seneca Village, a 19th-century enclave of Black New Yorkers that was displaced by the park's construction. ("If folks want to learn more about that, they should look it up," they say.) Ramírez explains they're "holding space" for "these difficult truths" and brings up that George Floyd was murdered three years ago to the day. They later lecture me a bit about "bi antagonism" and how "some people don't even know the history of the word bisexual. To me, it's crystal clear." They add, "I'm very lucky and blessed to have made in-person contact with bi-plus elders." They do not mean Carrie, Samantha, Charlotte, or Miranda.
It's all a bit heavy, or maybe just heavy-handed, and very … Che Diaz, who introduces themself in the first episode of And Just Like That … as a "queer non-binary Mexican Irish diva." Like all of the Sex and the City characters, Che, a social-justice-warrior scold with a podcast and a cannabis habit, represents a somewhat over-the-top version of a contemporary New York City type. Che is there to teach the well-maintained, well-meaning, nearly 60-year-old ladies about "compulsory heterosexuality," pronounspeak, and using dialogue as a verb. Ramírez similarly uses words such as trauma, privilege, and social constructs to make their various on-point points. It might feel natural to make such comparisons in your head, but Ramírez heads them off, assuring me, "I'm an actor. I'm not the characters I play. I'm not Che Diaz." (For the record, Ramírez's Instagram bio describes themself as "abolicious" and a "MexicanIrishNon-binaryHuman.")
After And Just Like That … killed off Mr. Big with a Peloton in its first episode, Che became the show's most-talked-about love interest. Unsurprisingly, there was plenty of eye-rolling from the (mostly younger) queer people I know, who found the character a hyperbolized, hypercringe representation of nonbinary identity. Still, Che made us giggle. There was so much discourse around them: Maybe the show was trying too hard to meet the moment, or maybe it was just being cheeky and trolling us all about how self-serious we get over the politics of representation on a fizzy sitcom. As one of the show's writers, Samantha Irby, told this magazine last year, "I do think one of the least-charitable takes is that we're not in on some of the jokes the internet is making." Was I being uncharitable to Ramírez when I wondered if they were also in on the joke?
Ramírez, 47, could be thought of as another NYC archetype: the earnest theater kid. Born in Mexico but raised in San Diego, where they attended a performing-arts magnet school, they give the impression that their childhood there wasn't easy. "I was sent by myself to the United States when I was 7 years old to live with someone else and then my mom showed up later," they tell me. "I experienced intense discrimination and trauma. It was a very lonely experience."
But owing to what they call their "class privilege," they were later able to attend Juilliard. They made their Broadway debut at 22 in The Capeman and landed a small role as a Zabar's cashier who annoys Meg Ryan in You've Got Mail. Ramírez says they watched Sex and the City when it first aired and appreciated its message that "some of us can have sex like men without having to be men." The characters' gleeful "spending habits," as they put it, were harder to relate to. So not too much class privilege.
In 2005, Ramírez starred alongside Tim Curry in the musical Spamalot, directed by Mike Nichols. Ben Brantley, reviewing the show in the New York Times, singled out Ramírez's performance as the Lady of the Lake by calling them a "toothsome devourer of scenery." They won Best Featured Actress in a Musical at the Tonys. Then ABC offered to cast them in any show on the network; they chose Grey's Anatomy and never returned to the theater.
Ramírez's bespoke Shonda Rhimes character on Grey's was a spunky orthopedic surgeon named Callie Torres. They met all of the show's high-drama twists and turns (plane crashes, car crashes, bus crashes) with enough charisma and Grey's horniness to become a fan favorite. Callie came out as bisexual in the show's fourth season, in 2008. This was before Ramírez was ready to come out publicly themself, though they had been identifying as bi since their teenage years. They tell me they were partly responsible for the queer plotline: When they heard a similar surprise was being considered for another regular on the show, they asked Rhimes, "How about Callie?" After ten years on Grey's, Ramírez tells me, they took a break from acting to get more involved in "social-justice movements" and became a familiar celebrity face at Trump-era protests. They were also privately identifying as nonbinary and were in a relatively private ten-year marriage to a finance guy. "For many decades, I performed 'woman' with the long hair and the makeup," they say. "Sometimes it was me, and sometimes it was survival."
Barely a year later, Ramírez returned to television with Madam Secretary, describing their role as foreign-policy adviser Kat Sandoval as somewhat therapeutic — this being 2017 and the series one on which all of the politicians are good people doing good in the world. Ramírez again made requests about their character's gender and sexuality: "The no-makeup-makeup look, and my face as it is, no lashes, no nothing, and this hair. No dresses, no heels, no femme-expressing attire," Ramírez recalls. CBS agreed, and they played the character for two seasons with masc gusto.
I tell Ramírez it's interesting to me that, from a distance, it seems as if they came out themself through their characters over the years, but they dismiss that. "The media does one thing, while the actors live their own reality," they say.
Two years later, producer Michael Patrick King came calling when he wanted to reboot Sex and the City. According to Cynthia Nixon (Miranda), he was looking for a "butch or nonbinary person" to play Carrie Bradshaw's podcast boss — and to ruin Miranda's marriage.
It was sometimes painfully clear, when And Just Like That … premiered in 2021, that the show's creators were eager to atone for the original's extreme whiteness and often oblivious politics. Just consider, as Ramírez has, the cavalier way the show treated bisexuality: Carrie once described it as a "layover on the way to Gay Town," and Miranda called bi people "greedy." Never mind that Charlotte once pretended to be a lesbian for clout and Samantha dumped a bucket of water on the trans sex workers turning tricks outside her Meatpacking apartment.
Kim Cattrall was skipping the reboot, and in came a new crew of gal pals, three women of color all as fabulously ridiculous as the original squad. Lisa (Nicole Ari Parker) collects Mickalene Thomas and Derrick Adams paintings, Seema (Sarita Choudhury) swipes on Raya, and Nya (Karen Pittman) teaches humanitarian law at Columbia.
And then there was Che. "I really get off on the bros trying to figure out what I am … I'm an equal-opportunity confuser," the character explains on Carrie's new podcast, on which they sometimes push a button that exclaims "Woke Moment!" or "Trigger warning!" But Che wasn't intended to be the girls' latest plus-one for brunch; rather, they were another of its spicy yet flawed romantic interests (Aidan versus Mr. Big is still a hot topic at my own brunches). Miranda begins an affair with Che, and it's just as batshit as every other relationship the series has lodged into our brains.
All of Ramírez and Nixon's scenes together quickly became GIF fodder — as when Che "shotguns" weed into Miranda's mouth, or when Che fingers her in Carrie's kitchen, or when Miranda leaves her husband and shows up at Che's apartment door and announces, "I was craving me some Che." Che is kind of a fuckboy, telling Miranda after their hookup, "Hey, DM me if you wanna chill again soon, okay?" (Asked about that naughty finger bang, Ramírez says, much to the probable satisfaction of some intimacy coordinator somewhere, "I felt very held, professionally. I felt safe.")
How did this coming-out come to pass? "It was honestly a two-sentence conversation between Michael Patrick and I," Nixon tells me. "He said, 'What do you think? Should we make Miranda queer?' I said, 'Why not? We're queering up the show in general'" — Charlotte's second child comes out as nonbinary in a "they-mitzvah" officiated by Hari Nef as a trans rabbi — "'we've got a homegrown, home-team queer. Why not use me in that way?'"
Back in the park, Ramírez waves away the side-eyes about Che, saying, "Anybody who benefits from patriarchy is going to have a problem with Che Diaz." When I try to tell Nixon about some of my own mixed feelings, she asks, like a therapist, "Do you want to unpack that to me?" Both actors seem to believe the reaction has more to do with a societal discomfort around gender-nonconforming people, rather than a hope coming from actual queer people that we be portrayed as less lame. (It's not lost on me that Che's stand-up set in the show includes a Hannah Gadsby–style monologue about representation that includes the line "Put our real asses on TV, okay?")
"I think there are people like Che out in the world, and I think that opinions about whether Che is representing an authentically queer person or not is not for me to answer," Ramírez tells me. They really believe in the education of Che Diaz: "It's exciting to have Che be a disruption to the mainstream. We had been experiencing the mass mobilization for anti-racism for George Floyd, so being aware of how important disruption is, being aware of how important it is to wake people up from the sleep of their own comfort and privilege, was so important to me that summer." Judging from the first three episodes of season two I saw, the writers do seem more interested in complicating Che. (Spoiler alert: Miranda dons a strap-on.)
One thing is definitely different, however, between Sara Ramírez and Che Diaz: The character has a habit — played for laughs — of lighting up in inappropriate places (office elevators, Carrie's apartment, Mr. Big's funeral), but though I did happen to have a joint on me in the park, I didn't offer it to them. I wasn't sure they would get the joke, or think it funny.
For more, join us for And Just Like That Club, our subscriber-exclusive newsletter dissecting and obsessing over all the minutiae of the new season. Existing subscribers can visit this page to sign up. If you're not a subscriber yet, click here to get started.