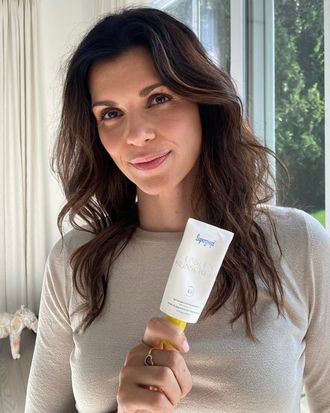 If you're looking for a place in New York City to relax, allow the Well to be your new oasis. The space — which was co-founded by Sarah Hallock, Rebecca Parekh, and Kane Sarhan — is sure to calm your mind from the city thanks to its relaxing environment. The offerings include things like personal health coaching, deep-tissue massages, acupuncture, saunas, vibrational energy healing, and more: "We help people take agency for their health and achieve their wellness goals. It's very rewarding."
For Hallock, the journey to serving others began when she faced her own health struggles while working corporate jobs in the early aughts. "I gained 25 pounds over the course of one year, my hair was falling out, and I had anxiety and wasn't sleeping," she explains. After seeing many doctors, she was told that she seemed normal; some offered her anti-anxiety medicine and sleeping aids. "But ultimately no one could explain or even cared to find the root cause," she says, until she met a Functional Medicine doctor. "Then I discovered that I had an autoimmune disease," Hashimoto's Thyroiditis, a disease that disproportionately affects women and often goes undiagnosed. From there, Hallock turned to holistic healing and started adopting healthier eating habits, practicing meditation, and undergoing acupuncture. This experience led her to do two one-year programs at Institute for Integrative Nutrition and Duke Integrative Medicine to get training before starting her own health-coaching practice. " I knew I wanted it to be more than just me. I wanted to reach more people and be able to collaborate," she says of what led her to connecting with Parekh and Sarhan to later create the Well.
.

Here, Hallock's a.m. routine:
8:00 a.m.: I need a full nine-to-ten hours of sleep, so I am not an early riser. I wake up around 8:00 a.m. and brush my teeth with OJOOK toothpaste with NHA and bamboo salt. I love the ingredients and the flavor profile. Once I started using a more natural toothpaste, it was impossible to go back to the artificial taste and flavor of a mass brand.
I do a quick splash of water on my face and apply Biologique Recherche Crème MSR-H before a light yoga and stretching session on my mat at home.
Next up is a protein smoothie. Key ingredients are Vital Proteins Professional Daily Foundational Support, Barlean's Forti-Flax flaxseed, Kos Plant Protein, spinach, wild blueberries, banana and water. I drink a quarter of my shake and head to the gym in my building for a 45-minute workout.
9:15 – I do a five-minute full body dry brush before shower. I wash my face in the shower with Biologique Recherche Lait VIP 02 - it's mild and oxygenating. I wash my hair every two to three days with Rahua Classic Shampoo and Rahua Classic Conditioner. They are made with plant-derived ingredients and oils. Post-shower, I add a few drops of Phyto Subtil Elixir Intense Nutrition Shine Oil and blow dry with the Dyson Air Wrap. I dread blowing out my own hair but can do my hair in under ten minutes with the Air Wrap, which makes it a game changer. On days I don't wash my hair, I use Rahua Voluminous Dry Shampoo. I love this because it's a powder and does not have the perfume-y fragrance of most aerosol dry shampoos.
9:30 a.m.: My skin care includes Marie Veronique Vitamin C&E Serum, Biologique Recherche Le Grand Serum, and Biologique Recherche Crème MSR-H mixed with a drop of Biologique Recherche SERUM T.E.W.L, which I top off with Supergoop Unseen Sunscreen SPF 40 365 days a year!
I don't wear a lot of makeup, and if I do, I keep it simple. I fill in my brows with an Anastasia Beverly Hills pencil and use Dior Forever Skin Correct under my eyes, rms beauty Living Luminizer, and Tower 28 Beach Please cream blush.
.

Skin-care and Makeup Routine
.

Hallock's p.m. Routine
9:00 p.m.: A few years ago, I rebranded my "bedtime chores" as "nighttime rituals," creating a mind shift. I now enjoy my evening routine. It starts with a scoop of OptiMag Neuro magnesium in warm water around 9 p.m. to help me relax and ease into sleep.
For skin care, I am addicted to Biologique Recherche Eau Micellaire Biosensible. I then wash with Biologique Recherche Lait VIP 02 followed by Biologique Recherche Lotion P50, Biologique Recherche PIGM 400, Biologique Recherche Serum PIGM 400, and a drop of Biologique Recherche Serum T.E.W.L mixed with Biologique Recherche Crème MSR-H. My face looks like a greasy doughnut, and I love it!
10 p.m.: I read every night before bed. No TV or electronics in bed. By 10 p.m., I put on my Sleep Eye Mask and am off to sleep.
.

On finding confidence:
Getting sick with an autoimmune disease led me to take greater agency over my health, which was a gateway to everything else in my life. I began to accept things about myself and others that I could not change and instead looked for the lessons or the beauty in everything. I credit my meditation practice with so much of my awakening and finding my own confidence.
.

On the beauty marketing ploy that makes her cringe
Anti-aging. I want to celebrate the beauty and wisdom of aging. I'm not saying you can't color your hair or do things to make yourself feel vibrant and healthy, but fighting aging is exhausting. I'm going to age. I accept that and hope to do so as gracefully as possible.
.

On the beauty industry as a whole:
The beauty industry has become so much more inclusive than when I was growing up. There really was a one-size idea of beauty. The world is still full of unrealistic beauty standards, and we have a long way to go, but it has evolved significantly.
.

On the ingredients she avoids:
I avoid artificial fragrances. They are essentially various chemicals, solvents, and preservatives that are undisclosed and listed as "fragrance" on an ingredient panel. With our skin as our largest organ, we are absorbing all of these chemicals that have been linked to everything from endocrine disruption to allergens to asthma and eczema. There are so many wonderful alternatives, so I'm definitely not missing out.
.

On the types of products she gravitates toward:
I used to be a sucker for cute packaging, but now efficacy is the No. 1 thing I look for in the products I use. I'm busy and don't have time for something that doesn't work.
.

On the beauty service she swears by:
Blowouts. If I'm having a good hair day, I can accomplish anything.
.

On the beauty routine she must do, even in a rush:
My skin-care routine is nonnegotiable. I do it even if I'm not leaving the house. Supergoop Unseen Sunscreen and a hat specifically are a part of this as well. I have melasma, which I have worked on for years with Dr. Idriss, and have it largely under control, but the sun exacerbates it, so even an hour in the sun can cause a flare-up.