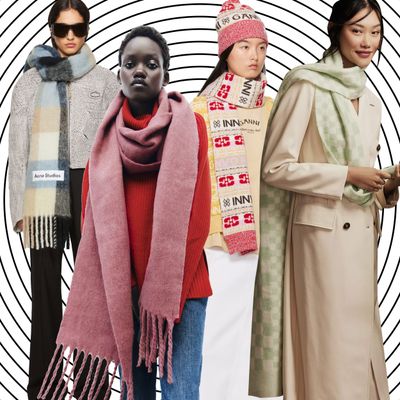 Photo-Illustration: by The Cut; Photos: Retailers
For more of the Cut's favorite fashion, beauty, and home finds, sign up for the weekly Cut Shop Newsletter.
Even if you're not Lenny Kravitz, you should probably own at least one scarf. Despite having less square footage to play with, you can go big — like extremely oversized blanket big — or subdued, as though you casually winter in the Scottish Highlands. Sometimes a statement coat or jacket can do all the work when you put together a cold-weather outfit, but don't underestimate the power of this staple neck accessory. You can really show off your personality with a scarf — wear yours with a coordinating sweater and winter hat for a playful look or with a classic wool coat to even make your ten-minute bodega run a sophisticated one.
Below, we rounded up 16 options, featuring everything from a standout Loewe scarf and that Acne Studios check style to an Amazon favorite and a Zara fringed knit that almost rivals Lenny's — almost.
If you need an essential black scarf
Materials: cotton, viscose | Colors: 42
Black is a classic color for winter, but this fan favorite (it has more than 2,200 five-star ratings!) also comes in 32 colors. And it's big enough to double as a small blanket, so you can snuggle under it on plane rides.
If you're all about puffer coats
Materials: nylon, polyester, acrylic, rayon | Colors: 4
Add more marshmallow to your winter outfit with a padded scarf layered under your puffer. Uniqlo's iconic Heattech fleece has moisture-absorbing and insulating features, which all but guarantees your neck will be the warmest part of your body.
If you live in your Uggs
Materials: polyester | Colors: 2
Accessorize your go-to Fluff Yeahs or Tasmans with an equally plush Ugg scarf. The fleece fabric will keep icy winds out while the neutral camel hue will go with almost any winter ensemble.
If you're a cashmere person
Materials: recycled cashmere, recycled wool | Colors: 5
A basic recycled cashmere and wool scarf that comes in seven total colors and happens to be on sale? Say no more. 
If you want that scarf
Materials: alpaca, wool, nylon, mohair | Colors: 10
Acne Studio scarves basically rule winter. Give in to the temptation so you can finally own one of the brand's colorful wool-check designs this season.
If you can't resist Ganni
Materials: wool, recycled wool, polyamide | Colors: 1
Odds are you've seen this same pattern on Ganni's popular sweater vest. If you already have it, you can match with the scarf or wear this accessory on its own to add some pattern to your look. You too can be a #GanniGirl.
If you want two styles in one
Materials: cashmere | Colors: 1
A reversible style means you'll get twice the wear out of a single item. And the only thing classier than the reversible combo of beige and black is a reversible Burberry scarf with a hardware monogram. Another versatile scarf option for cashmere lovers.
If you want a scarf that's also a hood
Materials: nylon, wool | Colors: 3
On the coldest winter days, you'll wish you had either a better hat or a super-warm scarf with a hood that could go over your head, cover your ears, and wrap around your neck all at the same time. Impossible? Not if you have this unique rib knit and wool-blend scarf.
If cable knit is your thing
Materials: recycled polyester, nylon, wool | Colors: 3
If you're planning to bundle up in Hunter snow boots this winter, why not bundle up in this cream cable-knit scarf from the brand as well? You can even top off the look with a matching beanie.
If you need a pattern
Materials: recycled polyester, acrylic, nylon, wool | Colors: 3
Make a bold statement with a not-so-typical red-and-white checkered scarf. Not only is a bright pattern eye-catching and different, the red-and-white color palette can double as seasonal festive. But for those who prefer a more subdued pattern, you can choose from a beige or light-mint color combo.
If you're still into Barbiecore
The good news is that if a sudden snowstorm or squall arrives, you can still be spotted with a scarf as vivid as this one. The pull-through style stays snug on your neck to keep the elements out.
If you're super-festive
Materials: acrylic, wool, polyester | Colors: 1
On the hunt for a festive holiday-themed scarf that will put a smile on your face? Look no further than this multi-colored Fair Isle knit scarf by Kate Spade.
If you love fringe
Materials: polyester, wool, acrylic | Colors: 1
We all need at least one classic, no-frills scarf that will last all season — and this fringe one fits the bill. It's exactly what you need to keep cozy on those beyond-frigid days. Also, a great way to add a pop of color to your winter look.
If you like the preppy look
Materials: wool, viscose, polyamide, cashmere | Colors: 1
There's something about a colorblock, rugby-style scarf in the winter that screams preppy and cozy. You can always turn to quintessential preppy labels like Ralph Lauren or J.Crew for a staple logo scarf, but we love this chunky block-pattern one from French-Japanese brand Maison Kitsuné.
If logomania is the move
You'll get so many compliments on this mohair Loewe scarf that's pretty much made to be dramatically tossed around your neck.
If you want to feel like you're wearing a blanket
Materials: wool, polyester | Colors: 2
Take the definition of "bundle up" to the next level with this Madewell blanket scarf. It's comparable to your favorite couch blanket (only more acceptable to wear in public).
If you like feathers
Materials: merino wool, ostrich feathers | Colors: 3
Who said a scarf can't be fancy? If you like to have fun with fabrics, then you'll love this fanciful feathered scarf by Tanya Taylor. You can even pair the scarf with the brand's matching sweater for a full feathered look.
If you want to be extra cozy
Materials: alpaca, wool, polymide | Colors: 3
When it comes to the ultimate warm-and-cozy fabric, Alpaca reigns supreme. This Alpaca wool-blend scarf will not only keep you toasty, it will give you all the feels — literally — with its soft-touch boucle texture.