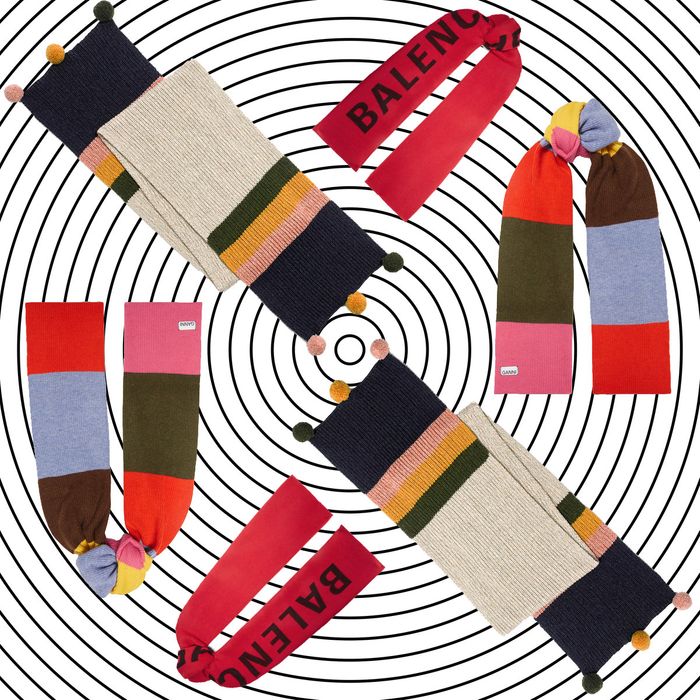 Photo: Courtesy of the vendors
Even if you're not Lenny Kravitz, you should probably own at least one scarf. Out of all the winter accessories, it's the one that makes it easiest to show off your personality while staying warm and cozy. Below, we've rounded up 16 good options for every personal style. From a colorful dip-dyed Loewe scarf to an affordable faux fur from Mango, here are the best scarves in stores now. Scroll down to shop all of our favorites.
An Essential Black Scarf
Black never goes out of style, but if you love a print, this one comes in leopard and red plaid. And it's big enough to double as a small blanket, so you can snuggle under it on plane rides.
For the Person Who Can't Sit Still
Pom-poms aren't just playful accoutrements. They're also a good distraction for someone who is constantly fidgeting.
If You Love Your Puffer
Puffer coats are a no-brainer because they look cute while keeping your body warm. Why not apply the same logic to your neck?
A Creamy Cashmere Scarf
Wear this on top of an all-beige outfit, like foam on top of a cappuccino. You'll look so expensive.
If You Drink Green Juice Daily
If you haven't heard, we're all dressing like celery juice this winter.
If You Dabble in Being a Hypebeast
It's okay to admit that hypebeasts look cool sometimes, even if you don't want to spend your all time waiting in line in front of Supreme. This scarf gestures at the style without going overboard.
For the Millennial Pink Addict
Consider this the classic black scarf's contemporary equal. Millennial pink has been everywhere the past couple years and refuses to go away.
A Sentimental-Feeling Scarf
With this scarf around your neck, you'll feel as warm and fuzzy as if your own grandma made it for you.
A Scarf With Pockets
So when people compliment it, you can say, "Thanks! It has pockets!"
If You Love Tie-Dye
Dip-dye is kind of like tie-dye's refined-but-still chill cousin. It feels extra refined if it's from Loewe.
If You Love Tie-Dye (and Are on a Budget)
Same as the scarf above, except more affordable.
When You Need Another Layer
This scarf doubles as a cape, complete with arm holes.
If You Love Matisse
An abstract floral printed scarf goes perfectly with a day of gallery hopping.
If You Aren't Afraid of Color
A Faux-Fur Scarf
The subtle fur effect here will keep you toasty without sacrificing taste (or an animal).
For the Logomania Lover
Spare your friends the effort of having to ask "Is that Balenciaga?"
If you buy something through our links, New York may earn an affiliate commission.