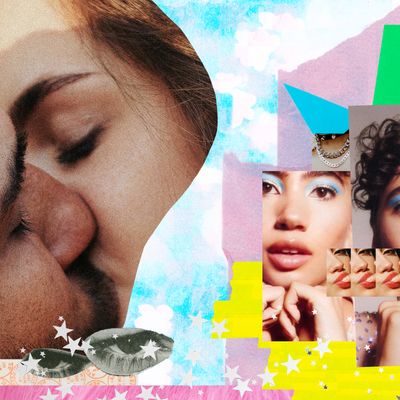 Photo-Illustration: Marylu Herrera
This week, a man has adventurous sex with a woman he met nearly 30 years ago: 52, in a relationship, upstate New York.
6:30 a.m. Wake up next to T. She's naked, and her body turns me on. I snuggle her, then begin fingering her. She orgasms, and we go back to sleep for a few more minutes.
7 a.m. Quick breakfast together. I first met T when I was a 25-year-old grad student. We got along all right, but she was three years older and I was superficial and only interested in younger women. Still, we stayed in touch over the years — I became a scientist working abroad, while she stayed here in the States to work in customer service. Neither of us got married or had kids.
A year ago, I quit my job to move back to the U.S. I wasn't enjoying the work and felt isolated living abroad. Plus, my love life was going nowhere. Before coming back to the States, I emailed T and asked her if she'd like to meet up in New York. It had been nearly 30 years, but we hit it off, and she invited me to stay with her at her place upstate while I searched for a new job. We've been living together ever since.
8 a.m. Head to the gym. Ever since T and I became lovers, I've been focused on her. Even my workouts are motivated by being in top form for sex with her. I've had other relationships, but they were all dead ends — only a couple of months long and never this serious.
10 a.m. At my contract job at a local start-up. The work is totally boring — it's a project development role that involves making technical sales proposals and project plans. After a year of job searching, I haven't found anything in my field in this small town. But T has made a life here — she's worked here for several years, made friends, and has a sense of community. I'm here to be with her.
6:30 p.m. T and I cook dinner together. We touch often as we move around the kitchen and I kiss the back of her neck whenever I get the chance.
8 p.m. Over dinner, we start talking about the books we're reading. These long talks always turn us on.
9 p.m. We've having sex and passionately making out. I've been attracted to T ever since I saw her when she was 28. Now — at 55 — she is self-conscious about her body, but I still think she's really sexy. I try to tell her every chance I get.
DAY TWO
6 a.m. I'm half-awake, spooning and caressing T. She feels my morning erection against her butt and asks me to fuck her. I roll her onto her stomach and enter her from behind.
7:15 a.m. We have coffee and I listen attentively as T chats about work. She's sweet, but socially awkward and nerdy. This was one of the things that turned me off about her when I was younger, but I love it about her now.
1 p.m. At work, on my lunch break. I message T to ask about her day. She texts me back immediately. It's really nice having someone to speak to during the day.
7 p.m. T and I meet up after work to pick up a gift for T's best friend from college, K, who we're going to visit in a few days. T has really mature tastes — she likes designer stuff but nothing too flashy. She shows up in a really cute outfit — heels and shorts. I whisper in her ear that she looks sexy, which makes her blush.
7:30 p.m. We head to a jewelry shop looking at necklaces for K. I point out a ring that would look nice on T. She smiles at me shyly. We've been talking about marriage lately, but I'm still not entirely sure how she feels about it.
8:30 p.m. Back home. We've been flirting all evening and the sexual tension has been building, but I have a hard time getting it up. I suffer from a bit of erectile dysfunction — I figure it was the years I spent not having sex in my 40s. T doesn't mind, though. I take an ED pill and we get going in no time. I think being in a healthy, committed relationship has given us both a lot more confidence in the bedroom.
9:30 p.m. I have an explosive orgasm; then it's T's turn. I rim her ass and give her oral until she finishes, too. We have sex again shortly after. These pills are great.
DAY THREE
8 a.m. I drive T to work this morning. She wriggles around in the front seat — she says she's sore from our night of sex.
11 a.m. I'm exhausted at the office. T messages me about our night, which quickly turns into sexting. My work is never that busy, so this is a pretty common occurrence.
2:30 p.m. My boss asks me if I can extend my contract for another year. I think about it briefly — maybe I should job-search again? — but I just decide to accept. I have no other plans for the time being.
7 p.m. Back at home. We're packing for our trip to see K, who is a scientist in a research lab overseas. I have yet to meet K, but I think we'll have a lot in common since we're both scientists. K is recently divorced and in remission from cancer. She's doing well now, but has been through a lot in the last several years, and we decided to take a week off to go and see her.
7:10 p.m. T and I talk about how we will spend our time with K. After booking our trip, T revealed that she and K had a threesome with K's boyfriend when they were in their 20s. T broaches the idea of having a threesome with me. She said she's discussed it with K. I tell her it sounds fun and that I'm more than open to it.
7:30 p.m. T and I snuggle and watch a short Netflix comedy.
9:15 p.m. T lights a scented candle in our bedroom. I take a Viagra. We give each other oral sex, then T rides me until we orgasm at the same time.
DAY FOUR
11 a.m. Busy finishing up some work before my vacation starts.
1 p.m. Leave work after a half-day and work out at the gym.
3:30 p.m. T and I arrive home at the same time. Her post-run, sweaty body smells so sexy. I pull her in to kiss and inhale her. We help each other stretch, which turns us both on. I take off her leggings and give her oral until she orgasms.
7 p.m. We finish packing for our vacation.
8 p.m. Dinner and an early night so we can be up early for our flight tomorrow morning.
DAY FIVE
7 a.m. We board our flight. I used airline points from years of work travel to get us business-class seats.
11 a.m. In the airport lounge on our layover. We talk about eloping in another country. T never wanted children, but I did. Thinking about it makes me sad.
3:30 p.m. On our second flight. I take the Champagne offered by the stewardess.
5 p.m. The Champagne is getting to me. I start to feel emotional. I failed to start a family and I've never really liked my career, but I have T as a companion now. She's here for me. I reach out to kiss her and go to sleep.
9 p.m. Finally touch down at our destination.
DAY SIX
11 a.m. The time difference is jarring, but K welcomes us warmly into her home. She and T are so happy to see each other.
1 p.m We're eating lunch, chatting, and catching up about our lives. T and K are so comfortable with each other. I get along wonderfully with K because of our shared science background.
3 p.m. Quick nap. Jet-lagged and maybe slightly hung-over from the in-flight Champagne.
7:30 p.m. After a light dinner, T and I shower and get ready for bed early. K stops by our room and jokes that there's "no need to be quiet" while we have sex; in fact, she wouldn't mind overhearing us. T and I laugh, and then T tells K she is welcome to join us. I'm a little taken aback at first, but then I remember that T and K have done this before. K glances at me; I smile and say she should come on in.
7:40 p.m. K isn't shy; pretty soon all three of us are naked in bed. K is slim and attractive in between T and I. This is my first threesome and I thought I'd be nervous, but I feel totally relaxed. I don't even need to take a pill.
7:50 p.m. T and I are kissing and caressing K. She's wearing the necklace we gave her. It looks beautiful. We take it slow, T and I focusing on giving K a great time. By the end of the night, we've all had multiple orgasms.
DAY SEVEN
8 a.m. Over breakfast, K thanks T and me for the wonderful experience. We thank her for the same.
9 a.m. T and I are alone. We're talking about last night. We feel even more intimate with each other now and agree we'll do it again if K is open to it.
2 p.m. We are all out sightseeing. K takes photos of me and T. We all go for lunch afterwards. I worried things might be a little awkward after last night, but everything feels normal and relaxed.
5 p.m. T and I treat K to dinner, and we reflect on the night before. We're all older, and have been through a lot in our lives. We all agree that at this point life is too short for inhibitions and hang-ups.
8 p.m. Back at home, and K brings up the idea of watching T and me have sex. She offers to take photos and videos of us. T and I are both into it and agree it could be fun.
8:30 p.m. It's hot being watched; I want to be a good lover in front of the camera. While T and I fuck, we whisper "I love you" to each other. I add, "Let's get married." "Yes, yes!" T moans in response.
11 p.m. T is sleeping. I'm next to her, awake, thinking. My life still feels like a work in progress. I've spent a lot of time overthinking my decisions, something that has screwed up my relationships and career. I resolve to stop doing this and just follow my gut. Maybe it will lead to somewhere better.
The Sex Diaries column, which began in 2007, is the basis of a new docuseries on HBO.
Want to submit a sex diary? Email sexdiaries@nymag.com and tell us a little about yourself (and read our submission terms here.)