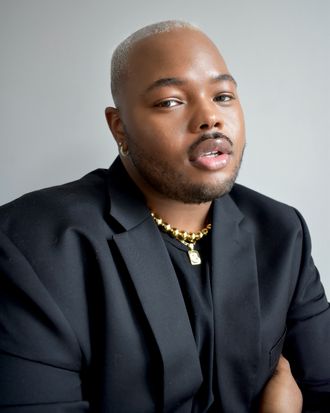 Photo: Courtesy of Sean Garrette
You'd be hard-pressed to find anyone with dewier skin than aesthetician Sean Garrette. He's so glowy, Rihanna appointed him as Fenty Skin's first-ever global ambassador. "I was so excited when Fenty Skin approached me," he says. "As an aesthetician, I always try to make skin care as approachable and accessible as possible, and oftentimes, Black people, especially Black men, are forgotten about within the skin-care industry. Fenty Skin didn't forget us."
Garrette's own skin-care journey began when he was 21. He'd just undergone a significant weight loss that triggered hormonal changes, leading to adult acne. "My doctor explained that my weight loss created a change in my skin. It's kind of like with women who are on fertility drugs or going through pregnancy or even their menstrual cycle — your hormones become imbalanced and you get breakouts," he says. "That's when I found my obsession with skin care. Because I was able to heal my own skin, it motivated me to help others solve their skin-care issues."
Acne is no longer an issue for Garrette, but regardless of the season, his skin-care routines are always extensive. His night routine focuses on resurfacing treatments — like retinol, chemical exfoliants, and acid toners — to treat post-inflammatory hyperpigmentation. Still, he never sacrifices his skin barrier. "The secret to my dewy, glass-skin glow, which I've dubbed 'doll skin,' is layering hydration — my dry/combo skin can easily become dehydrated if I'm not consistent with my routine," he says. "Also, because I'm currently wearing face masks and coverings daily, I like to layer a hydrating toner, hydrating treatment essence, and a hydrating serum in my nighttime routine. These three steps are crucial to achieving my 'doll skin' look and protecting and nourishing my skin barrier."
Read on for an extensive list of Garrette's "doll skin" essentials.
The Cleanser
"Total Cleans'r has quickly become one of my favorite cleansers. I have dry/combo skin that tends to get dehydrated easily, and this cleanser deep-cleans and removes makeup without stripping or dehydrating my skin. It has a cream-gel texture, which helps break down makeup; you can use it in a double-cleansing routine to help remove residual traces of dirt and debris. I love cream cleansers, especially around this time of year; they tend to be a little bit more nourishing.
It smells tropical; you get a little bit of the Barbados cherry and vanilla. Of course, everything is inspired by our founder Rihanna, so a lot of the scents are tropical, clean, and fresh. Fragrance is really a personal thing. Rihanna loves fragrance, and for her, it's an important aspect of skin care. She wants skin care to give you an emotional connection and a full sensorial experience. Some people have fragrance allergies, and most of the people who do have known this for most of their lives, so they would probably avoid fragrance products. Other people just don't like fragrance, but there's been a lot of misinformation about fragrance in skin care lately; it's a small percentage of people who actually have issues with fragrance in body care and skin care. You have to find what works for you; everything won't work for everyone, and that's okay."
The Mist
"I love having this mist handy to keep my skin hydrated. I use it to prep my skin for serums. This is a thing I've been talking about for years on my social-media platforms, but you should apply your serums on damp skin — the only thing that I really apply to dry skin is when I'm doing my exfoliants or removing makeup. When you apply your hydrating serums, your moisturizers, or other humectants to damp skin, what it does is it helps soften your skin and make it more malleable. For example, when you apply hyaluronic acid, that specific molecule is attracted to water, so it's going to penetrate deeper and work better on damp skin versus bone-dry skin.
A couple of years ago, I discovered the benefits of antioxidants, and dismutase oxide, which is in this mist, is a very potent antioxidant. It helps repair cellular damage from environmental stressors and pollution. If you live in a city with high pollution like New York or L.A., you definitely want to have antioxidants. This is an easy way to add them into your routine."
The Toner
"Fat Water is a two-in-one pore-refining toner and serum that helps hydrate, control shine, and target dark spots. It's packed with powerhouse ingredients like niacinamide, green tea, and witch-hazel water, while Australian lemon myrtle helps to refine the pores and control excess shine throughout the day.
The beauty of Fat Water is that you don't need cotton pads or rounds. The texture was created so that you can easily apply it; it doesn't run out and drip everywhere. After I mist my face, I press it on my skin. Sometimes I'll do two layers if I want it to be my only product of the night.
Out of all the Fenty Skin products, the Fat Water has the faintest hint of fragrance, and like the Cleans'r [above], it also smells like tropical cherry and vanilla."
The Exfoliator
"The Alpha Beta Peel pads from Dr. Dennis Gross are a cult classic within the skin-care realm. They're a two-part, at-home peel that can be used once or twice a week to help resurface and exfoliate the skin. They're super easy to use, and an easy way to add an exfoliant to your skin instead of having to get a liquid or a serum. Mandelic, glycolic, and salicylic acids, copper PCA, and zinc target acne, blemishes, and hyperpigmentation.
Dr. Dennis Gross actually has three different versions of these pads so I use different ones depending on how my skin is doing. The Ultra Gentle pads help with hydrating and redness, so if you have super-dry, dehydrated skin, they're the ones for you. The Universal pads are pretty much for maintenance; it's like the entry level for anyone. The Extra Strength pads help with exfoliating, brightening the skin, and hyperpigmentation. I've seen great benefits with my texture and hyperpigmentation specifically.
I learned about these from fellow aesthetician Shani Darden years ago. She's always talked about how good they were, pairing them with retinol once or twice a week. They definitely work and live up to the hype, for sure."
The Essence
"Essences are one of my favorite ways to provide my skin with extra hydration. After exfoliating, replenishing my skin with hydrating products is a must. This essence is simple, but powerful in its results. It uses fermented green tea that helps to soothe, hydrate, firm, and brighten the skin. I also like this essence because it's easy to layer over something like the Fenty Fat Water or another toner.
The thing about essences is that usually they'll have fermented ingredients that work similar to antioxidants, and after this, my skin is definitely brighter. They also add to that dampness that I was talking about before, so when you add your treatments and your serums, they'll penetrate better."
The Treatment Serum
"This is an antioxidant-rich, brightening serum packed with niacinamide that delivers multiple important benefits to the skin: It helps to reduce transepidermal water loss — which can cause dehydration in the skin and accentuate fine lines, pores, and make your skin look dull — and improve barrier function for healthy, bright skin. It's also formulated with mulberry extract and green-tea extract, which target hyperpigmentation and work to brighten the skin."
The Hydrating Serum
"I work with PCA in my spa. It's a professional aesthetician brand, and my clients love this serum. I like that beyond the hyaluronic acid, it has niacinamide and ceramides to help hydrate, protect, and nourish the skin barrier. When you apply it, it's also thicker than a traditional, watery serum."
The Retinol
"I use retinol about one to two nights a week, on nights that I don't use my exfoliants. One of my main skin concerns is hyperpigmentation, and this retinol by PCA is specifically targeted to treating hyperpigmentation, while also resurfacing the skin. It's formulated with powerful antioxidants like resveratrol and niacinamide, as well as hexylresorcinol, which reduces inflammation and helps to even skin tone.
I didn't experience the retinol uglies with this, but I think it's all in how you use retinol. You have to be aware of the state of your skin. If you have a stressed skin barrier, and your skin tends to be dehydrated, adding a retinol could exacerbate the flaking and dehydration. Sometimes I'll push to two nights, but one night is really the sweet spot for me because I alternate retinol with the Dr. Dennis Gross Alpha Beta Extra Strength Peel pads [above]. Slow and steady is best."
The Acne Treatment
"Whenever I have a blemish, I apply an acne treatment like this one by Dr. Dennis Gross. It's a lightweight gel that has salicylic acid, niacinamide, and monk's pepper to help unclog pores, clear blemishes, and reduce redness at the same time. A spot typically disappears overnight with it, and if it's not completely gone the next day, it's definitely reduced by 90 percent. It's one of the most fast-acting spot treatments I've ever tried."
The Night Cream
"I've been using this moisturizer for about two years. It's one of my favorite night creams. It's packed with nourishing antioxidants, along with ceramides, amino acids, omega-rich oils, shea butter, sodium hyaluronate, and cholesterol — I call it barrier repair in a bottle.
Taking care of your skin barrier, which is the protective layer of your skin to help fight off bacteria, is one of the main ethos of my skin care. A lot of people, when they use products like the exfoliating serums or the retinols, they neglect using nourishing ingredients like ceramides or cholesterol because they're so focused on treating hyperpigmentation or acne."
The Face Oil
"This is a nourishing, lightweight oil rich in antioxidants, omega-3, 6, and 9 fatty acids, prickly pear, nutrient-rich sunflower, and jojoba oil, along with evening primrose oil to help calm inflammation and nourish my skin.
Whether to apply oils before or after moisturizing is a debate with everyone, even aestheticians. I prefer my oils on top of my moisturizer, but honestly, whatever way works for you. Skin care is very personal, so it really depends on the state of your skin, your skin conditions, your skin type — if you're oily, combo, dry, you'll experience products differently."
The Li p Balm
"My lips can tend to be super dry at night due to air-conditioning in my home. This lip balm by Fenty Beauty is one of my favorites. It's formulated with mango and shea butter to nourish and lock in moisture."
The Face Masks
"I love to keep at least two masks in my skin-care arsenal as quick treatments to help with any skin issues. This one by Peter Thomas Roth is a treatment for breakouts and acne flare-ups. Sulfur is great for someone who is sensitive to benzoyl peroxide or salicylic acid. It helps with inflammation, and it helps kill bacteria on the surface of the skin. It's a great mask to have, especially if you're dealing with maskne during these times.
At one point, my forehead was breaking out completely a couple years ago. I would literally spread the mask all over my forehead and sleep on my back, and it would greatly decrease the amount of breakouts I had and the inflammation."
"I love this iS Clinical Hydra-Intensive Cooling Masque when my skin feels stressed and dehydrated. It feels so cooling on the skin, sometimes painfully cooling — it has a bit of menthol in it, so I would definitely say if you're coming straight out of the shower, this is not a mask that you want to apply because it'll be so tingly.
It's a thick, thick gel. I like that because with a lot of gel masks, they'll sink into the skin really quickly and disappear, and you feel like you're not getting the full mask experience. This one sits and cools on your skin. I can wear it for about 15 minutes, and my skin will be refreshed, tighter, and firmer."