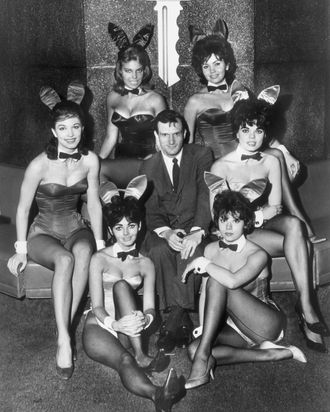 Hugh Hefner with various Playmates of the month in the 1960s.
Photo: Archive Photos/Getty Images
Hugh Hefner, the endlessly controversial founder of Playboy, died in 2017 at the age of 91. He left behind a muddled legacy, one that wavered between sexual icon and alleged abuser. He died just before the explosion of the Me Too movement, and many critics felt that, as a result, he skirted his inevitable reckoning. But it may have finally arrived: Secrets of Playboy, a new ten-part docuseries on A&E, exposes the dark underbelly of Playboy and Hefner himself.
Hefner started Playboy magazine in 1953, when he was 27 years old. The men's magazine — known for publishing highbrow fiction, long-form articles, interviews, and nude pictorials — quickly garnered success and notoriety. Hefner eventually moved operations to Los Angeles, which became home of the iconic Playboy mansion, which he billed as a sanctum of sex positivity. During the sexual revolution of the '60s, Playboy was hailed as a trailblazing force, breaking with puritanical American norms at a time when single women were denied contraceptives. Hefner championed abortion and LGBTQ+ rights, and he gave a platform to notable Black writers and activists including Malcolm X and James Baldwin. But as the empire continued to spin out, the magazine eventually lost its shine. (In 2015, the company briefly stopped publishing nude pictorials, and after talks of the magazine closing down altogether, it's now making a rebranded comeback replete with gender- and sexual-fluidity initiatives, a millennial-minded feminist gaze, and Cardi B as creative director.)
Of course, Secrets of Playboy isn't the first time we've heard that Hefner's universe was a toxic environment for women. But the series — which brings together Hefner's former girlfriends, Playmates, Bunny Mothers, associates, and more — provides disturbing new insights into just how deep that toxicity ran. While, as the docuseries notes, the allegations against Hefner and his associates have not been subject to criminal investigation, many accounts from women who associated with Hefner are unnervingly similar and disturbing. Here are the most damning allegations:
Hefner's former girlfriends say life at the mansion was cultlike.
In the docuseries, Hefner's former girlfriend and Girls Next Door star Holly Madison describes mansion life as "cultlike." Madison recalls being drawn in by the promise of sorority and family, and also claims that everyone who came to the mansion was photographed and videotaped without their consent, particularly in the bedroom. According to Sondra Theodore, Hefner's girlfriend from 1976 to 1981, Hefner "had tapes" on everyone, material that apparently functioned as collateral. In the 2000s, Madison and other Playmates say they were pressed to get plastic surgery to look like each other, suggesting that the bleached-blonde conformity added to Hefner's grand illusions of control. Madison also claimed that Hefner was fascinated by Charles Manson and owned archival footage of the Manson family.
Hefner allegedly didn't use protection during group sex.
In an interview, Madison recalls how Hefner offered her quaaludes, which she says he called "thigh openers," on their first night out together. She also recalls the first traumatic sexual encounter she had with him. Madison claims Hefner lay on the center of the bed while pornography played on a television screen and a group of backlit women surrounded him. Madison says that Hefner didn't wear protection during the group sex. Madison also described these alleged sexual encounters in her 2015 memoir, Down the Rabbit Hole, writing, "It was so brief that I can't even recall what it felt like beyond having a heavy body on top of me."
Karissa and Kristina Shannon, twins who dated Hefner from 2008 to 2010 and Girls Next Door stars, also claim Hefner didn't use condoms. The twins, who started dating Hefner when they were 18 and he was 83, say they both caught chlamydia at the mansion, where it had been "going around."
Cleanup crews allegedly hid the darker sides of Playboy life.
According to the docuseries, scandals in the mansion at Playboy clubs were routinely covered up by Playboy security and Bunny Mothers. (Bunny Mothers were women — often former Bunnies themselves — who managed the Bunnies at the clubs.) According to an interview with former Bunny Mother P.J. Masten, cleanups were concerted efforts to avoid reports of misconduct from hitting the media or the police department. James Ellis, a former Playboy bodyguard, says cleanup crews were allegedly threatened into silence for their work, which he claims ranged from covering up rapes to overdoses. Masten, who worked as a Bunny Mother from 1975 until 1982, claims she saw 40 or 50 incidents of sexual abuse "cleaned up." Masten also claims that if a rape occurred, you had to consult with Playboy security instead of taking the victim to the hospital in the name of avoiding LAPD scrutiny.
Hefner allegedly raped women at the Playboy mansion.
According to multiple witnesses, Hefner routinely raped Playmates while they stayed in the Playboy mansion. Former Playmate Susie Krabacher alleges Hefner raped her in 1983 after she went to his room one night to ask him to consider her for Playmate of the Year. She says Hefner offered her a pill — which she later realized was a quaalude — to calm her nerves and woke up to him raping her. "He was naked and my pants were off," Krabacher says. "I thought that I was having a nightmare … but this old man with his mouth gaping open was a real thing, was a real person. It was Hefner." Stefan Tetenbaum, Hefner's former valet, alleges that he once witnessed Hefner anally raping Playmate Dorothy Stratten in the mansion grotto. Model Audrey Huskey claims Hefner raped her in 1994 after inviting her to his room to look over test shots. According to Huskey, Hefner allegedly offered her a joint and pulled down his pants. "I just froze," Huskey says. "I didn't give him permission." Karissa and Kristina Shannon say Hefner, then 84, gave them pills on their 19th birthday then pushed their heads down to perform oral sex on him. Karissa says every time she had sex with Hefner felt "like rape" and alleges he got her pregnant when she was 19. "I felt like there was something alien inside me," says Karissa, who had a secret abortion. Theodore claims Hefner showed her a skeleton key that he "used at will" to unlock women's doors at night. She says Hefner once brought her to a sleeping woman's room and had her watch as he unlocked the door and "forced himself" on the woman, who Theodore says kept saying "No." On the way back to the master bedroom, Theodore recalls Hefner turning to her and saying, "Did they think they were going to come to my house and not sleep with me?"
Hefner allegedly gave his celebrity friends carte blanche to abuse women who worked as Bunnies.
At the Playboy clubs, where many former Bunnies were proud to work, Hefner allegedly imposed strict rules between Bunnies and members or key holders: Key holders couldn't touch the Bunnies or date them. But the rules were different for VIP celebrities, says Masten. According to her, Bunnies were encouraged to mingle and go home with VIP members. Many VIP celebrities allegedly raped Bunnies and returned to the clubs without their memberships getting revoked. Journalist Russell Miller, who interviewed several ex-Bunnies for his 1985 book, Bunny: The Real Story of Playboy, alleged that Hefner often pressured Bunnies into having anal sex. Masten claimed that many of the VIPs who had sex with Bunnies sodomized them to prevent pregnancy.
"What predator is not going to go to the mansion?" says Dona Speir, a former Playmate, on the alleged sexual abuse by male celebrities of models at the mansion. "It's locked, it's secure, all the cookies are in the jar."
Hefner allegedly knew about — and initiated — affairs with minors on the Playboy mansion property.
Jennifer Saginor, author of Playground: A Childhood Lost Inside the Playboy Mansion, grew up visiting the mansion and lived there part time with her father — Hefner's doctor and personal friend — from age 11. According to Saginor, her father, Mark Saginor, was known among mansion insiders as "Dr. Feelgood" because of his permissiveness with drug prescriptions. When Saginor was 6, she says she witnessed an orgy at the mansion. At 16, she says she had an affair with one of Hefner's girlfriends, which she claims he knew about. Though Saginor was a minor at the time, she says Hefner tried initiating a threesome with her and the girlfriend. Saginor says she reminded Hefner that her father was across the hall. While Hefner ultimately didn't go through with the threesome, he apparently told Jennifer in response, "We're all family here."
Russell Miller, author of Bunny: The Real Story of Playboy, claims Hefner wasn't deterred by "the idea of underage sex" and alleges that Hefner "seduced" a minor at his daughter's 16th-birthday party.
Hefner allegedly used women as drug mules, which sometimes had fatal consequences.
During the '70s, the Playboy mansion faced scrutiny and suspicion from law enforcement over suspected drug use. At the time, Hefner claimed he didn't do drugs and didn't condone their use at the mansion. But in 1975, a scandal ensued when his executive assistant, Bobbie Arnstein, committed suicide after being convicted of conspiracy to distribute cocaine. Arnstein faced a provisional sentencing of 15 years in prison for the crime and was apparently being coerced into testifying against Hefner. Former Chicago detectives Ted O'Connor and David Reuben suggest that Arnstein was a "fall girl" for Hefner and that she committed suicide as a way of protecting Hefner and the Playboy brand. (Arnstein's lawyer claims her late client was threatened — by whom, she doesn't say — into silence.) In 1973, former Playboy Bunny Adrienne Pollack died of a quaalude overdose. Pollack's sisters speculate that she was one of Hefner's drug traffickers, albeit a low-level one. At the time of Pollack's death, Hefner told the Chicago Sun-Times, "I don't use narcotics personally, and I don't sanction their use in my Chicago or Los Angeles mansions."
But many Playboy veterans insist this wasn't the case. Masten claims Bunnies told her that Pollack and Arnstein provided drugs for Hefner, his parties, and his VIPs. Theodore claims that she and Hefner did cocaine regularly and that she was a mule for him, collecting drugs as regularly as once a week. According to Theodore, drug use at the mansion was so rampant that one of Hefner's friend's dogs got addicted to it. Lisa Loving Barrett, one of Hefner's former assistants, says that quaaludes were constantly flowing at the mansion and that the pills were secured through illicit means. "We would have prescriptions in some of our names," Barrett says. "That enabled certainly four or sometimes five prescriptions for the same medications." Barrett says quaaludes (referred to as "leg openers" at the mansion) were given directly to Hefner, who stored them in his bedroom and his drawers. Hefner used this system to get Dexedrine, she says, taking a little of it every day.
Hefner allegedly practiced bestiality.
According to Theodore, Hefner was a sexual deviant who had to "have more and more" to be turned on. "More" allegedly sometimes meant voyeurism, making her recruit other young women for group sex ("I felt like I was a ringmaster," Theodore recalls), and coercing her into having sex with women and men. "I might as well have been a vibrator. I might as well have been a sex toy. Because that's what I was," she says. Once, Theodore says she caught Hefner performing sexual acts on her dog. Hefner apparently told her that "dogs have needs," and she says she never left Hefner alone with her dog again. Tetenbaum also claims there was "sex with dogs" on the property. Hefner publicly denounced bestiality as degrading, but Masten and Theodore both recall an incident in which a drunken and drugged Linda Lovelace was brought to the mansion, seemingly against her will. Masten says Hefner and his friends got Lovelace "so messed up" and made her give a German shepherd oral sex while, according to Theodore, a ring of men "all watched."
Staff describe "pig night" rituals at the mansion.
According to Tetenbuam and Theodore, Thursday nights at the mansion were "pig night" rituals, during which pimps for Playboy allegedly picked up prostitutes off Sunset Boulevard, women Hefner referred to as "pigs." Hefner and his friends apparently ranked them numerically by attractiveness. Tetenbaum recalls how the women were escorted one at a time to the front bathroom, where doctors inspected them "for anything that would be detrimental to [Hefner's] friends." Women who "passed" the inspection were then expected to have sex with Hefner's friends. Sometimes, Tetenbaum says, a woman "known as a bleeder" came around with a syringe, drawing blood from Hefner's friends before the women performed fellatio and hand jobs on them. "That was a really big thrill for a lot of people," says Stella Tetenbaum, a former mansion hostess.
Abuse was allegedly rampant at the corporate level.
Miki Garcia, former director of Playmate Promotions, describes the virulent misogyny she faced climbing the corporate ladder at Playboy. Garcia — as well as Saginor, Masten, and Madison — describes an unspoken rule whereby women who wanted to become Playmate of the Year had to sleep with Hefner and his friends to do so. "You had to vie for that position," Masten says. Garcia, a former Playboy model and the clear favorite for Playmate of the Year, recalls being called into a meeting with Hefner, who she says unwrapped a dildo in her presence. "I said no, I'm not going to do it," Garcia says, explaining that after that, another woman was named Playmate of the Year. As Garcia transitioned from modeling into the business side of Playboy, she was allegedly raped by a popular actor associated with Playboy, but she didn't report it: "I didn't want for them to perceive me as a whiner or a person who couldn't handle the job," Garcia said. She and Masten discuss the culture of nonconsensual groping at the corporate office in Chicago. The two women describe how the same executive would greet Garcia by grabbing her breast and greet Masten by pushing "the back of my head down." Masten also alleges that she was raped by a Chicago corporate executive. "I was not an isolated case, I can tell you that," Masten says.
Hefner allegedly turned Playboy models into porn stars without their consent.
As more graphic men's magazines debuted — like Penthouse in 1965 and Hustler in 1974 — Playboy set itself apart by being less graphic and more artistic with depictions of nudity. But as the competition grew and the girl-next-door image decreased in popularity, Playboy began publishing full-frontal photographs, leading to a toxic and coercive work environment for models. Theodore said Playboy "had their ways" of getting women to sign unfair modeling contracts — such as having them sign after they were given drugs and alcohol. Miki Garcia claims underage girls were photographed and signed contracts, but that their photos weren't released until after they turned 18. As Playboy moved into video content, Garcia recalls that Hefner "sold" photo and video content of the models to porn sites without their knowledge. Theodore also recalls the brand releasing nude footage of her from a photo shoot without payment or consent. "They made me a porn star against my will," she says.
Hefner's inner circle had shadow mansions, where they allegedly abused women.
In the '90s, following the success of celebrity playmates like Anna Nicole Smith and Pamela Anderson, many aspiring models came to Los Angeles to launch careers at the mansion. While a handful of women made the mainstream Playboy cut, Jennifer Saginor says those ones who didn't were sent to "predatory" shadow mansions, mini–Playboy mansions operated by men in Hefner's circle. According to Saginor, who says her father owned a mini-mansion, women at shadow mansion parties were drugged and photographed nude under the guise of modeling contracts and other fake opportunities. Saginor and Jackie Hatten, a former mini-mansion regular, both claim Hefner knew about mini-mansion abuses. Saginor says Hefner even attended her father's parties. At one party, Saginor recalls finding a dead woman in the bathroom lying in a pool of blood and watching security take the body to the back of the house. "I never saw her again," she says.
Hefner allegedly shared racist views with women he dated.
While dating Hefner, Kristina and Karissa Shannon say they struggled with his controlling tendencies, which allegedly included locking them in bedrooms and forbidding them from hanging out with non-Playboy affiliated people. The sisters claim Hefner especially disapproved of them hanging out with "an Asian girl" or "Black guys" at a bar. Despite his reputation for progressivism, the women claim Hefner was racist but "genius" with his image. "Every woman he dated was a white girl," Kristina Shannon says.
In response to the series, the Playboy brand has distanced itself from Hefner.
In an open letter posted on Medium, Playboy acknowledged the "allegations of abhorrent actions" by Hefner and those associated with him. The brand reinforced its distance from the Hefner family and demonstrated its support for the women who came forward in the documentary. "We trust and validate women and their stories, and we strongly support the individuals who have come forward to share their experiences," the statement read. "As a brand with sex positivity at its core, we believe safety, security and accountability are paramount, and anything less is inexcusable."
Meanwhile, the documentary drew early criticism from Hefner's youngest son, Cooper Hefner. "Some may not approve of the life my Dad chose, but my father was not a liar," Hefner wrote on Twitter after the initial episodes were released. "However unconventional, he was sincere in his approach and lived honestly. He was generous in nature and cared deeply for people. These salacious stories are a case study of regret becoming revenge."
Theodore responded to Cooper's statement in an interview for the final episode of the series. "He was not in bed with us," she said. "He has no idea what happened."
This post has been updated.