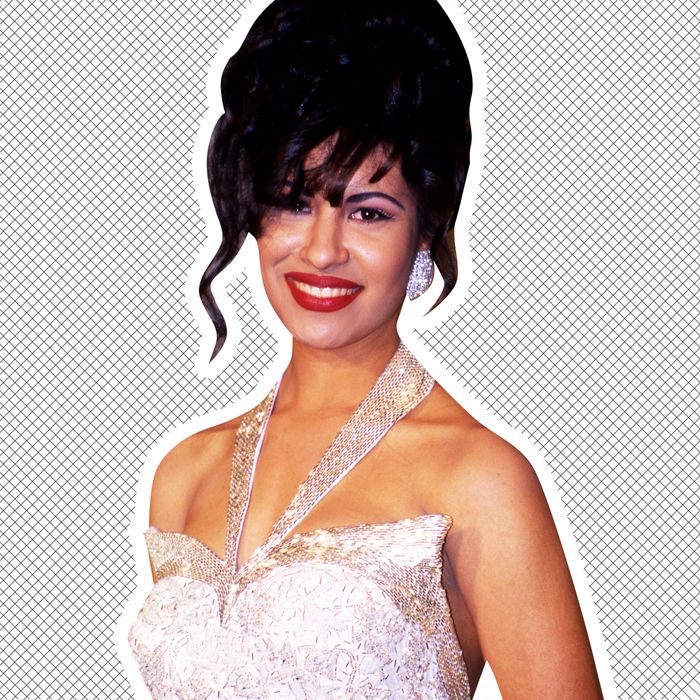 Long before Netflix announced Selena: The Series, its new nine-part biopic of '90s Mexican-American star Selena Quintanilla-Pérez — the first since the classic 1997 film Selena — TikTok was hard at work keeping the singer alive. Selena impersonations are particularly popular around Halloween when fans and celebrities like America Ferrera and Kim Kardashian transform themselves into la reina de Tejano (the shimmery, purple outfit Selena wore to her sold-out, recording-breaking show at the Houston Astrodome in February 1995 is perhaps the most re-created). But scroll through the app, and you'll find much more than just impersonations. Below, a brief tour of Selena TikTok.
The Explainers
You'll find plenty of brief, educational hits about the singer's life, like those from makeup artist Leny, or those from 22-year-old Fernanda Cortes, who says the focus on Selena in her TikToks is very intentional. "There is still a lack of good and honest representation for us Latinxes in the media, and Selena was exactly that for us. She's someone that we can identify with, and I know that for me, I see myself in her," says Cortes. "[When I learned about Selena], I was like, Wow! She speaks Spanish like me but also English like me. She's incredibly proud of her roots like me, and her family dynamic is like mine. She's someone that brought our community a lot of joy and that could've represented us on a worldwide scale, but we never got to see that, and I think that strikes a chord for people."
The Transformations
Some of the more mesmerizing videos on Selena TikTok feature creators, some of whom barely resemble la reina, transforming themselves into near carbon copies of the singer. The 22-year-old singer and TikTok star Paulina Del Campo, who has more than 1.2 million followers on the app, actually auditioned for the Netflix show, but the role of Selena eventually went to The Walking Dead and Twilight actress Christian Serratos.
To accurately portray the Tejano star, Del Campo says you can't forget Selena's signature red lipstick, bangs, and gold hoops, and whatever you do, don't forget her thin eyebrows. She remembers receiving "a lot of hate" after posting a TikTok where she re-created one of Selena's outfits from the "Amor Prohibido" music video. "Selena Quintanilla's eyebrows were more thin, and everybody was like, Oh my God, your eyebrows are so thick. The girl that is going to be Selena in the Netflix show, I think she's going to get every type of comment because people want to see Selena Quintanilla, you know?"
And, of course, there's always the occasional transformation that doesn't go as planned …
The Impersonations
Beyond the TikToks re-creating her outfits and makeup looks, some creators take it a bit further by impersonating Selena's dance moves, hand gestures, laugh, and even the distinctive way she moved her lips when she sang. She was totally "unique," says Cortes. "She created a recognizable stage persona, which I think you need to set you apart in that industry."
21-year-old Jonathan Chavez, who has nearly 1 million followers on the app, can speak to Selena's originality. For a TikTok of him on "tour," the TikToker watched nearly two hours of Selena videos, some of her performing her last concert in Houston and some clips of the 1997 movie, to nail her hand gestures and how she held her microphone. "There are a lot of artists in Mexico that are successful, but none of them conquered in the United States as much as she did," he says, explaining why it was crucial for him to to pay tribute to her accurately, even in a one-minute video where his outfit was made out of T-shirts.
Suzette Quintanilla, Selena's sister, and Chris Pérez, her husband — or rather, their impersonators — also feature in one TikTok of Selena y Los Dinos jamming to "Amor Prohibido."
The What-Ifs
For every video looking back at Selena's life, there's one asking, What would have happened if Selena had never met Yolanda Saldívar, the founder and president of the star's fan club, who later killed her in 1995? What would Selena be doing if she were still alive? Would she and her husband have a family? Some TikTokers have given us a glimpse at what could have been by combining photos of Selena and Chris in baby-generator apps to predict how their future children would look. Their daughter would be stunning, naturally.
The Appreciators
Every Selena fan knows that listening to la reina on shuffle is an emotional roller coaster. One minute you're listening to "Bidi Bidi Bom Bom," dancing around your room, and the next you're almost in tears while listening to "Dreaming of You." But you don't need to be a superfan to recognize Selena's talent, and that's why 25 years after her death, la reina is still winning over fans, some of whom weren't even born yet when she died. Cortes says it best: "She had a real and raw talent; she could sing, dance, and perform without any professional training, and even nowadays, that's hard to come by. She didn't need a big fancy stage with lights or fireworks to get a crowd going. All she needed was her music and her microphone."