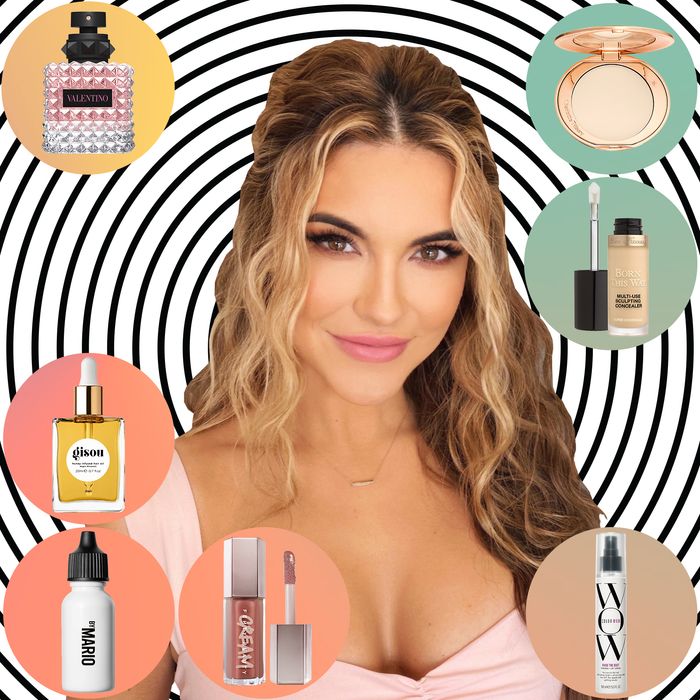 Photo-Illustration: The Cut; Photos: Courtesy of Chrishell Stause/Retailers
On the Beauty Group, a Facebook community co-founded by the Cut and the Strategist, people chat all day long about the products they love — the ones so good they'll make you hit that little "auto-refill" box at checkout. Below, we asked one of our favorite beauty pros to share her own selections.
As one of the stars of Netflix's Selling Sunset, Chrishell Stause constantly shifts between moments of high glamour and casualness.
"When I'm watching these shows, I roll my eyes a little bit when someone's in full glam and they're supposed to be doing yoga or something," says the actress, former Dancing With the Stars competitor, and real-estate agent. "I might watch myself and be like, 'Oh, I definitely could have used some concealer,' but as a viewer, I appreciate it when here's a little bit of realism. In a couple of days, they're going to film me moving. Obviously I'm not going to get my hair and makeup done for that because I'm actually moving."
Stause relies on the reality show's hair and makeup team to doll her up for high-profile showings and events, but for more casual moments, she looks to her arsenal of tried-and-true beauty products. Multiuse products are especially welcome: "I know that's a trend, but I hope it continues because we're always on the go."
She's picked up some makeup tricks from her time in the chair. "I was a little harsh with how I did my makeup, and there was such a softness when I would get it done. I've learned that the key to getting your makeup to stay and to look soft and pretty, whether it's blush or eyeliner or lip or whatever, is to start with a cream product and then finish it and pop it with a powder," she offers. "So with eyeliner, they'll use a gel and then take a soft powder and kind of smudge it, and my makeup won't move all day."
Below, the Selling Sunset star shares some of her essentials, including the perfume she always repurchases, the dry shampoo that cleans and adds volume to her hair, and the "foolproof" bronzing cream she loves.
The Hair Oil
"I feel like I've used every hair oil on the market, and this one really is worth the hype and the cost. I do a lot of styling on my hair, and my ends can look really sad. This only instantly helps the health of my hair — it looks better right away. The benefits are really twofold: You get instant gratification and then also long-term gratification.
I'll usually use it two different ways. When my hair's towel-dried, I'll start at the ends and work my way up. I only wash my hair every three days, so during the in-between days, it gives it a little refresh.
I hate things that work well but don't smell good. I had a shampoo once where it was like, Okay, it's a great shampoo, but I hate the smell. I had to stop using it. I'm big on scent, and this oil smells amazing."
The Hair Mask
"Since I don't wash my hair that often, I really want to try and infuse as much health as quickly as I can when I do wash it, and this hair mask is like an instant makeover. I like that I can put it on, shave my legs, rinse it out, and it still feels great — a lot of us don't have time to sit with a hair mask in our hair for 20 minutes. I love the texture (it's really thick), and it smells great — clean and expensive."
The Concealer
"I use two concealer shades. I have vanilla and light beige, and I use vanilla on my under eyes — if I have a spray tan, I'll use the light beige instead, it just depends on how light or dark I am. Then I use one shade darker on my face.
Again, I like that it's really thick. You're gonna find a common theme among my favorite beauty products: I don't like those little sheer things. If I'm putting makeup on, I want it to do the job quickly. You just put a little on a wet beauty blender, and then you don't have to do foundation unless you want to. After the gym, if I decide to go get food with a friend, I can just pop it on and be done, as opposed to doing a full face of makeup. But if you are doing full glam, this isn't going anywhere."
The Makeup Drops
"Mario Dedivanovic has brought this to the masses, but a lot of people don't know what it is. I only know it because a makeup artist used it on me a long time ago in New York City on the set of All My Children. That was back in 2008, I think.
I pour it right on my eye shadow, and then I'll apply it as eyeliner. You can take the drops, drop them onto any shadow, like bronze or a pretty brown, and then you smudge the product on your eyes with your finger. It's an old-school beauty trick that seems a little complicated, but the second you know how to use it, it makes everything quicker and easier. It's the fastest, prettiest smoky eye you've ever done — it takes two seconds — and makes the shadow look like a wet shimmer so it really pops the color."
The Bronzer
"The first time I tried contouring, someone told me, 'Oh, you have some dirt on your face.' I was like, 'Okay, that's the last time I try contour.' But then I found this bronzing cream. It's really light and sheer, and this is a product where I do think that less is more, especially for someone who doesn't really know what they're doing. I try to do the '3 shape' starting with my forehead, then cheeks, then chin. It's creamy so you can build it, and it's kind of foolproof unless you are very pale — that's the only way it might be too much."
The Dry Shampoo
"If you like really light dry shampoo, this won't be for you. I'm the opposite. I like to go several days without washing my hair, and I tend to get oily at the top, so I want powerful dry shampoos. I like that this one gives you a little white misting. I let it sit for a few minutes, and then I run my hands through it. It doesn't leave your hands sticky. The ones that you spray on and you never see where they went, they just don't work for me. I want it to get in there and blast the oil away and also smell great."
The Setting Powder
"I've tried all of the powders out there. My face can get oily, but with this powder, you put it on, and the shine is completely gone. I hate the powders that you have to keep reapplying throughout the day. It's also really finely milled so it doesn't crust or settle in my lines."
The Lip Gloss
"'Fenty Glow' is a universally flattering shade. It adds a lot of shimmer to any color you put on underneath. I love the packaging — the foot on the actual gloss is wide so you get the right amount of product — and it smells like vanilla."
The Lift Spray
"I love that this spray helps with volume at the top. When I'm not styling my hair with heat, I still want it to have some volume at the top. I have naturally straight hair, but it can be kind of sad and flat on its own. I don't like to put heat on my hair unless I have to, and this works even on day-three hair."
The Perfume
"This is one of those mainstay perfumes that I've been using for a long time. There are other perfumes that come and go, but this is one that I always have. It's got a really romantic, floral, vanilla scent, so it's very warm and welcoming and inviting and sexy. I don't like scents that are a little more universal; I tend to go towards feminine scents. I spray it on my wrist, my neck, and if I remember once I'm dressed, I'll spritz it and walk through the mist."
The Cleanser
"I've used this face cleanser for years and years and years. My sister has a spa, and I learned about it from her. Instead of physical exfoliating, which has really irritated my skin in the past, I like chemical exfoliation. I remember going to my sister and asking her, 'What do I do? I have these weird little bumps under my skin,' and this is what she recommended.
This is the kind of product that you don't just start using, though. I've been using it for so long that I can use it twice a day, but I built up to it. I only used it once a day in the beginning, and there are times where I'll skip it in the morning and grab something like micellar water instead."