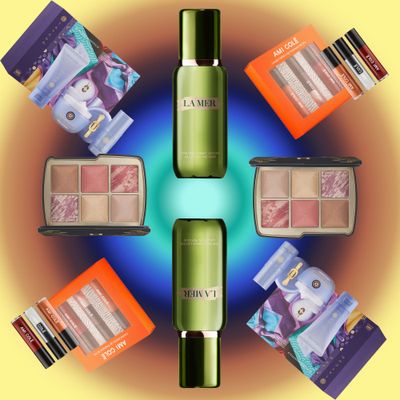 Photo-Illustration: by The Cut; Photos: Retailers
For more of the Cut's favorite fashion, beauty, and home finds, sign up for the weekly Cut Shop Newsletter.
Sephora's annual savings event kicked off today. Between Amazon's Beauty Haul and this, it's basically the beauty Olympics; it's time to restock your shelf, buy gift sets for friends and family, and, of course, check out the products you've been wanting to splurge on for the past few months. Here's everything you need to know:
How is the Sephora Annual Savings event divided?
The first part of the sale starts today, October 27, for Rouge members, who will receive 20 percent off. The second part opens on October 31 to VIB members, who get 15 percent off, and Insider members, who get 10 percent off.
Do you need a code for the Sephora Annual Savings Event?
Yes. The sale can be accessed in-store or online using code TIMETOSAVE.
As a beauty enthusiast who has about half of Sephora's products on my shelf, here are 32 products that you should absolutely purchase during the sale.
Haircare
K18's hair mask is tried and true. It works on all textures of hair to repair damage and leave your hair restored and instantly softer.
TikTok has been loving Color Wow for its magical anti-frizz formulas that work on all hair types. If you've been hesitant to lean into the trend, don't be — or at least get it on sale. You'll instantly see what the hype is about.
Sale events are the perfect time to buy hair tools that would normally be a bit more expensive. Shark Beauty's FlexStyle dries and styles hair with no heat damage, and it gets the job done quickly.
Or invest in a Dyson airwrap. The viral hair tool that does literally everything. This new limited edition vibrant color will be a staple for years to come.
If you've been struggling with hair loss or thinning hair, these supplements help hair grow back faster and thicker. Our deputy style editor, Joanna Nikas swears by them.
Colder temperatures unfortunately means drier hair. This Amika set has everything you need, including a coconut water-infused overnight hair treatment, to replenish your tresses and increase the moisture.
Skincare
Dr. Dennis Gross's daily peels are beloved by editors and dermatologists because they are easy exfoliators that add radiance to the skin and keep your complexion healthy. Since they're for daily use, it's easy to go through them fast, so this is the perfect time to stock up on them. The holiday vault includes 90 peels — 60 extra-strength and 35 universal.
This is the one product that I always tell everyone is worth the splurge. When used directly after washing your face, it plumps and hydrates the skin for an immediate visual difference. Even some of our favorite influencers, like Monet McMichael, can't live without it.
Dry skin? We don't know her. This is the golden set for the dewiest skin this winter. I call it the big three: Tatcha's rice-wash cleanser that gently washes the skin, its soothing dewy serum, and its cult-favorite skin cream that can nourish even the driest skin.
From the tiger grass infused balm that calms the skin to the serum that I call magic for decreasing hyperpigmentation, this trio is perfect for the skincare lover or the beginner who is just figuring their skin out.
You've definitely seen these eye masks on your FYP before. The hydrogel masks decrease the appearance of dark circles and fades pigmentation. I also love to use them when I have tired, puffy eyes to depuff the undereye area.
We love our NuFace's at the Cut. It's the go-to facial toning device and for us, it works wonders.
This is the peel I turn to when I need a facial, but there is no time in my schedule for one. The tingly peel can tingle so much that you think something is wrong, but it is really just intensely clearing up congestion in your skin while exfoliating. I instantly have smoother and brighter skin post-peel. It's the product I plan on gifting to everyone this season – the gift of great skin.
Paula's Choice's cult-favorite exfoliant is a gentle liquid that reveals the most radiant skin and their lightweight sunscreen is one of the most hydrating ones on the market and it leaves no white cast. This set will change your skincare routine forever.
Bodycare
This rich shea butter-based cream cleanser is perfect for the colder months. It simultaneously cleanses and moisturizes the body. It also smells like vanilla which instantly makes me feel warm and cozy post-shower. It's been a nighttime staple of mine since it launched.
The best decision I ever made was treating the skin on my body how I do on my face. Because of that, this has become one of my favorite body products. It's a hyaluronic acid serum, but for your body. The gel serum instantly hydrates my skin and replenishes it post-shower.
I usually follow the serum with an oil. This oil is lightweight and quickly absorbs. The prickly pear scent reminds me of nature. I like to layer fresh fragrances on top of it.
If you prefer lotions or creams over oils then you absolutely need Fenty's Butta Drop. The thick whipped cream lusciously moisturizes the skin leaving it nourished and glowy. It's infused with oils that also make the skin super soft. This trio includes the OG scent and the TikTok viral limited-edition warm cinnamon scent and vanilla scent.
Makeup
Hourglass palettes give you everything you need in one to have a flushed yet radiant makeup look.
These lip oils are golden. They're deeply nourishing and leave a glossy look to the lips sans stickiness. Whether you're wearing the clear shade or the rose gold, each one has a subtle sheerness that is buildable and flattering to every skin tone.
Not only do you get four classic shades of Dior's velvety-smooth lipstick, but you also get a clutch that'll look great at holiday parties.
If you haven't been able to get your hands on One Size's beloved and Beyoncé-approved setting spray that's always sold out, then try their next viral beloved product: this pink blurring setting powder. It'll keep your makeup crease free and smoother than you've ever seen it.
If you're a dewy girl, this is for you. This liquid gel highlighter leaves the complexion effortlessly glowy. I love to mix it in with my moisturizer on a "no makeup, makeup" day.
Another setting spray we love is Charlotte Tilbury's OG spray. Your makeup won't move an inch. This duo only comes around during the holiday season and you're getting it on sale? It's a steal.
Lady Gaga's Haus Labs has become one of the most popular brands this year with her hydrating concealer being one of the most loved products. The buildable concealer does in fact live up to the hype, go Gaga!
Makeup artists love using this Yummy Skin serum as a primer for the most radiant and hydrated complexion when prepping skin.
Because you can always use a fresh makeup-brush set, and when else are you going to remember to buy one?
Fragrance
There is a Boy Smells scent for every mood in this trio, from Cameo's warm vanilla to Hinoki Fantôme's earthy aroma. There's never been a better time to restock on candles, which also double as great gifts. It's cozy season.
This set is always a steal during the holidays. It includes a host of Sephora loved fragrances from Prada to Tom Ford. The best part is there's a certificate inside that allows you to claim a full-size bottle of your favorite scent inside.
Kay Ali fragrances are always uniquely intense. Their latest fragrance launch was a collection of oud-based scents and the vanilla oud has gotten me the most compliments. I love layering fragrances, but this one is so good that it doesn't need to be layered. It's a rich and spicy vanilla fragrance with bold notes of oud.