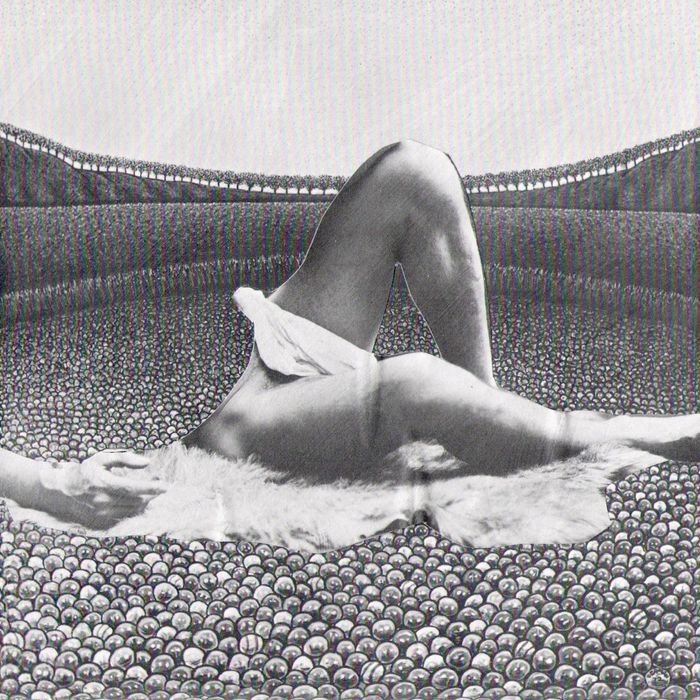 Photo-Illustration: James Gallagher
This week, a woman sleeping with a man who's about to become her co-worker: straight, single, East Bronx, 30.
DAY ONE
8:30 a.m. I wake up disoriented in my sunny apartment. It's Saturday. I have nowhere to be … maybe it's my dreams that have me on edge. I look at my phone and have a text from David asking what time I want to play tennis.
David and I were once co-workers at the same nonprofit and purely friends. But through a series of events and an ill-advised amount of cocktails, we ended up hooking up and having a really great time about four months ago. Since then it's been one long freakout about what this means and what I want from him … interspersed with amazing sex and becoming best friends.
12 p.m. I'm at the tennis courts and he's late. I don't care, I'm enjoying sitting on the ground in the sun.
12:10 p.m. He arrives with a giant breakfast sandwich on a croissant for us to share.
1 p.m. We're trying to just be friends and have had many conversations about how we need to stop sleeping together and spending so much time together. Did I mention he's joining my organization and we're about to become co-workers again? So, no kissing.
2 p.m. We head back to my place to shower.
2:30 p.m. I get out of the shower and he goes in. I say two words to myself: Fuck. It. I get under the covers, still naked, to wait for him to get out.
2:45 p.m. He gets out of the shower and I tell him "Get in." Pretty soon he's inside of me and we're having a much better round of sex than we did of tennis. It's fun, it's light, it's emotional, it's sweet. Still, it's not like he's all that attractive — it might sound mean, but I would definitely have swiped left if we saw each other online.
3:15 p.m. Forcing ourselves to get out of bed so we can shop for groceries to make dinner. We have a lot of fun banter and a solid foundation of friendship, both from working together and spending time together over the past few months.
5 p.m. Back from Fairway, we have a huge haul of weekly groceries for me, ingredients for a fancy dinner for us tonight, and two bottles of rosé.
6 p.m. I've prepped the meal and set up apps and we've cracked the rosé.
10 p.m.  We're watching TV and cuddling on the couch and about to head to bed. He always brings up relationship talk in these moments and I always end up crying and saying "sorry" and that I ultimately don't want to be with him. At this point even I don't know why, other than it's a gut feeling that this isn't right.
The past two years have been really rough for me in terms of relationships. My fiancé broke up with me and we called off our wedding in May 2017 and I'm still dealing with the fallout of that. I don't want to be back together with him or anything but it's so hurtful to have someone you were going to spend your life with say they made a mistake. After that breakup, I started an affair with my boss at the same job I'm at now. He was recently married when our affair started and so it was a trainwreck of a situation. Ultimately he called it off and whatever was left of my heart after my ex-fiance was completely broken.
11 p.m. We go to sleep in each other's arms. I know we can't keep doing this, but it just feels so nice.
DAY TWO
9 a.m. At my parents' house in northern Westchester after saying good-bye to David and leaving super early. I'm here to hang out with my sister and my parents before we head out to go hiking for my mom's birthday. We're a close-knit family and get along really well but I often feel the pressure to hide things from them that I think they wouldn't approve of. In some ways they have very high standards for behavior and so things like the situation with my former boss and David are things I definitely don't share.
4 p.m. Back from hiking, we make my mom her birthday dinner and have a good long stretch of family time, which is rare and really nice.
9 p.m. I call David and we catch up on our days. We still talk on the phone most days and text all day every day … I know it's not the smartest thing to be doing.
10 p.m. I go to sleep. It's David's first day working at my organization tomorrow but I'll be out all day at a conference so we'll have a little buffer. We had a long talk when he was considering taking this job and I basically said, I can't date a co-worker. That's based on many things, including my disastrous past experience.  Once my ex-boss broke things off with me he cut off communication completely but we still saw each other every day at work. It was absolutely miserable. Eventually he got another job because of the situation.
Anyway, not looking forward to working together at this small-ass organization even though I do love my job — I represent low-income people in housing and public benefits issues.
DAY THREE
7:30 a.m. I'm heading down to an all-day conference at a fancy law school.
11 a.m. Texting with David about his day so far. He seems to be enjoying himself, I think.
4:30 p.m. After a long day of trainings, brainstorming, and mingling, I'm so ready for the subway ride home.
5:30 p.m. David asks if I can talk on the phone so I call him once I'm above ground. We catch up on his first day and I talk about my day. I'm waiting for the bus but it doesn't seem to be coming any time soon. Ugh. David says he'll call me an Uber.
6 p.m. The Uber arrives and I thank David profusely. He seriously is so good to me.
8 p.m. I head to bed early after a tiring day and try to get my head ready for being together in the office tomorrow.
DAY FOUR
9 a.m. Say an awkward hello to David and get on over to my desk.
12 p.m. Have lunch with the rest of the staff in the dining room. David sits a seat away from me. I'm being weird as hell. I feel so uncomfortable that I have my head basically down in my plate. I cannot do this weird middle ground and I honestly want to hide and cry.
2:30 p.m. I haven't even texted David yet today because I feel too weird. It's hard to act like we're just acquaintance co-workers when we've been so intimate for these past four months. And he seems totally at ease, which is making it even harder.
5 p.m. Finally leaving for therapy. My therapist is a no-nonsense older woman who pushes me to break my cycles and it's been really helpful.
5:30 p.m. David and I talk on the phone as usual before my therapy appointment.  David asks me why he hadn't seen or heard from me all day. I explain that I am feeling hesitant and trying to feel out what this will be like. He says fair enough.
8 p.m. David texts me and asks if I think that this past Saturday was the last time that we'll ever have sex. I text back, "Honestly, I don't know."
8:05 p.m. Get a call from a guy from Tinder I've been chatting with. (I'm still using apps — I am serious about not being in a relationship with David.) We decided to talk on the phone to see if we'd both like to meet up soon.
9:05 p.m. Somehow we talked for an hour! It went well and I think I'll be seeing him soon. But … this guy is kind of the opposite of David. Not as goofy, and definitely not as fun. Sigh.
DAY FIVE
8:30 a.m. Heading into the office for another fun-filled day!
12:30 p.m. David comes with a few of us to the local coffee shop and he and I sit across from each other. I seriously cannot believe I'm being this awkward but I can't stop. I'm barely speaking, basically staring off into space.
2 p.m. I leave early because I feel like shit. I walk home and sit on my couch and watch the Great British Baking Show. So calming.
4 p.m. I tell David I escaped the office into the sunshine and he texts back, "Whyyyy I was gonna ask you to grab beer after work." I explain it's because I feel so sad and alone. I feel a lot of my emotions physically so this particular afternoon I feel lightheaded, nauseous, and exhausted.
5 p.m. I call David as he's leaving work and we catch up a bit. He offers to come over. I say sure, come over.
6 p.m. It's so nice to see him. He sits next to me on the couch and I put my head on his shoulder and cry silently while we watch some random travel shows on Netflix.  He's startled when he notices what's happening.
7 p.m. I tell him I can't work with him, this is never going to be okay. But then we say we'll both try to make it work and eventually I stop crying, and we somehow start laughing and having fun as usual.
9 p.m. We start cuddling in bed, which usually just leads to sex but neither of us thinks that's a good idea at this moment.
10 p.m. He leaves to go home and tucks me in bed.
DAY FIVE
8:45 a.m. I head to court for my workday.
12 p.m. I sit with my co-workers, including David, at the communal table and I'm back to my normal self.
5 p.m. I leave the office, one day of normalcy down!
6 p.m. I'm back on my couch for another night in. I usually have plans with friends a few nights a week but I've been enjoying the break, both for getting rest and saving money.
DAY SIX
9 a.m. I go to court to deal with a couple of cases this morning. It all goes quickly and I'm back in the office for lunch.
8 p.m. Meet up with Tinder guy for what turns into a coffee date. We walk and talk for two hours and it's really nice but there's no spark there. I am not all that attracted to him.
10:30 p.m. Call David since he told me to let him know when I got home. I lie and say I was out with my cousin since he told me he doesn't want to know about me dating anyone.
DAY SEVEN
10 a.m. I get my hair cut and I love it. I had really long curly hair and she gives me a shoulder-length chop with a side bang. To finish it off she blow dries my hair (which I never do) and it looks great, if I do say so myself.
12:45 p.m. I go to the office where I'm picking up a bunch of people to head out to a grad party for our co-worker/legal fellow. David says he likes my new haircut.
2 p.m. We're at the party, starting to drink and play beer pong. David and I have a lot of aggressive banter during the game that I think is making everyone uncomfortable. After kicking his butt he comes over and puts his arm around me and pulls me in for a kiss. Isn't it a little early in the day for this?
4 p.m. We head into the house and I lead him into the bedroom in the back. He locks the door and joins me on the floor and we start making out. Making out turns into me unbuttoning his pants and starting to give him head. He's moaning appreciatively and seems ready for more, but after a few minutes we decide it's not worth the risk and pull up our pants.
6 p.m. David and I go into the shed behind the drinks table and I drop to my knees and start giving him head again. We try to subtly leave afterward but people are sitting right outside … oops.
9 p.m. The house has an inflatable hot tub in the backyard and a lot of us brought bathing suits to take advantage of it. Of course by the time we start to get in, I'm tipsy enough to pull my clothes off and just wear my bra and underwear. The hot tub is actually freezing cold and I'm chain smoking cigarettes and basically chugging Maker's Mark at this point. Very classy.
9:20 p.m. We get out and head back into the house to take showers to warm up.  David jumps in the shower and I go in to use the bathroom as well. Of course he pulls me in and we start making out. I know at this point some other people are in the house but I don't really care. Usually I find shower sex disappointing … not this time.
9:35 p.m. We sheepishly exit the bathroom only to find that the two remaining definitely heard everything.
10:30 p.m. We end up falling asleep on the floor, for the night! Despite this fun night, my goal with David is to go back to being friends. I'm hopeful that we'll be able to hang out and not end up hating each other or continuing to sleep together. I just know he's not the guy for me.
Want to submit a sex diary? Email sexdiaries@nymag.com and tell us a little about yourself.