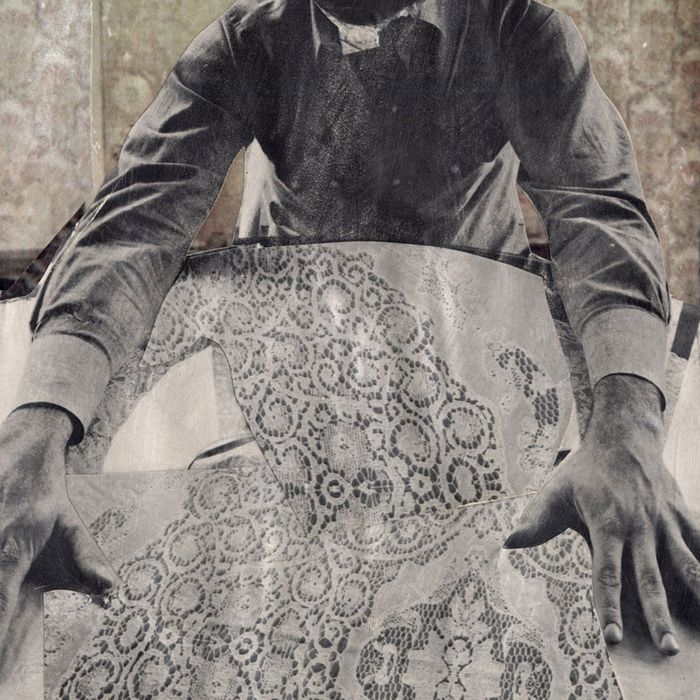 Photo-Illustration: James Gallagher
This week, a man who wishes he weren't so hopelessly attracted to assholes: 33, single, gay, Williamsburg.
DAY ONE
8:03 a.m. I wake up after seven hours of sleep. I feel like a zombie.
Normally, I jerk off in the mornings. But I have a dick appointment this evening, and despite being quick to regenerate, I should save up.
9:04 a.m. Tonight, after a first session with a new therapist, I'm seeing someone I'll just call Daddy. If I were said to have a physical type, Daddy would be it — what I call the "mini-meatball." He's about two inches shorter than I am, but almost twice as big. Hairy, huge chest, swimmer's build. Something about someone being bigger than I am yet also smaller has become my special blend.
Daddy, unlike my last boyfriend and as his name suggests, is older than me, but probably only around 45. His studio is half a block from my office, and we first met up two months ago through Grindr. That day, I swung over for 30 minutes and we fooled around with our pants around our ankles until I came all over his desk. His studio's location has proven to be both quite convenient. We haven't had actual sex there (or anywhere else), though. I'm not ready to bottom midday at work — it's a multi-step process, at least for me (douche, waiting period, shower). Daddy's husband doesn't seem to mind any of this.
2:30 p.m. I'm so bored, but I can't leave work because I have a 6 p.m. meeting with our entire team. I'm a menswear editor and stylist — basically it's my job to tell (mostly gay) men how to dress and what to wear. I'm kind of over it.
4 p.m. I do some in-office prep for bottoming. I don't really love casual sex, but Daddy and I have developed a rapport — I think tonight might be the night for our first time. Ugh, so much work and planning goes into getting fucked.
5:04 p.m. Daddy cancels! He was going to come over but he says he has a last-minute dinner with his husband that he can't miss. I douched for this? I think I just found the title for my autobiography.
7:05 p.m. Work runs late, which it almost never does and truly shouldn't given how little I have to do. I'm already five minutes late for my therapist appointment and 20 minutes away even if I cab. I call, massively apologetic. This is not reflective of my dedication to therapy, I tell him. He sounds skeptical.
8:05 p.m. I hop off the subway, grab a load of Mexican takeout on my way home and head into my building.
8:25 p.m. Mid-feast, my Scruff app blows up. I didn't even know I was logged on. This guy's pretty cute. And 124 feet away … lives with his boyfriend, in my building. I invite him up.
8:27 p.m. This is the third guy I've hooked up with from the building since I moved in a year ago. As with anything in New York, convenience is king.
8:45 p.m. No. 3 walks in. I offer him a drink but it's clear he's all business. Within two minutes he's on his knees. It's always the sweet, polite-looking ones who are the dirtiest. He's a phenomenally expressive kisser, which gets me harder than anything, and incredibly verbal, so I roll with it. After we're done, a quick cleanup and he's out the door. It's perhaps the most efficient 20 minutes of my adult sex life.
9:45 p.m. In bed reading the Sunday Times. Text message comes through from Ryan: We on for tomorrow night? Yes, I tell him. We're on.
My first date with Ryan was last week. We met years and years ago then started talking again two weeks ago on Grindr. He's extremely successful, tall, handsome — the kind of person about whom glowing magazine profiles are written. In a sense, the whole package. But I had my hesitancies about him, and I was pleasantly surprised when he turned out to be so mild-mannered during our date.
10:15 p.m. No. 3 messages. "That was hot as fuck."
DAY TWO
8:30 a.m. My dick and my brain, they're attracted to wildly different types of people. My brain hungers for someone intellectually engaging, emotionally intelligent, creative. Someone evolved. My dick, however, is attracted to douchebags. If you look like an asshole, my dick is probably already hard. It's not rocket science — as I told my last therapist (who somewhat uncomfortably fit this very profile) during our first session: I derive significant pleasure from being sexual with the archetypal males that were mean to me as an adolescent.
4 p.m. At work, thinking ahead to my night with Ryan. He seems great on paper, and our first date went well, but he's also known for being tyrannical and exacting professionally. I'm interested to see what tonight'll be like.
8:07 p.m. I roll up to dinner a few minutes late, as is my way. Keeps them on their toes. Ryan standing at the bar, tall as ever. I remember how much I like his smile.
9:30 p.m. Midway through entrées I realize I'm on one of the better dates of my life. Conversation flows. It's incisive, even weighty at times. It's not defaulting to work talk or travel talk or, the worst, gym talk, every basic New York gay man's favorite thing to compare notes on.
10:45 p.m. We walk outside, make out a bit as I wait for my Uber to arrive. He leans in for a kiss — not necessarily as effortless as I'd like. Let's hang this weekend, he says. Sure.
DAY THREE
10:35 a.m. Daddy texts me. He's apologizing for canceling so last minute and wants to know if we can hang out this weekend. Hmm. Maybe.
12:30 p.m. Ryan texts — am I free Sunday night? Yes. Do you want to have an adventure? I ask. Sure, he says.
2 p.m. I've been in several relationships that all lasted about a year, which is enough time for me to decide if someone is a fit or not. For years I dated people with whom I had dubious sexual chemistry, and it felt like a tremendous compromise. Four years ago, something shifted and now, at 33, I feel like I'm in my sexual prime. I've finally come into my body, embracing the way that I look, and I've achieved a sexual confidence that only comes with experience. In the past three years I've had a lot of amazing sex with some incredibly hot guys, and it has been fulfilling in its own right.
2:30 p.m. I'm debriefing my friend S. on my date. She's that perfect blend, a psychiatrist and yet also sort of nuts herself. She loves all my stories!
3:45 p.m. My phone vibrates — it's Ryan II.
A few Saturdays back I was in the suburbs for a baby shower. It was a desperate situation all around, and I figured the only way to salvage the experience was to hop on Grindr and find some beefs in their natural habitat.
I found Ryan II, who coaches sports in the suburbs. Twenty-five, slim but ripped, entirely hairless. We've been texting for weeks with no actual hook-up. He's texting to confirm our date on Saturday, and then afterward texts something about fantasy football. What the fuck am I doing?
6 p.m. I hit an early Barry's class. As I'm toweling off post-workout in a sea of wandering eyes I ponder the eternal question: Did they model these locker rooms after a gay porn set, or vice versa?
DAY FOUR
10:15 a.m. At the office. I grab my phone and text Jim. "Any chance you're free tonight?"
Jim's one of the best massages I've ever had. He works out of his apartment, which is remarkably nice. He looks like he could be a high-school PE teacher or football coach. Forty-something. Bald, shaved head. Strong jaw. Barrel chest and huge pecs.
I look at the text history — it's been over a year, how is that possible? He responds in the affirmative. I'll see him at 6:30 tonight.
6:31 p.m. I arrive a minute late to Jim's apartment. He's there waiting for me downstairs as usual. Even hotter than I remember.
7 p.m. I'm naked, face down on the table set up in his living room. He's got all 200-something pounds of his body on top of all 155 pounds of mine, his knees on the back of my hamstrings so they're pinned down to the table. It feels amazing.
He slides off and moves on to my ass, still so sore from running 18 miles the weekend before. He works in circular motions, spearing the glute muscle with his elbow. It's the craziest combination of pain and pleasure I've ever felt.
7:37 p.m. I'm showered and back out on the street. Fuck, that was amazing. He charges $150 bucks an hour. Worth it.
DAY FIVE
10 a.m. I'm at my doctor's office for a six-month check-up. I refuse to see a doctor who isn't a gay man. Anyone else wouldn't understand the realities, and would likely judge the kind of lifestyle that some gay men in New York lead. I've spent my life judging myself, I don't need any of that from my doctor.
10:15 a.m. Dr. E. rolls in. Unlike many gay men in New York, I'm not on PrEP. I tried it and had an interaction with my kidney, so I am unable to ride the full wave of sexual liberation that seems to have taken over the city in the past two years. "Are guys giving you a hard time about using a condom?" Dr. E. wants to know.
Yes, I reply. And tell him that to be honest, I'm not sure I think that this sudden rush to unprotected sex is particularly smart.
3:30 p.m. Bored at work, trying to research concepts for my next features. I decide to do some online stalking of my naughty neighbor. Maybe his boyfriend's hot too.
Find him in less than five minutes via a photo he posted with our building geo-tagged. Lots of pictures of him and the BF, they make a sort of cute couple.
3:40 p.m. Oh. My. God. I somehow missed the most recent post. They just got engaged. Last night. Two nights after he was in my apartment … I mean, I knew they weren't monogamous. Still, it's just kind of crazy, the timing.
8 p.m. Work out, get back home, am exhausted. Ryan I texts — what's the plan for our adventure? After deliberation, I've decided to take him to Flushing. Foot rubs, Spa Castle and then Szechuan food, all a surprise. It's a two pronged test: take him out of his comfort zone, and see how he does somewhere that's the opposite of fancy and refined. I'll pick him up at 3 p.m. at his place, I say. Pack a bathing suit.
DAY SIX
10:04 a.m. Sleep for almost 12 hours! Have a text message from Ryan II confirming this afternoon. We're on.
3:36 p.m. We've decided to meet at a bar near my apartment, most convenient. I roll in, my customary few minutes late. He's hard to miss. Backwards hat. I touch him on the back. He sort of jumps for a moment, then shakes my hand.
4 p.m. This is maybe one of the most heterosexual gay men I've ever met. Seems deeply uncomfortable with himself. This is going to be work. He wants to know if I like sports. I do not.
4:23 p.m. We've run out of things to talk about. I ask him if he wants another round, and he says it's up to me, in that way that tells me he's ready to have sex. We head out to my apartment.
4:31 p.m. I'm showing him the view of a celebrity couple's pied-à-terre, one where the paparazzi camp out in front of, when I reach for him. We start making out, and before I know it we're both naked and hard. I take the backwards cap off and tell him I want him.
4:40 p.m. We're rolling around on the bed until he's on top of me. I want you, Daddy, he says. Daddy? I'm still basking in the glow of my supposedly ageless complexion, but I'll take it. Then he says safe-only. At least someone still has standards.
I grab a condom and get him on his back, lubing up before sliding into him, slowly. Within seconds he's coming all over himself. I pull out and lay next to him for a bit, letting him bask a bit in the afterglow. Then I jerk myself off, almost hitting myself in the face.
6:15 p.m. He's still in my bed, having fallen asleep on my chest. They're so tough until they're sleeping like babies in your arms. The sun's going down slowly, and I take a moment to consider the cloud of false intimacy I've found myself in with someone I've met only three hours earlier. How easy it is. And isn't. I've never felt this kind of baseline physical attraction to Ryan I, despite his charisma and an actual intellectual connection.
6:45 p.m. I rouse him from his slumber. I tell him I have to get to dinner, a total lie but I needed an out.
I walk him out of my building and do a ceremonial walk around the block until the coast is clear and I can go back upstairs.
8:03 p.m. TV on, dinner being inhaled. High Art is playing on Showtime. Phone vibrates, it's him. "Have a good night stud. Real chill meeting you. If you're ever down to hang again, hit me up."
I sit back and sigh, thinking to myself — yeah, man, real fucking chill. In moments like these, it feels like what feels right to my body and what feels right for my brain might never be the same, and any one "Ryan" might never be enough.
Want to submit a sex diary? Email sexdiaries@nymag.com and tell us a little about yourself.