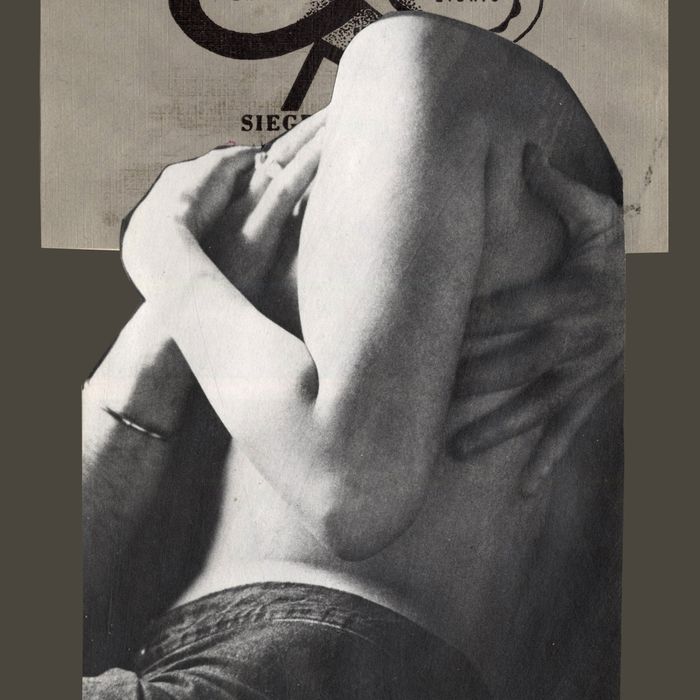 Photo-Illustration: James Gallagher
This week, a woman in Los Angeles intrigued by a man with a glittery beard: single, 33, Highland Park, Los Angeles.
DAY ONE
4:50 a.m. On most weekdays, I'm awake at 5:45 A.M. because I'm a substitute teacher, and many schools now start as early as 7:15 or 7:30 A.M. School started at eight o'clock when I was growing up, which was bad enough.
I fell asleep before showering last night, so I woke up extra early today. I have this bad habit that I'm trying to break of lying down (often before removing my makeup, clothing, or contacts) and promising myself that I'll get up and get ready for bed in a moment. But, of course, I usually fall asleep, which is exactly what I did last night.
9:22 a.m. I'm sitting in the faculty lounge at the school. I haven't done anything since I got here.
6:07 p.m. On a break from my night class and hoping that I can schedule a date for tonight, since I don't teach until noon tomorrow. I'm getting my masters is in Teaching English to Speakers of Other Languages (TESOL). I plan on teaching English abroad (hopefully in Paris?), but I think I'll eventually return to L.A. to teach non-credit ESL to adult immigrants. Then again … maybe I'll fall in love with a Frenchman in Paris and stay forever.
My last serious relationship was way back, in 2014. It didn't last long because the timing was horrible. I was dealing with mental-health issues and, well, he wasn't.
9:57 p.m. I've agreed to meet this guy who I have a feeling might be too nerdy and get on my nerves. He raved about this one singer-songwriter, and then I listened to her and found her voice annoying and lyrics way too on the nose. It's difficult for me to be attracted to men if I don't like their taste in music. Anyway, I'd better change; I'm supposed to meet him soon. I guess I'll just give it a go …
11 p.m. It was a bust. He was chatting up another woman when I got there and then he was just a rude person. I went home after a single glass of wine.
DAY TWO
10:11 a.m. Last night should serve as a reminder to trust my instincts when it comes to men. I've met up with a few jerks online lately and I knew they were jerks before I even said hello. Gotta follow my gut better.
2 p.m. Texting with a guy, A., that I matched with on Tinder recently. A. seems cool; plus, we've mostly been discussing chess so far. Sex hasn't even come up yet — there's still plenty to discover.
6 p.m. Spent the rest of the day texting back and forth with A. We decide tonight's a good night to meet up.
9 p.m. We meet up at a seafood bar in Koreatown. Before he even says hi I know I want to sleep with him. He has the most lustrous beard I've ever laid eyes on. Seriously. It's sparkling!
9:15 p.m. Apparently, he just uses some kind of beard oil — but it really does look almost like glitter. He's a composer and producer, which I love, since I'm really passionate about music. We have plenty to talk about.
9:30 p.m. He's asking if I want to play chess at his place. Sure …
Midnight Well, chess never happened. But we did cuddle while watching The Last O.G. and eventually had sex. One thing that surprised and intrigued me was that he seemed to have an ear fetish. Never before had someone kissed, licked, and nibbled on my ears for such an extended period of time. It did feel pretty good and turn me on, though.
I guess I'm sleeping over …
DAY THREE
9:55 a.m. I'm in a Lyft going from A.'s place to my Brazilian appointment and hoping that the aesthetician won't suspect that I was having sex less than an hour ago.
10:48 a.m. My Brazilian went well. She really got in there with the tweezers today — incredibly thorough!
5:33 p.m. On a hike with some friends. It's exhausting, but getting this much exercise feels good.
8:30 p.m. I'm back at home lying on my bed naked and thinking about A. I didn't orgasm from sex with him the first time, but that's not abnormal for me.
10:23 p.m. Suddenly, the fact that I got so little sleep last night has caught up with me, and I feel like I can barely move, though I do really wanna get up and put some tea tree ointment on this big, painful ingrown hair on my butt (from waxing) and make popcorn. I haven't eaten since right after my hike, so I'm hungry — but I don't have the energy to prepare a proper meal or even to pick something up. I can hardly keep my eyes open.
DAY FOUR
9:44 a.m. I got about ten hours of much-needed sleep.
11 a.m. Today, I need to focus on a school assignment, which is due on Wednesday, and then I'm going over to my friend's place in Silver Lake. She's making pina coladas and guacamole — yum!
3 p.m. At my friend's place in Silver Lake. It's a weekly gathering hosted by my friend C. Three or four of us get together to drink, snack, and gab while watching 90 Day Fiancé.
11:55 p.m. I've been messaging with various guys on Tinder and Bumble, trying to set something up for tonight. I just kept striking out, though, and now it's practically midnight, so the chances of anything happening at this point are slim to none. That's something that drives me crazy: the amount of pointless messaging that occurs on these apps. I believe that I've been on more dates through various apps over the past five years (I first got Tinder in 2014) than anyone I know.
DAY FIVE
11:03 a.m. I'm not teaching today, so I woke up at around 7 and was going to get up and get to work on a homework assignment I started yesterday. But I told myself I could sleep for a few more minutes and ended up sleeping for like four more hours!
4:32 p.m. The weather's disgusting today – extreme overcast but very little rain. I know; I know: so typical for a Californian to whine about the weather when it's just slightly unpleasant. I'm seriously so sensitive to the weather.
6 p.m. A. told me he was going back east this week, and I was hoping to see him again before he left. But, as it turns out, he's leaving tomorrow, so I'll have to wait until he gets back. Unfortunately, I have no clue as to when that might be because he didn't buy a return ticket … My hope is that he will reach out when he returns.
10 p.m. Swiping through Bumble, when I see C., a guy I hooked up with a while ago (last October, I think). He's hot and good in bed, but he was dating other women at the time and decided to start seeing one of them exclusively, so that was that — or so I thought. Things obviously didn't work out with him and that woman, and now he's back on Bumble again. We match before I fall asleep.
DAY SIX
11:08 a.m. Whoa — unsure as to what's going on with me these last couple of days. I never sleep in like this anymore, and it concerns me that I've done it two days in a row now.
There's a message from C. waiting, saying he's been "hoping we'd cross paths again." When I ask why, he explains that he got a strap-on and wants me to use it on him. I've only ever pegged a guy once, and I guess it was cool because he got off, but it didn't do much for me — especially because I'm not the dominant type.
Still, I tell C. I'm down to peg him but that I wanna get fucked, too, and he says that that could be arranged. We're hoping to get together this evening. It may be somewhat tricky, though, as we both have multiple roommates.
1:47 p.m. C.'s really into sexting. We've been sending sexy pictures to one another, and he's been writing to me about all the dirty things he wants us to do when we get together later. But some of the dick pics he's sent me are the same ones I received from him in the fall … hmm.
8:30 p.m. I'm not going to see C. tonight after all. We've decided that tomorrow works better. But if I want to get laid tomorrow, I need to get this homework assignment done already! It's time to really buckle down on that.
DAY SEVEN
10:08 a.m. I haven't heard from C. yet, so I may not see him today. This probably isn't the best day anyway — my stomach is bothering me, which is definitely not sexy. If I do see him, though, I'm going to tell him that I don't want to peg him after all. It's just not for me.
9:31 p.m. After class this evening, my professor pulls me aside. He's recommending that I contact the Office for Students with Disabilities (OSD) and find out what I need to do so I can get an extension on the comprehensive exam (which I'm taking in the fall in lieu of doing a thesis). Because I have a diagnosis of Bipolar I with anxiety, I qualify for accommodations.
It's just that I've never gone through the process of registering with the OSD — I think part of is that I'm somewhat embarrassed. I've decided to email the office today, though. It'll probably give me peace of mind to know that my mental illness has been documented and that I'll have the extra time on the exam if I need it.
10:30 p.m. A guy I matched with on Bumble quite a while ago has finally asked if I want to meet up for coffee on Saturday. We'll see, I guess. How do I feel about my love life at this point? What love life? That's how I feel about it — that it's nonexistent!
For the past several years, I've dated plenty and have had an active, and often interesting, sex life but haven't gotten into any serious, long-term relationships. Things just haven't been lining up properly. Either the timing is off; or I like him, but he doesn't like me, or vice-versa; or he's into polyamory, and I'm only interested in monogamy, etc. Though I long for companionship and motherhood, I'm just not sure it's going to happen for me. But who knows — maybe if I move abroad?
Want to submit a sex diary? Email sexdiaries@nymag.com and tell us a little about yourself.