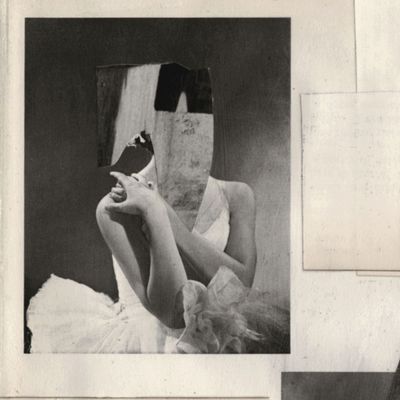 Photo-Illustration: James Gallagher
This week, a mom who has couch sex at her friend's empty house in the Hamptons, hoping the nanny cams are off: 45, in a relationship, Morningside Heights.
DAY ONE
9:00 a.m. It's my birthday so my boyfriend let me sleep in late. We have a toddler so waking up after 6:30 a.m. is a luxury. I turn 45 today. There's not much celebrating to do, but that's okay. I'm not really into birthdays anyway.
11:30 a.m. We had really good sex last night, which means we're all lovey-dovey today. We've actually been having great quarantine sex. I think a lot of it has to do with a conversation we had a few weeks ago. I told him that I want him to be more forward about wanting to fuck. I can't read his mind, and chances are, I'm never going to initiate sex (I'm always tired), but if you tell me that you "want" me, or that you're horny, or that you want to fuck, or want a blow job, or whatever, I'll always be down. I didn't know I was saying something so game-changing for us, but it's proven to be the best instructions I've ever given. Before all this, we were having sex once a month (which isn't that bad), but I knew he was frustrated, and I felt guilty about that a lot. This feels like a good and healthy improvement for us on many levels.
7:00 p.m. It's always a long, mostly un-fun day when you have a 2-year-old at home. We take turns with her. He works at a start-up and I'm a dermatologist, so we are both still working but remotely. My work consists only of a few virtual consults and checkups right now, nothing in person. I have paperwork to do, and a lot of work-related housekeeping to take care of, but it's not wildly stressful. My boyfriend's job is more demanding at the moment because he's the boss, and responsible for a lot of people's futures over there.
8:30 p.m. I tell him I'm getting into bed to read. He gives me that look. I say, "If you want to make love, just tell me." We both crack up laughing because I said "make love." He follows me into the bedroom and we have quick, nice-enough sex — about ten minutes. I don't come but usually I do, so it's not an issue.
DAY TWO
8:00 a.m. My daughter is playing with my boyfriend's iPhone and I see a WhatsApp message from a woman with a lips emoji. It flashed before my eyes and I didn't get to see what the message said. I'm not into snooping, but it's hard to ignore. My heart stops. I get really scared. We've been together about six years and we've never had any cheating or unfaithfulness as far as I know.
11:00 a.m. I decide to say something; I don't want to waste a day investigating this. "Who is Mia?" I ask him as we trade off watching our daughter. He looks genuinely confused. I tell him I saw a sexy WhatsApp message from her. He looks so freaked out, I actually feel bad for him. "Open your WhatsApp," I say, sternly. Poor guy, he's white as a ghost and still saying he has no idea what I'm talking about. He opens the app and there's a message from Mia from … 2013. We met in 2014. That was literally the last time he used WhatsApp. I look carefully at the message and it's clear he never even wrote back to her — not that it even matters since he didn't even know me then. I feel a little embarrassed, but he makes fun of me and I laugh at myself and all is well.
9:00 p.m. No sex tonight — not because of Mia circa 2013, just because.
DAY THREE
8:30 a.m. Our daughter is watching TV so I invite my boyfriend to shower with me. I love his body naked. He's so fit without even trying. His penis isn't huge, but it's not small. I used to be obsessed with big dicks — I mean, I would basically make men tell me on a first date if they had a big one — but my boyfriend's cock is actually just right. In the shower, we don't have sex, but we do have fun.
4:00 p.m. We recently found a nearby bar that serves great contactless cocktails, so we stroll the kid over there and get drinks. There are some sweet moments to be had still. Sun shining, my little family, and an Aperol Spritz. I don't hate it. It is funny trying to sip a cocktail while wearing a mask though!
DAY FOUR
9:00 a.m. I have an hour off (my boyfriend and daughter are doing soccer in the park) and I don't feel like working. I decide to get out my vibrator and watch some porn. I open up my computer, then I close it again. I'm actually so sick of Zooms and online music classes that I don't want to get off while looking at this thing. I use my own imagination instead. I think about a gang bang with three men and me. One dick in my mouth, one in my pussy, and one jerking off on me.
11:00 p.m. My boyfriend crawls into bed with me and says he wants to fuck. I put on a little bit of lube and we have sex. It's not the best sex ever for me, but I always love the kissing part if nothing else.
DAY FIVE
3:00 p.m. I have a lot of work today so I haven't seen much of my family. I know my boyfriend is drained from child care today but it is what it is right now. Does he resent that I'm a "successful" doctor and he's still trying to get businesses off the ground? No. "Resent" wouldn't be the right word. It makes him a little insecure and anxious, maybe. He works hard and I'm proud of him, and it's a nonissue for me.
5:00 p.m. I take my daughter and tell my boyfriend he has the rest of the day/evening all to himself. He rides his bike to see his friend in the West Village for a socially distanced walk. I'm almost positive this means they smoke a bunch of weed and walk around the city high, but I don't care what he does. He can relax however he wants to.
8:30 p.m. The perfect opportunity to finally binge Normal People. One episode in, I'm insanely horny. I call my boyfriend and tell him to come home and fuck me. He says he'll ride his bike home right away.
9:15 p.m. He's home. I push him onto our bed and climb on top of him. I ride his body really hard until I come. He finishes shortly after. It was really, really good sex. Thank you, Hulu!
DAY SIX
9:00 a.m. We've piled up the car to stay at my friend's house in the Hamptons for a week. They've moved onto a farm in Vermont. It's a little stressful packing up the car since we don't want to make any stops for food or bathroom.
12:30 p.m. Her house is gorgeous. We're so lucky to be here. I think this level of wealth makes my boyfriend uncomfortable, but he's not complaining (or he better not).
7:30 p.m. Our daughter is asleep and we're playing "rich couple." Drinking nice wine and lighting a fire. I have no issues with this lifestyle.
9:30 p.m. We fuck on the living-room couch, and then I remember my friend has nanny cams everywhere. They're probably off, right? They must be off. I decide not to worry about it.
DAY SEVEN
8:00 a.m. I'm making everyone breakfast. There's a lot of food here (I assume she had someone stock the fridge for us). After weeks and weeks of grocery-shopping anxiety, it's glorious to have so much to choose from. I make a breakfast feast.
11:00 a.m. Our daughter is having a tantrum and kind of ruining the morning but what can you do. Kids deserve lots of free passes right now, as do parents.
8:30 p.m. I take a long hot bubble bath and decide to go right to sleep. I don't even say good night to my boyfriend.
9:00 p.m. I get out of bed and text him (he's downstairs). "I'm going to sleep. I love you. You're my everything."
Want to submit a sex diary? Email sexdiaries@nymag.com and tell us a little about yourself.