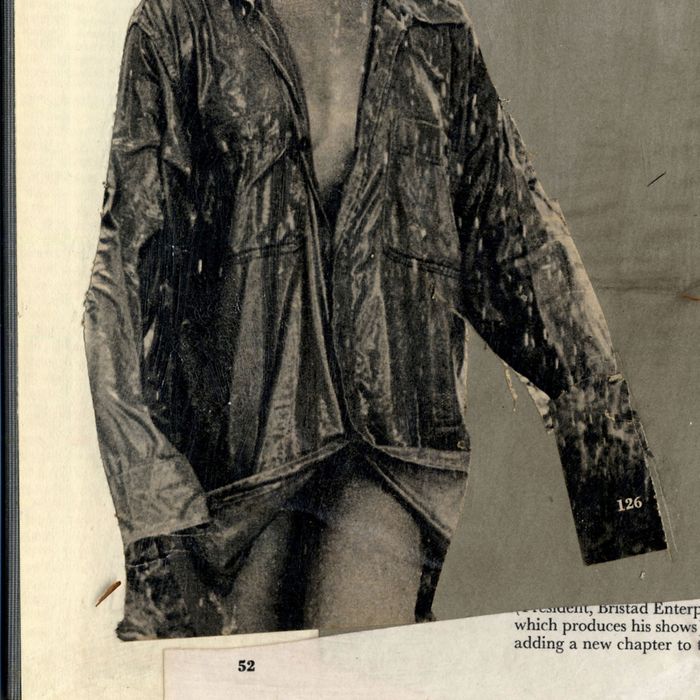 This week, a divorced woman applying for a new job and meeting up with a Tinder match: 47, single, straight, Shanghai.
DAY ONE
5:20 a.m. I wake up before my alarm and check my messages. My outdoor workout is on. Living in a megacity like Shanghai means it gets canceled when the air quality sucks.
6 a.m. Today's class is punishing, but I feel invigorated. Working out has long been part of my routine — it really helps quiet my mind. I'm part of a group made up of expats and locals grunting through old-school exercises.
I've been in Shanghai 18 months, and my Mandarin is still minuscule. It's been pretty easy for me to get by with English, but I really want to learn more. Everyone says you need to learn something like 3,000 characters to be conversational. I've got a long way to go.
7:02 a.m. I walk off the field chatting with a young, ripped, single guy. The affection is nice, even though I know it won't go further. People often tell me I look younger than — or "good for" — my age. Any compliment is welcome, especially after being blindsided when my husband ended our 16-year relationship.
At 46 I was suddenly navigating a new world of dating — one that has shifted seismically since I was last single. Ten months after our split I moved. I didn't tell my ex, which delayed our divorce. That little "fuck you" felt good.
9:05 a.m. I'm a freelance writer, and work has been crazy lately. Today I'm finishing two stories for the same editor. One is going well, but I'm struggling with the shorter piece. Procrastination in the way of a nap wins.
7:50 p.m. I wash my dinner dishes, proofread my articles for the umpteenth time, then email them to my editor before I can tweak anymore.
I went back to freelancing full-time when my contract with the company that sponsored my work visa concluded. After my marriage ended I flirted with the idea of going to Europe and getting another degree, or decamping somewhere remote to focus on my writing. Asia wasn't on my radar, but when I saw a posting for an interesting editorial position in Shanghai (a city I'd visited), I emailed my CV. I didn't expect to hear back, but here I am.
8 p.m. I stretch out on the couch and flick through Tinder, which I joined to meet someone closer to my age and, hopefully, long term. When I told my friends I was moving, they gushed that my adventure would be like Eat Pray Love. Lately it's been more Eat Drink Fuck. I've suddenly become a sexual magnet to millennials. Granted, I typically meet guys at clubs when dancing with my friends. Youth by association, I figure.
Tonight, I swipe left, left, left … past an inordinate number of men posing with tigers … then crack open my computer and watch Billions instead.
DAY TWO
8:03 a.m. T. messages: Bonjour, mon petit cour! I can't help but smile. We matched on Tinder about a month ago, while he was visiting Shanghai, before I swore off guys who don't live here. T. lives in North Africa. He's my perfect type of guy: smart, attractive, accomplished, and charming as hell. Plus, I love a man who knows how to dress. We've talked on the phone, video-chatted, and connected on social media.
I adore T.'s openness. Realistically, though, he's a decade my junior and seems like he could have anyone. There's surely a list of other women he also calls babe and hon. He arrives tomorrow for a business trip. I ask about his plans and he responds with a selfie taken in his car.
11:30 a.m. I get an email from a creative director who interviewed me for a job. Will I do a writing test? Hell, yeah! It's a good gut reaction. I love the freedom of freelancing but I can't be in limbo forever, can I?
12:15 p.m. My sister and I message while I work. She's been a rock for me since my marriage ended. No marriage is perfect, but our breakup rattled people. If we couldn't make it, who could? We didn't have kids, so "it could have been worse." I heard that bullshitty speech plenty.
My ex, S., is a chill guy and a not-great communicator (he'd admit this). After I came home from a three-week business trip, S. carefully relayed a short speech to me. He thought this chapter of his life — us — was closed; he wanted to move on. Simple. Euphemistic. Vague. There wasn't another woman and never had been. All I could tease out before he left (he never stayed in our home again) was that he didn't think he loved me anymore, refused to go to counseling, and had already been staying at his mom's.
My ex works in the entertainment industry with a ton of young people. His career was surging, and I honestly think he had a mid-life crisis. It was a high-voltage shock that knocked me on my ass.
3:45 p.m. The test looks straightforward, but like most writers, I suffer from imposter syndrome. There's no deadline, so I breezily reply that I'll send it back by end of day tomorrow.
9:55 p.m. Still nothing from T. Is he ghosting me after communicating for more than a month? I seriously contemplate deleting him and I'm annoyed I feel this way. Since I moved I've made a major effort to focus on the present, so I put down my phone and go to bed.
DAY THREE
7:08 a.m. After today's workout, D. and I bike to a bakery. She and I are the same age and we have deep conversations and lots of laughs. My millennial friends are smart, supportive, and fun, but sometimes the age gap feels cavernous. I need to meet more people my own age.
10:15 a.m. The writing test is taking me forever. The job is a great opportunity, but do I even want it? I'll decide once I get an offer.
3:08 p.m. I slather chunky peanut butter and raspberry jam on some crackers, suck back a can of coconut water, and continue writing.
4:02 p.m. T.'s flight has been canceled. He's waiting to hear from the airline. Damn!
4:35 p.m. Writing done! The test was actually interesting. I email the creative director my document, change out of my sweats, then walk to my favorite park to clear my head.
9:45 p.m. I scroll through Instagram. T. has posted an airport selfie. His account is private and I like being part of his inner circle. Yup, he's hot. I finally allow myself to be excited.
DAY FOUR
5:20 a.m. Workout is on! No other messages.
7:38 a.m. My bestie has messaged. O. and I have been friends for almost two decades. She's also one of the few people who asks me the tough questions about my life and doesn't judge. Happily married, O. admits she sometimes envies my freedom. (Freedom I didn't want, I often remind her.) I don't miss my ex anymore, but I long for the everyday coupley things, like hosting dinner parties, holding hands, and snuggling in bed. He and I emailed about a month ago, but we're not friends. He's still single too.
8:45 a.m. Three new gigs with reasonable deadlines! I spend the day writing, cleaning my apartment, snacking, and reading.
5:54 p.m. T. messages me from the airport. I reply. Nothing back yet.
7:30 p.m. I have dinner at a Mexican restaurant with a group of girls. They arrived for happy hour and are full of tequila. I order a margarita. It's a weekday, but they're going clubbing later.
8:37 p.m. A band is playing. It's loud. I consider having another margarita and check the time on my phone. T. tried to video chat me ten minutes ago. He also sent a selfie wearing a hotel bathrobe. Helloooooo, handsome! With encouragement from the girls I message him back: "Your place or mine?"
8:47 p.m. I rush home, take a neck-down shower, and drag a razor across my legs. I remember T. said he likes black lingerie. Happy to oblige! He told me to pack a bag.
9:41 p.m. I'm sitting in the busy hotel lobby. It's quite chic. T. materializes behind me. Whoa! He's tall and even sexier in person. He leans over and kisses me on both cheeks. We chat a bit (I'm nervous!) and T. asks if I want to have a drink in the hotel, go somewhere else, or head up to the room. I choose the room.
9:43 p.m. This room is great! I kick off my boots and perch on the end of the massive bed with a glass of wine. He leans over and gives me a long kiss. Mmmmm. Then things move fast.
Clothes come off, hands and tongues are everywhere, and I'm so thankful I resisted my impulse to delete him. We have sex twice. T. is loud and pretty much shouts my name over and over. In the shower he kisses my neck, lathers me with soap, and tells me he loves my body. Bliss.
2:25 a.m. T. holds my hand as we wander the deserted streets looking for a place to eat. McDonald's! We laugh and go inside. T. remarks how we've only been together for hours but it feels like we've had a six-month relationship. He wishes we lived closer. I do, too.
3:45 a.m. This guy has stamina! (Apparently, so do I.) We have sex again, then fall asleep, his big arms wrapped around my body.
DAY FIVE
8:45 a.m. T.'s phone is going nuts. He makes a few calls, then we snuggle up. Damn, he's adorable.
9:15 a.m. I start to put on my clothes. When I offhandedly mention my dry legs, T. uncaps a mini bottle of lotion and rubs it on my shins, slowly sliding his hands up to my thighs. Then he tosses the bottle aside and peels off my lace panties.
11:15 a.m. I find a share bike near the hotel and cycle to my favorite bakery. I have a custard-filled pastry and Americano on the terrace. T. messages me saying how happy he was to see me. The sun is shining, birds are chirping, and life is beautiful.
2:25 p.m. I wake up from a nap and reluctantly do some work.
9:47 p.m. T. has been at a conference all day. I message him and say I'm going to bed.
DAY SIX
7:36 a.m. My body aches from all that sex and working out. T. sent two messages late last night. Tu me manques follement. I miss you madly. His day ended at 11:43 p.m. Did he expect me to hop in a cab and rush to his bed?
9:42 a.m. T. and I message sporadically throughout the day. He says he misses me, but doesn't commit to meeting up.
4:55 p.m. A long email from the creative director. He wants to hire me! I actually feel giddy. Someone finally wants me for more than a roll between the sheets.
9:30 p.m. No messages from T.
DAY SEVEN
5:45 a.m. It's way too early, but my brain is wide awake. I skim Instagram. No messages from T., but he posted a picture from a rooftop bar two hours ago.
12:12 p.m. T. messaged. Twice. He phoned twice too. "Baby, please take my call." I try several times to get in touch. No luck. I think he's flying home today, but I don't really know.
6:30 p.m. My friend invited me to a going-away party for a mutual acquaintance, but I don't feel like being social or hanging out with a bunch of drunk people. Plus, I've gotten behind on my work. I write for a few hours then fall asleep on the couch.
9:45 p.m. T. messages — from the plane! So this is good-bye. He says he misses my smell and our bed talks and that he'll come back in a few months and we can continue our story. It sounds sincere. I feel a tinge of sadness and a little relief too.
If T. came back for a visit, I'd meet up with him in a heartbeat, at least to see if what he's been saying is real. I just can't shake the feeling he thinks of me as a pretty little bird in a cage, someone he'll give just enough affection to keep singing. Eventually, he'll get bored. I consider myself an optimist, but I won't let myself picture a future with him. Not now.
I do, however, allow myself to surrender to a daydream within my grasp: a new career. I reread the writing test and the glowing email from the creative director. No guy has had a thing to do with my success. It's all me.
Want to submit a sex diary? Email sexdiaries@nymag.com and tell us a little about yourself.