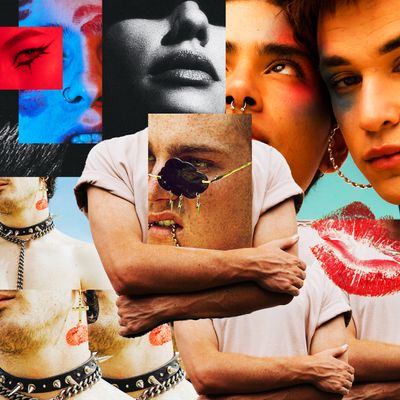 Illustration: Marylu E. Herrera
This week, a marketing assistant escapes on a family trip, only to find herself staying out way too late with a potential hookup: 28, single, Long Island. 
DAY ONE
9 a.m. Back at work after the weekend. I work in marketing at a very small company in Manhattan, which I drive to from my hometown on Long Island (where I live with my mom). I wear many hats and am super underpaid. I have been trying to find a new job essentially since I got this one.
9:40 a.m. I get a random text from L, a guy from Bumble, who I've met but haven't really hooked up with yet. "Do u work from home at all?" I haven't heard from him in weeks. He's hot and a personal trainer but the things he texts me are irritating. He's repeatedly asked me if I'm on birth control, if I like giving head, if he can fuck me without a condom? Does anyone have any sense of decorum anymore? But what can I expect from a 23-year-old — I'm only five years older, but that feels young.
I didn't start having sex until I was 25 and still consider myself to be on a learning curve when it comes to dating. I am very aggressive on the apps but it seems like guys don't ever want to meet in person — I've only had two dates this summer (hence the 23-year-old).
11:39 a.m. Take a break from work to check Hinge. I recently got roasted by my stepsister and her friend for having such a wide age range on here: 21-45. I thought I was leaving myself open to more possibilities, but I realize I've just been making it harder to find the people I'd actually date. So I narrowed my range down to 27-40, and now my matches are actually getting better. Maybe I'll have sex again soon!
2:20 p.m. Thinking about B, the last person I dated, back in the spring. Another 23-year-old. I was infatuated with him on our first date but it got weird and intense real fast. He tried to tell me he loved me three days after meeting him … during sex. And I just went along with it for two more months despite the obvious red flags. One day he stopped responding, until texting me a week later from a new number to tell me we shouldn't date anymore. Since then I've been doing a lot of self-reflection to try and be the best "me" I can, for myself, the people I love, and whoever I end up with.
4:40 p.m. Leave work to go home.
5 p.m. L texts and says he's at my house. He's never just shown up before without asking, and I'm not sure what to make of it. I tell him I won't be back for at least 40 minutes. He's irritated, so I tell him to just go home. As I approach 30 I have less and less patience for this kind of stupidity.
9 p.m. Get myself off and fall asleep.
DAY TWO
9:17 a.m. Back at work. Why am I in such a bad mood? I try to think about what I can have for lunch later — it's always my favorite part of the day, besides my morning coffee.
12:30 p.m. I recently got my medical cannabis card and I'm loving the easy access to edibles. I allow myself a 5mg one before I leave work to take a walk and get lunch — minestrone soup and Caesar salad.
6 p.m.  From work, I go to a yoga class. My studio has been my saving grace. It is one of the few places I feel true peace. The owner who leads the classes is so captivating, I would join her cult if she had one.
8 p.m. My friend comes over, we have pumpkin beers, I get sufficiently tipsy and we watch From Dusk Till Dawn. Damn, Salma Hayek has been that bitch for so long.
DAY THREE
7:30 a.m. Ugh, drinking makes me so sluggish the next day. I desperately want to continue sleeping but I pull myself out of bed and put on pants for the first time in four months, since there's an actual chill out.
11 a.m. At the office. Work is slow this week so I have been watching '90s cartoons on and off at my desk. I don't even know what to watch anymore with all of the options so I've resorted to nostalgia. I have been trying to plan my 29th birthday but I get easily overwhelmed by options. Maybe I should book a hotel room and see where the night takes me and whoever actually shows up.
1:30 p.m. Lunch poke bowl and more TV at my desk.
5 p.m. I would usually go to yoga tonight, but I just want to go home, sit on my couch and watch The Morning Show.
9 p.m. In bed with my usual lullaby: Forensic Files. Feeling more relaxed knowing I'm working from home tomorrow and won't have to spend hours in traffic.
DAY FOUR
7:30 a.m. I'm half-awake as my mom yells out "I'm leaving now!" Ugh, I forgot I have to take her to the mechanic before I start my workday at home. I want to move out at some point, but I don't want to live alone. I suppose I've been waiting for a partner to come along to move in with …
8:30 a.m. We grab coffee and breakfast sandwiches, which she kindly pays for, and it lifts my cranky spirits.
10:20 a.m. I recently bought some micro-dosing pills of psilocybin I found online. They actually seem to have an effect! It's subtle, but I feel a little lighter, uplifted. At this point in my life I am my own guinea pig, willing to try anything that will move the meter on my mental health.
11:30 a.m. Bumble break! Everyone on Bumble is usually excessively hot and successful and seemingly out of my league. Sometimes it feels like these profiles are set up by some Bumble overlord just to fuck with us. But recently I've been putting more time into it, and actually getting some matches with men I'm both attracted to and who answer back!
2 p.m. Book a room at a hotel on the Lower East Side for my upcoming birthday. I'm grateful I decided to treat myself instead of being paralyzed with indecision.
5 p.m. Hit up my dispensary after work. I have quickly fallen in love with one of the cashiers here, C. Last time he rang me up I glanced at his badge and then looked him up, hoping for social media, but all I could find was his employment history. This time another very nice man rings me up, but I keep giving C the eye. He comes over and helps the other guy by grabbing my goods and putting the labels on them. This guy is so hot and nice and it makes me incredibly nervous.
9 p.m. As I get into bed, I think about C and resolve that next time I go to his shop, I will actually start a conversation with him.
DAY FIVE
10 a.m. It's the weekend and I'm on the way to Montauk with my dad, stepmom and stepsister. The drive will be about 2 hours. I don't want to sound ungrateful for a paid vacation, but sometimes I wish I had a romantic partner to go on these trips with instead of my parents. At least my stepsister is here to jazz things up.
2:50 p.m. We're settled into our hotel and I'm sitting on the beach with my book. I love it here, even in the fall.
4 p.m. Stepsister brought white wine to pregame with; I get buzzed before dinner.
7:30 p.m. Our early family dinner is over, I am sufficiently buzzed on rosé, and ready to go out. My stepsister is 27 and recently single — she's been having a ton of fun outings. I'm jealous, but I have high hopes for an evening out with her.
10 p.m. We are at a famous local dive bar. I like the vibe here. We amble over to a table of two guys and start talking to them. For some reason I immediately begin to feel insecure and undesirable. My stepsister can so easily speak to these men while I feel like a dunce. Eventually she finds out that these guys know her ex (Long Island is a small world I guess) and loses interest.
But she immediately finds a new guy to set her sights on. I am drunk on beer and don't really want to make idle chit chat with this guy and his "cousin." Then she tells me they have the coke I challenged her to find for me and I perk up, following them to the parking lot.
11 p.m. I get in the cousin's truck with him, and he lays out some lines for me on his phone. I pretend to be interested in his music tastes and ask about his job, something about fishing. He's actually a nice guy, I probably should have been a little kinder to him …
1 a.m. After a while, the four of us decide to head to the next bar. My dad texts me "Where are you?" I respond, "Coming!" The cousin invites us back to his place to hang out for a little while more. I am all in at this point, hopping in an Uber with them.
We end up in a messy house where I'm assuming one or both of these guys live. I end up making out with the cousin. Afterwards I want to leave, but my stepsister is hooking up with the other guy in the other room, so I decide to pass out for a little bit on the couch.
DAY SIX
5 a.m. I wake up in a haze. My stepsister doesn't want to leave yet, so I just start walking back to the hotel while looking for an Uber. The little Uber icon swirls incessantly, unable to find a ride, so I give up, figuring a sunrise walk will be nice. Back at the hotel, I'm peeling the contacts out of my eyes when my stepmom appears in the bathroom doorway. Did I mention we're all staying in one room? I tell her my stepsister will "be back soon," as if she's a stray cat. She makes it back shortly after me.
11 a.m. Obviously I feel like shit. It's not a great scene. My parents are divorced and have been since I was a kid, so my dad is not used to waiting up for me all night. I am so worried about what he's going to think of me or say to me.
12 p.m. My family wants to go out to lunch but I desperately need a nap, so I stay behind and pass out for a bit.
2 p.m. God I feel so much better. My family and I go sit on the beach.
7 p.m. We all head to dinner at my favorite restaurant in Montauk. It turns out to be a perfect meal with lots of laughs, and I feel grateful to be with my family.
DAY SEVEN
8:30 a.m. Wake up early, nice and rested to enjoy our last morning here. We sit on our deck, watch the ocean waves, and chat and eat breakfast until we decide to leave.
12:30 p.m. Home! I tell my mother nothing about my escapades, because sometimes it's nice to have things to myself, and I'm still feeling sort of shameful. I'm sure it'll come out eventually.
4:45 p.m. Took the greatest Sunday nap of all time. Nothing like being in your own bed with a warm dog next to you.
7 p.m. When I wasn't preoccupied with eating, sitting on the beach, or getting drunk this weekend, I was chatting with this new guy on Bumble. Now we are finally taking the time to get to know some things about each other, but he insinuates that he wants to talk about more explicit things. Call me old fashioned, but I would love to be taken out on a date before discussing if "I like to give or receive more." For the umpteenth time in the last few years, I wonder if I need a break from dating apps altogether.
Want to submit a sex diary? Email sexdiaries@nymag.com and tell us a little about yourself (and read our submission terms here.)