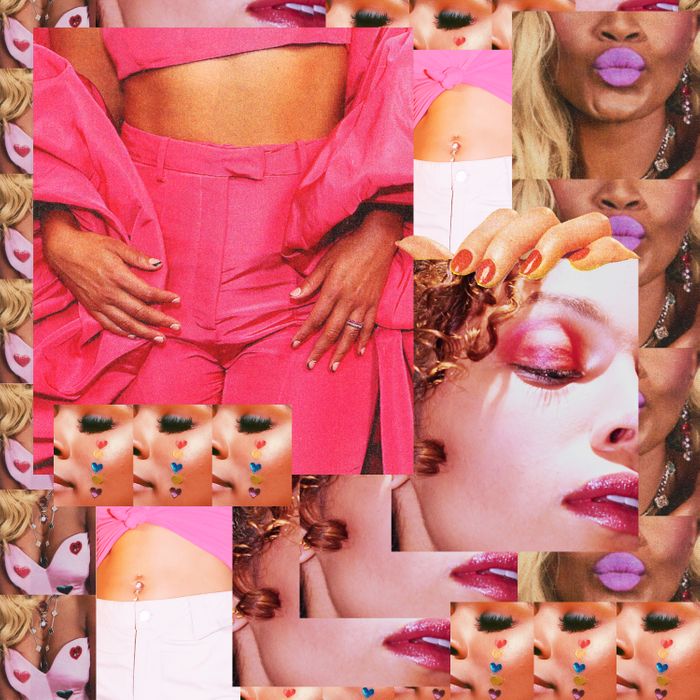 Photo-Illustration: by Marylu Herrera
New York Magazine's Sex Diaries series asks anonymous city dwellers to record a week in their sex lives — with comic, tragic, often sexy, and always revealing results. The column, which began in 2007, is the basis of a new docuseries on HBO.
This week, a start-up founder meets a mysterious Frenchman, spends the night with a date in a luxury hotel, and wonders when she'll settle down: 35, single, Brooklyn.
DAY ONE
7 a.m. Wake up feeling very unrested. I watched Tár last night and I think it gave me nightmares. Or it was the sleep gummies I ate.
8 a.m. Speaking of nightmares, when I open my phone I see three texts from Wyatt. They're all like, what's up?, where you at? A friend of mine set me up with him — they went to college together. I think he's a trust-fund baby and he's technically a musician, specifically a drummer. You're probably thinking, Why not? The thing is, I've gone out with Wyatt three times and I'm still not feeling anything. He's 35. I'm 35. I want a relationship. He wants a relationship. But we're just not gelling.
10 a.m. Start the day working from home. I launched my own skin-care line a few years ago, but it's not as glam as it sounds, and I only recently started paying myself a small salary. I work hard all morning, taking Zoom after Zoom.
1 p.m. Get some fresh air and text Wyatt back. Our last date was a few nights ago. We had a good time. It was a great restaurant and the cocktails were chef's kiss. Then we went to his place, which was sick, but the hookup was whatever. Finishing has never been an issue for me, but it's like his dick doesn't hit me in the right spot, so I just faked it, obviously!
6 p.m. I meet a client for a drink. She's married and actually adores her husband, who is hot. She says something like, "I make him fuck me every night." Goals! I usually hear the opposite from the married people in my life.
9 p.m. Take a nice bath with all my salts and bath bombs.
10 p.m. Fall asleep without any screens in sight. Self-care, baby.
DAY TWO
8 a.m. Go on a run over the Brooklyn Bridge. I try not to think about it and just get it done.
9 a.m. Therapy! As always, we discuss my love life. I was married in my 20s. Our sex was always great, but after three years together, I outgrew him. He never wanted to travel or try new restaurants. I think he was depressed, and I just wanted more out of life. But I haven't really met anyone great since then, and it's starting to feel sad. I want kids and a life partner.
1 p.m. A terrific lunch with a girlfriend at an Italian spot in Williamsburg. She breaks the news that she's pregnant. I'm happy for her, but I also want to cry. Will it ever happen for me?
3 p.m. I swipe around on my dating apps for a bit. There's this guy from France, Oliver, and he wants to meet up. He suggests tomorrow because he has another date tonight. The transparency is refreshing, but do I need a French fuckboy in my life right now?
7 p.m. The answer is yes — yes I do. I tell him to pick a place, and he immediately writes back with an impressive suggestion: a restaurant in Red Hook that I've heard good things about. How does this French dude know what's cool in Red Hook?
10 p.m. I'm a romantic at heart, so I imagine that Oliver and I will fall madly in love tomorrow night. Then I masturbate thinking about no one in particular, just a big dick railing me while I beg for more.
DAY THREE
8 a.m. I finally text Wyatt back. He's been messaging me about our next date. He suggested a hotel room on the Upper East Side. Now, I am a hotel slut. I grew up with no luxuries, so I love a fancy hotel room and I die for room service. But can I bear to go with Wyatt? I take myself on a run to think things through.
10 a.m. Fuck it, I want the hotel room. I text him back. "Let's do it. How about Friday night?" He immediately writes back, "Done."
5 p.m. One last Zoom to discuss getting my brand into celebrity gift bags at a big event. It would be a game-changer, and I get off the call feeling psyched on life. I put on some music and get into the shower for my date with Oliver tonight.
8 p.m. Oliver is very charming and funny at dinner. He's quite good looking, though he's shorter than I'd expected. He's also very flirtatious, but I get the sense that he's wounded or something — he keeps quoting philosophers and poets. I don't really know what he's talking about, but it feels kind of dark. I ask him about his date last night and he says she was not attractive and that he didn't like her body. I guess I appreciate the direct answer, but is this guy an asshole?
9 p.m. In any case, I'm falling for his charm. But can he make me come? He suggests we go back to his apartment and I agree because I'm tipsy and curious.
10 p.m. Oliver goes down on me for 30 minutes. He's extremely talented and I orgasm twice. Afterwards, I return the favor. He comes pretty quickly, and I spit it out in the bathroom sink. When I get back into bed we both laugh. It was a really hot hookup, and I love that we didn't have sex … so much less to process.
DAY FOUR 
8 a.m. I go to the lab I work with for some product testing. It's in Jersey and I take the train there, which is usually my chance to read a book or catch up on the news. But today I'm a bit hungover, so I close my eyes for most of the journey and think fondly about how good last night felt and how great it is to be alive at a time when men embrace cunnilingus so passionately.
9 a.m. These thoughts compel me to thank Oliver for the good time, so I shoot him a text. I'm positive that he will never respond, but that's not really the point.
4 p.m. It's been a long day at the lab, and no, Oliver did not write me back. That's totally fine!
5 p.m. I'm almost home from Jersey, and I'm starving. I stop by a restaurant I like, sit at the bar, and order some steak frites and a dirty martini. This is my favorite thing in the world to do, but while I'm eating I scroll through Instagram and it makes me a little sad to see everyone with their partners and kids on social media. I'm not embarrassed to admit how badly I want that.
7 p.m. On my walk home I text Wyatt to confirm our date tomorrow. He sends me the hotel confirmation, which shows the price of the room, which is like $700. Not sure if he did that intentionally. Either way, I could really milk this.
9 p.m. I go to bed early because I want to look and feel great tomorrow.
DAY FIVE
7 a.m. Run across the bridge; it's glorious running as the sun comes up.
9 a.m. Work. Four Zoom meetings in a row. I don't mind it. It's so exciting building something that has so much potential. And I love being the boss!
2 p.m. Make a big crunchy salad covered in Ranch dressing for lunch. It could feed a large family and I eat it right out of the huge mixing bowl.
4 p.m. My stomach is really off from that salad. I pray that it passes before hotel check-in tonight. I do everything I can to release whatever demon is inside my digestive system. I'll spare you the details.
6 p.m. I'm dressed and heading to the subway with my overnight bag. I tell myself this is fun. It's not not-fun, at least.
7 p.m. When I get to the hotel Wyatt is waiting for me at the bar with a dirty martini. He looks great — I mean, he's a cute guy and has this preppy look. We talk about some family stuff he's going through, and I like that I know the context. When you've been single for so long and you're always dating strangers, this kind of closeness feels special. Am I catching feelings?
8 p.m. We are both starving — for sex and food. We meet somewhere in the middle and get fries at the bar, which is enough to fill our stomachs but means we don't have to wait too long to go upstairs.
9 p.m. The room is small but nice. He goes down on me and it's okay. I get on top of him and we start fucking. This has always been my favorite position — riding a guy. I almost always come like this, and this time is no exception. I scream extra loud because I know he'll get off on that. He flips me over, fucks me from behind for a bit, and comes all over my ass. I get up very carefully and walk to the bathroom — I'd be so upset if these gorgeous hotel sheets got sticky before bed.
10 p.m. It's the first time we're actually sleeping together. We turn on the TV and watch an old movie. Wyatt is cuddling me, but pretty soon I roll over and pass out.
DAY SIX
8 a.m. I'm awake. Wyatt is sleeping. I throw on a cute little T-shirt dress and walk down to the lobby for a coffee that I put on the room. I sit in the lobby and check my phone. Nothing crazy, just my sister and friends asking about my night, some work stuff. I take a second to just be present and enjoy my coffee.
10 a.m. Wyatt comes downstairs and we have a fancy hotel breakfast. I drink two mimosas. I like him, but it's strange playing a couple like this. More intimacy than I've had with anyone in a long time.
11:30 a.m. We have sex in the hotel bed before checking out. It's slow and low energy and I don't orgasm, but he sure does. He pulls out and comes into his hands. Again, respect for the high thread counts.
2 p.m. Wyatt and I hug good-bye at the subway. I thank him for a really fun night, and I mean it.
5 p.m. Back home I take a shower and get into bed to read. It's a bit of a comedown.
6 p.m. Order in sushi and put on Daisy Jones & the Six. I don't want to look at my phone or text any boys.
9 p.m. Lights off.
DAY SEVEN
8 a.m. I take a run to shake this sense of fatigue. Dating fatigue, life fatigue, I don't know.
10 a.m. I ask myself if I want to see Wyatt again and still feel completely indifferent about it. I take that as a sign that it's time to cut ties. I'm hoping it's mutual and I won't have to break up with him or anything intense.
3 p.m. Text from Wyatt. He says he's missing me and wants to relive the other night. I take a deep breath and call him. I say that he's wonderful and has been great to me but that I'm not sure there's a romantic spark on my end. He's cool about it and asks if I'd like to be friends. I say, "Yes, please!"
8 p.m. I swipe around on the apps for a bit, but I'm feeling a little low. I know it will pass, but being single is just tiring, man. It really is.
9 p.m. Watch a little more Daisy Jones and then crawl into bed, wondering if I can upgrade my linens and mattress topper to make my own bed — and life — as luxe as it was the other night.
Want to submit a sex diary? Email sexdiaries@nymag.com and tell us a little about yourself (and read our submission terms here.)