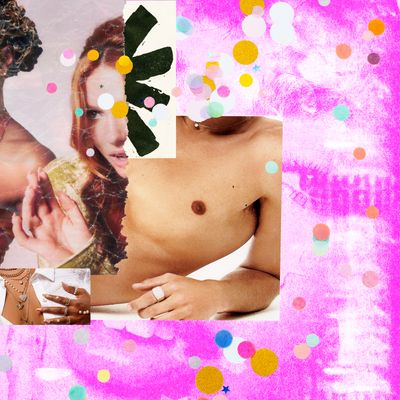 Photo-Illustration: Marylu Herrera
A note for our readers: "Sex Diaries" will now publish on Saturday mornings.
This week, a man logs into sex cams and gives rim jobs while thinking about his ex: 40, single, Brooklyn.
DAY ONE
2 p.m. Good morning. I roll over in bed, scratch my dog's neck, and then look at my phone. Up pops a photo memory of my ex-girlfriend Jenny and me. We're smiling and pointing up at the Hollywood sign while on vacation in L.A. Her lips look full and gorgeous. I miss her so much.
7 p.m. I head to a restaurant in Manhattan where I'm meeting up with an old family friend. I'm a freelance bartender, so it's rare for me to have a Saturday off and I rarely go out to eat since the split with Jenny. I met her on Feeld, and we dated exclusively for a year. Things ended two months ago when I asked to open up our relationship. It just didn't work out — she needed the security of monogamy, and I wanted to keep seeing other people.
7:30 p.m. I order a bottle of wine, and my friend and I get nostalgic over family stories. I excuse myself from the table to go microdose LSD in the bathroom.
11 p.m. My friend and I head to a Brooklyn club to see techno. I do a bump of ketamine and check my phone. I hate phones on the dance floor but can't resist shooting a text to Fatima, a 41-year-old doctor I served at the bar four days ago.
2 a.m. I bump into my friend Alex, a cute 23-year-old. A couple of times we've gone home together and tugged on each other's cocks. He comes over and kisses my cheek, then leads us into the club's green room and grabs free beers. We do another bump of K, chat, and then Alex disappears into the crowd.
DAY TWO
9 a.m. Still awake in bed. Damn, maybe I took more LSD than I intended. Fatima texts me, hung over from espresso martinis. We start sexting for the first time, and I start touching myself. Pretty soon, I come all over my phone.
3 p.m. I'm out of bed. Thank God, I don't work Sunday brunches anymore. Sunday is my day of rest. I walk my dog and get coffee twice at my local deli. I joke with the owner about being old and hungover. Ever since I turned 40, I love joking about my age.
5 p.m. I text a new Feeld match about meeting up tonight. We'd talked about doing psychedelics together. She responds that she can't do last-minute plans — I think she might live with her wife.
11 p.m. I planned on chilling, but Sunday nights are great at a nearby club that plays bossa nova. "Bro, take it easy!" my roommate warns me as I leave the apartment. I'll take it easy. Eventually.
3 a.m. In a dark corner of the club, I'm resting against the pounding speakers. I snort a line of ketamine off my house key, then text a video of the mist-filled space to Lucia. She's a 20-something who lives in Colombia. We met on a cam site, and now we text almost daily. It's cute and platonic.
DAY THREE
Noon. Hit snooze and get one more hour of sleep.
2 p.m. Fuzzy head. Walk the dog, chug Red Bull, train to work.
7 p.m. Busy evening. I'm in a buzzy new restaurant in Tribeca. I double-strain an ice-cold martini in front of a gorgeous blonde 40-something. I tell her it's the best damn martini she'll have all week.
10 p.m. I find a leftover baggie with remnants of cocaine in my work uniform. I throw it in a beer, swirl it around, and chug it. I like to tell everyone this is superior to snorting.
2 a.m. At my afterwork dive, my favorite bartender, a sweetie, pours me another Guinness. I invited a co-worker, who is looking very sexy in cotton shorts and white tube socks. I'm feeling horny from my cocaine drink, but she ends up talking to a handsome younger guy at the bar.
4 a.m. I call an Uber home. Pretty drunk. Jenny was smart to block me since this is a moment that I'd text her. She is ten years younger than I am but so much smarter. I log on to the cam site while in the car, turn the volume down, and visit Lucia's room. I give her a generous tip. "Amor!" she texts me privately and asks about my day.
5 a.m. Get home, walk the dog, pass out.
DAY FOUR
Noon. I manage to wake up and go to the climbing gym where I meet my friend Brian weekly. He's married with a kid, and I try to amuse him with my wild stories. Jenny and I used to climb here together. I miss seeing her gracefully scale the wall, her nipples poking through the fabric of her top. I would swoop in to kiss her after lowering her on the rope, and she would dodge me and remind me that PDA is not cool.
The climbing revives me. I've been gaining some weight lately. I have to be honest — all the alcohol I consume is affecting my health.
5 p.m. At work, I'm rushing to get 28 cocktail orders out. It's exciting, though, and gives me an adrenaline rush. I'm flirting with everyone. I pass by one server and smack his ass. I then try to convince another one, a young blonde woman, to come dance techno this weekend. Ugh. Our manager should be the lead in a Tarantino movie. I would let her assassinate me.
2 a.m. I planned on just one beer after work, but the bartender loves doing shots with me. I'm about to leave when Jonathan enters. He's in the hospitality industry and is crazy about me. I tell him I must go. He calls me a tease and puts his hands under my shirt. I slap his hard, fit buns, then I dash out — he's too much for me.
DAY FIVE
12:30 p.m. My roommate's footsteps wake me up. We live in a tiny apartment and the walls are thin.
1 p.m. I sit on a park bench with my dog and send a selfie to a new Feeld connection. Then I text a slew of friends, exes, and former and current lovers. I call three women "babe." I miss the daily texts and photos and silliness I had with Jenny. I hope I can find some real intimacy again soon.
7 p.m. At work. Have to make a dirty gin martini, skinny spicy margarita, negroni, and mezcal-soda. Dammit, move faster! I take a quick break to slam a beer, and I text Gina to confirm our plans for drinks around midnight.
2 a.m. I'm at an Irish bar, and Gina is talking about rock-and-roll biopics and English football. We met a week ago at a bar. She's delightfully weird and probably in her 50s. I love the flirtatious ease and lack of pressure I feel with older women. We're probably gonna fuck.
4 a.m. As we get a car, Gina insists her apartment is too messy, but I remind her that I'm basically a street dog so we go to her place. Her bed is very comfy. I rim her ass and fuck her on all fours. After a while, she suggests anal sex. So soon?! This is definitely a first. I pound hard and she seems to enjoy it as much as I do.
6:30 a.m. Birds are chirping in downtown Brooklyn as I catch a car home.
DAY SIX
1 p.m. My dog scratches my arm. Time to get up.
1:30 p.m. Wake up, walk the dog to a coffee and a pastry. I haven't had food in the fridge since Jenny and I split.
2 p.m. I text Lucia, my cam girl, asking how much money she'll need to see a techno show in Bogotá. I promised to finance her weekend trip with a friend, though I suspect she's going with a boyfriend. I don't care either way — it feels good to take care of someone. I need to feel like I'm taking care of someone.
4 p.m. Fifteen pull-ups before work. I need to do this more.
7 p.m. I'm working at a fancy event space tonight. It's a chill company event, and I mostly pour nonalcoholic drinks. A woman makes a comment about my eyes, which makes me horny. Having sex last night just makes me want to fuck everyone.
1 a.m. Back home. Log on to the cam site. Lucia's not working tonight. I watch a cute trans woman for a while and tip her well. Then I turn on my own camera and start broadcasting myself — it's fun to be an exhibitionist now and then. I put on a cock ring and position my junk close to the camera. People start commenting. I grab poppers by my bed and inhale deeply. I feel wild and disembodied and come all over my laptop screen.
DAY SEVEN
2 p.m. I open my laptop and video-call my parents. My mom is struggling with chronic pain. I try to pay attention to them but start playing online chess as we talk. Honestly, it's hard for me to be social before 5 p.m.
4 p.m. I'm looking forward to my shift tonight. I invited one of my new lovers, Meg, to come in for a drink. We rarely see each other because she's typically booked with dates and group play sessions. It's hot how unavailable she is.
8 p.m. I see Meg's face through the crowd. I step around the bar and give her a big hug. I love feeling physically large against her small frame. She's with some friends. There's no space at the bar and they decide to leave, but just seeing her makes me feel electric.
10:30 p.m. Alex, the 23-year-old, walks into the restaurant. He has this impeccable androgynous style and always turns heads. I make him a drink and put in his food order. We agree to meet at my dive bar when I get out.
1:30 a.m. Alex and I do shots of tequila. He convinces me to go to the bossa nova club.
3 a.m. Inside a club bathroom with Alex and his friends. He takes out a bag of K. Everyone except me is just out of college. A young woman asks me for life advice. I say, "Leave the country if you can. Do the opposite of what you think you're supposed to do." Being middle-aged is pretty fun.
5 a.m. Back at my place with Alex. I put on a vinyl and crack open a Guinness. Alex wants one too. I tell him he has to be careful mixing K and alcohol.
5:30 a.m. We go to my bed. I've never fucked him before. His body feels like a woman's as I position a pillow under his ass. I reach for a condom and poppers. I grab his hair and fuck him for a long time. I end up finishing on his face. We lie for a while in a daze, then Alex falls asleep.
6 a.m. With my dog walking to the deli. Alex is sleeping on my bed. I think of Jenny. I hope she's sleeping soundly.
The "Sex Diaries" column, which began in 2007, is the basis of an HBO docuseries.
Want to submit a "Sex Diary"? Email sexdiaries@nymag.com and tell us a little about yourself (and read our submission terms here).