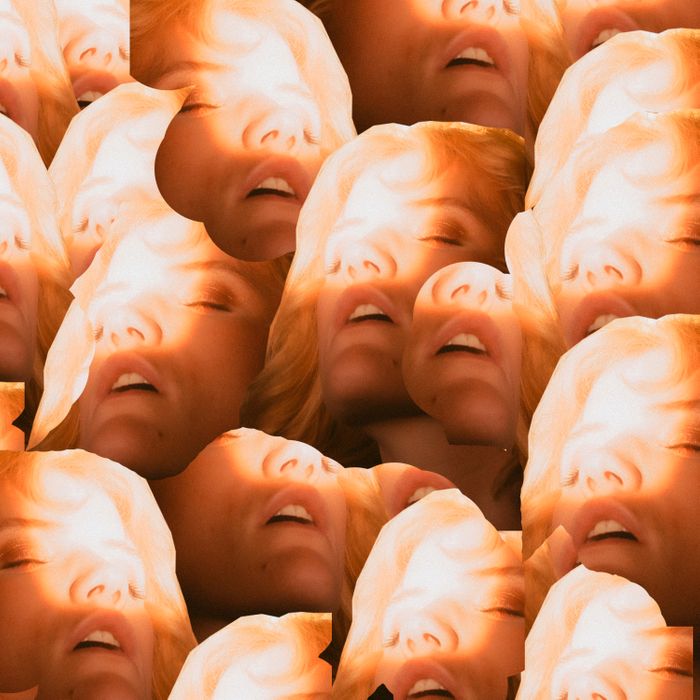 Illustration: by Marylu E. Herrera
This week, a writer searches the apps for a third with her kinky new lover and joins him for a hotel-room tryst: 32, single, France.
DAY ONE
7:30 a.m. I wake up to church bells. What my small French town lacks in amenities, it more than makes up for in charm. I fumble around and make my way downstairs with the dog.
8 a.m. Halfway through my morning walk. I moved to France in January in the dead of winter following a much-celebrated divorce. I made the mistake of getting married young. I was with my husband for 13 years, and COVID was the push I needed to end it. He was low-key emotionally and financially abusive; I was his mother, his ATM, his occasional sex toy. But mostly I was what he blamed his shortcomings on.
When I arrived in France, it was cold, dark, and damp — basically the physical personification of the emotional state I lived in leading up to this move. But today, it's warm and I feel crazy alive. Thanks to my inheritance, I'm financially independent, so I've been working on a book of essays and just living my life.
9:30 a.m. I look over the current draft of my work. I start thinking about escaping town for a few days and taking a little midweek vacation.
12 p.m. I send H, my French friend with benefits, a voice memo. I tell him that I need an energy reset and to get out of town after two weeks of intense work. I ask if I can come to his town. He responds almost immediately: "When?"
H and I met online not long after I arrived and were very couple-ish for a few months (weekend visits, sleepovers, thoughtful dates, etc.), but we are both in places of transition, and we pulled back to a more casual situation. Still, we text and sext every day, sharing details of our days and our lives, and end each day chatting before bed.
4 p.m. Time for French homework. Over the phone, H talks dirty to me in French, and I love it. I don't get every word, but from his body language and the tone, I can often tell what the missing words or phrases are.
10:52 p.m. H lives in a city a few hours away, and I text him hotels there I think we should meet up at. We could go to his place, but hotels are sort of our thing. We start talking about our desires … handcuffs, blindfolds, the idea of a threesome. H mentions how he wants to fuck me and how he will make me beg to come. I make a few audio recordings of myself playing with a new toy and send it to him.
DAY TWO
9 a.m. I have been up for hours rewriting and editing.
12:15 p.m. Time for meditation and relaxation.
1:26 p.m. H texts that he had a naughty dream the night before. This means at some point he will send me a retelling in graphic and explicit detail.
8:38 p.m. H is home from work and ready to share. He tells me about his dream: We are in the hotel I sent him pictures of last night. There are handcuffs, blindfolds, and toys. Then a girl walks in on us and joins in. We decide to book the hotel that the dream was based off of.
11 p.m. I send dirty voice memos in French. He likes hearing me try and learn to speak the language for him.
DAY THREE
8 a.m. Wake up for a non-naughty French lesson in the next town over. I also had a naughty dream about H. I text him that he appeared in my dreams and did naughty things to me.
3:56 p.m. I take a break from working to take a series of photos of myself in lingerie. H always likes the pics I take. I was a photography major in college.
6 p.m. Begin the process of charging up all my toys and organizing their additional accessories. Before my marriage, I was way more into kink, public sex, one-night stands, etc. My ex, although he presented as having an interest in the same desire, sadly did not. He turned out to be super-vanilla, with no interest in exploring, and sadly never made me come.
9:45 p.m. Talking with H about a girl we matched with on Feeld. I send him her profile; he thinks she's cute. We decide that I will message her. It's a lot of wait-and-see trying to find a third.
DAY FOUR
11:30 a.m. Load the car up and let the neighbor know I am heading out. He's dog-sitting for me.
2:24 p.m. Arrive in H's city. I have a few errands to take care of, so I head out and explore. There is a great little sex shop nearby that I love. I want to head over and get a new blindfold — we managed to lose the last one somehow. I grab a few pairs of fishnets with the stitching up the back.
5 p.m. Check into the hotel, and it does not disappoint. We are 18 stories up — the view is epic, and the windows are huge. The people in the apartments across the way are for sure going to see things later.
6 p.m. Shower and unpack.
7:45 p.m. H is on the way. I'm dressed in a red three-piece set plus stockings; I grab my long trench and belt myself in. Check my hair and my lipstick in the mirror and put on my boots.
8 p.m. Once he gets here, it takes only a few minutes before I'm bent over the sofa while he starts to finger me and kiss my neck. I am getting wet, and I can feel how hard he is. He spreads my legs and slowly starts to fuck me. We fuck for a long time in front of a set of mirrors and some very large windows.
10 p.m. Afterward, we drink, share a popsicle, and hang out in bed. We catch up on our days and what we've been up to.
11:30 p.m. We take out the toys that have been neglected and continue to play. We talk dirty in French and English. H is not threatened by toys or kink, so he proceeds to fuck me while telling me to touch myself. There is spanking, biting, making out, hair-pulling, and a lot of sounds. I come hard, and he is very happy with himself.
DAY FIVE
8:25 a.m. H's alarm starts up. He rolls me over to face him. We kiss and then we proceed to have morning sex — and not the slow kind. We move around and switch positions. He winds up against the staircase railing, with me blowing him.
9 a.m. He showers and gets ready for work. We make plans for later and kiss good-bye.
12 p.m. Spend my day exploring the city, eating ice cream, drinking coffee, and messing around with my film camera. I meet up with another expat American writer. We talk shop, life, divorce, living in France, and generally just bond.
5 p.m. Stop at the small supermarket in the city and grab some water, Haribo gummy bears, etc. The gummies are a bit of an inside joke with us.
6 p.m. Getting ready while texting H about evening plans: wine, food, etc.
8 p.m. He arrives. I open the door, and we have a repeat of the night before.
8:30 p.m. Afterward, he takes out a bottle of wine and we start to have a post-work drink and unwind. We chat about both of our days while my legs are draped across him. H is always interested in my work. We also play around on Feeld, scrolling through different girls. It's fun and hot to see who we are into.
10 p.m. We have killed the bottle of wine, and now we must eat. We head out to a little Italian place nearby.
10:20 p.m. More wine, this time with pizza. We check the app again and have a match that is local. We send her a message and wait.
11 p.m. On the way back to the hotel, H grabs my hand and pulls me into a dark alley. He proceeds to finger me there. It's hot, and I love when he does this — makes a fantasy become a reality. A few blocks up, he pulls me into a dark parking garage and I give him a brief blowjob. We head back out onto the street and then pass an overgrown street corner. He walks me up near the tree trunk and then slips his hand under my skirt. I lean into him and tell him to make me come. And there, hidden by trees on a city corner, he does.
11:45 p.m. Back at the hotel. Both of us are drunk and have rough sex on the stairs.
DAY SIX
10:15 a.m. Wake up. Checkout is at 11, and I did not leave a lot of time with the alarm for us to cuddle or fuck. We shower, grab a coffee, and discuss plans …
11 a.m. We head out. He helps carry my luggage. I load my car, and we kiss good-bye — the sorta-long happy-sad kiss you have when you know you have to go and you aren't sure just when you will meet up again. He gets on his motorcycle and speeds off.
12:20 p.m. I decide to check out the Saturday market and cruise the open-air stalls for a bit before I head home and back to reality.
3:52 p.m. Back at home, I text H that I made it here safe and send a video of the pup.
10 p.m. H and I text about a variety of topics: a threesome potential match, TV-show recommendations, and just chat.
DAY SEVEN
7:45 a.m. Coffee and dog walk.
10 a.m. More coffee and work is under way. I plan to self-publish, so I have to structure my days and create my own deadlines.
11:35 a.m. I have to get out and clear my head. I take the dog to the next town over, and we walk the canal. It's beautiful out, and the fresh air is intoxicating.
1:20 p.m. Back home working on the terrace.
3 p.m. Time for a break. I lie out on the terrace and work on my tan. The sun feels amazing on my skin, and I am able to do a little meditation and visualization. I also make a mental note to contact my Reiki master back home. I can tell my energy is wacky right now.
5:42 p.m. H checks in. He is spending the day with his mom, which I think is sweet.
7 p.m. Walk the dog one last time for the night. I decide to shower, get comfortable, and watch a show H recommended.
9:45 p.m. Talk with my sister back home. She is vicariously living through me right now. We have a good laugh, and I think about just how much my life has changed this year. It's nice to feel like someone thinks my life is worth being jealous over.
Want to submit a sex diary? Email sexdiaries@nymag.com and tell us a little about yourself (and read our submission terms here).