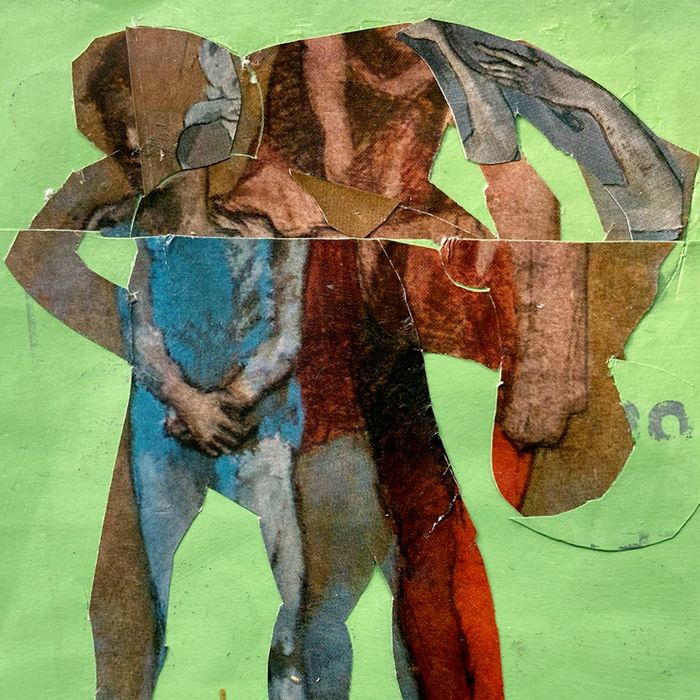 Photo-Illustration: James Gallagher
This week, a woman travels to interview for a new job, sleep with a married man, and flirt with a complete stranger: 34, single, Boston.
DAY ONE
8 a.m. I'm fed up with New York, the place I aspired to live my entire life. It's been 15 years here, and I'm wondering if I've reached my expiration date. I have a sixth-floor walk-up and very annoying roommates who smoke weed all day. I sleep with random men off Tinder quite often, which is sometimes exhilarating and sometimes depressing. All to say, I'm 34 years old and it's starting to feel like something needs to change. And soon.
11 a.m. I have a great job and can afford a much better apartment, but I like to go to nice restaurants and take nice trips, so I budget my money that way.
I'm at the office of said great job. I'm an architect and I've won a few awards. It's my lifelong passion and I'm very proud of my accomplishments. My dad is an electrician and my mom is a nurse. They're the best people in the world. I also like my colleagues here. I'm kind of the wild child in the office, but I never feel judged. My work is good and dependable, and that goes far.
5 p.m. I feel bad because I'm going to interview for a new job in Boston tomorrow, so I've taken a few personal days to explore the city. In COVID times, we are all in and out and working irregular hours, so no one suspects anything. I love my firm here and don't want to lie to them, but I also know they want what's best for me.
8 p.m. I swipe around Tinder a bit. My last serious relationship was a few years ago. He was a good guy, but I lost interest and started cheating on him. I'm not sure I'm a relationship person. Maybe someone will turn me on my head someday, but that's not necessarily what I'm looking for.
DAY TWO
11 a.m. My train to Boston got in a few minutes ago and I'm on the street, trying to figure out which way to go. Moving to Boston is not my dream, but the job sounds cool and the salary is good. We'll see. I'm Irish and love me some Matt Damon, so maybe I will fit in …
11:30 a.m. I stop someone cute on the street and ask him where I should go for lunch. "Any good sandwich shops?" I say. He's actually cuter than I realized. Really nice eyes — blue. A nice suit. He smells good … somehow I know that even from an arm's length away. He suggests a place nearby. I love his accent.
Thanks, I say. I'm a great flirt, so next I ask if I can possibly text him for more recommendations while I'm here for the week. He seems a little shocked by this.
11:35 a.m. His name is Eric and he somewhat suspiciously gives me his cell. I'm 99 percent positive he has a girlfriend. We part ways.
3 p.m. I'm settled into my hotel. It's a nice one, since the firm is paying for me. I have three different meetings with three partners this week. Pretty intense. Nothing to do today, though, so I just lounge around and enjoy my fancy hotel.
7 p.m. Text Eric that I have a week here, and I like good food, and need help with restaurants. I refrain from emojis or anything too suggestive.
8 p.m. No text. The dude's got a girlfriend.
8:30 p.m. Room service. Not bad. I swipe through the dating sites to see if there are any potentials around. So far, it's a bad scene.
9 p.m. A text! Eric says he is going to send me a good list tomorrow. His sister is a food writer and he's going to ping her for help. No one should never say "ping." I'm unimpressed and he gave me no sense of flirtation. I decide to call it a night so I'm fresh for my first interview tomorrow.
DAY THREE
9:30 a.m. I'm at their offices. I had no idea Boston could be so chic!
10:30 a.m. Nailed the first interview. I think?! I'm done for the day. Now what?
12:30 p.m. It's freezing in here. I hang out in my hotel room and watch a little porn on my phone. When I hook up with guys, I come really easily. Sometimes too easily. But when I masturbate, it takes longer and I'm always less wet. I think I just really, really, really like being with someone else. I'm really horny. I want to find someone to fuck while I'm here!
3 p.m. I have a cousin who lives in a suburb nearby, and we make plans for dinner tonight. She's married with kids but she knows I like to have fun, so she suggests we meet up with her husband and some of his work friends.
7 p.m. We're at a trendy Italian place and it's pretty cool. I'm dying for a good meal and the menu looks great. My cousin's husband and his friends are very typically Boston. They have zero edge. But I bet they all have very dirty minds. One of them, Simon, he is not cute at all, but he has this amazing personality and he's cracking me up from hello. He's married, but I know he's a cheater. And I know he wants to fuck me. All these dudes cheat. My cousin would never have a clue, but I've got a sense for these things.
9 p.m. We take things to a pub. Almost everyone starts to peace out besides me and Simon. It's so obvious what's going to happen next. I'm not, like, lusting for this guy, but we do have chemistry. The more he makes me laugh, the sexier I think he is. Suddenly, he's reminding me of a bald Ben Affleck, and I can get behind that. Rather, he can get behind me …
10 p.m. Because that's exactly what he does. In my hotel room. We have a lot of fun and very good sex. Simon is great in bed, as it turns out, and his body is rather gorgeous. I don't ask about his wife, and I don't sense much guilt. I know they do not have kids, so that makes this slightly less immoral in some way. Maybe they're open. Yeah, let's assume they're open.
11 p.m. I tell him to go home and fuck off. But I say it with love. We both say good-bye with a smile.
DAY FOUR
10 a.m. I'm hung-over. It's no fun, but luckily Eric has sent me a great list of restaurants, and one of them is known for great hangover food. I grab my bag and Uber it there. I love eating alone. On the way, I check in with my parents and my sisters. They all live in Philadelphia and we're very close. I could never leave the East Coast because I'd miss them too much, but I've lived in New York since college, and Boston doesn't feel too far away. I actually kind of like it here!
12 p.m. Brunch was excellent and now I need to go home and nap.
2:30 p.m. You would never know that I partied all night and fucked a married man by the looks of me right now. Or maybe you would. Let's see how this meeting goes.
3 p.m. It actually feels like they're trying to impress me more than me trying to impress them. They want to know if I have any questions. I already know I like this firm, but my big hesitation is can I really move here and have a life? Sure, I can sleep with married, balding, Ben Affleck knockoffs … but could I really establish a life here?
7 p.m. I'm back at the hotel bar. Drinking another martini. I text Eric to see if he wants to have a drink before I go back. Who cares. Let's see what he says …
8 p.m. Eric writes, "sure." Zero enthusiasm. Zero punctuation, even. Maybe he's just a horrible texter. I mean, he did write back, after all, and he did say sure. But give a girl a little burst of joy, can't you? Jesus.
9 p.m. I go to bed early. Last night banged me up pretty bad.
DAY FIVE
10 a.m. It's my second-to-last day here, so I decide to bundle up and walk around. I do Boston Common and a little shopping, and hit up a few more restaurants on Eric's sister's list. He might turn out to be a total dud, but damn, I like his sister's style.
1 p.m. The plan is to have a drink tonight with the person I'd be working closest with at the new firm. I get an email confirming where and when. Since tomorrow is my last night here, I decide to push this drinks thing with Eric a little farther. He's given me no reason to think he's into me, but I'm intrigued. He is literally so boring that I'm intrigued. Is that a snapshot of my life here?
1:15 p.m. "So does 'sure' mean you want to have a date with me over cocktails? Or does 'sure' mean you have a girlfriend and are just being polite …" That should wake him up.
1:30 p.m. So, pretty boy likes an aggressive woman, it turns out. We start texting back and forth feverishly. He said he doesn't exactly have a girlfriend (which means he has a girlfriend). He also says he's a little scared of me. I don't know if this is a compliment or an insult. He goes on to tell me that I'm so hot, blah blah. I actually hate texting back and forth like this. I'd rather save all the tension for real life.
6 p.m. I have drinks with the woman who I'd be working with closely at the firm. There is no other way to put this, but: She was a bitch. I didn't like her. That happens with me and other women — we either love each other or hate each other. Well, this one and me? We don't click. Everything I say seems to make her cringe.
9 p.m. Back in my room, taking a bath. I was feeling pretty positive about the job, but now I'm uneasy about all of it. I have no interest in working with someone who makes me feel bad about myself. I want to work with people who inspire me to thrive. Ahhhhhhh. Maybe Boston was a big mistake.
DAY SIX
9 a.m. I wake up to what I think is a job offer from them. They say I have a few days to think about it. They told me they'd love to have me work for them but to take my time. It's a big decision. Unfortunately, I'm almost positive I'm going to pass. I did not like that woman. My gut says to steer clear.
10 a.m. I think about going home a day early. But … I don't know. Maybe I just need some coffee.
12 p.m. I get a massage at the hotel spa. It's on the firm, I'm pretty sure, and now that I don't care so much about them, I'm not afraid to put it on my tab.
4 p.m. I start to get ready for drinks with Eric. I know so little about him. I don't even know his last name. He could be a psychopath. He could be impotent. He could be perfect. I get excited to find out all these answers. He also very well could bail on me …
6 p.m. He texts that he's running a bit late. This gives me just enough time to call my best friend in New York (we went to college together) and fill her in on the trip. She's pregnant and we've drifted a bit as she moves toward a more stable life and I seem to get wilder and wilder. I know it will all balance out at some point.
6:45 p.m. Well, he's 45 minutes late, but my lord, does he look good. We sit side by side at the bar and order martinis. He's really nervous! I find that adorable. I'm calm and collected as can be. I ask him, point blank, if he's nervous because he has a girlfriend and shouldn't be here or because he has no game with women. He shyly says, "Both." Okay, this guy is too hot to be so earnest. That's when I realize, maybe he's married — and like, ethical. Maybe coming to see me is a bigger decision for him than I realized.
7 p.m. "Are you married?" He insists he's not. We drink another round of martinis. I learn a little about him. It's all pretty basic. He's from Boston. He's in finance. He went to a good college. He's a nice guy. I'm sure I'm "a lot" compared to the girls he's used to.  We talk about my job interviews and how much I hated the woman from last night. Eric is easy to talk to. Again, kind of boring, but very handsome, and I'm definitely interested in knowing about his cock.
8 p.m. I ask him if he wants to come upstairs. He says he probably shouldn't. We both know he wants to. I'm tired and don't want to beg. So I tell him we should wrap it up, in that case, and say good night. I'm not insulted. A guy like Eric can't handle me or whatever his girlfriend situation is. It's a bit tiresome, actually. I'll have a little hangover tomorrow for nothing, it seems …
9 p.m. We say good night with a big hug, and I really do want to take him upstairs.
9:30 p.m. Like clockwork, he texts that he regrets not coming up. He wants another invite. I'm already watching TV and ready to call it a night, so I tell him we will meet again. I kind of hope it's true.
DAY SEVEN
10 a.m. I check out of the hotel. I'm feeling weird about all of it.
1 p.m. On the train back to New York, I try to sort through all my feelings from the week. Sex with Simon was fun, no regrets there, although I feel a little ashamed that my cousin knows what a slut I am. I try not to think about that. The flirtation with Eric, I don't know … I kind of like him. But he's passive, and honestly, there was something strange about him. As for the job … My gut says it's not right.
5 p.m. When I finally settle back into my apartment, I have a few things figured out. I'm ready for a change, 100 percent. I'm going to keep looking around and trying new things. I'm just not exactly sure what that means yet.
8 p.m. When I go to sleep, I text Eric that I'm back in New York. I wonder if he'll ever write back.
Want to submit a sex diary? Email sexdiaries@nymag.com and tell us a little about yourself (and read our submission terms here.)