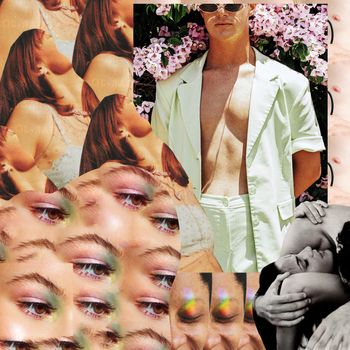 Illustration: Marylu E. Herrera
This week, a woman who professes her love to her boyfriend while contemplating having an affair: 35, in a relationship, New York. 
DAY ONE
10:15 a.m. Last night my boyfriend, K, was out working until 2 a.m. — he's a comedian — so we slept late today. When we begin to stir and stretch out in bed, he pulls me close to him and I feel his hard dick against my back. I don't love morning sex as much as some people. I'm too worried about morning breath and general hot, sticky body odors, but … what's a quick fuck?
12:30 p.m. We're showered and dressed and ready to start the prowl for lunch. We love this routine. A mild hangover, a morning fuck, a nice shower, now we're ravenous and out exploring the city. We decide on a Middle Eastern place on the Lower East Side and each order epic plates of food with huge hunks of lamb, pita, tahini, sides, etc. We devour in silence. This is romance right here.
4 p.m. Back at my apartment, which is a 15-minute walk from K's. I'd say I'm at my place about half the week. I love being home. I dive into a bit of work. I'm an artist who sells accessories and home décor on Etsy and some local boutiques. I also do consulting for some big mainstream brands, which helps me pay the bills.
6 p.m. K texts to get dinner but I'm still full from lunch, so I stay home and lounge around. It's also nice to get a bit of a break from K.
We met online and have been together for about a year. With the pandemic and everything, we got serious and monogamous right away. The issue is that I'm not in love with him. I don't know if he's in love with me either. Sometimes I think we've both just settled into something that is "nice enough." It's starting to wear on me, though. I kind of want to be madly in love with someone. Neither of us want to get married but I do want kids someday, and I just don't see a forever-ness with K. I just don't know if I should leave him or stay with him.
9 p.m. Some nights I prefer reading to TV. Okay, that's a lie, but I am trying to read more. I open a new book a friend recommended and read two pages before falling fast asleep.
DAY TWO
8 a.m. It's Monday so I'm being responsible and get up at a decent time.
8:30 a.m. My local barista is hot as fuck but probably super young. We flirt every morning I come in. Sometimes I ask myself if I'd fuck someone else behind K's back, like this barista. The answer is: definitely. That is not a good sign! I need to dump him. Or maybe that's normal? My mind plays emotional ping-pong like this all the time lately.
1 p.m. Running around the city in the burning heat, like a chicken with her head cut off. I love owning my own business but it's a constant grind.
3 p.m. My brother owns a restaurant so I stop by there for a quick catch-up. He's not a big fan of K's. He thinks comedians in general are dirtbags and that K is suspicious. I think my brother is just being a dick.
4 p.m. A guy stops into my brother's restaurant to have a beer at the counter. We start talking. He's in commercial real estate and has an appointment nearby soon. He's pretty cute and we have a nice banter. He asks if I have a boyfriend and I respond, "Yeah … sort of. I don't think it's going to last much longer." His response? "I'm in the exact same boat."
4:30 p.m. We exchange numbers. I know once we start texting we could both be in really big trouble. I'm a romantic and start thinking about my brother making a toast at our wedding someday about our meet-cute at his restaurant and how he knew this guy was the one the minute he ordered a cool local IPA.
6 p.m. K wants to grab dinner and wants to know if I'm coming to his show later. I tell him that I can't do dinner but I'll be at the show.
7 p.m. The guy from my brother's restaurant — I'll call him R — texts that he's just getting home from his appointment. He lives all the way uptown. We start texting back and forth and oy, here we go.
10 p.m. I used to be a night owl, so going to K's shows usually works perfectly for my internal clock. Tonight I can't rally. I text him, "Sorry babe, I have to crash." Then I promptly resume texting R about all my dreams, wishes, and desires.
DAY THREE
9:30 a.m. Hopping on an Amtrak to visit my parents in the Berkshires. They're renting a lake house there and me and my siblings feel obligated to hang with him at least once a week.
10:30 a.m. There's a guy next to me with his shoes off and bare feet extended out to the aisle. It's so fucking gross. He's sleeping, so I take a picture of the raw feet and send it to both K and R.
11 a.m. K's responses are obviously a lot funnier than R's, and suddenly I love my boyfriend more than anyone else in the world. But come on, can you stay with someone forever because they make great smelly feet jokes? I wish I had a big sister. Sometimes I'm so confused about what love is.
5 p.m. Day in the Berkshires is boring but kind of nice. My mom made sandwiches; we all read quietly on Adirondack chairs. I don't really talk about my love life with my parents. They know K's my boyfriend, but we don't really discuss anything beyond basics. We're not close in that way.
7 p.m. After dinner, they drive me back to the train. A nice little visit.
10 p.m. I've been texting with K and R all day long and feel both exhilarated and exhausted. I break out the vibrator and think of neither of them. I just get off with a blank mind; sometimes it's fun to do it that way.
DAY FOUR
8 a.m. Another important work day ahead. Business is good and I'm finally making some real money. I'm saving everything I have to buy something on the North Fork, that's the goal and day to day motivation.
10:30 a.m. It finally happened. R texts about taking me to dinner. By now I know a bit about his relationship: His girlfriend has a kid. She's a teacher and sounds really sweet but the spark isn't there for him anymore. He wants to end it but feels guilty. They don't live together but she's been sending him Zillow listings and is trying to advance things. I tell R I think we should talk.
2 p.m. K swings by my apartment to help install a new headboard. Before I only had the platform part of the bed. I feel very grown up with my new headboard and obviously I tell him I want to get fucked on the new bed.
2:30 p.m. We have pretty hot sex. The R of it all makes me more turned on than usual and I fuck K like I mean it.
5 p.m. We get some food before we both have to go home and keep working. I have a Zoom with the West Coast and he needs to prepare for a private event he's MC'ing tomorrow.
9 p.m. R calls me to chat, but frankly I'm not in the mood, and even talking to him feels like a violation to my very lovely day with K. I send him straight to voicemail.
DAY FIVE
9 a.m. R texts that he's heading back to my brother's area to see that property again. He suggests we have a coffee. I agree.
10 a.m. At coffee, R looks even more handsome than I remember and I like the way he smells. He's so much "classier" than K and he has a sweet baby face and very soft lips. I'm very attracted to him.
11 a.m. Ultimately I tell him that I'm not going to sleep with a man who has a girlfriend. I tell him I'm not even comfortable starting this "emotional affair" while we're both dating others. It's strange because I'm more protective of hurting his girlfriend than I am of hurting K, but the point is I'm proud of myself for doing the right thing. I've cheated on boyfriends before and while nothing has ever erupted in my face, it always leads to a rapid decline of the relationship. I'm not ready to ruin everything with K. At least not yet.
12 p.m. R leaves our coffee date a bit crushed. His desperation to have this fling with me makes him less attractive. I hope I've made the right call. I think our nothing affair is over now.
6 p.m. Dinner with my girls. I have a close group of girlfriends and they're all very funny and cool. One of them is also dating a comedian and we've gotten closer recently since we share the same lifestyle. She confesses at dinner that she and her partner have opened up their relationship. She's been fucking a personal trainer, which is sooo unoriginal but we all love hearing the details of his bod. It sounds like a lot of fun. I wonder if that's something K and I should consider.
10 a.m. K has his big event tonight so when I come home a little drunk, I send him naked pictures as a sign of solidarity and inspiration. He writes back, "Thank you baby. I love you." We've never said "I love you" before and I sort of want to cry because it means so much to hear that from him. I only respond with a bunch of heart emoji.
DAY SIX 
10 a.m. It's a me day. I head to breakfast with the paper, then have a massage after.
3 p.m. The massage made me want to nap, so that's what I'm going to do.
6 p.m. K is coming over. We haven't had a nice night together in a while. We're going to get a little bit high then walk around looking for food.
7 p.m. We split a gummy. I'm all over K. I think it's because he wrote, "I love you." Which we haven't discussed but it's kind of looming over us. I'm pretty high and tell him I want to fuck before we go out. We actually sort of "make love" on my couch and it's some of the best sex we've ever had. It's really, really deep (physically, not emotionally) and I reach a whole new level of pleasure.
9 p.m. We get sushi at one of our favorite places. Absolutely satisfying in every way.
10:30 p.m. Both sound asleep, loving my headboard and each other.
DAY SEVEN
10:30 a.m. We're awake and being very affectionate. I take his face and say, "I love you." He says it back. We're both almost crying! I can't believe this moment. It's really special.
11:30 a.m. Of course this is the morning when R chooses to text a simple, "Hey, beautiful." I delete his message immediately but it takes me out of the moment. It's not that I'm anti-R, but I'm not going to play dirty. And right now, K is my boyfriend and we're monogamous and we love each other and that's that.
4 p.m. K is back at his place and I'm home thinking about everything. I call my brother and tell him that I think we should go to the Berkshires tomorrow and that I'm inviting K. My brother is a jerk about it and suddenly I feel insecure about everything.
7 p.m. Decide I need to go to therapy. I want to be happy and be able to sit in my happiness and trust it. The back-and-forth is too hard. I love K but I'm sick of worrying if it's right. I need a little bit of help sorting through this one, and I know that's okay.
Want to submit a sex diary? Email sexdiaries@nymag.com and tell us a little about yourself (and read our submission terms here.)