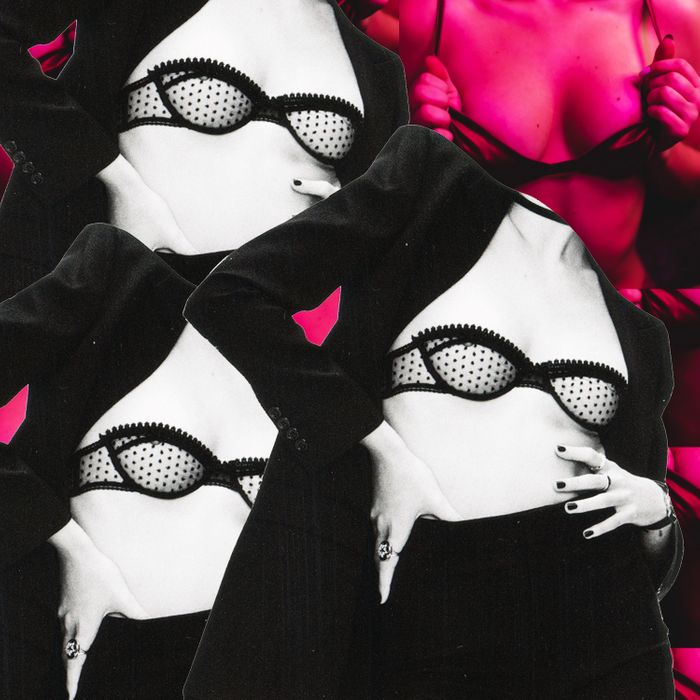 Photo-Illustration: by Marylu Herrera
This week, a man and his wife invite his former mistress to their home for a week: 45, married, Los Angeles.
DAY ONE
11:00 a.m. My wife, A, and I are setting some ground rules. Z is coming for a weeklong visit tomorrow.
My relationship with Z started as an affair. We met at the consulting company where we both work, and quickly fell in love. Eighteen months later, A discovered my affair when she got suspicious and started looking through my phone. I immediately broke things off with Z and tried to save my marriage. Things hadn't been great between A and I for a little while, and she (of course) felt betrayed. A lot of serious conversations ensued about the state of our marriage and where to go from here.
And then something wild happened. A few months ago, A told me she wanted to talk with Z to get some closure. When they spoke, they found that they actually liked each other. Over the next few weeks there were more phone calls. And texts. Sometimes just the two of them and sometimes a group chat. The two decided they wanted to meet the other in person so we flew from our home in Los Angeles to San Francisco to have dinner with Z and see where things went from there. My wife and I have had threesomes together, but never under circumstances like this. The weekends with Z proved our mutual chemistry was undeniable. We slept together, tentatively at first, and then voraciously, continuing to meet each other for weekends together in different cities for getaway weekends.
This impending visit, though, is going to be a bit different: It's for an extended period, to see how we manage more than a weekend together. We're really putting each other to the test, replicating a small sample of day-to-day life to help determine if something sustainable and serious is possible for us as a throuple. So we're talking about rules and boundaries: I promised A that there would be no secret or private text or email exchanges between me and Z other than obligatory check-ins and sharing office-related news, and that's going to be even more important this weekend.
6:00 p.m. After a long day of work — and talking through all of this — we order some food and take it easy, cuddling with each other on the couch before an early bed time.
DAY TWO
10 a.m. We head to the airport to pick up Z. The pickup is so happy and energizing; the tentativeness that we experienced during the first couple of visits is all gone. We smile widely, hug tightly, kiss briefly and head for home. The electricity in the car is palpably building from the last few months of visits and phone calls and texts.
4:00 p.m. After getting settled at home, we all do our respective work thing for the balance of the day. No one at the company where Z and I work knows a thing about she and I, and I'm quite certain if there was chatter or a suspicion, at least one of us would have gotten wind of it. Neither of us reports to the other and we've managed to ensure that we don't even work on projects together.
6:00 p.m. A and Z are both crazy-good cooks and want to prepare a meal rather than order in or go out. They land on a lamb recipe with some great-sounding side dishes.
10 p.m. I tend to take the lead in bed and I do on this night as well, beginning with very intimate kissing and mutual stroking among us three. It's reassuring every time we meet how easy everything is. And yes, that includes the sex. There is just so much warmth.  None of us saw this level of love coming; it is an unexpected gift.
DAY THREE
7:30 a.m. Waking up to them both in the same bed is magical for me. I almost feel like I don't deserve it.
12:30 p.m. When all three of us are on work calls or Zooms it can get a bit noisy. This being L.A., it's warm enough for one of us to do so outside if the volume is just too much. To break the sound barrier I walk down the street to get us all some grub.
9:15 p.m. After dinner, we settle in for a long conversation. We all know there is a lot on the table to discuss. There is a combination of excited anticipation mixed with nervous apprehension about the future, including if there is a geographic move in the offing to provide more regularity and be in each other's lives more easily. We are all relatively mobile and either city is appealing to all. From an emotional standpoint we are all aware of the peril that comes with a move should the relationship fall apart. We talk about this for a couple hours and then get into bed with another workday ahead.
10 a.m. We play with each other gently until we fall asleep. We are in love with each other and are not afraid to say so.
DAY FOUR
8:00 a.m. To be really honest, the other two are much better at compartmentalizing during the day and being productive. The longer Z is here and the more I am accustomed to the joy her presence brings us, the more difficult I find it to set aside the adrenalin and concentrate on work.
4 p.m. I tell them I'm going out to walk for work calls but really I'm just trying to get my brain to settle down. I've done this a few times today.
8 p.m. A makes us a lovely dinner, and I'm reminded of how incredibly grateful I am for her and her forgiveness.
In the immediate aftermath of my wife's discovery of the affair, I did not know if she would keep me or bounce me. When it became clear through all the subsequent, excruciating conversations that our marriage was worth preserving I made a commitment of honesty to her, no matter how painful the truth might be. For that matter, the three of us made a pact to be completely honest, no matter how sensitive, if things started to go sideways for whatever reason.
DAY FIVE
10 a.m. Both Z and I go out of our way to regularly compliment A as an angel of forgiveness and reconciliation, and we're doing a lot of that this morning.
2 p.m. It's Friday and we knew we'd want to splurge on dinner later tonight, and try to think about the perfect place. Reservations are made for a really good, really fun Italian steakhouse. We are all hungry just thinking about it.
7 p.m. We are beaming when we walk in. Whenever we are out in public, I am always curious about whether or not people think we are just three close friends hanging together or if they have any suspicion about our relationship, based on the glow and energy that I know surrounds us. We don't flaunt our relationship with PDA but the intimacy, even when it's not physically demonstrated, is clearly evident if anyone happens to be paying attention.
At dinner we dip in and out on the big issue of a potential move. There is a mixture of hope with a dash of realism about the odds of it working. On top of that, Z expresses, as she has on more than one occasion, that she is worried about feeling like the third wheel in the relationship. It's completely understandable and we talk with her about what we can do to ease her mind about that. She explains that we aren't doing anything to make her feel that way, it's just the reality that we're a married couple and even if we ultimately share the same city, at some point she is probably going to long for a one-on-relationship of her own. This is the kind of openness that we have insisted on and that we welcome.
11 p.m. Our sexual appetites are voracious every time we meet. I have always had a strong sexual drive. It was that way for me with A except during that awful period when we were so at odds that I allowed myself to fall for Z; Z and I's sex then was so intense, fueled by the furtiveness of it all. Now it's exponentially higher with the three of us together.
We make love romantically throughout the entire night, except for the occasional break for a nap to recharge. Everyone's hearts are pounding and we are insatiable. I get as much if not more pleasure from stepping back occasionally from my own direct involvement to watch the two of them play by themselves.
DAY SIX 
9 a.m. We make a half-hearted attempt to do something about breakfast but decide to stay in bed and actually get some sleep. We occasionally find the energy for extensive make-out sessions and then we drift back for rest.
1 p.m. The two of them allow me to nap as they go together for brunch and shopping and running around town. Their chemistry is stunning. They can talk about any subject under the sun and are in agreement on almost everything. You can just tell they adore each other.
9 p.m. If Friday night was mostly for romantic lovemaking, tonight is for vigorous fucking. It's loud, wet, and completely uninhibited. We share blindfolds, restraints, vibrating toys, and spanking paddles. There is no forethought about what comes next; we move and writhe and change positions naturally.  We take turns watching one or two of the others go down on each other or play with themselves.
Some of this energy comes from the fact that Z is going home soon. While there's no urgency to make a decision about living in the same city, we are all wondering how realistic that plan might be.
DAY SEVEN
7:30 a.m. We've resolved nothing about a possible move other than to keep the conversation going.
9 a.m. We are all down about Z's impending departure and impetuously decide to add an extra day to the visit even though we know she's got to go back sooner rather than later.
1 p.m. I talk to them about how it's always been very difficult for me to separate sexual attraction from emotional and intellectual connection. I've never slept with a stranger or a pick-up one-night-stand; I have to have some level of emotional and/or intellectual connection first. Yet, once all the connectors are aligned, I also have a difficult time maintaining the balance once the honeymoon period eventually levels off; it becomes harder to tune in emotionally and intellectually.
8 p.m. As I get ready for bed, I think about how this particular relationship has made me want to work more on those issues than ever before. More than anything else, if this has to end for whatever reason I don't want it to be because I couldn't keep the balance.
10 p.m. I know in about 24 hours we will take Z back to the airport and I'm continually thinking about when we can see each other again. It's already the loneliest feeling.
Want to submit a sex diary? Email sexdiaries@nymag.com and tell us a little about yourself (and read our submission terms here.)