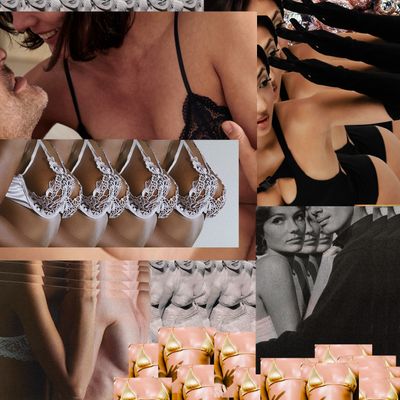 Illustration: by Marylu E. Herrera
New York Magazine's Sex Diaries series asks anonymous city dwellers to record a week in their sex lives — with comic, tragic, often sexy, and always revealing results. The column, which began in 2007, is the basis of a new docuseries on HBO.
This week, a woman has a sleepover with her ex-boyfriend's ex-best friend and gets to know a bunch of guys from Feeld: 29, single, Brooklyn.
DAY ONE
8 a.m. I wake up and do yoga. My body is still stiff as hell from being home for the holidays and cooped up inside. It feels good to move and it feels good to be back in New York.
10 a.m. I'm meeting L later. He's my best friend but he's also my ex-boyfriend's ex-best friend … and we have been sleeping together casually for three years. Long story short: A little after my boyfriend and I broke up, I was out in California and had a wildly fun boozy night with L and his friends and we walked back into the house and took our clothes off. I have no idea if my ex has any idea, and his relationship with L dwindled on its own. L doesn't live in New York — he's visiting from California — so it's nothing serious. But it has to stop because it will ruin our friendship one day.
Today we have a field trip to the Guggenheim.
1 p.m. New York feels packed with tourists!
2 p.m. We stroll through the winding gallery and side galleries talking about what we want in 2023. We have a phenomenally supportive relationship. We have kept our intimate relationship a deep dark secret because I was still talking to my ex when L and I first hooked up and our friend group is very close. Even now, only one of our mutual friends knows.
5 p.m. Afterward, we get ramen and talk about our dating lives. I tell him about Feeld and he downloads it right away. Then we decide he's sleeping over.
7 p.m. He has somehow never watched Severance? We turn that on.
10:30 p.m. Three episodes later and it's bedtime! L and I are good at the platonic thing. We cuddle and don't fuck. I'm happy. We do talk about not hooking up; it's confusing to him because we've already done it so what's the harm in continuing? The truth is, I have too many men in the queue anyway and it's not like L and I have explosive sex. I prioritize the new potentials.
DAY TWO
7:45 a.m. L leaves and I go to the gym.
10 a.m. I have the day off, but I catch up on work emails anyway. I work for a start-up in the content/advertising space.
Open my Feeld app and take a peek. I only started using it recently; it's the first dating app I've ever used. I've had a sexual awakening of sorts in the last year. I realized I'm not getting younger. I've been single for five or so years, and I've had some success randomly meeting people in person, but not enough. I'm pretty sick of one-night stands and the potentially awful sex that comes with it. I'm ready to have intentionally good sex, the kind that comes with an almost shocking amount of communication, sharing of interests, desires, and boundaries and to learn a thing or two or three or four.
2 p.m. This is the longest day of my life. Have to find a way to occupy myself so I pull out the mail I haven't opened and do arbitrary paperwork (health insurance, etc.).
7:15 p.m. I forgot I had a Pilates class booked. Doubleheader today.
9 p.m. I'm ready to be a real person tomorrow.
DAY THREE
6:30 a.m. Morning ritual begins. Shower, coffee, morning pages. I'm getting ready to head into the office, which is rare.
9:30 a.m. I get all the way to the train before I realize I forgot my wallet. I have to go back for it: Tonight after work I'm heading to a bar to meet R — the ropes daddy I connected with a few weeks ago — for a chemistry check.
When I was 22, I had an extremely vivid dream that I was tied up shibari style while my then-boyfriend watched. It's still the hottest dream of my life, so here we are. R is in an open marriage with kids, but so is nearly everyone on this app. I'm okay with it. Lots of boundaries from both sides, and lots of room for safe exploration because of said boundaries.
12:45 p.m. I hear from S — he's someone else I met through the app and the one I've hooked up with the most. I'm not really sure how long or how serious it'll ever be but he has been the least risky step into the world of kink. We talk a lot about what we want to try. Today he giddily tells me he's been fantasizing about me in a threesome with this married woman he kissed on New Year's. I ask to see her picture. He says he'll show me when he sees me next.
4 p.m. On my last call of the day. I hear from R, who's on his last call of the day too. I get a rush of adrenaline.
5:15 p.m. I meet R at a Champagne bar in midtown. He looks like his picture and has an unexpected accent. I'm less nervous than he is, which makes me feel powerful.
7 p.m. It's going pretty well. He's not someone I would normally hook up with, but this is more about trust and comfortability. He shows me pictures of his rope work and I'm drooling. We talk about what we're both comfortable with. I'll probably take some time to think about this.
I check my phone when he gets up to use the bathroom. I have a text from A about rescheduling our plans. He is an ex of sorts and a man I am deeply in love with but he's almost exactly 20 years older than me. He lives in Europe, but he's back in the city for a while and I'm really looking forward to seeing him. If I could have created a man myself he'd be nearly exactly like A: unafraid of his feelings, well-traveled, communicative, and hot as hell. We met at a party when I was 26, and we took one look at each other and knew we were doomed. I was crippled by the idea of introducing a 46-year-old to my friends and family but I also wasn't going to keep a relationship a secret, so it's been a bit on and off since then. Now that I'm a little bit older, we have a better relationship. But I'm still holding back; 20 years older is fun now, but 20 years from now I'm not so sure.
8 p.m. I'm about to get on the train to head home and text my best friend, G, to let her know the date went well. R and I decided we'll look at next week for a first playdate.
DAY FOUR
6 a.m. Fuck me. I tell myself how good I will feel later and get my ass out of bed. Plus ClassPass will charge me if I miss.
6:30 a.m. Check Feeld on my walk — lots of potential plans. One with a Carroll Gardens dad in an open marriage, another with a man who is exactly my type who wants to tie me down and make me come over and over again. Obviously you can't fuck everyone at once so I'll have to make some decisions.
8 a.m. I'm on my walk home and thinking about the day coming up. I'm dreading the calls that await me. I really just want to quit and pack my bags and get on a plane. In three months maybe I will. I respond to some of the guys.
12 p.m. I'm literally groaning at work.
7 p.m. Make dinner with a friend and we watch The Menu.
10 p.m. Tucked into bed. I ate an edible so I am going to sleep phenomenally.
DAY FIVE
7 a.m. I am rarely not horny when I wake up. This morning I come to the thought of what R might do with me. I am excited to learn.
10 a.m. S texts: "Let's go upstate." I would but I have an hour-long tarot reading on Saturday.
12 p.m. I talk to my favorite co-worker about everything but work. She just went through a breakup with her live-in boyfriend and we talk about a support system and the positives of the release, as well as the pain.
2 p.m.  Trader Joe's with my roomie. Yes I live with someone; I am not a rich man and the housing market in New York is enough to make you want to sell feet pics.
5 p.m. Staying in tonight. I'm tired, and the thought of trying to have a conversation in a bar is so unappealing it makes me turn to stone. Our friends come over and we make pizza. More edibles and Glass Onion.
8 p.m. I hear from the guy I was talking with on Feeld yesterday. He wants to make out. So do I! But not tonight and not tomorrow — I have plans. I tell him without hiding anything. The beauty of this app is it requires you to be communicative, have boundaries and be confident in them, and be honest. Much better for me than any of the other apps.
11 p.m. Dead asleep.
DAY SIX
8 a.m. Pilates.
10 a.m. I hear from Carroll Gardens Dad. He wants to get lunch. In times like this you can smell the "I want to fuck you" through the phone. But we do make plans for next Friday.
12 p.m. Tarot reading! I pull tarot for myself all of the time but I never get read by other people.
1 p.m. I'm buzzing with energy. The reading was phenomenal and confirmed that I am exactly where I should me, and tuned into myself in a positive way right now.
2 p.m. Take some shrooms and go to the MoMA with some British friends. I love psychedelics — and my friends. Goofy lovable guys.
5:30 p.m. Leaving the museum feeling great. Mushrooms and museums are definitely the move. We all decide to get some snacks and a glass of wine.
7 p.m. I only had one glass of wine — yay, Dry January!
8 p.m. We all watch Triangle of Sadness. I will be Oscars ready.
DAY SEVEN
8 a.m. Get up and work out. The beauty of a good night's rest and not being hungover.
10 a.m. I ordered new prints that I'm hanging on my walls. I text S to see what he's up to today.
1 p.m. My best friend, G, is getting married this year and it's time to start planning her bachelorette party. I send out an email to those invited to see if they're available. G will have the best bachelorette party because I am a psycho and will be thoroughly planning every minute of every hour of every day.
4 p.m. S picks me up. I am happy to see him. There is something easy and comfortable about him. We go back to south Brooklyn (it's basically a long-distance relationship).
9 p.m. We have several long, great, fun romps broken up by a fabulous dinner. We're starting to intuitively explore and get kinkier each time. Tonight he started telling me what to do and watching me while I do it. It's fucking hot … something about me watching him watch me is nearly too much to handle. When we're done, he tells me he wants to try a butt plug next time. I'm enthusiastic about it. He shows me a picture of the married girl from New Year's. She looks … exactly like me. Flattering. Would that be weird to fuck someone who looks exactly like me? We turn on a movie and stay intertwined. It's oddly intimate for our relationship but I melt into it.
10 p.m. We're both falling asleep, so I call myself an Uber. He wants to know when he can see me again. I say I'm pretty free, which is a lie, but I will make time for him. I head out the door with that post-coital glow.
12 a.m. I get a text from S that only says "Colman." He's talking about Olivia Colman — earlier tonight neither of us could remember her last name to save our lives. A different way to say, "I am thinking about you."
Want to submit a sex diary? Email sexdiaries@nymag.com and tell us a little about yourself (and read our submission terms here.)