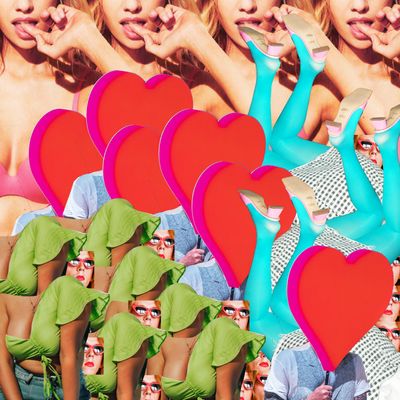 Illustration: Marylu E. Herrera
This week, a woman who keeps going out with a new guy despite her better judgment and discovers they have more in common than she thought: 25, single, Brooklyn. 
DAY ONE
9:45 a.m. I'm not quite sure how I pulled this off, but typically I start my days around ten. I run a social-media agency and every day is a little different. I like quiet mornings, so I usually make myself a latte and read until I leave for the gym.
11 a.m. I'm an avid swimmer at the YMCA, but when I get there today the pool is closed for cleaning. I go back to my apartment and do an at-home workout.
2 p.m. Make the long trek from Brooklyn to the Upper East Side and visit one of my clients. Today I'm planning out and filming content for the month. Her staff and I are surprisingly close, and I fill them in on my latest dating debacles. After work, we end up grabbing a drink in Noho.
9 p.m. Back home putting on a face mask and drinking wine while I plan out content. My roommates, K and T, have been watching Love Island with me. Creative work in big batches is mentally draining, so I take a 30-minute break from photo editing, take a swig of my favorite rosé, and open the gate to hell: Hinge.
I have a new like! From "J." Seems perhaps shady that he lists his name only as J, but I've seen worse red flags, and maybe his parents did name him just "J"? I'm an optimist if nothing else. He's cute, has a good job, and recently relocated here from L.A. But he's young, 26. I usually go out with men in their 30s. My friends have been telling me to branch out, though, so I tell him to pick a time and place. He makes a reservation in Greenwich Village for the very next night.
DAY TWO
10 a.m. Wake up fresh. I'm excited about my date! I'm super-extroverted, and meeting new people is always fun.
2 p.m. I go about my usual work day routine and squeeze in a coffee at a place nearby that's all the buzz. Today is already a good day.
5 p.m. Our reservation is at eight, so I spend the next few hours getting ready. I personally LOVE getting ready for a first date. I love choosing the outfit, putting on my makeup, putting my hair in rollers, the whole nine yards. I go for a cute black dress that's a little flowy.
8 p.m. He's cute, ya'll! And he has an accent! He's tall, and from New Zealand. After we order, he excuses himself to go to the bathroom. He comes back and is more jumpy than before. I ask him what his parents do and what his hobbies are. He tells me that he doesn't know what his parents do (what?) and that he likes to be active because his parents made him do wilderness survival and kidnapping training (?) when he was a kid. I spend the rest of the date wondering if he did a line of coke or if he was just nervous.
10 p.m. We end up hooking up in Washington Square Park; it's a little bit hot in the sense that I find myself nearly topless, but he's not really doing it for me.
DAY THREE
9:30 a.m. I wake up around my usual time and immediately check myself for hickies; luckily we're all good there, because it's a steamy summer in NYC and I'm not about to wear a turtleneck to work.
10 a.m. I go through my usual routine; latte, reading and hanging out with the true love of my life, my cat.
1 p.m. My roommate asks "How was the guy?" to which I reply that he may have taken my shirt off in Washington Square Park. Of course, she asks for the gritty details but there's not much else. I tell her I probably won't see him again because the man is a literal walking red flag and doesn't have the moves to make it worth it.
8 p.m. Yeah, I'm going to ghost him. Not that he's texted me either.
DAY FOUR
8 a.m. I wake up to a text from J: "Want to go out again?"
11 a.m. After some coffee, I tell him that I'm going to the ballet tonight with some friends (which is just an excuse to wear a ballgown). I tell him if he's okay escorting me around in a formal gown then we can meet up after. He agrees.
9 p.m. The ballet is over and I'm sitting outside Lincoln Center waiting for him. It's a cool evening, which is rare this time of year. I'm nervous. I probably shouldn't be. He shows up exactly on time, and is a proper gentleman while we make our way to a restaurant nearby.
10:30 p.m. His apartment is a few blocks away. As we walk down the block, I remember my wild college days from a few years ago. We walk through the revolving door into his lobby. His apartment is eerily familiar. This is when I realize it's the same building, and same apartment layout as a guy I fucked a few times three years ago.
As he brings me to his bedroom and I remember why I date 30-year-old men. No real furniture in sight, just purple LED lights, clothes strewn everywhere, a palm-tree tapestry behind his headboard (at least he has a headboard), and a Sharpie-drawn skyline on his floor-to-ceiling window, tracing his view of the Empire State Building.
11 p.m. I will say, the sex is good. I go to the bathroom right after and he asks if I need him to show me where it is. I crack a joke about already knowing where it is because "my old friend" had the same apartment layout.
I'm okay with how the night played out. I got to fuck in my ballgown while looking at the Empire State Building. I fall to sleep easily.
DAY FIVE
7 a.m. I'm stirred awake the next morning to blinding sunlight streaming through his curtain-less floor-to-ceiling windows. J stirs awake eventually. We have some nice small talk. He offers to order me a car home while we wait in the kitchen.
10:00 a.m. I get home and, as always, K shouts hello as soon as she hears the door open. We catch up on our date nights. Hers went terribly — somehow Hinge had found her yet another man who finds ketamine a little too fun.
7 p.m. After thinking about it all day, I once again tell K that I don't think I'll be seeing J another time. It's just a bad vibe I'm getting. I cannot keep seeing a man with the Manhattan skyline drawn on his windows.
DAY SIX
10 a.m. J is texting me. He had a great time the other night and wants to see me again.
11 a.m. I finally decide I'm going to cut him off. I'm not gonna do it.
3 p.m. So I text J back. I tell him "it was fun" — I don't want to be mean — but I don't say anything about hanging out again.
He suggests we go to a barcade and is offering to pay for all of the Pac-Man and margaritas I could ever want. In a moment of weakness, I say yes. I do love Pac-Man and margs. I can't let my roommates know because they'll shame me into not going.
9 p.m. I wait in the Chelsea barcade. J walks in and I remember how cute he is, despite all of his red flags. We start playing arcade games. Nothing makes you reconsider the trajectory of a situation-ship more than friendly competition.
10:30 p.m. He mentions how close his apartment happens to be. After three beers, I'm also marvel at how close his apartment is. Not ten minutes later I'm walking up to a familiar revolving door, and waving to the doorman.
I'm back in the purple-lit room, with that familiar sharpie skyline, but this time it comes off a little charming. I flop on his bed. He sits down and starts to tell me a story about a housewarming party he threw in this apartment when he first moved in. I zone out a little bit until he mentions the name of one of his best friends who spearheaded this party.
This friend had such a unique name that I've never met anyone else with the same name … except for one man I slept with three years ago. The one who lived in this building.
"J … did this friend used to live in this building?"
"Yeah, how'd you know? Actually, he used to be in this apartment and my roommate has his old bed!" Horror sets in. J is not only best friends with a man I slept with three years ago, but lives in the same apartment he used to live in.
11:30 p.m. J notices I'm quiet and asks what's wrong. I have nothing to lose so I tell him the truth: that I fucked his best friend and that not only am I not sorry, I'm more concerned about how the universe let this happen to me.
To his credit, after that revelation, J has no problem talking off my pants and fucking me under the careful watch of the palm-tree tapestry.
12:30 a.m. I Uber home as soon as we're done.
DAY SEVEN 
11 a.m. I let myself sleep in because it's a weekend and honestly, I've been through it. When I get up I make myself a latte and turn on a Korean drama while I wait for T and K to wake up.
12 p.m. They emerge, and I fill them in. We do some Instagram research and I find a photo of J and his friend with their arms around each other. The photo was taken in California two weeks before I met J. T actually recognizes the third guy, which is crazy, but such is the life of all three of us being single, on all the same dating apps, and living in Brooklyn.
7 p.m. Texting with J, he jokes that he needs to leave the city, and I tell him I need to leave the country. It's all too weird for me. It's a good story but it's seriously too weird.
9 p.m. As I get ready for bed, I am 100 percent positive that I will never see him again.
Want to submit a sex diary? Email sexdiaries@nymag.com and tell us a little about yourself (and read our submission terms here.)