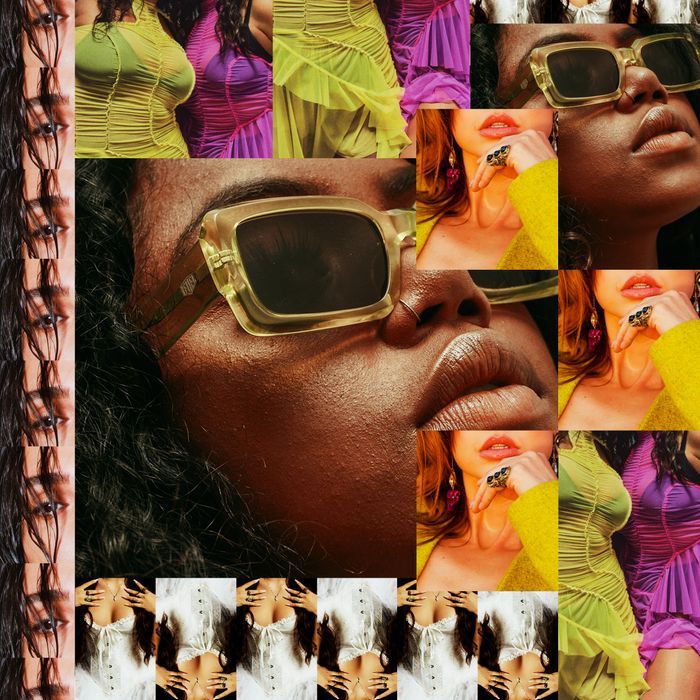 Photo-Illustration: by Marylu Herrera
New York Magazine's Sex Diaries series asks anonymous city dwellers to record a week in their sex lives — with comic, tragic, often sexy, and always revealing results. The column, which began in 2007, is the basis of a new docuseries on HBO.
This week, an American abroad finally jumps back into the dating pool after months of grieving his last relationship: 35, single, Paris.
DAY ONE
9:30 a.m. Get out of bed, take a quick shower, and do some deep-breathing exercises. Pop a PrEP for breakfast.
10 a.m. Log onto work. I'm a virtual designer. I've lived in Paris for a few years but just started this job last month. Since I'm new to the gig, I still spend most of my time on video chats with my colleagues.
1 p.m. Check Grindr and Tinder during lunch. My last relationship ended six months ago, and I've been grieving and reflecting on it. By now I'm ready to move on and be thrown around by some hot men.
1:30 p.m. New message from W, a French guy I've been chatting with on the apps for two weeks. We flirt a little, feeling out each other's appetite for a hookup soonish.
7 p.m. Start preparing dinner so I can get to the gym when the after-work crowd leaves.
10 p.m. Walk home from the gym. I check Grindr and think about jerking myself off before bed. I've been so horny these past few weeks. I think it's the combination of regular exercise, eating well, sleeping well, and finally feeling like I'm living my dream life in Paris.
10:30 p.m. W tells me he's been edging the entire day and asks if I'm free. Finally! I tell him I can be at his place in 30 minutes. I hop in the shower to get ready.
11 p.m. W opens the door naked, with a smile and a salut! He's even sexier in person. As I step into his apartment he leans in for a kiss. I immediately feel some tingles. He pulls away and whispers, "I already know I want to see you again." Wow. He turns me around and gets right to eating my ass. We take turns sucking each other off and I ask him to cum in my mouth.
12 a.m. Back home. I text W to tell him I enjoyed meeting him before going to sleep satisfied.
DAY TWO
11 a.m. Easy morning at work. N, a dancer, asks if I want to grab drinks. I say yes and start looking at wine bars.
12 p.m. W messages, saying he enjoyed our hookup last night and would like to meet me again. That keeps me going for the rest of the day.
1 p.m. Quick lunch before a power nap.
4 p.m. I find a natural wine bar a few metro stops away. I send N the address, and he replies excitedly: "Parfait! Looking forward to it ;)." Me too, though I'm still thinking about W.
6 p.m. Log off of work. I check the apps while I get ready for my date with N. Some new matches on Tinder, but I swipe left on almost all of them except for C, an Italian guy with a goofy but cute smile.
7 p.m. N is gorgeous and soft spoken. We share a bottle of wine and very quickly start getting to know each other. I'm Asian, and dating can sometimes be a landmine. I don't fit the usual masculine ideals (for example, I have basically no facial hair), and I often attract older men who love to tell me how much they "like Asian boys." But N seems socially aware and refrains from bragging about having lived in Japan for a few years.
8:30 p.m. N suggests we get some Sichuan food since I keep talking about how much I love spicy food. Soon we're sharing a bowl of spicy pig intestines. I'm impressed that N knows his way around Chinese food and likes it spicy.
10 p.m. N and I hug good-bye. I check on Grindr on the way home. C, the Italian guy, sent me a dick pic and tells me he wants to fuck me. That makes me horny. We float the idea of hooking up tomorrow.
DAY THREE
11 a.m. Slow morning at work. I ask C if he is available. He shares his location — he's five minutes away — and asks if we are using condoms, adding that he prefers bareback. I'm on PrEP, and I recently tested negative for all STIs. I say I'll think about it.
11:30 a.m. C greets me at his building's main entrance. Once inside, we start kissing furiously. We undress, and I see his cock is quite big. I get on my stomach while he lubes himself up. He fucks me — hard — and it's exactly what I've been craving.
12 p.m. Back home. I finger myself a little in the shower thinking about what just happened. I'm living my best Samantha Jones life.
5:30 p.m. I log off early from work and head to the supermarket for some groceries.
7 p.m. Making a quick stir fry when W asks if I want to come over at 9 p.m with my toys. I happily confirm.
9 p.m. W looks as irresistible as before. We kiss hello and it gives me tingles again. We start making out, and he pulls out my dildo. He tells me to fuck myself with the dildo. We stare into each other's eyes while I'm doing this. Then he fucks me with the dildo while jerking himself off. I get on all fours, my back arched as he cums on me.
10 p.m. We cuddle and talk. I can usually tell when I'm going to get along with someone, but it rarely feels this easy.
11 p.m. I'm sleepy so I get up to leave, hoping that we'll meet again.
DAY FOUR
10 a.m. I'm meeting with an ex-colleague, A, tonight. He asked me out after we exchanged some messages on Instagram about a show we were both watching. I text him to confirm the date and he suggests a bistro.
1 p.m. My phone pings with a message from R, a Spanish physical therapist. We've been hanging out once a month or so for the past few months. He doesn't speak English and his French is worse than mine, so our meetings are always a little awkward, but he's a sweet guy. He asks if I want to go on a date tomorrow night, and then if I want to stay over. I agree.
7:30 p.m. At the bistro with A. He has a warm and bubbly personality, and we catch up on each other's lives since I left the company. The evening passes by quickly, but I don't feel like it's an inspiring match.
10 p.m. Call it an early night.
DAY FIVE
11:30 a.m. It's Friday, and an urgent work project falls in my lap last minute.
1:30 p.m. I'm so inspired about finally having something to work on I skip lunch.
5:30 p.m. I log off slightly early. The weekend is here, but first I clean my entire apartment. It's so small that it only takes 30 minutes.
8 p.m. I'm at R's apartment, the physical therapist. He got us a bottle of wine and made dinner. His dog keeps trying to climb onto my lap for food.
10 p.m. We spend the evening on the couch, talking in our broken French and drinking wine. R offers to draw a bath and we get in together. He starts giving me a massage, and I can feel his cock hardening against my back. We start making out but I don't really get into it. I think we just don't have enough chemistry.
11 p.m. We move into the bedroom, but his dog keeps trying to get in. We have sex for a while but then just end up jerking off until we come. Quick clean up and we kiss each other good night and go to bed.
DAY SIX
10 a.m. I slept poorly. I'm a light sleeper, and R's dog kept waking me up during the night. I love dogs, but this one is not for me.
12 p.m. A slow morning at R's having brunch. We shower and head out for some shopping.
2 p.m. We're shopping at Le Marais. R can't find the boots he wants. It's drizzling rain, which I kind of like.
3:30 p.m. R finally finds the boots. We run into a bistro as rain starts pouring and get some beers and salads. He's really sweet and we have a nice time together.
5 p.m. I head home for the evening. R and I kiss good-bye in the metro.
7 p.m. My best friend, O, is in Paris and asks if I want to grab some wine. Of course I do, so we head to our favorite wine bar.
10 p.m. We spend the evening making each other laugh. She's in Paris with a new boyfriend. I'd encouraged her to give this guy a chance, so I take credit for the relationship. We are always encouraging each other to "slut it up," so I tell her all about my week. She is excited about W. Even though it may be a little premature, I let myself feel excited, too.
DAY SEVEN
12 p.m. Wake up. Very late morning, but it's Sunday!
2 p.m. I have a late lunch then head to the gym.
7 p.m. Preparing dinner at home when O calls. She asks if I want to meet her at our favorite Thai restaurant for dinner with her boyfriend.
7:30 p.m. I'm walking over to the restaurant while checking Grindr. W asks if I happen to be free tonight. I tell him I'm headed for dinner but can be at his place at 9 p.m.
8 p.m. I find O and her boyfriend at their table. He's really cute and I can see why she likes him.
9 p.m. In W's living room. We're sharing some wine and talking. He tells me it's so easy to talk to me, and I say I feel the same about him. It's not difficult being open and present with someone you feel so attracted to.
9:30 p.m. I'm on all fours on the couch, staring into the wall mirror as W eats my ass. I focus on the pleasure, but in the back of my mind I wonder how far this will go.
Want to submit a sex diary? Email sexdiaries@nymag.com and tell us a little about yourself (and read our submission terms here.)