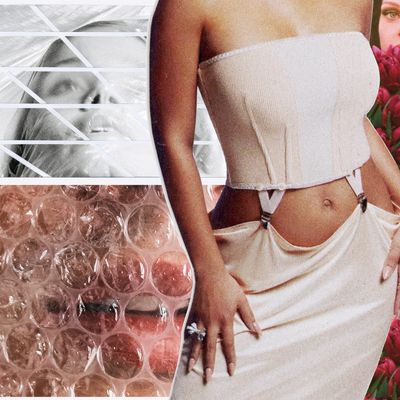 Photo-Illustration: Marylu Herrera
This week, a woman enjoys her newly divorced life by having sex with a wealthy stranger: single, Manhattan, 32.
DAY ONE
7 a.m. Wake up and decide to make a Bloody Mary. A few months ago, just after my divorce was finalized, I resolved to be the kind of woman who makes amazing cocktails. Check.
8 a.m. Bloody in hand, I start the day. I live in a big house in Ditmas Park and it's messy from a weekend of partying. I put on music and start to clean.
8:30 a.m. My sister and some friends were in town for my official "divorce party." My ex-husband was my high-school sweetheart. We moved to the city together ten years ago. He got very successful at a law firm and I got very successful as a freelance interior decorator. A year ago we decided to part ways. I wanted kids and he did not. When we first got together he was wishy-washy, but as the years went on he became adamant about wanting a childless life forever. It was a dealbreaker. Plus, our sex was really boring—his penis was small, and I'm obsessed with big dicks.
Anyway, the divorce was pretty amicable. We both wanted out and he makes a shit-ton of money so I got to keep the house.
11 a.m. Done cleaning. I'm feeling a little anxious. Despite the completion of my divorce and the lack of drama surrounding it, I've been dealing with some pretty rough anxiety. I've never had anxiety before in my life. My friends think I didn't give myself enough time to heal after the divorce — just went straight back into work and dating and never really processed how much my life has changed. Maybe they're right. I don't want to go on medication so I'm just drinking probably more than I should. I tell myself I'll go fully sober next year.
11:15 a.m. Settle in for a few hours of work: Call some clients, make up some budgets, etc.
5 p.m. Log on to the apps. I message with Franco, a guy from Feeld, who is gorgeous but has a wife in Paris. I could definitely have fun sleeping with him, but I'm not sure if I can have sex with someone with whom there is absolutely zero future with.
10 p.m. I decide to move on from Franco despite his promise that he has a nine-inch cock. Like, I'm not looking for a boyfriend, but I also have hope I could fall in love again.
DAY TWO
8 a.m. Meet with my trainer, Anthony, whom I've always had a crush on. I just don't want to be the divorced woman who fucks her personal trainer, ya know?
9 a.m. I'm meeting a client about her new brownstone. When I get to the house she introduces me to her husband, Mike, and I recognize him from Feeld. We matched and briefly chatted. I'm not positive it's him, but based on his awkward greeting — like, he looked at me like he recognized me — I think it must be.
I can feel him eyeing me during our meeting; I've been dressing a lot sexier since getting divorced, and it's amazing how much more attention I'm getting from men. Is this all it takes? A red bodysuit and some high boots from Everlane?
11 a.m. The minute I get in my Uber I look to see if it's the same Mike from Feeld. Well, it is, because there's a message waiting for me: "Well that was awkward!" I ask if his wife knows he's on dating apps. He says, "Not exactly." Okay, ew. I want to win this brownstone account, but I'll be working with a couple where the husband is a cheater. Ugh! I block him on the app.
6 p.m. Meet up with my friend who is in her first lesbian relationship. She's trying to explain to me how good the sex is in the queer community. I tell her that I'm worried I'd be a bad lesbian because I'm so into guys with big dicks. She tries to sell me on strap-ons, but I don't bite.
9 p.m. Head home, take a bath, and off to bed.
DAY THREE
9 a.m. Visiting my gynecologist today to talk about a few things. One: possibly having a baby on my own. Two: going on birth control since I plan to fuck a bunch of men this winter (my ex always pulled out, but that's way too risky now.) Three: how to proceed with more regular STI testing.
11 a.m. Leave the appointment hating my gyno. She made me feel slutty and vapid — she seemed like she was in a really bad mood and rushed through my appointment, and she didn't seem to be listening to me. I walked out with basically none of my questions answered. Great.
3 p.m. A big design brand occasionally uses me on projects, and today they want me to help design a holiday event at a store, so we're doing the walk-through now. It's a West Elm kind of place and we're all drinking Champagne talking about the concept. Again, I dressed really sexy. Just in case!
4 p.m. There's a guy looking at a couch. He's in a beautiful suit. We start talking and I offer him some Champagne. He says he has to get back to work — on Wall Street — but then he asks for my number! No wedding ring, so I give him the digits.
8 p.m. Wall Street guy texts. His name is William. We make a plan for tomorrow.
9 p.m. I'm so tired from the day drinking that I go to bed early after a nice session with my vibrator.
DAY FOUR
9 a.m. I have a client in Jersey City, so I'm in my car heading to her loft. I'm feeling so horny lately. The vibration of my car seat is literally making me wet.
10 a.m. I do something I've never done before and masturbate while stuck in traffic. I orgasm in the Holland Tunnel. Because I'm alone in my car, I howl when it happens. It feels wonderful.
7 p.m. We meet at a nice Italian restaurant in the West Village. I am wearing a new tube top and high-waisted jeans. I feel a bit like a Kardashian but I also know I look hot. William walks in. He's in another nice suit and looks — well — rich.  
9 p.m. The date is nice. He's nice. He's also divorced but has two kids with his wife. He lives between the city and Westport. His story is pretty dull: He was a workaholic — she needed more — their marriage fell apart. Blah blah blah.
10 p.m. We're making out a bar in the Village and I put my hands in between his legs. The bulge feels nonexistent. I know it's not the most scientific test, but I'm kind of turned off. We decide to call it a night.
DAY FIVE
7 a.m. Wake up feeling anxious again, I still don't exactly know why. Obviously my divorce did something to me, even though on the surface I feel okay about it. I need some therapy. And self-examination. But I haven't focused my energy on any self-help stuff.
9 a.m. Head to the city for a full self-care day. I'm getting my hair highlighted, visiting my derm, and going shopping.
12 p.m. Lunch with my friend Amanda, who has three kids and a big job in fashion. I really envy her. Her life is perfect. She's obsessed with her husband and she's a really good and involved mom. Sometimes I wonder how my life has devolved to the point of being totally alone with no idea what the future holds. Oh, hello — maybe that's the root of my anxiety?
2 p.m. At least I'm financially stable. Shopping therapy never hurts. I go to Bloomies, the RealReal, Sandro. I do some damage and come home with more sexy outfits for the holidays.
5 p.m. I have no plans for tonight. It's very quiet at home.
9 p.m. Been swiping online for hours. I think I've lined up a few interesting guys to flirt with for the next few days. I just need to have crushes. Crushes and fantasies will keep me alive.
DAY SIX
8 a.m. Seeing my trainer. Should I just seduce him? During our session I imagine sucking his cock. Literally, I close my eyes while doing squats and imagine it. Obviously I don't say anything to him. Just a little fantasy.
10 a.m. Get a call from the brownstone client whose husband is secretly on Feeld. They want to hire me. It's the biggest job I've ever landed so I'm happy, but I also have a sick feeling in my stomach about the lying husband! I tell her I'm honored and can't wait to get to work.
5 p.m. Spend the day drafting ideas and budgets for the brownstone. Feeling motivated. It seems like I'll only be dealing with the wife, so that's good, but then the husband texts me. He's glad I won the project. This is super-creepy. He must have gotten my cell from her. Ugh! I don't reply.
7 p.m. William asks for drinks tomorrow before he heads back to Westport. I tell him it works for me.
10 p.m. Line up a whole weekend of coffees, drinks, and dinners. These clothes aren't going to wear themselves!
DAY SEVEN
9 a.m. My parents are in town for a family event so we're spending the day together. They've been so supportive of my divorce, but I know they're dying for me to have kids. I feel the pressure, and they're not so subtle about it.
1 p.m. After a few hours of family time, I need a breather. I tell them I'll see them tomorrow and go home for the rest of the day. They have plenty of people to visit with so I'm not totally abandoning them. Don't worry, I'm a good daughter!
5 p.m. Get my hair blown out and my makeup done for these drinks with William. He chose a private club for the drinks. It's classy and I want to really bring it.
7 p.m. We each order dirty martinis. William looks good. He's handsome and smells really good, which I love. We talk about his kids, and I ask if he'd ever have more. Without a beat, he says: "Yeah, I really want more kids, one hundred percent." I like this answer. I like this answer so much that I ask him if he'd escort me to the bathroom.
7:15 p.m. We are fucking in one of the big, fancy bathroom stalls. There's loud music playing so no one will hear us, but it has to happen fast in case someone is waiting outside. William's cock is average — but it works. We go about five minutes and we both come.
9 p.m. Before the bill arrives, I decide that I won't be seeing William again. The sex wasn't good enough to keep my interest. But I had fun — I'm pretty happy with it. I send him off to Westport with a big smile on his face, and I go to another bar and see who else is around. Being single isn't so bad!
The Sex Diaries column, which began in 2007, is the basis of a new docuseries on HBO.
Want to submit a sex diary? Email sexdiaries@nymag.com and tell us a little about yourself (and read our submission terms here.)