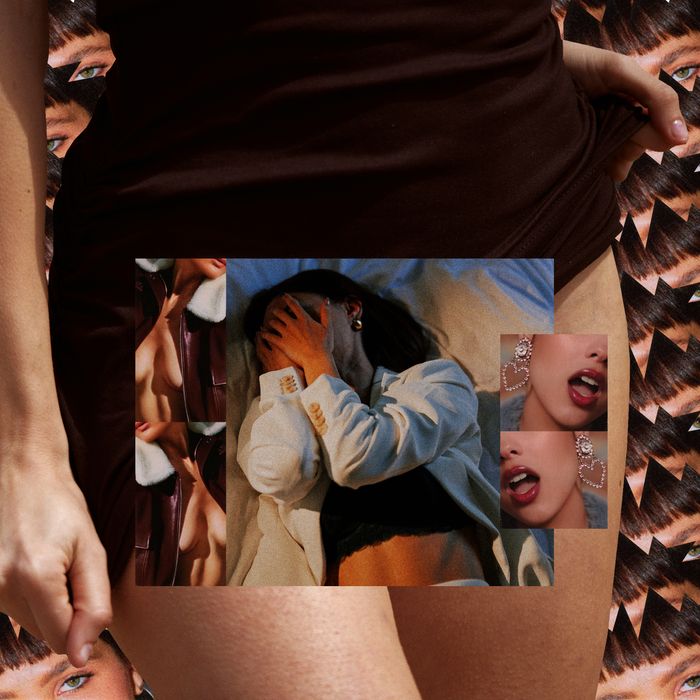 Photo-Illustration: by Marylu Herrera
New York Magazine's Sex Diaries series asks anonymous city dwellers to record a week in their sex lives — with comic, tragic, often sexy, and always revealing results. The column, which began in 2007, is the basis of a new docuseries on HBO.
This week, a lonely dad explores Feeld while co-parenting his kids: 48, single, Brooklyn.
DAY ONE
9:20 a.m. It's Sunday, so I try to cram in as much sleep as possible. I work for a local news station, and Sunday and Monday are my days off. I use them to rest. Or party hard. It depends on the week.
11 a.m. I'm awake. I make coffee. I look at the apps. I'm a divorced man with kids, so my dating experience is unique. I still look good, and my sister helped me with my dating profile, but it's not exactly the Wild West. I see that a woman named Angela has sent me a few messages. She's like 20 years younger than me, but she's a single mom and we have some things in common: We're both from upstate New York, wounded birds from our marriages, etc.
3 p.m. Speaking of my marriage, I head to my ex-wife's apartment to pick up my kids for the night. My ex and I have been over for two years, officially, but really we've been over for the last seven years. We were together for 14 years, but after the first seven we completely ran out of love. There were no affairs, just constant fighting. My wife was the breadwinner. She had very intense hours and I couldn't do enough: make enough money, help with the kids. I was always failing her. It's been hard undoing the sense that I'm a fucking loser.
4 p.m. The kids are downstairs with the doormen and their bags. It is not lost on me that my ex hates me so much she avoids seeing my face at all costs, but the kids run to me. It's pure joy to have them back in my arms. They are the loves of my life. We go straight to our favorite pizza place followed by our favorite ice cream joint.
9 p.m. The kids are in bed. They have their own bedroom with bunk beds, and they love it there because I've basically made it a super fun kids' club.
10 p.m. I chat with Angela and look around Feeld, the kink app. I recently downloaded it to challenge myself a little. I love sex, but I've mostly been pretty vanilla. The four or five women I've slept with since my divorce have been a lot spicier. The last woman I was with stuck a finger right up my ass. I tried to play it cool, but it was a first. Dirty talk is also a whole new thing for me too.
DAY TWO
7 a.m. Kids are awake, and we map out our day. They don't have school today because it's spring break, and they want me to take them to Coney Island since it's unusually hot out. I agree. I agree to everything they want. That's why we have so much fun!
10 a.m. It's beautiful at Coney Island. The kids FaceTime their mom to show her how pretty it is, and I swear I hear a man's voice in the background. Of course, it's not my business, but I'm 99 percent sure she has a boyfriend, and it stings. I imagine he's a wealthy corporate lawyer, like her. Ugh, I fucking hate money. The root of all evil.
2 p.m. Back home, the kids are watching TV. Angela and I make plans for dinner tomorrow.
3 p.m. I match with someone on Feeld who invites me to a sex party. I have to submit pictures of myself to the host first, including photos of my dick. I'm not kidding. Apparently, the female hosts of the sex party have decided to implement a "cock transparency code." I'm not sure what this means. Are they just trying to make sure it's not too small? But I do have a nice cock! I've been told it's big, but not too big. But I hold off. I'm a little worried about sending dick pics to strangers.
5 p.m. I help my kids pack up. They have to go home to Mom. She's taking them to Miami for the rest of their spring break.
6 p.m. Walk my kids to her apartment and try not to cry as they run inside. And then I do cry. It happens every single time.
9 p.m. I try to look up the sex-party hosts and find details on other parties they've hosted. This alone is arousing. I jerk off twice in the next few hours. I take pictures along the way, just in case I decide to submit them. I've never sent a dick pic in my life.
DAY THREE
6 a.m. Back at work today. I'm remote, and have a little home office set up, but it's still intense. We are covering local news, so I'm glued to the screen all day.
11 a.m. I take a break. Angela asks if we can meet uptown because it's closer to her apartment. I couldn't tell you one restaurant above 14th Street, so I text my sister for suggestions. She picks a place and makes the reservations for me because she knows how little time I have on workdays. I text Angela to meet me there at 7 p.m. She says she's excited!
5 p.m. Hop on the subway for my date. It's an hour-long ride, but I don't mind. I love reading on the subway. My ex never understood things like that. She thought the subway was "vile."
7 p.m. As I wait for Angela, I order a glass of wine. I'm not sure what to expect.
7:15 p.m. Angela arrives 15 minutes late, which I don't love, but I don't want to be fussy about it. She's nervous and sweet, which is endearing, but I don't know what to make of her appearance. She's beautiful, but she's dressed like she's going to a club. And she's wearing so much makeup. I'm so used to naturally pretty, tired-looking Brooklyn moms in their 40s. It's like I'm sitting with someone my kids watch on TikTok. I try not to judge her based on looks. Plus, she's definitely hot! What's wrong with me?
9 p.m. Angela is on her third espresso martini, and I just can't connect with her. We are way too different. I want to go home and get to sleep. I'm dying to get on the subway with my book. I pay the bill and walk out with her, and before we part, she kisses me good night. I didn't see it coming. We had no vibe. She shoves her tongue down my throat and it's a total porno kiss. I've never been kissed like that in my life, honestly. While she's kissing me, she puts her hand on my dick over my jeans. Then she kind of "cups" it. Is she checking to see if my dick works? Is she trying to seduce me? I'm incredibly uncool in this moment and basically start to giggle. We say good night and I walk toward the subway. Wowza.
10:30 p.m. Still thinking about the kiss. What was that???
DAY FOUR
6 a.m. At my desk. Super tired. I'm still kind of shell-shocked from last night! I want to ask Angela out again, but I'm also sort of scared of her!
12 p.m. Still thinking about Angela. It's days like this that I wish I had more male friends. I have no one to share this stuff with!
3 p.m. Angela texts me a "thank you!" for dinner. She says she'd like to do it again. Now I'm wondering if she just likes the free dinners. The whole thing makes me anxious.
7 p.m. If I want to attend the sex party, I have to submit my dick pics by tonight. I look through my phone. There is one photo in which I'm just wearing underwear with a big erection underneath. I send it, hoping it's enough.
9 p.m. I go to bed and try not to think about any of it.
DAY FIVE
6 a.m. I wake up and miss my kids.
11 a.m. Work can be depressing at times. The world is a messed-up place right now. It's interesting being on the front lines of the news, but it takes a toll.
2 p.m. Someone on Feeld wants to tie me up with ropes. I try to imagine if that turns me on or not. I don't think it does. I pass.
7 p.m. I get an email that says I've passed the sexy-party test. Tomorrow I will get more information on it. I'm excited, but terrified.
9 p.m. I finally catch up on Succession and feel more alive than ever.
10 p.m. Can't sleep. Can't stop thinking about the sex party, the Angela kiss, my kids, my ex, her new guy, money, and the state of the world.
DAY SIX
6 a.m. It's Saturday. While the rest of the world sleeps, I wake up to work. I don't mind it. My ex used to mind it. My job made it impossible to take weekend trips like all her friends.
12 p.m. It occurs to me that I have no plans tonight and no work tomorrow. I make plans with this woman, Tamar, who I met on an app and seems really funny and witty. She writes back that she has a 6 p.m. slot open for a drink. She's totally transparent and says she has another date at 8 p.m.
5 p.m. Wrap up at work and take a shower.
6 p.m. Tamar is waiting at the bar. She's lovely! Pretty, friendly, and funny. We don't have a lot of time, so she's quickly firing off questions as if it's a job interview. Because she's got this great sense of humor, I don't mind it at all.
6:30 p.m. Tamar asks if I'm monogamous and I tell her I am. Then she asks if I'd ever have more kids. I have to take a minute to think about it. "I don't think so," I tell her. "Is that a deal-breaker?" She very openly says, "Yes." Damn, I really respect this woman. I ask if she's going to immediately friend-zone me. She says, "Yes." Again, respect.
7 p.m. Tamar leaves for her next date and I stay for a second drink alone. It is so wild being single right now.
DAY SEVEN
10 a.m. I wake up to see that the sex-party information has come in. The location is in a random apartment building in Long Island City. The rules are explicit: no phones, no plus-ones, come showered and clean, do not come high or intoxicated. The whole email scares me so much that I just want to delete it from my phone. But I don't. The party is tomorrow night. I have to think about this!
1 p.m. I spend the day getting my kids' room into shape. I want them to come home from spring break with some new toys waiting for them.
3 p.m. My wife texts me that they're coming home tomorrow and they want to come right to my house from the airport. That wasn't the original plan, but I always say yes to my kids. It means I can't attend the sex party, and honestly, I'm super relieved.
7 p.m. I delete the sex-party info from my phone, and all of the dick pics too. I'm worried and paranoid that I sent them to begin with.
9 p.m. I do some late-night grocery shopping, which is strangely pleasurable, and stock my kitchen with goodies for the kids. Then I text Tamar and tell her how much I enjoyed meeting her and how she's going to make some man extremely lucky.
Want to submit a sex diary? Email sexdiaries@nymag.com and tell us a little about yourself (and read our submission terms here.)