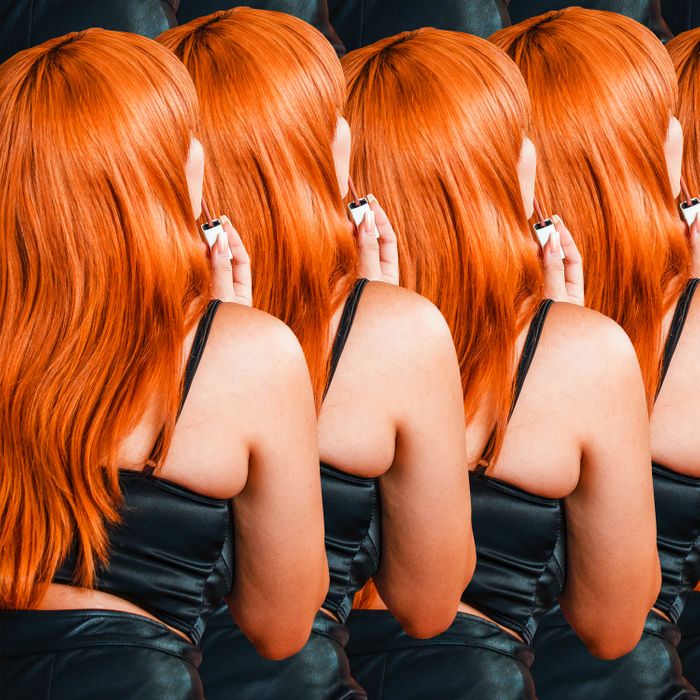 Photo-Illustration: by Marylu Herrera
New York Magazine's Sex Diaries series asks anonymous city dwellers to record a week in their sex lives — with comic, tragic, often sexy, and always revealing results. The column, which began in 2007, is the basis of a new docuseries on HBO.
This week, a woman goes on a few dates with a man who has some of the most attractive dating-app photos she has ever seen: 37, single, Brooklyn.
DAY ONE 
9 a.m. I wake up and open Hinge. There's a message from a guy who has the most attractive profile photos I've seen in years.
12 p.m. He's asking me a bunch of questions. It feels like a quiz, like he's running through a checklist, but I start to get excited. We make plans. This guy — let's call him B — says tomorrow would be best. I send my number.
4:50 p.m. I have a different date tonight. I text him to say I'm running late because I'm busy applying for jobs — I'm a freelance filmmaker, but I'm ready for a full-time gig.
He seems annoyed, but I don't really care. My main goal with this date is to have sex. The last time I had good sex was two months ago — it was hot, but I couldn't get past the guy's biting fetish. I bruise too easily to keep seeing someone who needs to bite every part of my body.
Before that, my best sex was with my ex. We broke up last year — after I realized I wanted to have kids soon and he was nowhere near ready.
7:07 p.m. I walk in. I met this guy on Hinge as well, but he looks significantly older than in his photos. He says that before I arrived, he'd mistaken someone else for me but is glad she wasn't me, because I'm "much more attractive."
8:40 p.m. He finishes his second drink and says we need to leave in order to get to a bookstore nearby before it closes. It's a place we both love, so I agree. He asks for the check, then goes to the bathroom. A server brings the card reader and leaves it on the table, so I pay the $73 tab.
9:30 p.m. I'm tired and not into this guy to go home with him. He says walking through the bookshop is a dream. "I've always wanted to meet a woman who reads," he says. "You're too good for the apps. Like, what are you doing on the apps?" I don't take this as a compliment.
2 a.m. I wake up in a cold sweat. A nightmare. I try to go back to sleep.
DAY TWO 
8 a.m. It feels like I didn't sleep at all.
1 p.m. I'm exhausted. I text tonight's date, B. I debate canceling but settle for switching plans from the East Village to a bar in Brooklyn. I tell him I didn't sleep well and had nightmares. He says, "Ohhh, I can't wait to get into that subconscious."
4:30 p.m. A text from last night's date. Can he take me out again tomorrow? There's something about this text that I don't like. He didn't "take me out" the first time. I paid the bill. I tell myself to be less critical and ask what he has in mind. "A word game at a dive bar. Low-key." I agree, and we make plans to meet up.
7:30 p.m. I'm drying my hair. I really want to cancel, but instead I throw some clothes on and walk out the door.
8:15 p.m. B is attractive and sort of shy, but we have good banter. I missed having that back and forth — I don't think I realized how much that has been missing on other dates.
10 p.m. We're getting along. There is something so familiar about this man. The feeling seems to be mutual. At one point, he says, "I've never felt so mirrored on a date." Still, there's a voice in my head telling me he's trouble. Maybe it's because he mentioned his friends are in a cult.
Whatever. It doesn't matter that much, because I have a plan: I'm going to date for another six months, and when I turn 38, I'm going to start trying for a baby — with a partner or without. (This is the reason I'm applying for full-time jobs, for the maternity leave and benefits, though I don't tell him this.)
10:45 p.m. We have three rounds of drinks before moving on to another bar. I feel like I need to cut myself off but tell myself to just relax for once.
He asks if I have to be anywhere in the morning. I lie and say no, but I can tell we'll hook up and I want that more than the interview I have lined up.
1 a.m. We walk to his place, because it's closer. I'm exhausted and want to go back to mine, but my apartment is barely furnished, because I moved in and immediately started traveling for work.
We walk up to his third-floor room and start making out. We have sex. Then a few minutes later, we have sex again. I don't get off either time, but I get close, and honestly, the fact that he was able to get hard, then get hard again, is hot to me.
DAY THREE
9 a.m. B's alarm is going off. In the daylight, I look around his room. I'm surprised, because it looks exactly like my room. We have remarkably similar styles. He snoozes his alarm, then snoozes it again, then grumbles, "Why is my alarm going off?" He's a 36-year-old man who is surprised to hear his alarm in the morning? It feels like a red flag, but tell myself to stop searching for red flags.
9:10 a.m. He wakes up and climbs on top of me. I'm on my stomach. He kisses his way down my back, props me up slightly, and starts eating me out from behind. My hands are on his headboard, and I completely forget about his roommates. I am not quiet. This time he gets me off, and it's incredible. I start to go down on him, but he pushes me onto my back. He climbs on top of me again and jerks off onto my chest.
9:30 a.m. We head downstairs. I'm in awe of the art hanging in the hallways and kitchen. B tells me his roommate is a great-great-great-grandson of a famous painter. I leave not knowing if I'll ever see him again and not feeling any particular way about it. I walk to a breakfast spot near his place.
1 p.m. I have not been this hungover in as long as I can remember, and today is the one day I'm in person with the documentary filmmakers I'm hoping to start a project with.
5 p.m. Such a busy workday. I've been developing a podcast with a reporter. The story is blowing up, and we're about to sign on with a production company. It's a career-changing opportunity. I text B about it. We text back and forth for an hour or so. Then he leaves a text unanswered. I send another text a few hours later. Still nothing.
6 p.m. I cancel tonight's date. I'm too tired.
7 p.m. I meet a friend for dinner in the West Village and tell her about my two dates. I'm mildly excited about B but hate that he hasn't responded to my last few texts.
9 p.m. I head home to get some sleep.
DAY FOUR
8 a.m. I wake up to check if he's texted. Nothing.
12 p.m. Work is so busy, and now I'm negotiating a bigger deal for the podcast project. It's so exciting, but I feel anxious about the guy not texting me.
3 p.m. I hate how closely I'm watching my phone. Nothing from him. I try to focus on work.
7 p.m. I get down to business working on a draft for a radio piece I'm reporting.
DAY FIVE
10 a.m. I meet a friend in Boerum Hill. She just bought a condo and needs help bringing over some paint buckets.
12 p.m. While I'm there, B finally texts me back. "Hey! What are you up to? Hockey tonight and Tuesday but I want to see you before I leave Wednesday."
1 p.m. I still haven't responded. I don't like that he's telling me when he's available and asking if I can fit in rather than asking when I'm free.
3 p.m. Finally, I text back. I suggest dinner at a chill Thai place in the East Village tomorrow. He says yes.
DAY SIX
9 a.m. I wake up and bang out some work.
1 p.m. I know B wants to come to my place tonight, and it needs some work. I start cleaning.
2 p.m. Run to the bodega and finally buy some hand soap, toilet-bowl cleaner, and other random stuff.
3 p.m. I walk to pick up a nightstand from someone on Facebook Marketplace, then a garbage can. Then I hate myself for thinking B won't like me if my apartment doesn't look set up.
8 p.m. I get to the place. B texts to apologize for running late. I order some wine and eavesdrop on the woman next to me.
8:30 p.m. He comes through the door apologetic. He seems disheveled. Maybe he's genuinely sorry. Maybe he's always a mess.
10 p.m. He's talking a lot. I feel myself trying to keep up with him. He tells me that he told a friend how much we have in common. I like hearing that he's telling friends about me.
11:15 p.m. We're barely out the door when he pulls me into a kiss. We walk to a dive bar nearby.
1 a.m. I have to work tomorrow, I need to sleep, but I keep letting B grab us more rounds. I don't think I like who I am around him, but I think he's intoxicating. He's leaving for a two-week trip tomorrow, which should give me a breather. But right now, I just want to laugh at whatever he's saying.
1:30 a.m. We get a cab to my place. He comments on everything: The two monitors on my desk. My chair. My table. He laughs before he even finishes his jokes. While he's in the bathroom, I realize I forgot to buy condoms. He says, "These are the things you're supposed to say before we leave the neighborhood that sells them on every corner!" He tells me there's no way he's going back out at two in the morning. This pisses me off but not enough to turn down sex.
We fuck, and it's hot, but in the back of my head, I know this won't work out.
DAY SEVEN
9 a.m. He finally wakes up after snoozing his alarm, and we get out of bed. I think about saying I don't like what we did last night, but I don't feel like having a big conversation before he leaves for a two-week trip.
12 p.m. He texts me a few times, asking about my day.
5 p.m. He asks if I want to chat on the phone. I tell him I have soccer, then I'm meeting a friend and that I'll call after.
9 p.m. I call him. I get the feeling that this guy actually likes me, and I actually like him, and we could just let last night go — chalk it up to drunkenness.
Two minutes into the call, just as I'm sinking into my couch, he starts to lose reception. He sends me a voice memo. So much for a long, get-to-know-you chat. I send a voice memo back. I say: "Thanks for making time to see me again in what I know was a really busy lead-up to a two-week trip."
I sound sweet. Ugh.
Want to submit a sex diary? Email sexdiaries@nymag.com and tell us a little about yourself (and read our submission terms here.)