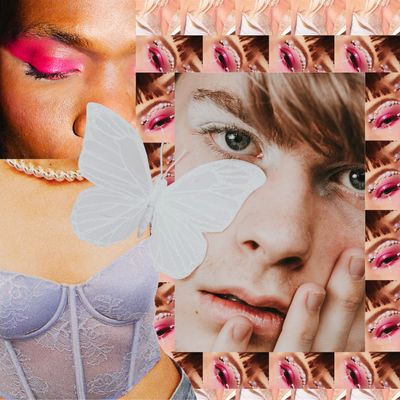 Photo-Illustration: by Marylu Herrera
New York Magazine's Sex Diaries series asks anonymous city dwellers to record a week in their sex lives — with comic, tragic, often sexy, and always revealing results. The column, which began in 2007, is the basis of a new docuseries on HBO.
This week, a prop stylist has a disastrous hook-up with a college friend, and tries to rebound by going out to dinner with a rocket scientist: 26, single, Brooklyn.
DAY ONE
6 a.m. I have to be at work by 7 a.m., so my alarm goes off now. I'm assisting a prop stylist for a TV shoot. I'm taking all kinds of odd jobs while I finish my screenplay. I get just enough random gigs to pay my $1,500 rent, which gets me a tiny place with four roommates in Bushwick.
6:20 a.m. I notice that my body is still a little sore from last night. It makes me smile. I had really wild sex with Bo, this guy I've been dating and actually like. It was our third time having sex, and it gets better every time. I'm turned on just thinking about him but get my shit together and go to work.
9 a.m. No one on this shoot is cute. I hate that. It's so helpful to have someone to flirt with at work. I've been single for two years now and am just having fun with it. I'm not in a rush to settle down or be monogamous. I'm never lonely and have to focus on making money and taking gigs as much as possible, so this lifestyle is just my reality right now.
4 p.m. Ed texts to see if I want to grab drinks after work. I'm always exhausted after these shoots, so I tell him I can't but we plan to hang tomorrow. Ed is an old friend from college. We've always just been friends, and I've never been attracted to him. But he's growing up and sorta growing on me in that way. He works in finance and is dressing better, has a personal trainer, and I see all these girls throwing themselves at him when we're out. It's got me thinking that maybe I should test the waters. He has always had a crush on me but respected the friendship boundaries.
6 p.m. Work is done. I'm starving, so I grab a bunch of free food here and get on the train.
8 p.m. Home. My roommates annoy me, but they're fine — clean and nice. Tonight, they're all going to trivia. I'm waiting for them to leave so I can make dinner in peace. I hide in my room until they go and text Bo that last night was fun. He writes back immediately: "Indeed it was." He doesn't ask me what's up later in the week, so I leave it at that. I'm good at playing the game. He can come hunting me down when he's ready.
9 p.m. Making pasta with veggies, drinking wine, and ready to call it a day.
DAY TWO
8 a.m. I'm doing a hot-yoga class, because I have a free pass to this new spot. I hate yoga, but I don't have work until later and I'm always looking for cute guys.
I spot one! Now I have to survive the class and have enough strength to flirt with him after.
9:30 a.m. I go say hi to him after class. He's French and has a beautiful accent. His name is Pierre. I can't tell if he's into me … the accent throws me off. Finally, I ask him if he wants to hang out sometime. It's a quick yes and, suddenly, I get a very horny vibe from him. This could be fun! We exchange numbers.
2 p.m. Doing some wardrobe styling today. It is not glam. It's just, like, boxes and boxes of shit, then irons and steamers, and it actually has zero to do with style or fashion. I know I want to work in production, but sometimes I'm just not sure where I belong. I want to write a TV series, but we all know that's a long shot.
4 p.m. Ed texts that he wants to visit a wine bar in his neighborhood with me. He lives in Manhattan, which is … different. All of my dates are always in Brooklyn.
8 p.m. I Uber to the wine bar, which is like $60 — all the money I made today, basically. On my way there. it hits me that this is sort of our first "date." It's like we both know that's what tonight is, even though we haven't communicated it. Something has been brewing between us.
8:30 p.m. We're very comfortable with each other, so we spend the first hour catching up, checking our phones, showing each other pics of the people we're dating. The drinks are flowing. Ed has become a bit more pretentious now that he's a banker … it's a good look on him, honestly.
9:30 p.m. We're drunk. Our knees are touching. He says, "I've always wanted to taste you." I start kissing him immediately. It's on. We decide to go back to his place. We're both giggling and can't stop making out. It's pretty sexy!
10 p.m. We get to his apartment. It's nice. His housekeeper came today. I'm turned on by that! We keep making out like crazy maniacs and head to his bedroom. I go to blow him, and everything just feels kind of off.
10:15 p.m. Afterward, as I go clean up in the bathroom, I know that I don't want to hook up with Ed again. I come back into the bedroom and tell him I'm really drunk and should go home.
11 p.m. Ed Ubers me home, then I lie in bed feeling bad about the whole thing. We shouldn't have crossed the line.
DAY THREE
7 a.m. I wake up very hung-over and slightly depressed by the whole thing from last night. I need more sleep, but my body won't let me.
9 a.m. Start to pull myself together for a work breakfast. I'm meeting with a potential literary agent. I know, I'm all over the place career-wise.
10 a.m. I walk into the coffee shop in Bushwick and see the agent sitting there with a book. She looks so rested and beautiful. I feel dizzy and dehydrated.
At breakfast, she's really nice to me, and it's more like she's giving me career advice than actually considering me as a client, but I'll take it. She says I really need to pick a lane and go hard.
2 p.m. I'm lazy at home today. All of my roommates are at work, so I'm enjoying some serious couch and TV time without them.
4 p.m. Text Bo to see if he wants to hang. He says he's in L.A. for a few days but will hit me up when he's home. Have an overwhelming sense that everyone has exciting shit going on but me.
10 p.m. Take a sleeping pill and go to bed.
DAY FOUR
7 a.m. Have another prop-styling gig. I'm tired.
9 a.m. When everyone takes a little break, I text Pierre to see if he wants to grab dinner tonight. A friend who does PR invited me to a new place that specializes in French food, so … c'est parfait!
1 p.m. Pierre says he's in! Now I'm buzzing at work and worried I'm talking too much. I can't wait to have Champagne tonight with him.
5 p.m. Head home to shower, shave, and blow out my hair.
7 p.m. Meet Pierre at the restaurant. He's very sweet. I find out that he's here for an internship with a scientist. He's literally something of a rocket scientist. And … Pierre doesn't drink. He's a very serious man. I try to make a joke about this, but it doesn't go over well.
9 p.m. We hug good night after dinner, and I wonder if we'll see each other again. Au revoir, Pierre.
DAY FIVE
9 a.m. Hot yoga. I don't even care if I see Pierre there. But he's not there.
11 a.m. I text some friends to see if anyone wants to hang out this weekend. I do have good girlfriends/ but everyone is really caught up in their careers and relationships right now.
3 p.m. I'm doing serious outreach on jobs. I need something more stable. Health insurance would be nice too. I need therapy, I know, but I need insurance for that first.
6 p.m. Order ramen with the roomies. They're all nice, nerdy people/ and I try to enjoy their company. They're harmless.
9 p.m. Take some melatonin and go to bed. I love my bed and feel good drifting off.
DAY SIX
9 a.m. I almost forgot that I told Ed we'd have brunch this morning. I've been pretty distant since our hookup. Normally, we text once a day or two, but I'm just not sure how to manage all of this.
11 a.m. I show up to the trendy brunch place in Soho. Ed gives me a big hug. He quickly addresses the hookup and says it's cool if I just want to be friends. I commend him for handling it with such maturity and without ego. I tell him that he's right — my gut is that we shouldn't cross that line again. I sense he's a bit hurt about the whole thing but he's trying to rise above it.
3 p.m. Had two cocktails at brunch, so now I'm napping.
5 p.m. Bo texts that he's back in town. I'm too lazy to get sexy tonight, so I ask if he wants to hang out tomorrow. He's game.
8 p.m. I rally to go to a dinner party at a friend's house. I pick up a bottle of $28 wine and tell myself that this means I can't spend any more money for the rest of the night. I'm sick of feeling so broke.
9 p.m. Luckily, there's so much food and drinks here that I'll be fed for the night and then some.
DAY SEVEN
9 a.m. I do hot yoga and notice I'm getting good at it. I feel stronger than I usually do in my poses too. Maybe I'll keep this up.
12 p.m. I take myself shopping, because I hate all of my clothes. I go to a few consignment shops I like and get a few new shirts for, like, $14 each — and they're cute!
3 p.m. My roommates are baking some epic ten-layer cake, so I help out a little. I ask them if I can bring a piece to Bo when I go over there later. Then I wonder if that's too intimate and decide to skip it.
5 p.m. Start showering and getting ready for my date tonight. We're just getting Mexican food at a place near his house, which means getting drunk off margaritas, then fucking each other's brains out.
7 p.m. We're at dinner. He's so hot. Did I mention that I originally met Bo when he was a model on a shoot I assisted? Yeah, he's a fuckin' male model! And he knows it. He's just a fuckboy, so what's wrong with the hottest possible version of one?
8:30 p.m. Back at his place — we're going at it pretty good. We actually 69, and he makes me come that way. Then we start fucking, hard and fast — I love it. We both come this time. I have a big smile on my face, and so does he.
10 p.m. He Ubers me home. I had a great night. A really great night.
Want to submit a sex diary? Email sexdiaries@nymag.com and tell us a little about yourself (and read our submission terms here.)