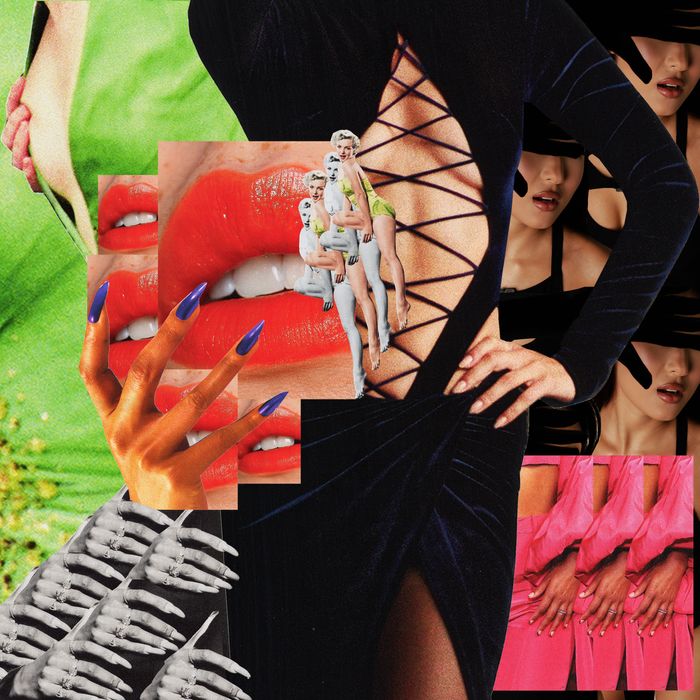 Illustration: by Marylu E. Herrera
This week, a woman having regular, sometimes kinky sex with her husband, and wondering about the man she didn't choose: 38, married, New York.
8 a.m. I'm very lucky because our nanny shows up at 7 a.m. and wakes up with our kids. So I typically get about eight hours of sleep, which is unusual for a mom of two young boys.
9 a.m. The boys are dressed and fed (again, can't take credit for that) and they're off for the day. The older one goes to school and the younger one frolics for hours with the nanny at playgrounds. I kiss them good-bye and send them off with love. The nanny, bless her, will pick up some groceries later.
10 a.m. This leaves me to check on my husband. He's chronically ill, and some days doesn't get out of bed. It's very up and down with him. We were really locked down during the pandemic because he has a weak immune system, so it's been a hard couple of years.
11 a.m. My husband is a bit of a baby when he's unwell so I'm just tending to him, bringing him tissues, and tea, and whatnot. He's mostly sleeping but the TV is on too.
1 p.m. The house is quiet. My husband works in finance (frankly I don't understand what he does) but he makes enough that I don't have to work. My first pregnancy was complicated, so I quit my job in the second trimester and never looked back.
I go on social media and look around. I buy some things on Amazon and start to think about lunch.
3 p.m. The kids are home with the nanny, which is my cue to leave. I go to a restaurant that's open in between this strange hour of not quite lunch and not quite dinner, and order myself a burger and a dirty martini. I only have one, but I do this about once a day, the strong cocktail with lunch, especially when my husband is in his sickly stages.
3:30 p.m. As the drink kicks in, I think about Peter, the man I dated before getting together with my husband eight years ago. He's everything my husband is not: tall, super-masculine, Irish. My husband is handsome but he's very, very delicate. Sometimes Peter and I still text, but I know if I saw him, I'd never be able to resist him, and I am not the cheating type of girl.
9 p.m. So the craziest part is, my husband and I have a lot of sex, even when he's been in bed all day. When we got married, he was super-upfront that he never wanted to be in a sexless marriage. As he is the one with the money, and he's the provider, and he's afforded me this "lifestyle," I, well, fuck him as much as he wants. And it's not that I don't enjoy it! But I know for a fact I have more sex than the average tired mom.
Anyway, we fuck. Missionary. He comes. I don't. But it's nice, and I'm glad he found some energy.
DAY TWO
10 a.m. I have coffee with a friend in the neighborhood. She's a bookfluencer. I know her from my pre-marriage life when I was a publicist at a publishing house. She reads voraciously and goes to plays by herself and is much more cultured and independent than me. It's a bit embarrassing that I'm simply a bored, rich housewife, but it's also something I'm careful not to complain about.
11 a.m. She can't believe I have (almost) nightly sex with my husband. She has young kids too. I explain that it's, like, part of our arrangement. I spend his money, and he expects hot sex. It sounds so awful when I say it out loud, but it doesn't feel that crazy to me. We are traditional, in a sense.
3 p.m. See my dermatologist for some laser on my sun spots.
4 p.m. Go to a Mexican restaurant for a margarita and a couple tacos.
6 p.m. I float home to kids who are bathed, and fed, and a husband who looks like he's feeling better.
8 p.m. I tell my husband that my friends can't believe how much sex we have and that seems to turn him on … Before I finish the story, he's ripping my clothes off. It's actually pretty hot.
DAY THREE
9 a.m. I'm meeting with a life coach. We started talking during the pandemic because I was tired of being inside all the time. Seeing her helped me find the skills to stay calm when I'm feeling frustrated and cooped up. Today we're meeting IRL for the first time.
11 a.m. It went very well! She mentioned my self-esteem issues which I've always struggled with, and I hope to keep seeing her in person.
5 p.m. I have a call about an event at my son's school, an auction I'm helping with. I'm a good mom like that!
7 p.m. I didn't have my cocktail with lunch so I open a bottle of white wine at home and quickly finish the first glass.
8 p.m. My husband drinks gin and tonics like it's his job. But he says he's feeling almost all better.
10 p.m. We are both drunk and fooling around like teenagers. We don't often have oral sex, but I decide to give him a blowjob. He's thrilled.
DAY FOUR
9 a.m. I'm planning a trip for the family so I have a Zoom with our travel agent about various experiences she's curated for us. It's all so pretentious, but again, how can I complain. I tell her to look into visiting South America — I'd love to go to Argentina.
12 p.m. Over lunch, I tell my husband we're figuring out details for Argentina. Suddenly he starts acting like a toddler, saying he's already been to Argentina and wants to go somewhere new. I jokingly tell him he sounds like our 2-year-old. He doesn't like this at all and storms into his office.
1 p.m. Do my thing for the rest of the day. He might be pouting, but I'm not going to let that keep me from my plans. I continue my Argentina research and get excited by the photos I pull up; of course I want to go there!
9 p.m. I get into bed quite early and take a Xanax to fall asleep. No sex tonight.
DAY FIVE
8 a.m. I'm taking the boys and the nanny to look at homes in Connecticut today. There's always a chance of us trading in city life for some gorgeous waterfront existence. We have three appointments lined up.
11 a.m. The homes are beautiful. I'm FaceTiming with my husband to get his opinion – he says if I love it, he loves it.
2 p.m. The last house we tour is so beautiful. I would love to live there. But again, do I want to be stuck in a big house with just my kids, my nanny, and my husband, far from the people I know?
3 p.m. We all have lunch at a nice restaurant in town. I order a glass of dry white wine and try to imagine what it would be like to come here regularly. We have a driver, hence the green light to drink. I order a second glass. I'm such a cliché!
9 p.m. Lying in bed with my husband, we discuss moving. It's kind of a fairy tale. We have nice, intimate sex after dreaming up what our lives, reimagined, might be like.
DAY SIX 
10 a.m. We're driving back to Connecticut to show my husband the house. This stuff moves so fast and there's no way around it. I'm nervous and excited.
3 p.m. He doesn't like it. Thinks it's gauche. He's sweet to me about it, but I'm embarrassed and let down.
8 p.m. He senses my hurt feelings so after the boys go to sleep, we do a kinky little thing that sometimes I like: We role-play. We pretend he's a male prostitute who I've hired to come and please me. I boss him around and tell him where I want to be touched and how. I order him to put my breasts in his mouth and devour them, then jerk off in front of me. We end with intense sex.
9:30 p.m. We are sweaty and sleepy and sort of giggle ourselves to sleep.
DAY SEVEN
9 a.m. No nanny today. A bit of a grind dealing with breakfast and the boys wilding out.
11 a.m. Bringing my kids from birthday party to swim class to haircuts. My husband never helps with anything like this. Again, very traditional, our marriage.
3 p.m. The haircutters offer me a glass of Champagne. I down it and ask for a second.
4 p.m. By the time we get home, my husband looks a bit pale and says he thinks he's getting sick. I know I should be empathetic, but it's a lot to deal with sometimes. I tell him to get into bed and I'll check on him later.
7 p.m. I get the kids to sleep, take a deep breath, and walk into our bedroom. I know he's going to want me to tickle his back, which I don't mind doing (it's kind of strange and pitiful), but it also makes me miss Peter, and the life that could have been, had I chosen someone else.
Want to submit a sex diary? Email sexdiaries@nymag.com and tell us a little about yourself (and read our submission terms here.)