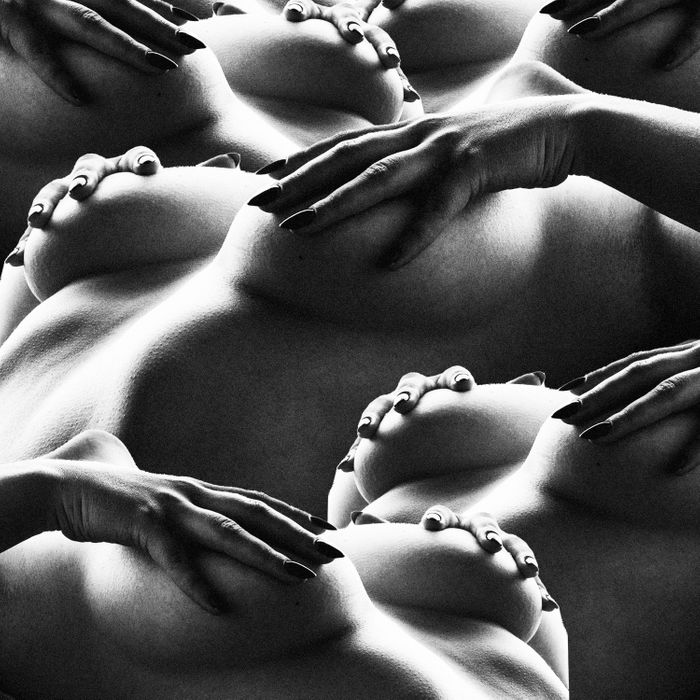 Illustration: Marylu E. Herrera
This week, a woman moves on from a puzzling fling by meeting a construction worker at a bar: single, 34, Brooklyn.
DAY ONE
9:30 a.m. I got dumped over the weekend. I knew the guy, Chris, was not into me — or at least not as much as I was into him — but I didn't see him fully ending things this abruptly after seeing each other for five months. And yet here we are.
I'm heading out to meet a friend for coffee so that she can help me understand what actually happened. Here goes: On Friday night, Chris and I went to a new restaurant in Greenpoint. I'm a "foodie influencer" of sorts, so I get invited to places all the time. Chris, like most men I date, loved all the access to free food and drinks. Anyway, we had a meal and a bottle of wine and went back to his place. While there, I started a serious conversation: He's super hot, I'm really attracted to him, but why does he never want to have sex with me? After five months, we had only had sex twice, after I begged for it, and he wasn't really big on getting blowjobs or hand jobs. Whenever I would ask if he wanted to have sex, he would always say stuff like "I do, I do, just not tonight." I could never make sense of it. Anyway, he couldn't really answer me when I pressed, and the night ended with us fooling around, but not going any further. The next day, I got a text from him that we're not meant to be.
10:30 a.m. My friend can't figure it out. She thinks maybe he has an STD and would rather avoid sex, and avoid intimacy, than tell the truth. I guess I'll never know.
12:30 p.m. I should write a few things. I have a website that I often update, and I have foodie content that companies pay me to produce and post on Instagram and TikTok. I make about $45,000 a year, which isn't bad for such a fun lifestyle. I also have help from my parents so money isn't one of my stresses at this point.
5:30 p.m. I'm sitting alone at a local bar, finishing up work and nursing a cocktail, when some guys roll in. The hot one seems like a loudmouth asshole but there's a cute-ish one who smiles at me across the room. He eventually comes over and buys me another drink. His name is Evan. We bullshit a bit, and I learn that he lives on Long Island, and works in construction. After a while, the conversation dies down and he goes back to his table.
7 p.m. I'm tired. I walk over to say bye to the boys. The loudmouth friend says I have to give his buddy my number, so I do. They clearly think they're living in an episode of Entourage, which I'm both charmed and annoyed by.
9:30 p.m. Evan texts me a picture of him with his cat. I'm allergic to cats. But he looks pretty adorable. We text for a bit and decide to have a date later in the week. Apparently Evan is a "foodie!" I'll see about that.
DAY TWO
8 a.m. I wake up quite sad about Chris. I had hoped to hear from him yesterday. Shouldn't he at least check on me? He knew I really liked him. We weren't monogamous but he knew I was all in.
10 a.m. Roam around my neighborhood feeling a bit depressed. A strong coffee from my favorite barista helps.
11 a.m. Go home to watch some porn. The video I'm watching has a guy with the biggest dick I've ever seen. I come hard, and then start thinking about Chris again. There's a part of me that worries he was disgusted by me. Did I taste weird? He would often go down on me, so I don't think it's that, but I don't know what else it could be.
3 p.m. I'm shooting some dishes at a new Korean restaurant. I do all my photography for my content. I take it very seriously and do beautiful work.
7 p.m. Edit and post some of the shots from today.
8:30 p.m. Evan texts that they're all back at that bar if I want to swing by. I decide to ignore him until tomorrow. Can't hurt to make him wait.
DAY THREE
8 a.m. I'm shooting a trendy coffee shop that has a fall special going on. I don't often dress sexy for work but today I wear a crop top under a flannel. I have pretty big boobs and they're out to play today.
9:30 a.m. The owner of the coffee shop is flirting with me. He's pretty cute even though he's not really my type … he's a lanky hipster, covered in tattoos. I like more athletic guys — Chris played baseball in college and I think this new guy Evan mentioned something about being in a soccer league. I leave before the owner can ask me out.
2 p.m. Feeling cute in my crop top, I text Chris. "Miss me?" He writes back quickly, which surprises me, and says I should come over after work. Of course this is a terrible idea. And of course, I'm going to go.
7 p.m. I head to his place — I'm horny and want to fool around and keep it light. But when I get there, he has a woman in his apartment. I'm not expecting this. He introduces us and says she's his friend from work. (He works in finance.) I'm really confused. Is this a threesome? Is she his secret girlfriend? I'm speechless. I don't know what's happening here. I'm very quiet while they look at dinner options online. Chris keeps asking me what's good, since I usually have an opinion on every restaurant. I'm stuttering, trying to answer. Before the food arrives, I tell them I have to go. Then I walk out of the apartment and feel like I'm going to pass out. THAT WAS SO WEIRD.
9 p.m. From home, I text Chris, "What was that all about?"
11 p.m. He does not respond. This guy is so fucking weird. I can't sleep. It's all so disturbing. Why wouldn't he text me back at the very least?
DAY FOUR
9:30 a.m. I have an event at South Street Seaport. There are free mimosas, and I down two. Last night has me all messed up.
12 p.m. I'm tipsy leaving the event and Evan texts about dinner tonight. Fuck it, why not, I'm still horny after all. He wants to pick the place — bold move. If it's a shitty restaurant, I'll remake our plans, but let's see what he comes up with.
5 p.m. He suggests an omakase sushi restaurant and I'm highly impressed! He's already done with work, so we decide to meet there in an hour. I run to the shower. I shave everything and start to get excited.
6 p.m. Uber to the restaurant only to arrive before Evan and see that it's closed! I text Evan to pivot and meet at a brasserie around the corner.
6:30 p.m. We're settled into this little place and laughing at his restaurant fail, which wasn't really a fail: Neither of us could have known it was closed due to a plumbing issue.
8 p.m. Dinner is good enough but the company is great. He's really funny and his life story is interesting. I'm not sure if I'm attracted to him but as we drink more, the attraction definitely grows. I really like his accent; it's honestly making me want to fuck him.
9:30 p.m. It's easier to go back to my place than his (in Long Island, with his parents!), so we Uber there. I pay for the ride, which he does not like. He's paid for everything so far. I think he wants to prove that he's not some broke schmuck even though he doesn't have a fancy job. I personally like his job and wouldn't judge him for it anyway — but I appreciate his gestures.
10 p.m. We're making out. He's an amazing kisser, obsessed with my boobs. I'm really wet. I like him so I'm thinking I should probably wait to have sex with him, but I'm super turned on. He's great with his hands. He won't take them off my breasts, but finally he fingers me and I come. I can't help it. After I orgasm, I have the strength to say we should wait to have sex. He accepts this without a fight. I know he's hard and horny but he's a gentleman about it all. I tell him we'll continue the fun another night. He smiles graciously. What a sweetie!
11 p.m. He's left to catch a train home. I feel happy about it all.
DAY FIVE 
7:45 a.m. I'm hungover. Truly feel like shit.
8 a.m. Shower and make coffee, then cancel my lunch because I just want to lay on the couch all day.
1 p.m. Evan texts me to ask about my day, and we talk about how nice last night was. We make plans to do it again in two nights. It feels very healthy and steady. I still want to lay on the couch hungover all day but I'm less miserable now.
4 p.m. My parents are coming over for dinner so I clean my apartment. My mom is very critical so that motivates me to pull my shit together.
5 p.m. They arrive with bags of food from a restaurant we all love. My parents are foodies and everything I know is from them. They're amazed that I make money doing what I do. The whole influencer culture is so over their head. We have a nice time, but after a few hours, I'm ready for them to leave.
10 p.m. I'm in bed thinking about Evan! We text each other good night.
DAY SIX 
9 a.m. I have to travel upstate today to visit an inn and restaurant in the country. I head to the rental-car place.
10 a.m. Driving and trying to find a good podcast. Everyone talking about politics makes me anxious, and I'm already an anxious driver, so I try to find something funny. I end up just listening to my favorite hip-hop playlist. As I drive, I wonder if I should have invited Evan for the overnight. Too soon … right?!
3 p.m. I'm settled into my room. It's quiet up here and kind of boring. I get my camera ready.
4 p.m. Photoshoot of the cocktail program and snacks. I shoot content while nibbling on things and sipping drinks.
9 p.m. All tucked in, I send a good-night picture to Evan, with me naked under the covers. He asks for a few more and eventually I give him what he wants: a beautiful, naked titty pic.
DAY SEVEN
9:30 a.m. I'm working on my laptop trying to upload and post some content from this inn.
11 a.m. They have massage therapists coming to the inn to make the trip extra special for the press and influencers visiting. I'm so excited!
1 p.m. Best massage of my life! They did it in a yurt, outside, with a heater on. It was like this magical fall haven. Ahhhhh!
2 p.m. I'm supposed to check out but they offer me another night. It's hard to say no. I text Evan, "What if you came tonight instead?" He says he's going to try to figure it out, give him a few hours …
4 p.m. I'm in my room working when he texts that it's too hard to get there: His mom needs his car later, blah blah blah. Instead he suggests we have a virtual date. We both know how corny this sounds but we plan on it anyway.
6:30 p.m. I'm set up in the inn's bar, in a little booth with with a whiskey cocktail and my laptop open. We're doing a FaceTime date. He's drinking a beer at his kitchen table. We're laughing at ourselves and our very different environments. He tells me it's time to take the date upstairs …
8 p.m. I FaceTime Evan from my room and we start to sext. I love how he says dirty things with that bad-boy accent of his. I tell him I'm not ready to watch him jerk off yet but he can watch me touch myself until I get too embarrassed.
9 p.m. We get really sexy and both orgasm off-camera, muffling our moaning. Though it sounds pretty raunchy it was actually really cute and sweet.
Want to submit a sex diary? Email sexdiaries@nymag.com and tell us a little about yourself (and read our submission terms here.)