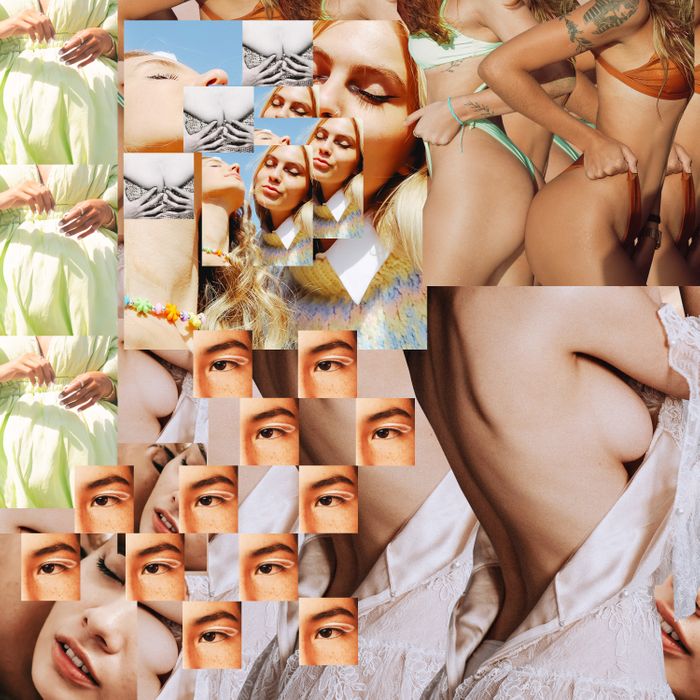 Illustration: Marylu E. Herrera
This week, a woman gets the Vespa ride she's always dreamed of (and then some): single, 40, Italy. 
DAY ONE
10 a.m. I'm flying to Italy tonight, so I took the day off to pack. I'm a makeup artist who works on film sets. I love my job and feel like it's gotten me through the hardest year of my life — which I'm now celebrating by taking a fancy vacation.
11 a.m. Run out to get some new bras and underwear. I'm hoping to meet hot guys on vacation. I have no plan for how I'll meet them, but I just have a feeling I should come prepared.
3 p.m. I've had all these unexpected emotions all day. I think I'm missing my ex-boyfriend. We went to Italy a few years ago, so he's on my mind. I try not to think about him much, but the breakup is pretty fresh … it's been about three months, and we were together for seven years. Ultimately I left him, but he gave me no choice. He was immature, selfish, and unloving. We were in therapy but he never changed. He had real issues, and I would have stayed by his side, but he was in such denial, and so repressed, by the end it was clear our relationship couldn't work.
5 p.m. Just packing and being boring. Feeling a bit pathetic and very alone, but trying to stay upbeat about my trip and not stress too much about getting to the airport.
9 p.m. Boarding my flight at JFK!
DAY TWO
7 a.m. In Rome. Whoa. I feel a little out of it. Tried to sleep on the flight but didn't really succeed. I'm so happy to be here and embarrassed about my pity party yesterday.
10 a.m. Settling into my hotel and already noticing cute men everywhere. I haven't been with anyone else in seven years so here I am with an open mind, open legs, and … a closed heart.
1 p.m. I'm starting the vacation by meeting up with my friend who lives in London. She's on her way to my hotel to meet me. Then after a couple days with her, I go solo. Hoping to have a few Italian catchphrases down and feel confident enough to journey alone afterwards.
5 p.m. Show my friend my bucket list for the trip, which includes stuff like riding on the back of a Vespa and kissing someone with tattoos. Very PG-13.
6 p.m. Okay, I'm having thoughts that are way past PG-13 at this moment because our 24-year-old waiter is flirting with me and asked for my number. In excellent English he says something like, "I like your body." But somehow it wasn't creepy; it was cute. I tell him that my body is 40 years old and he says he likes that too. I'm not sure if he'll call me, but let's see.
DAY THREE
9 a.m. I'm not ready to leave Rome, it's only been a day, but my friend has to go to Florence for something work-related, so we take off together.
4 p.m. We find ourselves at the most charming hotel. My life feels like a fairy tale. It occurs to me that I have not thought about my ex the entire time.
7 p.m. As we walk to dinner, I notice G, the waiter from Rome, is WhatsApp-ing me. He's telling me to come back to Rome tomorrow. I love that I don't have a set schedule here; love being a free spirit for once. But what the hell would I do with a 24-year-old?
8 p.m. He tells me he has a Vespa and he'll pack a helmet for me … and that he'll see me after his shift tomorrow night. I decide to take a train back in the morning. My friend acts like she can't believe me, but I know she's excited for me.
DAY FOUR
9 a.m. Some espressos and tight hugs with my friend. Our visit was quick but cathartic. And I promise to let her know how things go with this guy.
12 p.m. Check back into my original hotel in Rome. This is where I take a much-needed four-hour nap.
9 p.m. G picks me up at my hotel along the river. He looks extremely good and keeps calling me "rich girl," which turns me on. To be clear, I'm not rich. Not in the least. But I've saved all my money for this trip so I'm living large and my hotel is quite nice. "Rich girl" makes me feel powerful and like it's all part of the fantasy.
I jump on the back of the Vespa, scared shitless, and he takes me to a gorgeous piazza where we proceed to have the hottest steamy make-out session like we're back in high school. It was sexier than I could ever imagine; we got €5 cocktails from the hot dog cart and he kissed and grabbed me in a way I hadn't been touched, like, ever. Not even by the sex-crazed boyfriend I just left.
He's groping me so hard I know I'll have bruises — and I love it. I feel wanted. His dick is so big — I'm touching it over his jeans and it never ends. The tension is insane, but I'm not sure how far we can take it since we're in public and I can see at least two people watching us.
11:30 p.m. I ask him to take me back to my hotel after hours of outside foreplay. We kiss good night and I go inside. I want him so badly, but I want to draw this out a little more.
12 p.m. I shower and tuck myself in. He's sexting me already, and I'm glad I decided to take this slow and build the anticipation.
DAY FIVE
9 a.m. What would have been my eight-year anniversary with my ex is also my first fully alone day in Italy.
12 p.m. G and I are WhatsApp-ing like crazy and he's now referring to me as his sugar mommy — which, again, is really hot. I continue to be so turned on by his words and the feeling of it all that my body is on fucking fire all day.
5 p.m. I decide to let him into my hotel room tonight. Why not welcome him into my five-star sugar-mommy kingdom?
9 p.m. Without even a second of us being in the room together, he throws me on the bed and pulls my little shorts off and goes to town.
This is not what I'm used to! I'm a nice girl who hasn't been with very many guys and have never really had mind-blowing hookups like this before.
11:30 p.m. As I flirtatiously kick him out so we can both get some sleep, I lay in bed processing the last few hours. I'm usually such a Girl Scout, and I've never even cared that much about sex, but I'm thoroughly enjoying being a slut.
DAY SIX
7 a.m. I'm traveling to the coast today. Last night, my guy jokingly asked if he could join me there. I told him I'd think about it.
1 p.m. I can't check in to my room yet so I go for a swim. It's stunningly gorgeous here. The hotel is exclusive and celeb-studded and I'm frankly on cloud nine. I'm still in a daze from all the sex but trying to recenter myself in the pool. From my lounge chair, I text G that he can come if he wants to. He texts back that he's already on the way.
3 p.m. Dip in and out of the pool for a few hours. I'm so blissed out.
5 p.m. Just as I check into my room, G arrives. The sex is urgent and dirty and amazing. I feel like I'm with the Italian Christian Grey. I used to want a Carrie Bradshaw kind of life but this is now a 50 Shades of Grey life and I'm so there for it.
8 p.m. We have been fucking for so long that we literally make the kids next door start to cry. I feel bad about that but … whatever! I can't get enough. I'm someone who won't even kiss guys on Tinder dates. I've never been like this! My desires have taken over my brain and my consciousness and everything.
9 p.m. Now I'm starving. He takes me to dinner and pays for a nice meal. I just want to hear him talk to our waiter in Italian.
11 p.m. Back in bed, he says that he will do anything to please me. He suggests a butt plug, which he's brought with him in a brown leather bag. I reject that but I do ask if he has a vibrator since he's apparently brought some toys with him. He does. We have sex pretty much all through the night and into the morning.
DAY SEVEN
10 a.m. We have breakfast together at the hotel, then it's time for him to be on his way. I loved our fling but I don't want it to be this entire trip. What was so beautiful about this is that he unlocked something happy in me.
11 a.m. I shower and put my bathrobe on. He's getting ready to leave. My body is so raw and ache-y that I can't even get up and say good-bye. Also, I really don't like good-byes. Instead, he comes to the bed, kisses my face, and says, "You're beautiful, I thank you so much for everything, and I will miss you."
2 p.m. I let myself rest with a big smile on my face.
4 p.m. As I walk over to my terrace, I see his Calvin Klein underwear. I text him a picture with the words, "Souvenir?" We text throughout the night and I'm pretty sure we will text and sext for a long time to come.
7 p.m. As I take myself out to dinner, I feel so good. A part of me has been dead and buried for so many years, and she's back. I got the Vespa ride I dreamed of and more.
Want to submit a sex diary? Email sexdiaries@nymag.com and tell us a little about yourself (and read our submission terms here.)