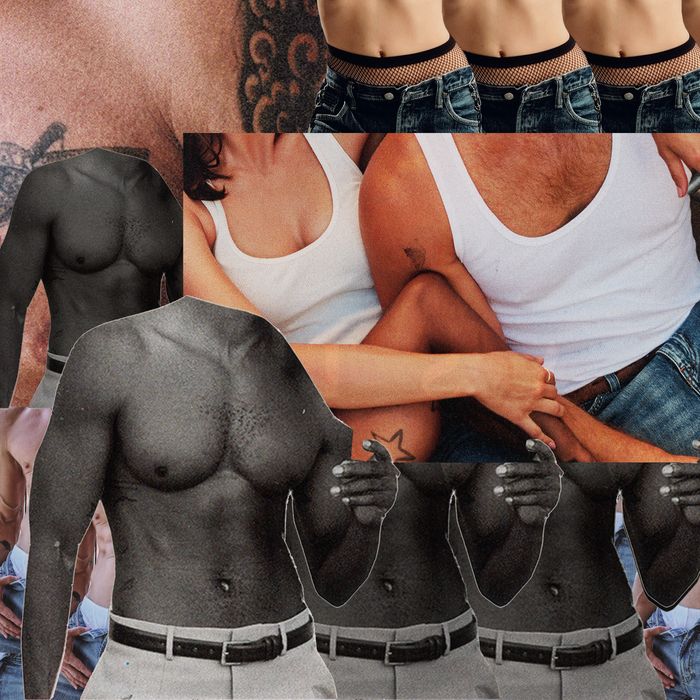 Illustration: by Marylu E. Herrera
This week, a man privately explores his deepest desires while surfing Grindr and hoping to convince his wife to try something new: 45, married, Texas.
DAY ONE
7 a.m. This is going to be a busy week. I'm in the medical field, where the work is kind of a grind. At least I start my day knowing there's something sexy in the mail — something for me and something for my wife — headed my way. I'm not a toy collector, but I recognize this warm feeling of anticipation and I love it.
2 p.m. Kill the rest of the afternoon at work by messing around on the internet trying to distract myself from sex.
5 p.m. Go to the sex-toy store and buy two fresh bottles of poppers and a new butt plug in preparation for the delivery I'm expecting. I accidentally choose a bottle that's $30 instead of the usual $15. I'll have to save that for a special occasion.
6 p.m. The package has arrived, and it's heavy! That makes me smile. I plan to try out my new goodies on myself later and check my Grindr account.
I hooked up with men before I was married and have done so on occasion over the last decade. During the pandemic I started browsing online again (too much free time), and while I haven't met up with anyone yet, I would like to. My wife knows all this, and we have plans to incorporate other men into our bedroom at some point in the future … I wish I knew when. She also knows I do a lot of solo stuff with toys and poppers after she goes to bed.
9 p.m. Try out my new plug. I'm closing in on a year of solo butt play, which has been like discovering an entirely new side of my sexuality. Wife has a long-standing, open invitation to make this a couple's activity, but she's not into it.
DAY TWO
9 a.m. Kiss my wife good-bye before heading out the door.
12 p.m. At work, I think about my sex life with my wife. She was a little kinkier when we were younger. My interests come and go but they've never been vanilla. We talk about this occasionally and have found some things we can do together, but I'm not sure she'll ever want to engage in all the stuff I like.
4 p.m. Excited to play with my wife tonight, even on her terms, in her way. Our interests don't always align, but we meet in the middle with fisting and large toys.
8 p.m. Wife's new toy finally gets unboxed after sitting around for an entire day. It's a large dragon cock with scales. She loves it and says the firmness is perfect. We fuck afterwards; she's worn out from the toy and from cumming half a dozen times so I finish myself off.
DAY THREE
730 a.m. I check Grindr for dick picks and invites. None. I have a work thing this morning that will get me out of the house for a while.
11 a.m. Didn't get any interest. Got a burger instead.
10:15 p.m. Talk to some guys on Grindr. There's a sexy daddy bear, but he's over 20 miles away and that's too damn far to travel for dick even if he's sexy AF.
11 p.m. Had excellent sex with my wife and stop thinking about Grindr for a while.
DAY FOUR
9 a.m. Check on bear daddy. I want pics and location. Nothing yet.
10 a.m. A couple contacts me. Or at least I think it's a couple. Could just be a guy who wants to play with a couple. We'll see.
12 p.m. I work near an Asian market and stop in for groceries today. I cook a lot of Chinese food. All the traditional Chinese restaurants are pretty far, so this has been the easiest way for me to eat what I'm interested in.
4 p.m. Get home from work early and quickly take care of myself with some threesome porn. Nothing extravagant.
9 p.m. After dinner, I spend a while online shopping for new records and reading the news until I'm ready to fall asleep.
DAY FIVE
7 a.m. Heading into a long day at work. It gives me time to recharge. Nowadays, I don't even have cell service at work and the Wi-Fi has pretty much everything blocked but the major news sites and Amazon. I'm okay with that. It's good for me.
11 a.m. I think about checking Grindr on my lunch break but I don't. It's location based and I don't want to find people I work with nor do I want them to find me.
12:30 p.m. Trying to figure out how to remind my wife I want her to peg me. We own a harness but haven't used it in at least ten years. Back then, she was gung ho and I was hesitant. Now it's the other way around.
7 p.m. Ask my wife if she feels like fooling around, but she says no: It's Monday and she's tired.
10 p.m. I wind down with a little reading, a little TV, and a little porn. I don't bother trying to get off though. I'm tired and need to get up early for work.
DAY SIX
8 a.m. I have to go to work but check Grindr during a break. Got a couple of introductions. Grindr is funny like that. We're all there for sex, but basic courtesies are still in place. I know that when dudes skip that part with me, it definitely feels rude.
4:30 p.m. Oof, it's been a long day and I'm tired. I have a thing after work today too. I realized the reason I haven't met up with a dude is because I want to do that with someone I feel close to — or at least closer than I would feel with a stranger from Grindr.
10:30 p.m. Get home from my after work engagement and nearly fall asleep in the living room browsing swinger ads on Reddit.
DAY SEVEN
10 a.m. My wife and I both have the day off, so we have a lazy morning. After a while we start talking more seriously about inviting another man into our bedroom. She tells me it's definitely not off the table, but she's hesitant, and says it's not something she's focused on right now. I would also like to talk about the possibility of me playing with other people without her, but it feels like too much to bring up now. Hopefully we can talk more later today.
12 p.m. To clear my head I visit my local comic-book shop, just to browse. Most of my favorite books are digital, but I find a print book I'm excited about.
3 p.m. Back at home, we pick up the conversation again. My wife reminds me of the few tame visits to swingers clubs we went to before we were married. It isn't something we've pursued actively, and nothing interesting came from those visits. They were a long time ago though!
7 p.m. After a day of discussion, I feel like I'm the only one interested in this fantasy. My wife's consideration of it all is just to placate me, and it's not hot when only one of us is interested.
10 p.m. Check Grindr one last time and go to bed. Not sure what I'm looking for at this point, or where this desire will lead, but at least I can look for now.
Want to submit a sex diary? Email sexdiaries@nymag.com and tell us a little about yourself (and read our submission terms here.)