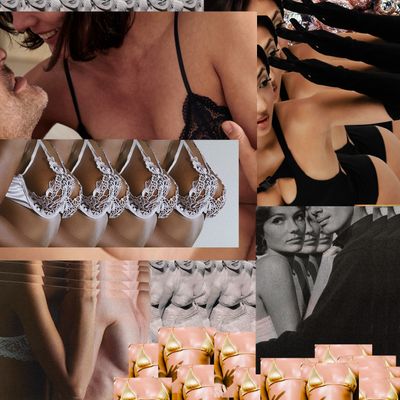 Illustration: by Marylu E. Herrera
New York Magazine's Sex Diaries series asks anonymous city dwellers to record a week in their sex lives — with comic, tragic, often sexy, and always revealing results. The column, which began in 2007, is the basis of a new docuseries on HBO.
This week, a woman and her husband see their lover, and then someone gets COVID: 45, married, Connecticut.
DAY ONE
6 a.m. Waking up this early isn't as miserable today because my husband and I had really hot sex last night so we're both in good moods. We get out of bed at the same time to deal with our kids and give each other knowing smiles.
7 a.m. Cereal, iPads, big mess, the usual morning of a family with four kids, two working parents, and one big dog. I get to leave first today because I need to be at the office by 8 a.m. to see my first patient. I'm a dermatologist. My husband is a doctor, too, but does more teaching than practicing.
1 p.m. I finally get a break to check my personal email. Ellie emailed — she flies in tomorrow. Ellie is our girlfriend. We met her a few years ago on a family vacation to the Caribbean. She was there with girlfriends and we ended up partying with them all, and we were both just smitten with her. Our kids were young so all that happened back then was a late night at the bar where we all kind of kissed, but then we made plans for her to visit us in the city (where we lived at the time). When Ellie came to visit us the first time, we got a babysitter, a hotel room, and went to an amazing dinner, drank incredible wine, and came back to the hotel room and fucked. It was euphoric. I'd never watched my husband fuck another woman and I loved it so much. I'd brought women home before but nothing was in front of his face like that. That night with Ellie changed our life — we don't play with anyone but her — and we've seen her about twice a year ever since.
6 p.m. I come home from work and the kids are at the dinner table. We have a nanny who is sent from heaven, so my house is clean and dinner is delicious. I pour a glass of wine and join the family.
9 p.m. Kids are asleep and I tell my husband we need to discuss the next few days. He's busy on a work call. It annoys me because you can't do things like threesomes and poly-adjacent living without communication and planning. Ellie is staying at a nice hotel nearby, which we've paid for, but we need a solid plan for all of it. He's still on the phone in his office.
10 p.m. He's still on the phone.
11 p.m. I go to bed annoyed and stressed. She's coming and we haven't even talked about it.
DAY TWO
6 a.m. I slept poorly. My husband can be an asshole. We have a very hot and cold relationship. Luckily Ellie doesn't land until late tonight, and I have the day off, but I barely want to speak to him now. He's so cocky on his work calls as if we don't have important shit we're dealing with.
8 a.m. Go to the gym. I want to feel as sexy as possible for the next few days.
9 a.m. I come home and make us our second pot of coffee and he's all present and ready to talk. We decide on some dinner reservations (we're both big foodies, as is she) and book a hotel room for at least two of her four nights here. We never use toys because we're just not experienced like that. We just like to drink, smoke a little weed, and get naked and sexy. As for logistics, we have a nanny, but I have to check that she can stay over those nights. I hate asking and I hate leaving my kids overnight, but I also know this is a form of marriage therapy for D and me, and I know having fun with Ellie brings me more pleasure than almost anything else I do all year.
11 a.m. Groceries. I don't think Ellie will come over, but I want some good snacks here in case she does.
3 p.m. Kids have activities so I drive them around but my stomach is turning because I'm excited and anxious about her arrival. No one knows we have this relationship with her. Not even my own sister and definitely none of my mom friends.
6 p.m. Our plan isn't to see her tonight; we're going to see her tomorrow. She gets in too late.
10 p.m. She texts that she landed. My husband seems much less excited. He's almost treating it like this is a gift for me, not us. He's just grumpy these days anyway — I think he's having a midlife crisis. He didn't buy a Porsche, but he did buy a boat. I take a sleeping pill so I'm rested for tomorrow.
DAY THREE
9 a.m. The kids are off. The nanny is cleaning. I have a few patients today so I go to my office. On the drive there, I call Ellie. She says she's going into the city today (she went to college in NYC and has friends there). We confirm our dinner plans for tonight.
2 p.m. In between patients, I run to a spin class.
6 p.m. My husband and I are both showering and drinking wine as we get dressed. The kids are thrilled the nanny is staying late. They love her. We are a bit giddy but also trying to downplay our excitement. Aside from this threesome endeavor, our sex life is pretty vanilla. We fuck about once a week; it's pretty good. It's good enough for me, I'll say. We've never been strict about extramarital affairs. It's kind of a "don't ask, don't tell" thing. So I don't know if he plays around when he's on work trips. I've hooked up a few times. It's not a big deal. We've been together for 15 years — we are doing okay if you ask me.
8 p.m. We pull into the restaurant which is several towns over and near Ellie's hotel. I'm very nervous. I always kind of forget what she looks like. I build her up in my head when we're not with her and it's always kind of a slight reality check when we see her. I mean, she's gorgeous, but she's not perfect. None of us are.
8:30 p.m. We're sitting. It's lovely. She looks beautiful. I'm flirting with her more than my husband but he's enjoying himself. We order so many cocktails. We're getting drunk and catching up. She says she has a new boyfriend; we love hearing all the details about him. I ask about his dick. My husband thinks I'm being crass but I look at him like, "Really?" I mean, if we can't talk openly about sex in this environment, then where can we?!
10 p.m. We head to the hotel room. The lights are off. I start kissing Ellie and she's ferociously kissing me back. We are going for it. I'm really wet and take her hand and put it down my underwear. I'm actually afraid I'm going to come. I want to hold off and come when she goes down on me so I enjoy when she moves over to my husband — it means I'll last longer if she's not touching me. They kiss and he starts going down on her. It's all a bit blurry because I'm drunk but it ends with my favorite position: He's fucking her while she's going down on me. It's truly like a porno.
11:30 p.m. We've all come and are now sobering up, and it's time to go home. What an amazing night.
11:45 p.m. I tell my husband he can't drive us home. It's too far. He's being aggressive about driving and I'm mad. We start to fight but I don't want Ellie to see it. He wins the fight and I sit there in silence, angry with him, until we pull into the house. Then we Uber the nanny home and go to sleep, not speaking to each other.
DAY FOUR
6 a.m. It's so hard waking up. But I have patients to see. I feel like shit. The whole night is a blur and I'm nauseous and just feel bad about everything. My husband, on the other hand, is all "Good morning! That was fun!" I can't with him right now.
10 a.m. So much coffee at work. So much makeup to not look wrecked.
1 p.m. I manage to sneak away and see if Ellie texted. She did. She wants to know if we're all hanging tonight. I text back that I need an early night but we'll party tomorrow. I think she wanted to hang out in the city anyway.
6 p.m. I'm driving home from work and kind of want to cry. It's partially a crash from last night, but also, I'm starting to realize my marriage has some serious cracks. We are always so busy with work and the kids, I rarely take time to examine it, but today it's hitting me hard: My husband is an asshole. And I deserve better.
9 p.m. After the kids to go bed, I take a long bath. I'm really tired. My husband is watching a sports game in another room. I go to bed alone without discussing Ellie plans for tomorrow.
DAY FIVE
8 a.m. My nanny comes early today so that I can sleep in. She gets the kids off to school. My husband is asleep next to me. Since I'm rested for once, I reach out and touch his cock. It's hard and big, and I'm horny for him. We have an early morning fuck that resets us a bit.
9:30 a.m. I'm at work but it's a slightly easy day compared to most.
2 p.m. We decide to meet Ellie in the city tonight. I use a concierge service to book us a very hard table, and we all confirm plans. We'll drive there together. I also confirm a hotel room in the city through the same concierge.
6 p.m. I feel really good wearing a new dress with fishnets. My husband looks really handsome. We get in the car to get Ellie.
6:30 p.m. She looks gorgeous. We listen to music as we drive into the city.
9 p.m. After a great meal, which is conveniently connected to a hotel, we head upstairs. In the room, Ellie asks if I want my husband to fuck her in the ass. This takes me by surprise. I'm not really an ass-play person and suddenly I feel old. Also, is that my decision to make? He seems really excited by the idea, and Ellie is clearly game, so I say, "Go for it!" As I watch them, the room starts to feel less playful and a bit creepy to me. I don't know what it is. The mood has shifted for me. He comes on her ass (not in it) and then she says I'm next. She goes down on me while my husband showers. I finish and it's pretty incredible but … I feel dirty about it all. Suddenly I just want to go home to my own bed in my own house.
10 p.m. I suggest that my husband and I go home to the kids and let Ellie have the hotel room. Ellie says she really wants us all to sleep together and cuddle. I comply, knowing I won't sleep a wink.
DAY SIX 
7 a.m. I wake up and get dressed. Luckily, in New York, there are plenty of places to go to have a coffee and escape any weirdness. My husband and Ellie stay asleep. Will they fuck when I leave? Maybe? Do I care? Not so much.
7:30 a.m. On the street, I call the kids. We FaceTime and I say I'm in NYC for work but will be home when they get back from school. I'm really missing them right now.
10 a.m. I'm packing us up and my husband and I are saying good-bye to Ellie. In my heart, I know I'll never see her again. I think it ran its course. She's staying in the city so we drive back alone.
11 a.m. On the drive home, we both agree that it was fun while it lasted but we're both kinda over it. My husband is being nice and agreeable. I'm hung-over again and can't really think clearly, but I know I have some evaluating to do. This was a fun week but a really weird one.
2 p.m. We get home around the time the kids get home and get to have a rare afternoon where we're we're all around. We decorate the Christmas tree and do some crafting.
8 p.m. I go to bed before anyone else in the family. Feeling a bit drained, or maybe I'm getting sick.
DAY SEVEN
7 a.m. Wake up with a cold and immediately test for COVID. It's positive. I go into crisis mode. I let all my clients know — full transparency — anyone I saw this past week needs to know. I would feel horrible if anyone was going home to see family and brought illness.
8 a.m. My husband and kids test negative. Ellie texts that she's negative too (though, who knows).
10 a.m. I'm not too sick but resting in bed and hiding from the family. I can't say I mind having some time away from all humans, big and small.
7 p.m. My husband leaves my favorite chicken-tortilla soup at the door. I have not lost my sense of smell or appetite, so that's a good thing. It's sweet that he ordered that from my favorite restaurant without me asking.
9 p.m. I'm not feeling great. I miss my family. I just want to go to sleep and start the New Year with a healthy mind, body, and soul. Wish me luck!
Want to submit a sex diary? Email sexdiaries@nymag.com and tell us a little about yourself (and read our submission terms here.)