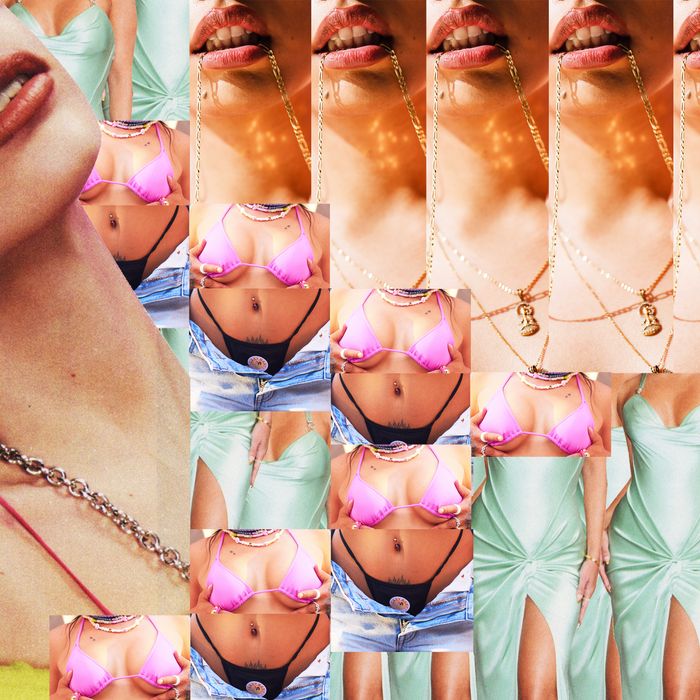 Photo-Illustration: by Marylu Herrera
New York Magazine's Sex Diaries series asks anonymous city dwellers to record a week in their sex lives — with comic, tragic, often sexy, and always revealing results. The column, which began in 2007, is the basis of a new docuseries on HBO.
This week, a woman takes a week in London to party with her best friend (and have a one-night stand): 42, married, New York.
DAY ONE
8 a.m. I wake up feeling all sorts of emotion. I'm traveling to London today to hang with my best friend, so I'm excited — and a little anxious (I'm not great with flying). I have tons to do — packing, organizing my kids' lives, spending a little time with my husband — and then I have to be at the airport, with my passport that I'm not even positive is valid, by 4 p.m.
9 a.m. I drop my kids at their various "spring break" camps because I want to give them a proper good-bye. I'm going to miss them. I've never been away from my kids for more than one night. They're both under 5, and needless to say, it's a lot. I hug them tight at drop-offs and then scurry off to deal with everything else.
11 a.m. At home, I can tell my husband wants to fuck before I go. I'm 100 percent not in the mood — we'll get to that issue in a bit — but I tell him if he wants to shower with me, he can have sex with me quickly, but it needs to be fast and straightforward and I probably won't come but that's fine. It's multitasking. He's totally fine with that deal. In the shower we kiss a little and he kind of lubes me up with soap and we have sex from behind. I guess it's sort of hot. I like the efficiency of him coming on my back and the easy clean-up of it all. He's happy so I guess I'm happy. I kick him out of the shower and shampoo and condition my hair.
2 p.m. I'm all packed and the kids' rooms are all organized. I'll be gone five days. My husband is really good with domestic shit; we're equal in that way. But I want them to feel my little touches in the way their clothes are folded and the bed is made.
We kiss good-bye and hold each other tightly. He tells me to have a wonderful time and I know he truly means it. It's sweet and I try to hold that sweetness within me, knowing as soon as I get to London, anything is possible.
6 p.m. I board the flight to London. I have two good books and half a Xanax. I text my friend, whose flat I'm staying at in London, that I'm on the way! And we're off.
DAY TWO
7 a.m. I'm almost out of the airport. I check my phone and there are no messages from my husband and kids. I know he's giving me space to relax on purpose, but I miss my kids already and would have liked to see pics of them. My husband and I own a graphic-design business so he's also able to shield me from too many work emails, which is nice!
9 a.m. I'm finally at my friend's flat. Tia is an old work friend who I worked in advertising with in our 20s and into our 30s. She's always been my fun friend. She parties. She has a million boyfriends, all of them rich and fabulous. She likes the occasional night of clubbing and cocaine. She's wild, but she's also unbelievably loyal and kind.
She's getting married soon and this is her idea of a bachelorette weekend — a few of her favorite friends getting together for a few nights of good dinners and fun parties. What could go wrong? I'm the only friend crashing with her; some already live in London, some got hotels.
As soon as Tia and I hug hello, she takes me to the guest bedroom and I go right to sleep, or at least try to, for a good part of the day.
5 p.m. The first of our festivities starts tonight. We start at a local bar near her house where all the girlfriends get introduced to each other over some Champagne. They all seem great. I'm a little out of place, and out of sorts, but mostly doing all right.
8 p.m. Dinner is a high-end Japanese restaurant. It's so chic there. We're drinking cocktails and getting rowdy. Of course, sex is the main topic of conversation. Half the women want to find guys to make out with. Most of them are married, one is in an open relationship, one is a lesbian — it's a mix. Where do I fall into the mix? Well, I'd really like to have a brief meaningless affair. I would! I've been with my husband for eight years. Always faithful. Our sex life is vanilla, and I love him, but I would like some hot fucking sex in this cool fucking city. After a bunch of drinks, I'm not shy about admitting that to anyone, even myself.
10 p.m. Wherever we go, the scene is kind of lackluster, so we decide to call it a night. Let's save our energy and not waste a terrible hangover.
DAY THREE
9 a.m. Drinking coffee with Tia, feeling good and rested. We talk about her relationship with her fiancé. He's a professional athlete and they met through an affair. I ask if it worries her that he's prone to cheating and she says she doesn't really care. Tia never wanted kids so she has a very loose and "European" (even though she's from Bay Ridge) idea of how relationships work. She's like, "We're in love right now. We're crazy about each other. Let's see what life has in store for us." I admire it, and it makes sense to me, but I always wanted something more stable and definitely wanted kids. I got everything I wanted. And now I just want to have mind-blowing sex in a meaningless way. Is that a crime? Tia says most definitely not.
1 p.m. Today is a spa day. We're going to some Zen oasis for massages and baths. Tia's friends all have banging bodies. A lot of plastic surgery. I have a very regular mom bod. I'm fine with it most of the time but looking at their fake tits and tight abs, it makes me wonder if I'd feel sexier at home if I had what they had. I try not to compare and just feel comfortable in my own skin.
3 p.m. Over a lunch of Thai food we talk about tonight's plan. All the girls are pretty focussed on finding me a hot man. Some have even called friends, who have hot friends with (allegedly) great cocks to come hang with us. The plan is a nice dinner, with great wine, then a bar.
6 p.m. Tia has me raiding her closet for something to wear. We're both the same size, but I'd never think to put myself in these form-fitting clothes. I feel like a Kardashian and I just go with it. I take a bunch of sexy pics for my husband and send them to him. He'd never suspect anything of it. He'll just think I look pretty and maybe jerk off to them.
7:30 p.m. This meal is even better than last night's. Did I mention Tia's fiancé is paying for all of this? I've barely taken out my wallet since I got here!
9 p.m. We're at a club and I'm drunk. I'm dancing with much, MUCH younger men and no one is really doing it for me but I'm definitely letting loose and grinding on them and feeling super sexy. One of the girls had her boyfriend and his friends meet us. When they arrive, I immediately spot the guy I want to have sex with, F. He looks like Clive Owen, who has always been my biggest Hollywood crush. F is reserved and not going to grind on the dance floor, but we start talking at our table, and he makes me a very good drink, and I literally want to sit on his face just because he's so hot and perfect-for-me.
We don't hide our situations. He knows I'm a married American with kids and I know he has a girlfriend living in Paris. I also know this is a man who would break my heart if I were single, so I'm happy that this is — or possibly going to be — an innocent one-night stand.
11 p.m. We're now at another club and I'm really drunk. I'm afraid I'm going to throw up. We all go back to Tia's flat. There, I try to throw up privately. I can't do it, but just taking a breather by myself in the bathroom sobers me up a bit. I tell F that I want him to tuck me into bed. He comes with me to the bedroom, and I'm so drunk that I get naked in front of him and plop right into bed. He says, "I can't fool around with someone this intoxicated but let's try again tomorrow." This embarrasses me, but it also proves he's not a monster. Then I pass out.
DAY FOUR
9 a.m. Worst hangover. I smoked cigs last night, which makes it even gnarlier.
10 a.m. We go to a pub for breakfast that makes the best breakfast burritos and I order a Bloody Mary. Why not stay buzzed? This week is a once-in-a-lifetime thing for me.
11 a.m. Tia gets the scoop on F for me. He's pretty much a finance bro with a British accent. His girlfriend is an actress-model type and allegedly they're open. I'm flattered (I guess?) that F was interested in me, sexually, but it also makes me miss my husband, who is the opposite of all that foolishness. My husband is a family man and a dork and a sweetheart, and nothing about this week makes me regret marrying him.
3 p.m. More massages because that's just Tia's life.
5 p.m. I ask her if I can skip out on tonight. I'm really tired. I just need one night off so I can rage again tomorrow. She totally understands.
8 p.m. I FaceTime my family for about an hour. It feels great.
9:30 p.m. I get into bed and touch myself to thoughts of F fucking my brains out. It's sort of like a trial to see if I'd even want to go through with it. And … I do. I really do.
DAY FIVE  
11 a.m. Today is dedicated to shopping. Most of Tia's friends also have rich husbands or boyfriends so their idea of shopping is out of control. I mean, I love it, but I literally cannot afford anything.
2 p.m. We have a nice lunch together and unpack everyone's love and sex lives a bit more. One woman is about to leave her husband. They have crazy hot sex, at least once a day! And they have kids! But they also have no meaningful connection, and she doesn't trust him. My situation is, like, the exact opposite. Who has it better? That is not for me to judge … but I think I do.
5 p.m. We do the regular hair and makeup thing. Tia makes me look really good. I need to step up my game at home. I'm capable of being such a babe!
7 p.m. Dinner is a weird place where we can't hear a thing because of the music. It's just us girls. The vibe is a little off. Someone says they brought cocaine. I happily take a bump off her hand right at the table. It's no big deal. I do coke about once a year, if it's offered to me. The last time was at our kid's school fundraiser — a fun mom friend had some!
9 p.m. F and his friends meet us at a cocktail bar that has better energy. He looks and smells so good. I'm profoundly attracted to him. We drink a dirty martini each and then he says we should pop out and go to his place. I'm completely ready for that.
10 p.m. F's flat is insane. He must be filthy rich. He opens a bottle of wine and after a few awkward sips, we just start going at it. I feel like I'm in a movie. There's a flicker of, "Is he going to kill me?" but I shake that off and just relish the moment. He goes down on me on his couch. He's eating me out ferociously. His tongue is in my ass. He's fucking inhaling my pussy. I'm loving it but I'm not crazy aroused. He has skills, it's just not totally my thing. I fake it though. Then I take his underwear off. He has a beautiful penis. Of course! He puts a condom on and we start to fuck in every single position. I get off from missionary (which is always the deal with me) and then he gets off from doggystyle. We are super sweaty, and wet, and laughing when it ends.
12 a.m. Back in bed at Tia's, all showered, kind of in a state of shock. It's not bad. It's just very, very weird inside my head and body right now.
DAY SIX
9 a.m. It's so crazy to be telling Tia about last night because I can never tell anyone else about it. It's like a secret that will live and die right here at her flat.
11 a.m. It occurred to me that I never got F's number. If I were single, I'd be obsessing over texting him, or getting a text from him today, but I will never see or hear from him again and that's exactly what I want.
6 p.m. Tia and I grab sushi. She seems really happy, very much in love, and excited for marriage. I marvel at how crazy life is, and how silly it is to have rules or expectations. You just have to live your life and listen to your heart … and who knows what that will look like in the end.
9 p.m. I'm wiped out and get to bed early. I have no regrets about anything on this trip and I also can't wait to get home.
DAY SEVEN
6 a.m. Tia puts me in a car to make it to the airport for my 8:30 a.m. flight. I give her a big hug. What a week. What a friend!
8:30 a.m. I pop the other half of the Xanax and get as much shut-eye as I can before I return to my sleep-deprived life.
3 p.m. I'm home at my apartment just as my kids get back from camp. They run into my arms, as does my husband. The four of us squeeze each other tight.
5 p.m. My husband looks exhausted and I tell him to take the night off. Go to a bar. Do whatever he wants. I'll handle bedtime and everything. He says he just wants to be home with me. We make some chicken nuggets and throw our kids in the bath and return to normal.
9 p.m. I'm jet-lagged and slightly annoyed when my husband wants to fool around. I tell him "not tonight" and he gently kisses my cheek and leaves me to sleep.
Want to submit a sex diary? Email sexdiaries@nymag.com and tell us a little about yourself (and read our submission terms here.)