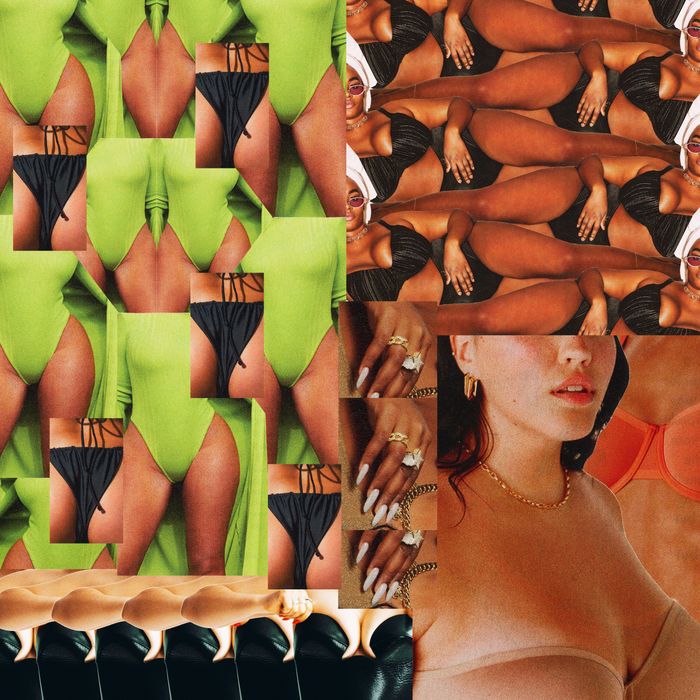 Illustration: by Marylu E. Herrera
This week, a woman flies to a resort with her husband for a week of orgies and French fries in the nude pool: 34, married, Atlanta.
DAY ONE
6 a.m. We are flying this morning. My husband, A, and I are going to a resort in Jamaica to attend a weeklong event for young swingers. The last two years the event was (rightly) canceled because of COVID. At 34, we are slightly older "young swingers," but hey.
6:30 a.m. I look over at A. He's dozing in the Uber, but just so handsome. We've been together for ten years; I was a single girl in the lifestyle when we met, and I introduced him to it right away. Our third date was a threesome with my best friend! It's always an open conversation between us. COVID made things tricky for a bit: We only saw two couples we have known for a while. Headed to the resort, I can feel butterflies in my stomach.
12:15 p.m. As our plane swoops over the resort, I'm super-excited to be back "home" again. Our first and only trip to this event in 2019 was honestly life changing.
2 p.m. We head over to jump into the nude pool, where nudity is required. It's incredibly equalizing. We immediately see D, who we hit it off with in 2019. She's here with her new partner, J, who seems like a strong, badass woman. They are both super-hot: D has a full sleeve and tattoos all over her gorgeous body, and J has long dreads and an infectious smile.
6 p.m. The vibe with D is exactly as it has always been: fun, communicative, and hot. Her partner is as wonderful as I hoped, and I'm really excited about our new friendship. I would also love to sleep with them both.
9 p.m. I spot our friends we met in New Orleans a couple years back. Her long blonde hair and tiny petite figure are easy to spot across the room, and her partner is tall, tanned, and as handsome as ever. The four of us spend the night catching up, flirting, and making out in the nude pool.
3 a.m. I need two things: fries and sleep.
DAY TWO
8 a.m. I wake up way too early after our late-night antics, but the sun is shining and I'm dying to jump in the ocean.
12:30 p.m. The nude pool is hopping; hundreds of beautiful naked people are dancing and flirting all around us. We have spent the last couple hours chatting with friends.
6:45 p.m. My friend F and her husband S just arrived; they invite us to join them for dinner with their crowd from San Francisco. We haven't actually met them before, but we have mutual friends we're all going on another trip with soon, so F and I have chatted a bit.
8 p.m. We just wrapped up dinner and the vibe with F and S is on point. We are very attracted to them both. She's petite, blonde, and in great shape, plus we have the same sense of humor. While outside vaping during dinner S and I had a mini make-out session, his strong arms pulling me into him while we kissed. We part ways to change into costumes for "sci-fi night."
11 p.m. We've been flirting for hours, F looking sexy in her holographic bustier, when the four of us quickly decide to head to their room. S is a great kisser; I want him inside of me already. I jump my knees up to pin his arms down and sit on his face. I don't generally come very quickly, but that's not the story today. F and A are playing with each other and both finish — an impressive feat, since A usually doesn't in these situations, I think from a combination of condoms and just not wanting to finish too soon.
1 a.m. Our San Francisco friends are working remotely tomorrow so we head back to our room.
DAY THREE
11:30 a.m. Chilling on the beach. The nude pool is loud so we keep it low-key to start the day.
1:30 p.m. Back in the nude pool, we find F and S. I grind on S while he kisses my neck, and I can feel his cock harden. But he has a meeting in 30 minutes.
3:30 p.m. We spend some time with D and J. Really great people. It's easy to talk to them for hours. We talk about swinger gossip and about our upcoming trip. I get the vibe they like us both, but there's plenty of time for that later.
7 p.m. On the beach for a BBQ.
11 p.m. We've been flirting with a couple from Florida. They are really sexy: She's a curvy, petite brunette, and he's a tall ginger. I make out with him while A kisses her and it's such a turn on. A couple of drinks later A tells me he thinks she might have had a few too many and we should reserve taking things further for now.
1 a.m. We catch up with the San Francisco couple and the four of us make our way to the nude side. The hot tub is always packed at night. S pulls me into the grotto space behind the waterfall between the pool and the hot tub. F and A don't follow, but A gives me the thumbs up. Years ago we were a "same room" couple, but these days we go with the flow.
2 a.m. S and I have been grinding on each other, and I've come about five times at this point. We have amazing sexual chemistry. We join A and F back in the hot tub and they introduce us to new friends of theirs.
A wants to play with me so we grab fries and decide to have sex on a cabana on the way back to our room. Fries and sex, can you think of a better way to end a day?
DAY FOUR
11 a.m. We run into some friends who have a hot-tub room and invite us to come and take a dip later on. Turns out we have mutual friends back home who text me to pass a kiss on to them. This scene really is a community.
5 p.m. After spending some time on our own, we make it to their hot tub. There are others in there too, and we talk about having an orgy, but we need to find more couples first.
9 p.m. Head back to the rooms to get ready for "glow night." This year we have decided pop-art body paint is the way to go. A jokes that my lip paint is going to last about five minutes before someone else's face is covered in it. He's right, but I still love it.
12 a.m. We've been dancing and drinking tequila shots for hours. We are ready to hit the nude pool.
1 a.m. A and I decide to go to the "playroom," where there are three mini-pools surrounded by large beds; the vibe is amazing. We play together and watch action unfolding around us. After a few orgasms we decide to head back to the hot tub before calling it a night.
DAY FIVE
12 p.m. We've been wandering around all afternoon and finally plant ourselves in "our" corner of the nude pool. It's wild today. I think it's a combination of the sexy DJ and the fact that a bunch of attendees are departing tomorrow.
1 p.m. This gorgeous brunette S slept with yesterday is on the side of the pool squirting everywhere.
1:30 p.m. J tells me she's joining D for some content they're creating for OnlyFans with a tall tattooed guy I briefly spoke with earlier. I decide she needs some pre-shoot fluffing so I lick her and kiss between her thighs.
5:30 p.m. I'm straddling S in the pool again when he asks if he can take me to his room. On the way there, a woman swoops in for a hot kiss with S. I find out later they are friends and have been flirting the past few days. When F comes over to us, S asks if it's okay to play with the aforementioned woman. I try not to be disappointed, but I guess I'm confused; he had just asked me to go play. Such is life.
9 p.m. Dinner was kind of weird; S wouldn't really make eye contact with me. It's "kink night," and A has my favorite assless Versace undies under his pants with his steampunk sunglasses and a red scarf. I'm a very lucky lady to have him by my side.
11 p.m. We head to the bar for another drink and run into the Florida couple. It's still early in the night, everyone is coherent and awake at this point, so we decide to ask them if they want to go play. A starts going down on her, while her husband does the same to me. It's working for me, but when I try to kiss her she says she's not feeling well. We pause and head back to the party.
12 a.m. We run into another friend of ours and ask if he wants to come have an MFM threesome with us tonight. It's been a while but I love the sexual experience with two guys.
3 a.m. I've been domming A and our friend for the past couple of hours, telling them what naughty boys they are, double blowing them, and lying on the bed asking them to come on me. Pretty. Fuckin'. Hot.
DAY SIX
11 a.m. We are tired zombies this morning.
4 p.m. In the pool, I look over at A and blow him a kiss; he's talking with F. Our home "dating" vibe is different from here. This trip we have been pretty open to whatever comes our way. At home, we meet couples for dinners and drinks, and hope to make friendship connections and not just physical relationships.
11 p.m. The party drifts to our friends' room again. It's a steamy wild scene: My friend asks me which butt plug I want and bends me over. She told us that her goal for the year is two in her butt, an incredibly admirable feat.
12 a.m. I'm with A at the bar gathering like 30 shots of tequila, when he tells me I should take S back to our room. He's the best husband! I kiss S and ask if he will come play with me — we will make it a quickie, 30 minutes!
5 a.m. It's been hours, not exactly the quickie we intended on. I was so in the zone, I didn't realize it had gotten so late. Neither did S, whose bus to the airport leaves in three hours. Yikes! We kiss goodbye after a seriously wonderful session. He fit perfectly in my ass — and I had my doubts he would!
DAY SEVEN
11:45 a.m. We are walking on the beach with D and J. It starts to rain and we all find ourselves under a cabana at one of the various nearby hotels. A says, "Fuck it, I'm going swimming," and J agrees to join him. They run into the ocean, and it's the cutest thing I ever did see.
D and I have our "Aww" moment while she finds towels for their return. The thing no one expects about this lifestyle is the "family." It's not all kinky, wild fuckery with no regard for anyone else. If you open yourself up, you'll find true friends that just get you.
7 p.m. It is "dress to impress night," and A is wearing these sexy black lacy shorts, and I've packed a long white dress with a train.
2 a.m. A and I are so tired, but he asks if we can go for one more dip in the hot tub before we crash out for the day. He knows the post-resort sadness is coming.
3 a.m. We talk to a few sexy people before heading back to pass out.
Want to submit a sex diary? Email sexdiaries@nymag.com and tell us a little about yourself (and read our submission terms here.)