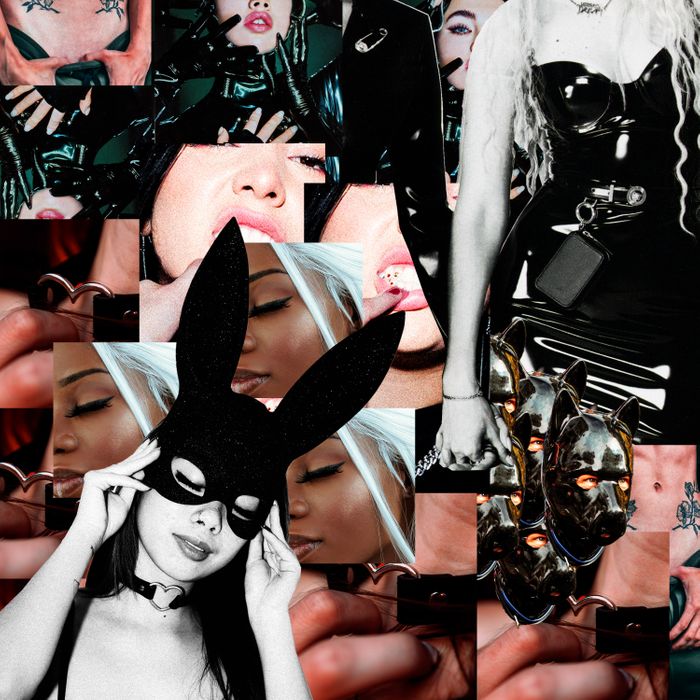 Illustration: Marylu E. Herrera
This week, a 25-year-old model-actress who books a new gig and meets a new guy: 25, single, New York. 
DAY ONE
9:15 a.m. Good lord, I feel like shit. Partied way too hard last night. Trying to put the pieces together. It was a bit of a bender and I ended up fucking some guy I don't really know, and it wasn't even that good, but it was fun. Let me try to wake up a bit here …
10:30 a.m. Showered. Got a coffee from down the street. Popped some Motrin. I don't have to work today. I'm a model and actor and have done enough commercial work that I can coast for weeks at a time. I'm very fortunate like that. Sadly, the schedule provokes me to misbehave a bit, too. But I'm 25 and living the life … so no apologies here.
12 p.m. My friend comes over to review last night. It started at a fratty loft party in Tribeca. We drank a bit. Someone had blow. We were hanging with bankers who were boring but decently okay humans. I liked one guy, who I'll call T since he vaguely resembled Timothée Chalamet. Needless to say, this was the guy I fucked in a different Tribeca loft much later in the night. From what I can remember, T was pretty lackluster in bed, but he was fun and actually pretty sweet. He Ubered me home when I said I was ready. Oh, and he did wear a condom! I'm always safe in that way.
My friend's night was messier. No sex with anybody, but she did throw up all over the Brooklyn Bridge with a potential hookup.
5 p.m. Wake up from a long, deep nap. Smoke some weed.
7 p.m. Facetime with my family on the West Coast. They are accepting of my work and my lifestyle (except for some things they don't need to know about). I've been modeling since high school and through college, and only started pursuing acting during the pandemic when some friends started making little films and stuff out of boredom.
My dad asks about all my gigs and work; he's so proud. In one month, I can make enough money to pay my rent, and then some, for a few months. It's not like that with every gig, but it's happened. My parents are in awe of that kind of financial success, but they're also very much like, "When it stops being fun, don't do it."
10 p.m. I make a big Mexican dinner for one, and then remember that T texted earlier. I decide to engage a bit because I'm now lying in bed and bored.
11 p.m. We text for about an hour and he's pretty nice — I agree to have dinner with him this week.
DAY TWO
10 a.m. Nice night of sleep! Good to wake up with a clear head.
11 a.m. I have to take some new photos since I'm getting more opportunities, and the headshots I have now are a bit cheesy. I play with some outfits and do my own hair and makeup.
2 p.m. Meet a photographer friend I went to college with. He's going to take my pics. He offers me some coke, which feels kind of pathetic and cliché, but I take the bumps anyway. I'm not attracted to this guy, but it occurs to me that he might be expecting to fuck me. My guard is up a bit, but we get to work. We do a bunch of pictures on my roof because the light is beautiful. Then I tell him I have to meet "my boyfriend," so time's up.
5 p.m. I'm texting with T, who is traveling for work until tomorrow. He's in finance but has a sense of humor about it. He's about ten years older than me and recently ended a six-year relationship. He's just trying to have fun right now. I tell him I've pretty much been single my whole life. I've never really looked for a boyfriend. I like sex, hookups, crushes. I'm sure I'll want something serious at some point, but not yet.
8 p.m. Stop by a birthday-drinks thing with some friends I grew up with. It's always a little bit weird that they all have successful day jobs and I'm doing my thing … I feel like their new friends from the city sometimes mock me for being a model. I know there are worse problems to have, but it's not a great feeling to be judged so quickly.
10 p.m. I go home and text T. He's in his hotel room. I tell him to talk dirty to me. He starts sending me filthy voice notes that are so hot, I come after just three of them. He has a nice deep voice and he knows how to call a girl a slut (which I told him to do).
DAY THREE
11 a.m. The photographer friend sends me a set of images he took. I hate them all. I look sickly pale and strung out.
12:30 p.m. He sends a follow-up email suggesting that I Venmo him a few hundred bucks if I decide to use any. This pisses me off because he very clearly said he would love to do this "for free."
4 p.m. I have a Zoom audition for a car commercial. They ask me a bunch of questions, but I have no idea what they're looking for. My agent never tells me much. I try to be charming and "telegenic," but who knows. For every ten auditions I go on, I get maybe one thing. That one thing usually pays off, though. This isn't my long-term goal — the acting and modeling. I'd like to go back to school for social work, but I'm not ready to commit to that yet.
8 p.m. My friend comes over to rewatch The White Lotus with me. We snort some coke while watching because it's too tempting not to.
11 p.m. We're fucked up but don't know where to go. She wants to hit up a party with someone random she met online, but it feels too sketch. I suggest we just walk around the city and enjoy the fall weather. So we do that. Smoking cigarettes and holding hands and talking to random people.
1 a.m. I take a sleep gummy and miraculously pass out.
DAY FOUR
9 a.m. I'm glad I woke up early because I got a callback for the car commercial. Another Zoom in a few hours.
11 a.m. This never happens, but I meet a superhot guy at my coffee place. He's standing behind me, and … he's just a beautiful man. He asks me if the food here is any good, and I discover he has a British accent. We chat a bit while we wait for our orders. He says he's in town for an audition, which is kind of crazy, but I get the impression his career is much bigger than mine. It sounds like someone actually flew him to NYC from London to meet him. We exchange info and I run home to Google him right away.
11:30 a.m. Well, yes, he's slightly famous, and also, he has a pretty famous girlfriend. Do I let this deter me from texting him? No, I do not. I tell him I'm around if he needs a tour guide.
2 p.m. Zoom audition. Meh.
5:30 p.m. Five hours later, the actor responds to my text implying that he's around "late night," but that's about it. This leaves a sour taste in my mouth. It feels cheap. Even though my intentions weren't much different. I'm supposed to see T tonight anyway, so I don't text the actor back.
8 p.m. I'm meeting T at a restaurant in the West Village. I'm starving and craving red meat. He looks really handsome. I didn't remember him being handsome. I knew he was hot, but this guy is just gorgeous. He smells nice, and has a lovely smile. He's somewhat normal and wholesome, too, I think.
10 p.m. We have a great dinner and move to another bar to drink more. I get a dirty martini, which is just stupid on my part. Check my email and find out I booked the commercial. We cheers to that, and order another round.
11 p.m. I ask him if he has coke. He doesn't, but he can call a guy. We drink more.
12 a.m. We're at his apartment waiting for the coke dealer and start hooking up, but I'm not feeling so good — I'm scared I'm going to be sick. I don't like being out of control like that. He has two bedrooms here, so I ask if I can go to sleep in one alone. He respects that and gets the room set up for me and then I pass out.
DAY FIVE 
8 a.m. I wake up feeling terrible and very embarrassed. I'm still in my dress, and my makeup is all over his sheets. I go into the bathroom and try to clean myself up. My head is pounding so hard that I'm not sure I'm ready to escape and head home, even though that's what I want to do. I go back to bed instead.
10 a.m. I wake up again and T is gone. He texted me to take my time and some other nice things. I'm comforted knowing I have the apartment to myself. I'm still a wreck.
1 p.m. Now home and in the shower. I'm ashamed about last night.
4 p.m. The actor texts and asks what I'm up to later tonight. I tell him I have plans. He seems like a prick.
5 p.m. Order in my favorite pepperoni pizza and a cold can of Coke, then turn on the TV to zone out for the rest of the night.
DAY SIX
9 a.m. I got about 12 hours of sleep last night and wake up fresh as a daisy.
10:30 a.m. I have to go in for a fitting for this commercial. I love doing this, anything involving being on set.
11:30 a.m. The setup seems pretty cool. I basically just have to sit in a car and smile.
4 p.m. T and the actor have both hit me up about various parties tonight. My shoot is tomorrow, so I politely decline both and keep it mysterious as to why.
8 p.m. A bit of texting with both. I'm playing games. Let them beg for me.
DAY SEVEN
9 a.m. Show up for the shoot. Hair and makeup.
11 a.m. The male actor, R, who is also cast in the commercial, is here too. He's gay and flirtatious, and I can tell we're going to be friends.
4 p.m. The work was fun and pretty easy. Took a few hours, but nothing crazy. A very relaxed set.
5 p.m. R and I go grab a drink at a new Champagne bar in Soho. It's bougie, but we're two young actors coming off a gig and it feels right. We start to drink. He wants to get some coke. I like him, but he's a wild one. Even compared to me, he's crazy.
6 p.m. We're drinking so much Champagne, I'm dreading the bill. We take turns doing bumps in the bathroom. From one of my bathroom trips, I text T to see what he's up to. He's heading to a dinner nearby and invites me to join. I feel bad ditching R, so I ask if I can bring him too. T says, "Of course."
8 p.m. We're all at this fratty dinner together and it's so loud you can't hear anything. I'm pretty buzzed. T has his hand on my thigh and it's nice to be somewhat girlfriend-y with such a cute, nice man. R is quite charmed by him.
10 p.m. Back at T's apartment. R went off with some fling he was meeting up with. We're making out and it's pretty sexy. Soon we're fucking on his couch. It's not bad, but it's not great. There's just something that's off. I try to get off and get over it, but I can't get past it.
11 p.m. I'm gathering my things to go home, post-sex. I'm not sure what to do about any of this. I like this guy and he definitely likes me. But why set us up for failure? I'll crave better sex eventually, and I won't be able to suppress that desire, and then what?
Want to submit a sex diary? Email sexdiaries@nymag.com and tell us a little about yourself (and read our submission terms here.)