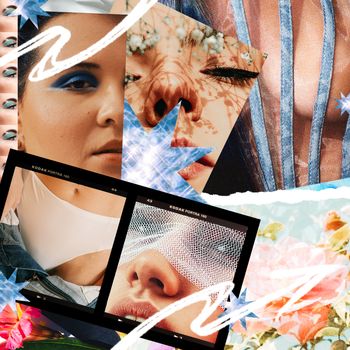 Photo-Illustration: by Marylu Herrera
New York Magazine's Sex Diaries series asks anonymous city dwellers to record a week in their sex lives — with comic, tragic, often sexy, and always revealing results. The column, which began in 2007, is the basis of a new docuseries on HBO.
This week, a woman worries about her sex drive and gets helpful tips from a podcast: 35, married, New Jersey. 
8 a.m. I wake up thinking about "the eargasm." Someone mentioned it last night at a dinner party. He said that there are places in your ear that, when touched right, can give a low-key orgasm feeling. I make a note to myself to have my husband try it out with me.
9 a.m. Head to work on the train. I'm a nurse for a well-known plastic surgeon on the Upper East Side. He has celebrity clients, socialites, and rich teenagers striving for perfection. All our clients are nice, but their lives are very different from mine: I live with my husband in New Jersey; we've been together for ten years and we've been trying to get pregnant for about five. We've had two failed rounds of IVF, and right now, our sex life is down the drain.
1 p.m. At lunch with a colleague. I tell her that I'm starting to think about not having kids. What matters to me more right now is saving my marriage and spicing up our sex life. I tell her we used to fuck five nights a week, and we'd do it everywhere, in restaurant bathrooms, in our car, at friends' houses. I used to masturbate once a day. Now I rarely touch myself, and we only fuck twice a month. That's out of obligation.
7 p.m. Having dinner with my husband. I joke that having less sex makes the times that we do have sex even better. He's not into that theory at all.
10 p.m. I get into bed and listen to some sex-positive podcasts. I fall asleep listening to a couple talking about their complicated sex life, but they're gay men. It's a lot about topping and bottoming. I'm rooting for them, but this isn't relatable to me.
DAY TWO 
8 a.m. As I walk to the train, I call into one of the podcasts I listened to last night. When the message tone beeps, I panic. I didn't actually think about what to say! I hang up. I'll call back later.
9 a.m. Spend the whole train ride to the city thinking about what to say to the podcast. It's making me sweat through my scrubs.
9:15 a.m. I finally leave a message on my walk from the subway to work. I tell them about my sex problems, which started when my husband and I went into baby-making mode. I explain that I'm worried my husband will leave me if I don't up my sex game, and that I just want to be horny again.
11:30 a.m. Can't focus on any of my patients. Did I leave my real name? Should I have disguised my voice? If my husband found out, he'd freak — he's from an Irish Catholic family, and they don't air their dirty laundry.
1 p.m. At lunch obsessing over the sex podcast and wondering if they'll ever contact me.
6 p.m. On the train back home. I tell my husband that we should "hang out" tonight. That's always code for "have sex."
8:30 p.m. After dinner and some wine, we're on the couch watching some TV. I crawl on top of my husband and start kissing him everywhere. I pay special attention to the ears, licking them and sucking them.
He says, "Babe, you're like panting in my ear, it sounds weird." I feel embarrassed and offer to suck his dick. That goes over better, and we fuck. After a few minutes, he comes and he's happy. I got nothing out of it and just want to watch TV again.
DAY THREE
7 a.m. We always wake up happy after we've had sex the night before. Men are so simple. A quick fuck is literally all my husband needs to feel in sync with me.
9 a.m. I'm feeling a little ragged, so my colleague does some Botox and filler for me this morning. I don't tell my husband that I do injectables because he's terrified I'll look like a Real Housewife. What he doesn't know won't hurt him!
1 p.m. One of the podcasts suggests "hooking up someplace new," so at lunch, I attempt to book a "sexcation." I look into some "intimacy resorts," but they seem a little creepy. What would turn me on most is a penthouse in a fancy hotel. I look up prices in Manhattan, but everything is like $2,000 a night.
5 p.m. Grabbing drinks with a friend. She's on her second kid and is a stay-at-home mom. I tell her about my sex problems, and she suggests sex therapy, which I know my husband will never do (again, Irish Catholic). Then she suggests getting some blood work done to check my hormones. Maybe there's something else going on …
10 p.m. Back home watching TV with my husband. He asks me to rub his feet. I try to do a really good job since I know I won't be fucking him for — ideally — another ten days or so.
DAY FOUR
7 a.m. As we're having coffee, I tease the idea of a sexcation. He seems into it, so I try something else. We aren't big dirty-talk people, but the podcast suggested I try, so I say, "I'm giving you permission to say something filthy into my ear." He takes a minute to think about it and whispers to me, "I want you to sit on my face until your pussy is dripping wet." He is really horny at this point, and I'm slightly horny, but I have to make my train. I kiss him on the cheek and head to work.
10:30 a.m. At work thinking, That was fun! 
1 p.m. At lunch, I continue to look for a sexcation spot. Maybe Montauk? Everything is so expensive!
6 p.m. Getting a haircut. It's free from my friend. She does my cut and color, and I do her Botox. Her sex life is crazy. She's dating four older men who wine and dine her and fly her to Europe. She tells me that I need to get some lube and sex toys. She won't travel without either. As she's blow-drying my hair, I order the exact brand she recommends on my phone. It's all Goop-approved. Well, if it's good enough for Gwyneth's vag, it's good enough for mine.
9 p.m. My husband is out with friends tonight, so I watch reality TV and try to plan a trip for us. Croatia? Cabo?
DAY FIVE
9 a.m. At the office with a client I really do not like. She's older and has way too much plastic surgery. She wants to try this trendy "lip flip" she keeps reading about. Her lips are already way overfilled. Luckily, the doctor I work for comes in and takes over.
1 p.m. I finally book a trip on my phone. It's to a resort in Utah, where we can be outdoorsy. I'm hoping it means a lot of sex out in the wilderness.
3 p.m. I send the confirmation to my husband. He's excited. The trip is a month away. The idea of fucking in a yurt is turning me on.
6 p.m. After work, I go shopping for sexy lingerie to bring on the trip.
9 p.m. At home and totally in the mood for sex. My husband is watching basketball, so I give him a really hot kiss and tell him I can't wait for our trip together. Then he goes back to the game and I go take a shower.
DAY SIX
9 a.m. It's the weekend. We have a family function today, which I don't like because everyone asks me about having kids.
12 p.m. On the drive to the party, I ask my husband to protect me from those conversations. He takes my hand and says, "I got you." In moments like this, I love him so much.
3 p.m. A couple of older ladies from our family are asking me about the fertility stuff. They want to know if I've tried keeping my legs up after sex. They want to know if I'd adopt from China. I've had just enough sangria to find it charming, but realize that this shit is inappropriate.
5 p.m. Driving home from the party. My husband asks if I'm okay. He got a tan today and looks so sexy to me. I tell him to pull over, then I blow him right there in our car, on a suburban street in Jersey. He comes all over his shorts. We use Starbucks napkins to wipe him up.
9 p.m. We watch TV and look at pictures of our Utah resort, then go to bed. That sangria did me in.
DAY SEVEN
9 a.m. Sundays are my gym days. I don't have much time to work out during the week, so I go hard today. It starts with a yoga class, then I do about an hour of cardio, then I swim, then sauna. My husband plays basketball at the same gym while I'm doing all this.
1 p.m. By the time we get home, I'm exhausted but in such a good way. My husband does some landscaping while I clean the house.
4 p.m. We're tired and happy. Boring, domestic days like this are satisfying, but also slightly sad because I feel that all that is missing are children.
6 p.m. We cook dinner together; he grills, I make sides. We sit out on our little patio and eat dinner. Right now, I'm feeling relaxed and blessed.
Want to submit a sex diary? Email sexdiaries@nymag.com and tell us a little about yourself (and read our submission terms here.)