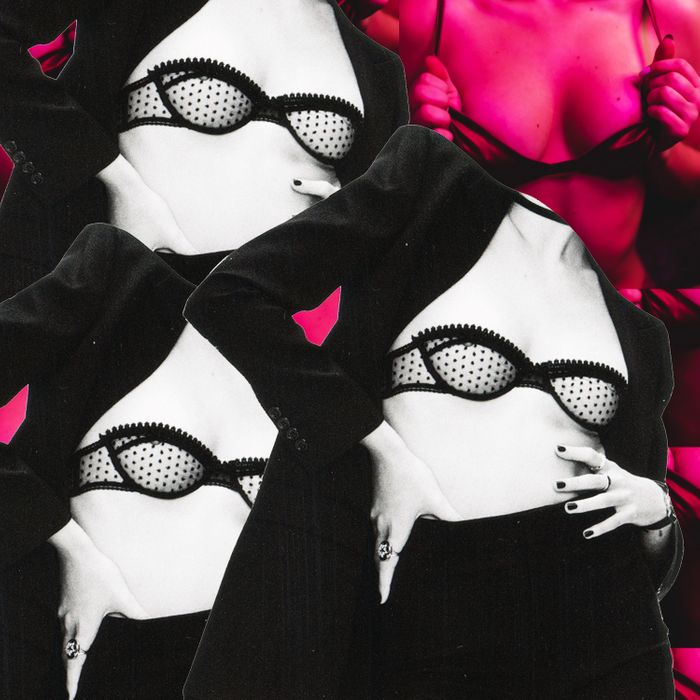 Illustration: by Marylu E. Herrera
This week, a mom who's seeing a few new lovers while her live-in boyfriend is out of town: 36, in a relationship, Brooklyn.
DAY ONE
3:24 a.m. Awake yet again. I am on the couch tonight. My partner, B, is in our bedroom. He's been annoying me the last few days and I am almost physically rejecting his presence. I think I'm about to get my period.
8 a.m. B wakes up and makes coffee, which I am always grateful for. He rules the kitchen (whereas I rule the bedroom, haha). After nearly six months of living together I still don't know what I'll find in all the different cabinets and drawers.
We met back in college but didn't get together in a real way until 2019. We're also ethically non-monogamous; that's always been my lifestyle and I'm open about it.
11 a.m. Have a check-in phone call with my boss. I got my dream job (in education) at the beginning of the year. My boss is sweet as pie and easy to work with.
12 p.m. Look at pictures of my kid, H, when he was little. He's older now and doesn't live with me anymore. Text my new boyfriend, J, who is also a parent. We get mushy quickly. His wife and kids are leaving on a trip and I am running over to his place as soon as possible. We are obsessed with each other …
2:30 p.m. Showering and dressing to go to J's house to work and spend the night. I've never been there before. His wife is aware of me, and he's shocked that she is excited for him and has even tried to spruce up the apartment for my arrival. They're new to this. Poly relationships are definitely not for everyone, but I've been living this life for a long time.
I tell B I am going to my parents, who live a few blocks away. Does he need to know where I am all the time?
6 p.m. Actually got some work done at J's house, but somehow we've already fucked twice. My brain feels like a pot of bubbling jam. J is the first man I've allowed myself to feel intensely about in years. He can be a little too doting sometimes but I feel comfortable telling him to rein it in.
9 p.m. Having an extremely decadent evening of takeout, beer, and cake. We fuck again in the king-size bed. I feel insanely lucky that this man has stumbled into my life (via the Feeld app). Everything suddenly feels … electric. I happily drift off to sleep.
DAY TWO
10:30 a.m. Wake up slowly, realizing I am still at J's house. We want to fuck again, but he has to get up and get on a Zoom meeting. I try to collect myself and J gets me a cab.
11:30 a.m. Try to start some work and get laundry going. I call my friend C and chat about the last few days; I tell her all about J and how excited I am. Some of my friends are a little more prude about my polyamory, but C is recently divorced and an absolute freak. A woman after my own heart.
2 p.m. Fairly productive. I'm always worried about pissing off my very gracious and lenient boss. I get work done slowly sometimes when I don't have a hard deadline. I have one now and it's helping immensely. Still, my mind keeps wandering to J …
4 p.m. Grab a beer from the fridge. Have masturbated thinking about J multiple times. I feel almost bad that B doesn't feature into my fantasies a lot, even though our sex life is satisfying. Sometimes he is so blandly accepting of everything (including sex) that it annoys me. I asked him what he likes sexually and it was a difficult question for him! Because he was previously married for a long time, he's only had sex with three women in life (including me) and I think he just doesn't know himself enough.
6:30 p.m. B gets home. He picked up stuff to make soup for my dad. It's gestures like these that remind me he's a catch. Feeling very low energy due to my upcoming period.  I text a little with R, another guy I recently started seeing. B is going out of town so R and I plan to meet up. I mentioned both new guys to B, but didn't give any details. Do I have to?
DAY THREE
9:30 a.m. Coffee and finishing up some lingering work. B is also home today and has a bunch of things he wants to do. My cramps are terrible so I plan to laze about after I'm off my computer.
2:57 p.m. Lazy, lazy day. R and I have agreed to meet around nine. I've known him for a while casually, but we only recently noticed each other in that way while out at a regular haunt. My friend pointed out that he was hot, and the next time I saw him, he kissed me at the end of the evening. He's an art handler and I chuckle to myself about the stereotype of the "sexy dirtbag." It's not entirely wrong, but he is genuinely nice and respectful.
4:33 p.m. The edible I took earlier has kicked in and my cramps have mostly faded. I get dressed and futz around on my phone until a suitable hour to pregame.
1:01 a.m. Had a fairly tame night with R. His stomach was bothering him a lot and so we just talked and watched TV and snuggled. He's pretty traditional in the type of relationship he wants, and revealed that he does get very jealous. Not sure where this is headed.
DAY FOUR
8:30 a.m. Wake up at R's. Kinda bummed that we didn't get to have sex. I sneak out and head home.
11:40 a.m. B went to visit family and I have the apartment to myself. I call J, who has been on an all-night the-kids-are-out-of-town bender. Just hearing his voice gets me excited. He says he will send a cab over and that he has ice cream in the fridge for me.
6:00 p.m. J and I go to a little bistro near his place. The proprietress clearly knows him and seems bemused that he is there with someone who isn't his wife. He doesn't blink. This guy has cojones. We eat oysters and beef tartare and drink Aperol spritzes. He's so handsome that I have to catch my breath when I look at him. I'm shocked by the rapid development of this relationship. We met eight weeks ago!
We go back to the apartment and fuck several times, and I pass out soon after.
DAY FIVE
10:26 a.m. I slept for nine hours. We kept waking up, looking at each other, and falling back asleep. He gets up to make me a coffee. I can see him moving around the apartment from the bed. I quietly start to cry while his cats stare at me. It might sound dramatic but at this moment I feel like I've never been in love like this before.
1 p.m. Have lunch with my folks and H, who is also visiting. Dad is happy to see me and is "happy we are doing so well in the new place." He wouldn't like how involved I am with J, but he also accepts me as I am.
5 p.m. B is back. We order Tex-Mex and talk about our weekends. He mentions he may be going to a movie with M, a woman he's been (very) casually seeing for the last year. She is married. I think he's maybe metabolized that I've been actively dating and decided it's time for him to start too? Good for him!
He settles in with a video game and I decide to take a shower.
7 p.m. I'm nude on our bed. B comes in and gives me the sweetest massage and kisses me smack on the butt. I'm grateful for all of the love and care he shows me. A little bummed to see a text from J saying he will be at a wedding next weekend and packing for his upcoming move during the week, but he follows with a cute picture of him in his bathtub and I have to smile. I eventually doze off listening to B watching a documentary in the other room.
DAY SIX
5:25 a.m. Wake up and snuggle on B, which leads to a fast and furious romp. This is our mode of sex most of the time. The quickness doesn't usually bother me and it always feels good. I let him fall back to sleep and head to the couch.
11:30 a.m. I wake up in a cold sweat, not feeling so good. I am in absolute misery every month. My period wasn't always like this! B makes me some seltzer and tucks me in on the couch. He is going on a lunch date with M.
3:30 p.m. B comes in hot and flustered. He says M drove him home. Did they fool around? I don't ask, but I wonder. He goes to take a shower. I chuckle to myself at his awkwardness. I try to eat some rice and beans since I haven't kept anything down since yesterday afternoon.
There are some shows and other things I could go to tonight but I am just not in a social mode. To be honest, I just want to sit around and talk with B.
7 p.m. Make it outside, but only as far as the bodega on the corner. Get a text from J, who is barbecuing with his family in the park. He wishes I could come. I hope to eventually meet his little ones (maybe even his wife?) but know it wouldn't be appropriate to show up now.
9:30 p.m. Finally get my period. I feel grumpy and a bit (irrationally) jealous about J, who is watching the fireworks with his wife. Not looking forward to going into the office tomorrow, but I also can't be at home anymore. Time to snooze.
DAY SEVEN
7:30 a.m. Train to the office. Feeling wiped out still, but manage to catch the eye of a cute guy sitting across from me. I am incorrigible! He is dressed really well …
12 p.m. I go out for a slice of pizza to calm my cheese craving. Wait to text J until I can't stand it anymore. I'm sure he would have messaged me if he wasn't in meetings? No answer. Eventually, he gets back to me — he was asleep on the couch after his kids woke him up early.
6:00 p.m. Tonight I'm seeing E, a lover I've had on and off since I was 18. He's such a type: lanky Bushwick carpenter who ran a communal loft and now splits his time between here and a country house three hours away. I decide to wear a sexy bodysuit underneath my dress. When I arrive at his place, we smoke some weed, and start watching a Slavoj Žižek film. This is not my pick, and it's very intense.
10:26 p.m. Uh-oh. E's getting intense and talking about political conspiracy theories. We still haven't fucked. He's had a lot of tequila. I try to divert him by showing off my bodysuit. He takes note, and pulls out a toy called "the Satisfyer." He uses it on me, and I scream hysterically in pleasure. He doesn't have roommates or neighbors right now, thank God.
11:45 p.m. And we're done. Amazing as usual. He tells me he loves me and we pass out snuggling.
Want to submit a sex diary? Email sexdiaries@nymag.com and tell us a little about yourself (and read our submission terms here.)