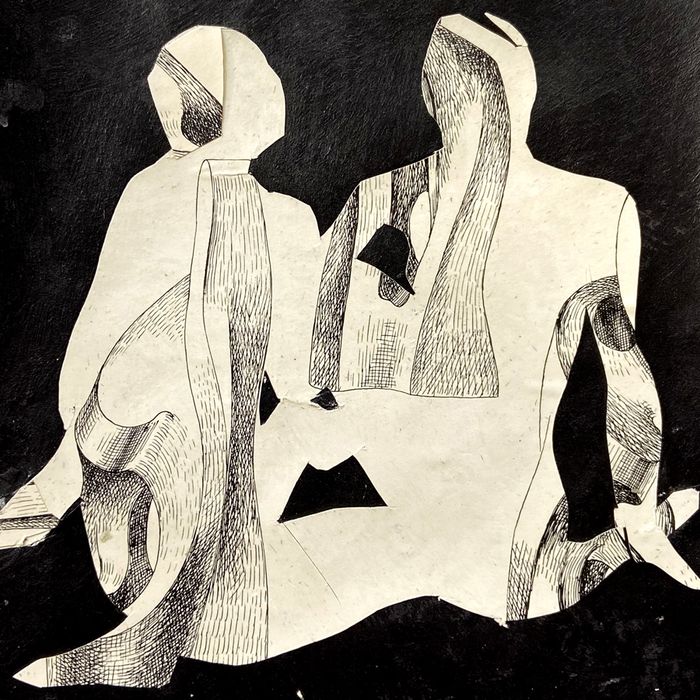 Photo-Illustration: James Gallagher
This week, a woman enjoys her post-sex bruising while juggling two jobs and lots of dates: 32, married, Brooklyn.
DAY ONE
10:14 a.m. Ordinary morning of grocery shopping with my husband. We're poly. While grabbing Trader Joe's snacks, I look through the DMs of my kink-poly-focused private Instagram feed, but it's more disheartening than exciting. Lots of cis straight men claiming to be doms who have no experience to back it up. My day job is teaching drama, so, no, I'm not teaching you, Random Tech Bro from the UES.
1 p.m. I miss my ex right now. Okay, I miss him all the time. We met about two years ago and ended things a few months back. During our affair he'd implied he was moving toward opening his relationship, but that never happened. We tried to stay in each other's lives for months after, but we were still in love, so after Christmas I asked for 90 days without contact.
5:55 p.m. Masked up and taking two trains to a threesome in Jersey City. This will be my first sexual experience with other people since early December. The best thing about poly life is that two things can be true at the same time. You can be emotionally bereft at the staggering absence of someone you loved and still wanna get railed by C, a six-foot-tall, glam-rock–looking photographer, and L, his feisty Tinkerbell-size girlfriend. This is our fourth or fifth time playing together. I'm bringing my strap-on harness and my polka-dot dildo, per their instructions.
9:14 p.m. We spend an hour chatting over Southern-fried chicken, then move to the bedroom for the main event. L and I have our usual contest of "who's gonna make who come first" (we both win), while C takes pictures of our asses and intermittently gets his dick sucked. Then I get out my strap-on. Having been in the closet for the first 31 years of my life, there is something so queer affirming about fucking another woman with one. Women are so soft, beautiful, incredible to take in.
I went down on L, biting the insides of her legs and giving her the bruises requested, while C fucks me from behind. As I came, over and over again, endorphins, dopamine, adrenaline, and serenity all ran through me. They end the night asking if we could all hang out in a friendship capacity as well, my husband included.
DAY TWO
9 a.m. L bit the side of my right thigh last night, and the bruise is blossoming beautifully. I love bruises from sex — it's like adult equivalent of the goody bag from a classmate's birthday party.
1 p.m. I'm a personal trainer when I'm not teaching, and after I train a couple clients this morning, I finish my own hour workout and text with two women I met on Feeld. It's the only dating app I use. One woman wants to get into kink, and the other has kink experience and is looking to dive into a long-held but never-performed fantasy. The former has more homework to do before we meet (she needs to have a better idea of what she wants), but the latter and I make plans for a Thursday coffee.
4:50 p.m. I'm at the Williamsburg Hotel, waiting for my gal-pal K to arrive for a platonic sleepover. I take nudes in the aesthetically pleasing room and send them to the guy in Boston I've been sexting. There's a chance he'll come down this weekend, but that will depend on COVID, of course. K just texted me she's running late, so I take advantage by masturbating while looking at old sex tapes I made with my ex on my phone. I can't bear to delete them, and he didn't ask me to when we broke up. Words fail to describe how beautiful he was. Take Captain America and give him gray hair. He really was the total Daddy package.
8:45 p.m. K and I work on our personal writing projects side by side on the bed in our plush robes. We've slept together once, in a threesome with her partner about a year ago, but it's been strictly platonic since. She pulls tarot cards before bed; mine are "Temperance," "Six of Pentacles," and a reversed "Hermit." Even the tarot knows I'm stuck and sad.
DAY THREE
10:50 a.m. Leaving the hotel a little melancholy. K and I talked a lot about our sex and love lives well into the night, and I feel like I have something to prove. I stop for coffee on the way home and run into an older friend who I like to pretend is my surrogate dad. Always makes me feel better to see him, even if it's just a hello.
3 p.m. My husband informs me he'll be co-working with a friend Thursday afternoon, so I cancel my coffee plans with the kinky girl. It's more important to relish in having the apartment alone to myself — incredibly rare in this pandemic winter — than meeting someone new. Alone time is the only thing that recharges me lately.
5 p.m. Boston guy confirms plans to meet in the city on Saturday, pending a negative COVID test for us both. Our kinks and poly lifestyle significantly align, so it could be a real treat.
My husband has no interest in kink, which is one of the reasons why we're in an open relationship. His sexual appetite is much lower than mine, and he's not really into sex these days. Since opening up our relationship after eight years together, we only have sex a couple times a year. The openness relieved a lot of pressure for him — he no longer had to be a sexual outlet for me. I understand that I accidentally married someone sexually incompatible, and I've accepted that it's not a part of our marriage. It would be nice to have great sex on vacations or a snowy weekend, but I like the rest of the relationship enough to stay and have an open marriage.
That said, having kinky sex helps me feel centered and empowered, and I haven't had an experienced partner since September, so I'm really looking forward to my time with Boston Guy.
8:45 p.m. Most of the night has been spent watching Netflix while prepping lesson plans for my students and workouts for my clients. It's nice to zone out.
DAY FOUR
9:41 a.m. My threesome-goody-bag bruises are still smarting as I coach my personal-training clients. It puts me in a good mood to know my body tells this story, but I don't tell my clients anything.
10:44 a.m. Damn L train is gonna make me late for work with clients. While waiting, I get a text from a man who performs and organizes erotic wrestling. We had coffee and a sex-free wrestling session back in the fall. He invites me to perform in erotic wrestling livestreams and upcoming private play parties. I decline both because I don't want to hurt my career and I'm not that into him. Also, the location of the livestream would be in the same neighborhood where my ex lives. No thanks.
4:15 p.m. My husband and I buy plane tickets to visit our Midwest families, since our Christmas plans were canceled due to Omicron. He leaves the house to go for a walk, and I masturbate so hard I end up taking a 15-minute nap. I work on an application for a playwriting residency until it's time to see my next personal-training client.
7:10 p.m. L texts me pictures of the bruises I gave her on Sunday, which is awesome because she doesn't bruise easily. My husband and I eat homemade broccoli-cheddar soup and watch the latest Boba Fett. Boston Guy and I briefly video-call to go over the weekend's plans, but his partner arrives at his place early and he hurriedly gets off the call. That triggers some bad feelings for me. My ex would do the same thing when his wife would come home unannounced. But Boston Guy quickly sends a text apologizing. Both of his partners know all about me, which was not the case with my ex. My husband and I zone out to TV, like we do almost every night. We briefly talk about moving, as our rent-stabilized building is deteriorating, but it would be a financial leap. And of course a quick Zillow search shows my ex's neighborhood as the most affordable choice. I go to bed pretty exhausted.
DAY FIVE
9:35 a.m. I do 30 minutes of yoga and then head to work. Still feeling sort of icky about Boston Guy's abrupt end to last night's call, but maybe it's simply ex transference.
1:20 p.m. My husband texts me as I'm coming home. His afternoon co-working plans fell through, but he can still "find a coffee shop or something" so I can have a fraction of the alone time I planned on having. So I shouldn't have canceled the coffee date with the kinky girl after all. What a waste. All the energy drains from my body. This feels like jail.
9:08 p.m. The afternoon was generally a wash, except for doing the dishes and working out. I really needed things to go my way today. I've been asked out for drinks by a man on Feeld before I catch Slave Play tomorrow night. I say sure, pending the COVID test I'm taking tomorrow morning. I've been in a bad mood since I got off work; even my Zoom Dungeons and Dragons game doesn't cheer me up.
DAY SIX
11:20 a.m. Right before leaving for work I take an at-home rapid test and it's negative. Boston Guy's test was also negative, so it's game on for tomorrow. Scary but exciting. Thanks to my breakup and my history with my ex, my guard has never been higher. But I want it to go well, and I think I'm ready for something good. I feel totally wrecked from work and balancing my heartache with dating, and I want to focus my energy on Boston Guy.
6:33 p.m. I have an hour to kill before Slave Play starts, so I eat Shake Shack in 20-degree weather and window-shop at the Disney store. Not as fun as the date I could have had, but I'm grateful to be alone. I haven't been back to this area since I saw St. Vincent with my ex.
10:36 p.m. The show was brilliant. I go home feeling inspired and in a much better mood.
DAY SEVEN
10 a.m. It's my sister's birthday. I try to call, but she's busy. Boston Guy and I talk about parking around the hotel. I'm getting more excited. It's time to trust someone again, play with someone capable who knows what they're doing, like I do. I need to be validated sexually.
11:23 a.m. In the middle of training a client, Boston Guy texts me to call him. His dog is sick and throwing up because he ate a rope, and he's not sure if he'll be able to board him so he can come down.
So our plans are canceled. He says he's really into me and masturbates to the idea of us being together. We postpone to next weekend, but I'm not optimistic we'll make it until then. We'd both have to test negative again, always a roll of the dice with my job, and I guess his dog would have to not get sick again.
6:34 p.m. Threw together a coffee date with someone I've been chatting with who lives nearby. He's an experienced shibari rope top and kinkster, and we'd been meaning to meet for a while. We have a delightful two-hour coffee, and my spirits are up. I love geeking out about rope and kink. At the very end we realize neither one of us can host. He's a "hashtag van life" guy who is staying in the back room of a vehicle repair garage, and of course my husband is never gone long enough, if at all, to host someone at my place. We kiss goodbye and say we'll figure it out when he returns from his upcoming California trip. My sour mood returns. I really wanted this weekend to be a triumphant return to my kinky side, but it was spoiled by poor luck.
Want to submit a sex diary? Email sexdiaries@nymag.com and tell us a little about yourself (and read our submission terms here.)