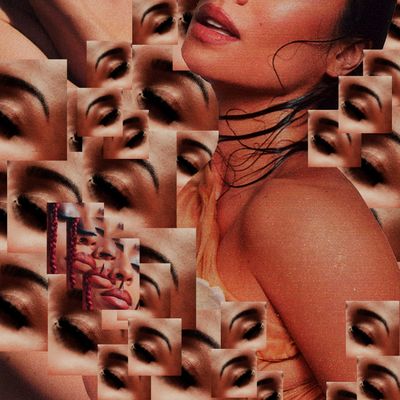 Photo-Illustration: by Marylu Herrera
New York Magazine's Sex Diaries series asks anonymous city dwellers to record a week in their sex lives — with comic, tragic, often sexy, and always revealing results. The column, which began in 2007, is the basis of a new docuseries on HBO.
This week, a woman has a fling with an old flame on a work trip: 46, married, Los Angeles. 
DAY ONE
8:30 a.m. I'm surprised I slept this late. I'm a New Yorker in L.A. for work and still adjusting to the time change. I'm a producer here to shoot a commercial.
8:35 a.m. The first thing I do is check in with my husband to see how his day is going. He's a producer, too, and on set in New York at the moment. Our careers are similar, which is great, but our lifestyle is untraditional compared to most 40-something couples I know. We aren't "open" or "poly," but we don't have set, fixed rules either. Basically, we both do what we want when we're away, which is at least once a month. And when we're together, we're really together-together.
9:30 a.m. I Uber to the set where we're filming this commercial. I've had some hotel coffee but need another. Head to our makeshift office area where T is already staring me down.
We used to date about ten years ago — before I was married and before he got married. We weren't a good or interesting couple then, but I liked his big dick, and we had a few fun nights of good food, hot sex, that kind of thing. I remember him kind of blowing me off in the end. But I also remember not caring, because I was dating a bunch of guys just like him. He had kind of a weird vibe anyway. I never felt that comfortable around him but can't put my finger on why.
3 p.m. T and I are both producing this commercial and focused on the work, but we know there's sexual tension, and I wonder what will come of it. I think we were both excited to hear we were working on this project together — a little danger and thrill to mix things up. He lives in L.A., I live in New York, and it's been years since we've had any contact.
8 p.m. After a long day, some of the crew wants to grab Mexican food. T has to go home to his kids. I decide to go to my hotel room and call it a night. If T was going out, I would have gone too.
10 p.m. I order room service, then surf some porn and masturbate to a classic girl-on-girl massage scene. It's so unoriginal, but it gets the job done.
DAY TWO
9 a.m. I check in with my husband. His voice sounds weird, and I can tell he's hungover. Last year he got sober, and this Christmas he started drinking one or two glasses of wine on weekends again.
9:30 a.m. I ask what he did last night without really asking what he did last night. It's none of my business really. He says he watched basketball, and we both leave it at that.
I love my husband, but I maintain an emotional distance from him. It has always been that way, and it just works for us. I don't know why. Child of divorce, I guess. We never wanted kids, and I like playing by our own rules. I don't really believe in soul mates, but I believe in life partners, and in that sense, we are very good for each other. I know it sounds cold, but I don't think it's fair to expect every love story to look and feel the same way. This is just ours. I do worry about his hangover voice, though.
2 p.m. I'm at work grinding away. T asks if I want to catch up tomorrow night over dinner. We both know what this means. I say yes, and my stomach starts to churn. It has been about a year since I slept with someone other than my husband. I haven't really had the urge or met anyone attractive.
6 p.m. Back at the hotel. Ordered room service and a glass of wine. I can't complain.
7 p.m. FaceTime with my husband, who is in our bed at home in NYC. He looks cozy and adorable. His facial scruff has grown in a bit, and I'm attracted to him right now. We never really sext in general, but tonight we get a little sexy. I tell him to stroke his cock while I undress. I don't see his dick on the screen, but he's touching himself. We both start to laugh when room service buzzes my door. "Good night, my love," I say to him and hang up.
10 p.m. Lying in bed trying to imagine what might happen tomorrow night.
DAY THREE
10 a.m. A bit of drama on set. We're working with a celebrity who is great but has horrible handlers who are always pissed about something. I'm used to it, but it's annoying.
12 p.m. First one-on-one interaction with T today. He suggests a few restaurants. As I pick the right place, I'm conscious of the fact that I'm choosing food that won't interfere with fucking. I don't want to feel bloated. We land on a quaint Italian place that's sort of iconic and not far from my hotel.
3 p.m. I leave set a bit early, because I have a Zoom that I can do from the hotel.
4 p.m. Take a shower and shave my legs. Feeling hot. I don't know how I still like my body at 46 years old, but I do. I'm tall and have been the same weight since college. My tits are tiny, but they're still perky. Often I wonder, if I didn't like myself naked, would I still love sex so much?
4:30 p.m. Anyway, lotion up the whole bod and get dressed.
6 p.m. Love an early dinner reservation. I arrive first. Order some wine. T comes in. He's definitely an attractive man. He has really intense blue eyes. I think maybe his eyes are the reason I find him a bit scary. I ask about his wife and kids — because, fuck it, let's keep it real. He eagerly shows me some pictures. His wife is pretty but looks boring. He orders wine, and we get to talking.
7 p.m. Of course, we're talking about sex. When I tell him about my situationship with my husband, he said he's envious — and he's faithful to his wife. I call him a liar, and we both laugh. That's what I mean by his weird streak — like, why lie to me? This dude is not faithful to his wife. We both know he'll be eating my pussy in an hour or less.
8:30 p.m. We're at my hotel. He has garlic breath, and I'm not loving how he kisses. It's a little too passionate. Performatively passionate. Or maybe he's just horny as sin. I blow him, because I love a big dick (my husband's is fine but not, like, big). Then we fuck. He wears a condom. I'm on top. We both come pretty fucking hard.
9 p.m. He leaves. I can tell he feels guilty or has some inner conflict about what just happened. It's really not my problem, and I want him to deal with it elsewhere. I had a good orgasm, but I think this dude might be too self-involved or needy for me.
10 p.m. Yeah, that's gonna be the last time I'm physical with him. Can't wait to finish this gig tomorrow and go home to my husband.
DAY FOUR
9:30 a.m. Showered and ready to head to work. I call my husband before I leave the hotel room just to check in. I say something like, "I hung out with someone from work last night — total weirdo." Again, it's sorta like he knows and I know, but we don't get into details.
12 p.m. T texts me a whole thing about how he feels bad about last night, it was the wrong thing to do, and he has regrets, etc. It's insulting, frankly. Don't lay that shit on me! I now feel shitty about myself that the night brought him a feeling of disgust, not pleasure. T isn't at work, because he doesn't really need to be today, so at least I don't have to see him.
3 p.m. I write him, "All good, wishing you only the best things!" Just want to shut it down. Ick.
5 p.m. I'm done with this shoot and have one last night in L.A. I have a lot of friends here but decide to go to the beach by myself and just chill a bit.
6 p.m. Sadly, the beach is freezing! What's with this weather? I'm too cold to enjoy myself, so I pick up sushi and Uber back to my hotel.
7 p.m. Call my husband and eat my dinner while catching up with him on FaceTime. It feels right.
9 p.m. Early bedtime.
DAY FIVE
10 a.m. Work out at the hotel's gym.
11 a.m. Ask for a late checkout, then lie in bed and watch TV. Kind of a self-imposed day off.
4 p.m. Head to the airport. Feel a bit weird about the trip in general because of T's bullshit, but it all made me extra excited to go home and see my husband and be back in our world.
11 p.m. Home in my bed. My husband is already asleep. I snoop around and see beer and wine bottles in the recycling bin. We're going to have to address this at some point. I just hope he's okay. And I don't want our marriage to suffer the way it did at the height of his drinking. He's not a fun drunk. He's not an angry drunk either. But he drinks in private and secretly, and it just creates tension between us. He liked being in AA, but his work has really picked up and he stopped prioritizing his meetings.
DAY SIX
9:20 a.m. I slept pretty deeply from the time difference, but my husband wakes me to say good-bye before he takes off for work. He's all dressed but still crawls into bed with me. We hold and hug each other. We don't say much. Then he goes to work.
11 a.m. I'm all set up at my home office, trying to get organized. It's nice to be home. I decide to make some plans with friends. We have another couple we love, and they're sober, so I check in with them to put a night down. It will be good for my husband to hang out with them without any of it feeling too aggressive.
3 p.m. Afternoon porn sesh. My vibrator is about to die, so it's barely vibrating. I'm too lazy to recharge it, so I work with the low-key vibrations. Kinda depressing! Charge the damn thing the second I'm done.
7 p.m. My husband gets home. He sees my vibrator is charging right there in our living room. We both start to laugh. He knows me so well.
9 p.m. Sex with my husband in bed. It's nice and unremarkable, and I'm just happy to be in his arms. I don't think he drank today, and I don't want to mention anything about it either — timing is everything, and I don't want to ruin this moment. I really missed him. We fall asleep shortly thereafter.
DAY SEVEN
9 a.m. Neither of us have work today, so we take a walk to a café we both like and have breakfast together. "So tell me more about L.A.," he says. I tell him everything about work and very little about T — other than that I can't stand the guy. (He knows T, a bit, from the industry.) I ask him about his time without me. He says he drank too much, but I don't get any of the real details. I guess what I'm trying to say is that we both have secrets, and it's okay with me.
10 a.m. I take his hands and ask if he wants to go to a meeting today. He says no and that he just wants to be with me.
12 p.m. We catch an afternoon movie, which is something we haven't done in about three years. It's so much fun.
4 p.m. Back home, we decide to take a bath together. It's Valentine's Day after all. We have almost never done this. We're both tall, and I'm not sure it will work … It doesn't really work. But we have a lot of fun trying. We're like little kids — all naked, covered in bubbles, jumping in and out of the tub. I'm laughing. It's romantic in such a silly way.
6 p.m. We cook dinner together. A simple chicken dish with a fresh salad and a nice baguette with good butter. I ask if he wants me to open a bottle of wine — I love wine with dinner. He says that I should, but he's not going to have any. So that's what we do.
9 p.m. On the couch, watching TV, cuddling. I love him.
Want to submit a sex diary? Email sexdiaries@nymag.com and tell us a little about yourself (and read our submission terms here).