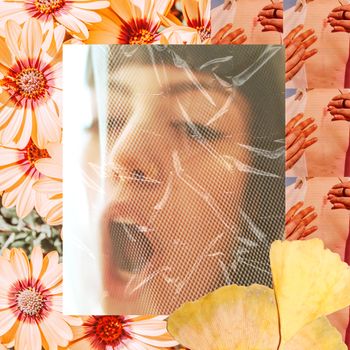 Photo-Illustration: by Marylu Herrera
New York Magazine's Sex Diaries series asks anonymous city dwellers to record a week in their sex lives — with comic, tragic, often sexy, and always revealing results. The column, which began in 2007, is the basis of a new docuseries on HBO.
This week, a woman juggles a real-estate agent, a photographer, and a guy with questionable politics: 37, single, Brooklyn.
DAY ONE
7 a.m. Wake up Saturday morning with an upset stomach from a charcuterie board I shared with my date the night before. M is a real-estate agent I met on Hinge. I think about asking him if he's sick too, but decide that would be unsexy.
8 a.m. Roll out of bed. M dropped me home last night, but I didn't invite him up because my bedroom was a mess.
11 a.m. I clean my bedroom so it's ready for visitors tonight. I have another Hinge date, this one with a 29-year-old photographer, O, from Washington Heights.
3:30 p.m. I'm working the door at a fundraiser for my friend D. It sounded fun and I needed the extra cash. Anyway, I used to have a crush on D, but when my friend Kate told him about it, he said he was "flattered," which is the worst kind of rejection.
10 p.m. Back at home waiting for O. When he gets here I'm happy to see he's just as cute in person as he was in his app photos. We have a cocktail and a shot of tequila and decide to smoke a spliff on the street. Soon, we're making out passionately and cancel our plans to see a DJ in order to stay home and fuck.
10:30 p.m. The sex is energetic and amazing. I'm on antidepressants, and sometimes they make it hard for me to come, but O makes it happen.
11 p.m. Weed always makes me gooey, and at one point I tell O: "I don't mean this in an I want to marry you way, but I have a rush of love for you at this moment." He totally gets it and says he feels the same way. He cancels his shift the next day so he can stay over and fuck more. He kisses my neck a lot, which I love, and he's also very cuddly.
DAY TWO
9 a.m. O breaks my shoe rack in the morning when he sits on it to tie his shoes. He's mortified but I couldn't care less. It was cheap anyway.
11 a.m. O leaves because I said I was going to the gym, but when he's gone I decide I don't have the energy. I spend a few hours tidying, then I send a message to J, a guy from Israel I met on Tinder last year. He's in town for the weekend. He was kind of a dick the last time we met, and his politics are problematic, but I am weirdly attracted to him. It makes me feel ashamed and horny at the same time.
4 p.m. Meet J for a drink and we quickly leave for my place. He's extremely skilled with his hands and has a girth-y cock — like I can literally see the condom cutting off his circulation. It's hot, but my antidepressants are making it hard to come. He comes twice.
4:30 p.m. J leaves, and I think about my morals. He has such extreme, conservative views that I really don't believe in. Maybe I'm a terrible person? When I told my friends about him the first time we hooked up, they said I was "abandoning myself." Assholes.
8 p.m. Get to a party my friend S is throwing. S is trans and nonbinary, and I know I could never tell them about J. I would never tell a lot of people about J. How can I detest what he stands for and enjoy sex with him at the same time?
9 p.m. The party is lame so I go home, scarf down two slices of pizza and an ice cream, and watch Succession.
9:30 p.m. Get a message from B, a friend of a friend who I have a crush on and have made out with a few times. He asks me if I'm free, but I'm uncomfortably full of pizza and not in the mood. We decide to meet in a couple of days.
DAY THREE
9 a.m. It's Monday, and I'm headed to a new co-working space I've just joined in the hopes of being more productive. I feel like I've been prioritizing fun a little too much these past few weeks. I'm a freelance publicist, so my work involves a lot of talking to clients, mostly artists. It's fun, but since I don't work for an agency it's solitary and I find it hard to discipline myself.
4 p.m. I speak to my therapist who advises me against reaching out to the real-estate agent, who I haven't heard from since our charcuterie date. She thinks I chase men too much. She's probably right.
6 p.m. I go to the gym and it's torture. It must be that damn vape I've been puffing on. O, the photographer, invites me on another date. We plan to get together over the weekend.
8 p.m. I was supposed to go drinking with Kate in the East Village tonight. She tells me women never have to pay for a drink on Monday nights in the East Village, but I'm tired, so I reschedule.
DAY FOUR
9:30 a.m. I go to a dance fitness class and make a fool of myself.
2 p.m. I meet a client and discuss what projects they have going on so I can better pitch them. While we're talking, B messages to say he's thinking of me.
7 p.m. B asks if we can meet up tonight since he now has a conflict on our original date. I'm annoyed and reluctant, mostly because I haven't washed my hair, but his messages are making me horny, so I cave.
9 p.m. I finally get to B's place on a Citi Bike after taking an Uber to the wrong address twice. I blame nerves and the tequila I drank to calm myself earlier.
10 p.m. We go straight to bed. He's extremely good at giving head and, with a lot of patience and enthusiasm, manages to make me come. The orgasm is a bit blunted — probably the meds — but it feels good.
DAY FIVE
8 a.m. Wake up and enjoy a brief fingering from B. He's pretty sweet, and I'm glad we finally hooked up, but I try not to get my hopes up because who knows if I'll ever see him again.
9 a.m. Go home and attempt to work from my bed.
Noon Work is not going well, and I'm slightly hungover from last night. Against my therapist's advice, I text M, the real-estate agent. I'm pretty up front with him and say: "Not sure what you were feeling vibe/connection-wise the other night, but I found you intriguing and would be down to hang again, even if not in the pursuit of anything serious. HMU if you'd like, and if not, all the best!"
He replies straightaway: "I'm very much in the would like to see you again camp. Sorry for the lack of communication — it's just been quite a week. When are you free next? Maybe pancakes?" This is exciting, because in his dating profile it says: "You know I like you when I make you pancakes."
6 p.m. Go to the gym and struggle through a workout.
9 p.m. I had plans to get some drinks with friends, but I cancel again. I'm tired and need to start prioritizing work. I watch some reality TV and get an early night.
DAY SIX
7 a.m. I'm very happy to wake up early and not be hungover, and I congratulate myself for not going out last night. I'm all set to head to my co-working space but get distracted, and spend the next few hours trying to remove my gel manicure. I thought it would take ten minutes, and now I'm frustrated as hell and can feel my mood dipping.
Noon I go to a nail salon so they can help me out of my misery.
4 p.m. Meet an artist I represent in Park Slope, then head to a friend's birthday. I'm still in a mood from the nail debacle and not feeling particularly social, so I don't stay too long.
DAY SEVEN
8:30 a.m. I wake up feeling tired and out of sorts.
Noon Go to the gym and fight my way through another exhausting workout. While I'm there, the photographer asks if we're still on for tomorrow night. I say yes, knowing I might just flake again.
7 p.m. Meet with some girlfriends for wine, cheese, and spliffs in the park to celebrate one of them passing her law exam. B messages me, and I invite him over although I'm stoned, sleepy, and full of charcuterie.
9 p.m. When he gets here, we chat for a while, then he proceeds to give me the best head I've had in my life. His techniques are endless. I ask if he has "a Ph.D. in pussy" and joke that I'll have to start calling him "professor."
10 p.m. B and I go on to have incredible sex. It's very passionate and intense. I feel really comfortable with him and come really hard a few times. I tell him he feels like "a day spa for my body," and he suggests we be each other's day spa this summer. I'm down!
Want to submit a sex diary? Email sexdiaries@nymag.com and tell us a little about yourself (and read our submission terms here.)